Journal for 2nd April 2010
Easter is here with its unpredictable weather; spare a thought for English Apple & Pear growers trying to ensure the bursting fruit buds are protected against infection from scab spores floating about in these very damp conditions



Although the weather is much colder than in the previous week, the apple buds are still moving and keeping on top of the scab risk is ongoing; Gala is ahead of Cox and Bramley and any Malus pollinators in advance of everything. In addition tractor movement in these very wet ground conditions can easily wreck the soil surface with ruts quickly forming, which, once formed can be very difficult to remove in the months ahead.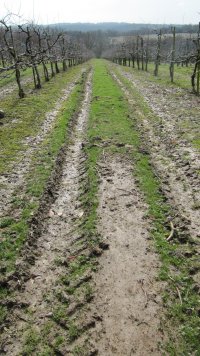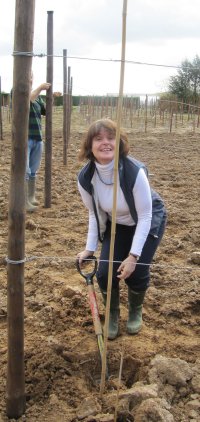 Planting apple & pear trees:
In October 2009 Kent Nurseryman
John Breach
donated £1000 worth of fruit trees to be won in a lottery he organised at The National Fruit Show. The winner was not as anticipated an apple or pear grower, the lucky recipient was Theresa Huxley, Sainsburys Product Technologist. Theresa is an avid supporter of our English Top Fruit industry and with a real concern about where the next generation of fruit growers will come from in an industry with an increasingly ageing profile, decided this was an opportunity to 'give something back' Theresa decided to invest her winnings in a new modern intensive orchard to be used by the students who will hopefully become that 'next generation' and with the support of Mark Lumsdon-Taylor of Hadlow College in Kent, where many a fruit grower has learnt his/her skills, this venture came to fruition last Saturday when a 'motley' group of volunteers gathered to
erect the wire
and
cane support
system, mark out the tree positions,
dig the holes
,
plant the trees
,
tie the ties
and
place the rabbit guards
.
The English Apple Man joined this enthusiastic
group,
reflecting how much fun it is to engage in a venture like this; my role, helping to mark out and 'digging' holes in tandem with Theresa's 'other half' Michael felt so satisfying. The group had two particular 'lead' members to thank for keeping us organised; Stefan Jordan of Hadlow College and Peter Kedge a local apple grower. The ecclectic mix of several
Sainsburys buyers
, supplier technologists, growers, supportive wives and girlfriends and Theresa & Michael's energetic dog (very good at digging holes, but in the wrong place) created an almost carnival atmosphere. John Breach supplied Theresa with a mix of apple and pear varieties and also some apricot trees. I will report later in the season on how the orchard is developing.
Award winning Kent Organic Apple & Pear juice:
Nick Moor who has been making apple & pear juice from his organic fruit for the last six years recently won an award for the 'Kent Juice Producer of the Year' at Produced in Kents' annual 'Taste of Kent Awards 2009'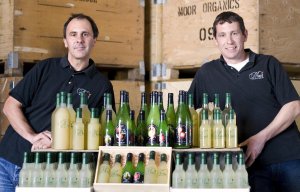 My picture shows Nick with Richard Castle - Production Manager for Moor Organics.
'Moor Organics' juice operation can be viewed on
YouTube:
Don't forget to enter my readers competition

The English Apple Man offers a blossom walk to the web visitor with the best description of 'Their favourite English Apple'
Describe in no more than 30 words the virtues of your favourite English Apple!
The prize will consist of a day with The English Apple Man and a walk through apple orchards in bloom and a pub lunch for two people. Location; Kent. Winner and companion to arrange their own transport to a mutually agreed destination in Kent.
Date to be mutually agreed; flexibility important; The EAM anticipates blossom around the end of 1st week in May.
Please send entries via the Contact page on the English Apple Man web site, by Friday 16th April. Winner will be notified by Friday 23rd April. 'St.Georges Day'
That is all for this week - enjoy your Easter break
Take care
The English Apple Man