Journal for 17th September 2010

The weather is disappointing, no sign of an Indian Summer and Cox picking is now well underway. One of my friends commented this week, 'the crop is 7-10 days late, but yields are good, now all we need is seven weeks good weather' some chance of that I thought, more likely to win the lottery!
Visiting Supermarkets recently, I have found only a modest presence of English Apples on the shelves, however my friends in the industry assure me that Worcester Pearmain, Early Windsor, Estivale, Suffolk Pink & Cox apples are available in some, if not all outlets. Conference & Williams Pears are also 'in the system'
Our industry technical experts have been hard at work monitoring the season's influence on apple maturity and can now be sure that all Cox apples intended for storage beyond Christmas, apart from on very late sites, should have been picked and 'tucked away' in store!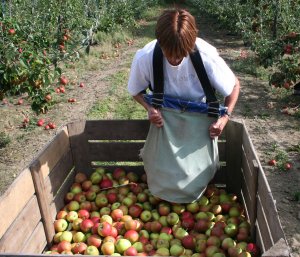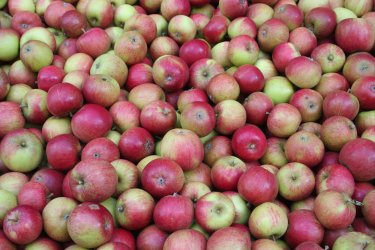 Gala is now under way and the majority of farms will be 'hard at it' next week!
It is not just apples, Pear picking has been going on for a couple of weeks now, but there is still someway to go!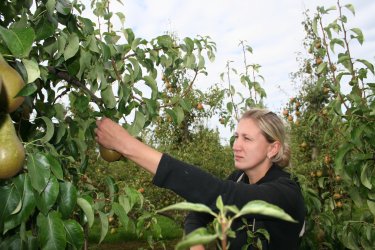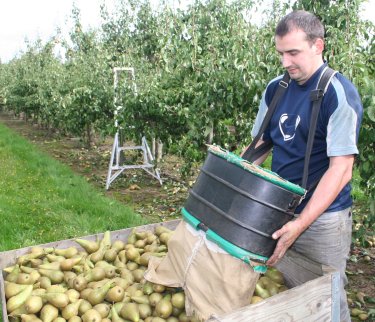 Yesterday, The English Apple Man experienced
the 'present' and the future'
all within the space of a couple of hours. Early in the morning at MOAT FARM pickers were hard at work at Adrian Scripps Ltd the leading UK pear grower. During my visit picking was progressing smoothly on the older more established trees. The fruit is of very high quality and bodes well for English supplies this winter.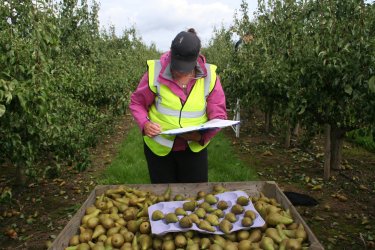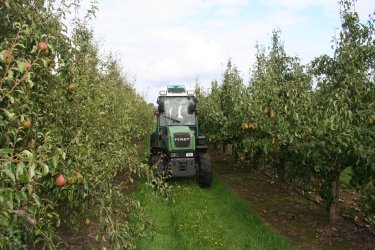 The recent rain and supplementary irrigation has increased the size considerably over recent weeks.
See Journal for 6th August 2010.
Next week AS Ltd will be picking their younger more intensive pears and The EAM will be on site to capture images of picking and report on yield and quality.
The Future
Back in March we looked at the challenge facing UK pear growers. See
Journal for 5th March
. Yesterday I visited the Pear Concept Orchard sponsored by Chingford Fruit Ltd in conjunction with Sainsburys, planted at and managed by East Malling Research near Maidstone in Kent.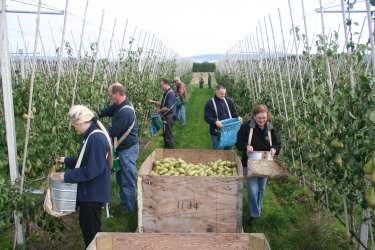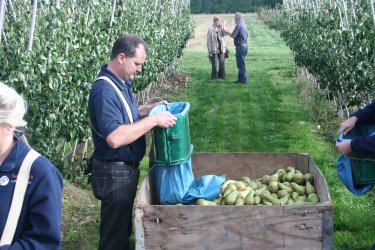 This exciting venture is now showing clear signs of potential success. The trees, only planted 18 months ago are carrying an estimated 15 tonnes per hectare, already above the national average for Conference Pears and will, if all goes according to plan yield circa 55 tonnes per hectare by the time they are 4 years old in 2012.
On site and involved in the picking were Francis Wheatley and Dr. Sara Taylor the Technical backbone of Chingford Fruit Ltd. a totally dedicated supplier to Sainsburys and key players in the technical planning behind The Concept Orchard.
The cost of establishment is very high, The EAM estimates a capital investment of £35,000 per hectare, for what is a 'state of the art' plantation, but if all goes according to plan UK growers could at last compete 'head on' with growers in the Benelux countries who currently supply a high proportion of the pears sold in UK supermarkets. The potential to replace imported with English grown pears is massive.
Viewers of BBC South East News will have seen a short presentation last night with an on site summary by Theresa Huxley, Sainsburys Product Technologist who had organised a team of Sainsburys Depot Quality Control operatives to pick the fruit.
Theresa Huxley (second from left) and Francis Wheatley (extreme right)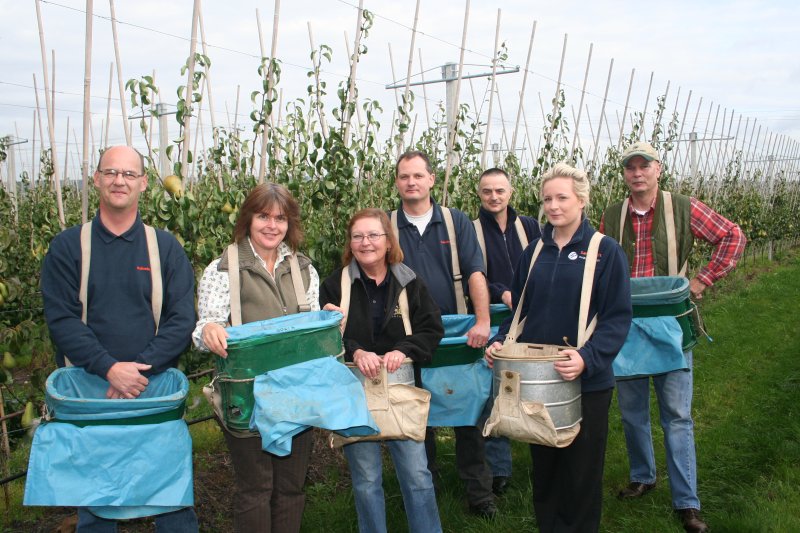 Having spent a life in farming, and recognising the 'early bird usually gets the worm' The English Apple Man had been on site with the Sainsbury team, taking pictures and discussing technical advantages of the concept orchard before The TV boys appeared on the scene!
Redlove Apples
Last week I promised a a more detailed report on
Redlove
, the new apple bred by Marcus Kolbert in Switzerland and now exclusive to Suttons Seeds as part of their supply catalogue for gardeners. Redlove was reported in the daily newspapers and on TV back in the summer.
At Suttons Seeds press day at Hadlow College last week A.G.Thames Michelle Absalom ~ Managing Director of Chingford Fruit Ltd. announced their exclusive marketing rights for Redlove as a commercial concept. Michelle announced a strategic planting and marketing initiative designed to put Redlove into Sainsburys Supermarkets in 3 years time.
I used the word concept, because Redlove is not a specific variety, but several, bred by Marcus Kolbert to start marketing in mid August through a period of several months. Consumers will be aware that early varieties e.g. Discovery do not store well and are soon followed by mid season varieties, for example Worcester Pearmain (traditional variety) or Early Windsor (modern variety) before supply moves onto true main crop varieties like Cox and Gala.
The Redlove concept is intended to give the consumer an opportunity to purchase a red fleshed apple with good flavour and texture under the banner of Redlove as one variety seamlessly follows another.
Next week I will tour all the main supermarket stores in my region and report back on the availability and quality of English Apple and Pears!
The English Apple Man is very keen for any readers with time available to send in their own experiences of English Apples in their region! Contact Me page
Until then
Take care
The English Apple Man