Journal for 25th March 2011
After a much warmer week, with blue skies and sunshine, all plant life is really on the move. The Blackthorn is in full bloom, daffodils are in abundance and fruit trees bud development is ahead of last year!
The English dessert apple season has only about another 4-6 weeks to run and the first New Zealand Cox should arrive by Easter.
Good friends have just arrived back in the UK after a month in NZ and apart from much sight seeing, and of course sampling the wines NZ is famous for, they visited a few fruit farms while they were there.
The picture below was taken in Motueka close to Nelson on the South Island and near to the sea and shows Gala. The white sheet beneath the trees is called EXTENDAY and is used to reflect sunlight back up into the tree, enhancing fruit colour and quality and benefits bud development for next year.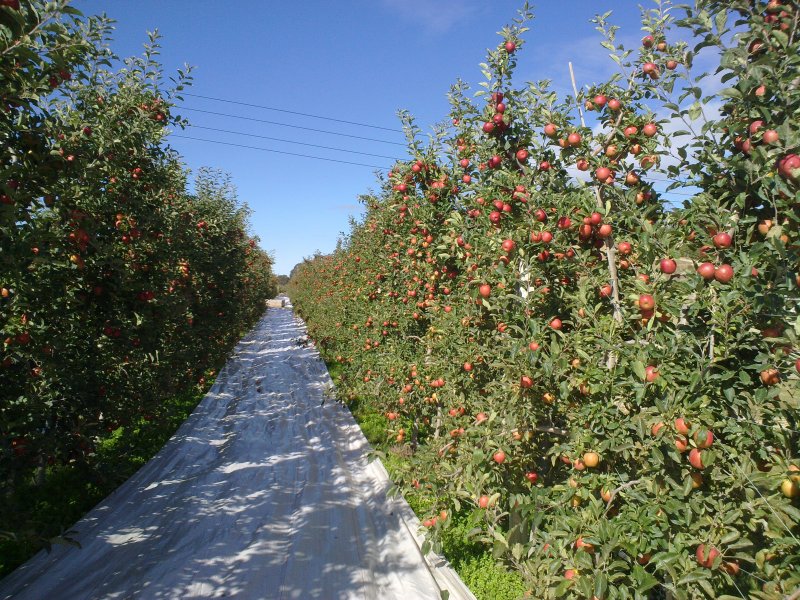 As one season draws to a close, so another gets under way. It may seem premature, as the buds are only just opening, but it is important we review techniques for improving our orchard performance.
Last week at a meeting of BEST Group (Brenchley & East Sussex) Nigel Jenner, Technical Director of
Norman Collett
Ltd and Nick Seymour MD of
N.P.Seymour
presented results of field trials involving fruit thinning.
Historically apple crops and fruit size depended on 'mother nature's influence. Only by thoughtful pruning and hand thinning could we influence fruit size and return blossom for the next season. Quite by accident, 30-40 years ago, observers noted the influence some insecticides had on fruit set. Initially it was noted as a detrimental effect, risking yield by removing too much fruit. Forward thinking Agronomists realised that the timing was a critical influence and sought, through structured trials to research the use of these materials as a beneficial thinning agent. In due course 'Thinsec' became a standard for reducing crop set and easing the dependence on hand thinning.
Because of the reassessment of all pesticides by government agencies, this particular chemical was withdrawn from use and subsequently no thinning agent was available to UK growers. Newer materials using a different chemical formula have now appeared, and been approved as safe for use, but finding the best strategy for use is still to be refined.
Nick Seymour, one of the most forward thinking suppliers of machinery for fruit growers identified new systems making a mark in continental orchards.
The Darwin, aptly named due to its 'natural selection' mechanism is used extensively in intensive orchards common throughout Europe.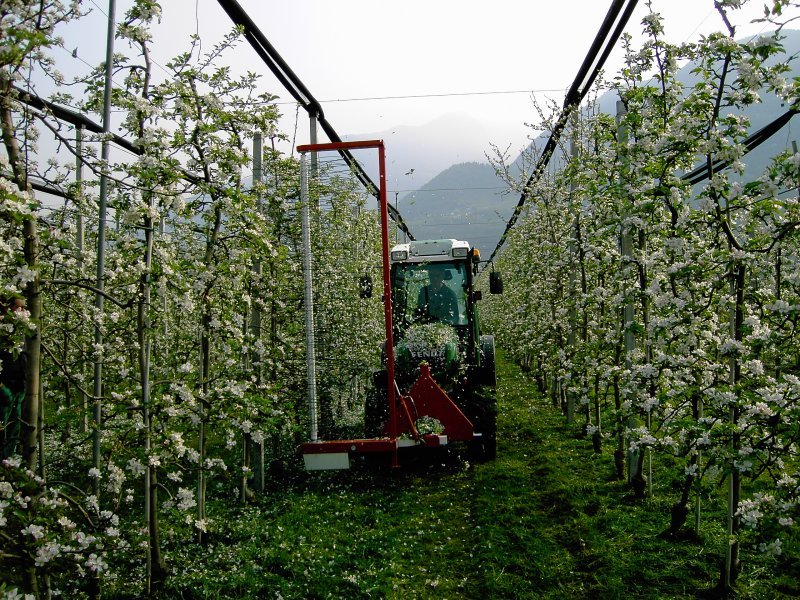 By driving the machine down the row allowing the spinning fingers to remove sufficient of the flowers, while leaving enough to ensure an adequate crop, a successful chemical free method of thinning is made possible.
Some of the more 'senior' members present were aghast at the prospect of 'smashing' the way through an orchard flailing blossoms in all directions!
Like any other technique, it has to be 'refined' and Nigel Jenner and Nick Seymour shared their accumulated knowledge with growers present at the BEST Group meeting.
The speed of the tractor, coupled with the position and head speed of the 'fingers' is very important. The timing of the blossom stage is also critical and done properly leaves just the right amount of undamaged blossom to set a full crop.
Subsequent hand thinning will, in most cases be required, but far less than with the other methods of chemical and full hand thinning. In addition the tree hormones seem to react to the physical damage and not only repair the young leaves lost, but create stronger healthier leaves than before.
On the continent, the hedgerow systems fit neatly into the ideal tree shape for the Darwin to deliver an optimum thinning performance, however it is common for the predominant tree shape in the UK to be considered far from ideal. However, we learnt that with careful calibration of the machine and diligent use, the trial results demonstrated a result at least equal to chemical & hand thinning techniques and at half the man hours required for hand thinning only treatments.
Well the sun is still shining, my dog is looking for a walk, so that is all until next week
Take care
The English Apple Man