Journal for 27th April 2012
The English Apple Man has been 'out and about' this week and networking with growers and agronomist friends.
As always, our weather dictates our mood, and recent rain, frost and generally miserable conditions are shaping the season ahead. Frost has damaged apples and pears in all top fruit growing regions, although the current view of the potential damage is uncertain. The ongoing April showers however have increased the risk of scab infections significantly after a very dry period from bud burst until green cluster (coinciding with the hose pipe ban!)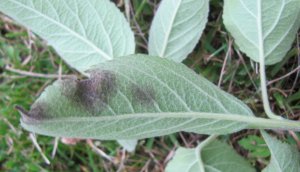 The rain has caused many scab risk scenarios and growers have had to be 'on their toes' spraying whenever the weather has created a 'window of opportunity' add the cold, wet, miserable conditions with pears in bloom, apples in pink bud and the prospect of bees working their pollination 'magic' and after that fruit setting requires a mini miracle; maybe even an actually a miracle!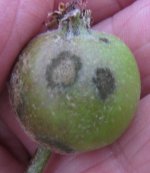 Spare a thought for our Organic growers; with only a protective material available (Copper) and without the benefit of a modern spray with 'eradicant' capabilities, organic orchards will be very difficult to keep clear of scab infections. It is true the weather had been very dry up until the last couple of weeks and protectant sprays applied judiciously should have kept orchards clear, but with the amount of wet weather over the last two weeks, any scab spores in the orchard will have had the perfect conditions for 'sporulating' onto unprotected leaf.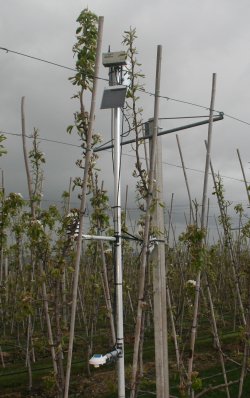 The importance of an 'eradicant' spray is emphasised by the fact that a 'protectant' is just that; it only protects the leaf that is already open and in these wet conditions new leaves rapidly appear and expand, creating "a perfect target" for circulating scab spores!
This is s time when our Agronomists earn their pay; they will be visiting several farms each day and a 'mixture' of observation and experience will ensure their grower clients receive the best possible support.
Scab spores are released from the orchard floor where they 'overwinter' as 'ascospores' and when the weather has the right mix of 'water and temperature' e.g. the warmer it is, the shorter the time period of wetness is required for the ascospore release and infection of new leaves.
Weather stations are a very useful tool in predicting the conditions in which scab spores will be released, measuring temperature, humidity, rainfall etc and stations linked to a central monitoring point, are used to gain an accurate prediction of scab infection periods.
Casting our minds back a couple of weeks, the season was running just a day or two behind last year. Now we seem to be in a period of 'stagnation' with fruit bud moving only marginally.
Visiting different farms we can find a mixture of blossom stages, influenced by the 'micro-climate' from farm to farm and within individual orchards; e.g. up on an exposed hill blossom stage may be still at pink bud, while in a sheltered spot at the bottom the trees are at full bloom.
The frost damage; normally to be found in the low lying ''frost pockets' is also to be found in exposed areas on high ground.
Generally the miserable conditions are keeping bees in their hives and the lack of pollination activity, coupled with the need for warmth to drive 'fertilization' once a flower has been pollinated, make for an uncertain fruit set.
BIFGA Farm Walk at East Malling Research.
Each year John Breach initiates a blossom walk, which our secretary Judy Perry organises with the utmost precision. Timing the event to match the blossom period can be an absolute nightmare and relies as much on luck as planning foresight! Two weeks ago the seasonal bud stages we were only a day or two later than 2011; an exeptionally early season, now we are just a little earlier than 2010.
With some 80 members attending, the East Malling staff acting as our guides seperated us into two groups; Red and Blue. Off I went; with my red group friends to the Concept Pear orchard to hear Professor Jerry Cross update us on the research into Pear Sucker control.
Not five minutes into Jerry's talk, the heavens opened and the only 'audible sound' was the splatter of raindrops on the numerous umbrellas. So, as we Brits do, we improvised and re-grouped back in thr dry of the conference centre.
Pear Sucker
Jerry Cross and his team have been working on this most challenging pest in our pear orchards for some time, as part of a LINK programme. Historically pear sucker damage has been erratic, with some growers almost giving up on pear growing, while others are rarely affected by it.
WHY?
Jerry's research polarises on the orchard environment and the natural predators of pear sucker; Anthocorids!
As the chemical armoury grew in decades past and the solution to any pest was to hunt down another killer chemical, we lost sight of why the pests always seemed to be one step ahead! A more enlightened approach in the past 10-20 years has seen IPM (Integrated Pest Management) as the answer to our enemies in the orchard.
This approach was highly successful in combatting Red Spide Mite in our apple orchards and now sprays 'specifically' for red spdier are few and very far between. The research into credible predators is ongoing into control of many pests!
Anthocorids
are a highly effective control for pear sucker. Managing the environment to maximise the efficacy is 'where we are today' and Jerry gave us an update of his teams results.
Key to maintaining sufficient anthocorid population is habitat. The most effective hosts for anthororids are Willow, Hazel, Nettle and Hawthorn. The latter is a known host to fireblight, a devastating disease for pears, but Jerry informed us that the critical stage for fireblight infection is when the hawthorn is in flower; so the time to prune/cut the hawthorn hedge is in advance of flowering time.
In a question to growers present; Jerry asked what experiences they have had with pear sucker. One 'senior' and very well respected pear grower said; I have never had a problem with it! BUT, he has hawthorn hedges around his pear orchard; "point proven"
To summarise, Jerry said we must ensure a mix of host plants for the anthocorids to overwinter on and bearing in mind that they have a range limit of circa 50 metres in flight, do not allow individual orchards to be too big. This is emphasised by the fact that pear sucker is often more prevalent in the middle of pear orchards!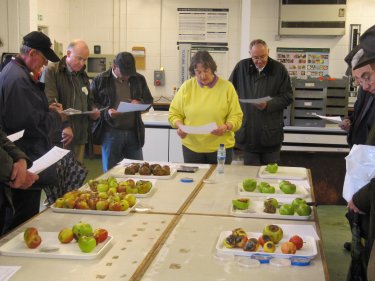 Dr.Angela Berrie - Storage Rots.
Angela, as only she can, gets quite passionate about the diverse collection of rots which can appear in bins of stored apples. Her work (should I say passion) examines the many rots and the timing of infection, which can vary from blossom time, through to harvest in the orchard. The result may not be apparent until the fruit reaches the packhouse and crosses the grader.
Easily recognised 'Brown Rot' caused by rot spores entering a wound; caused by a bird peck or pest hole, is common in garden trees thoughout the land as well as in commercial orchards.' Nectria Rot' caused by infection from Canker in the orchard can be a very serious problem where Canker is out of control in an orchard. 'Phythopthera Rot' which infects the fruit when mud spatters off wet ground onto the fruit on lower branches can be very serious. It is common for growers to leave 'low lying' fruit in the orchard at harvest to avoid infected fruit reaching the bins.
There are many more; but I will leave some room for a further update!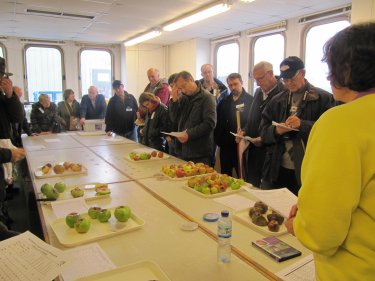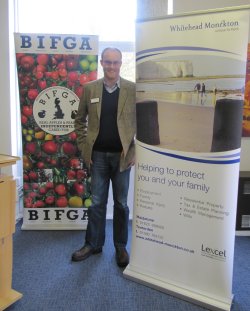 Dr. Mark Else and water use efficiency.
Dr. Mark Else - Application of water research on pear growing.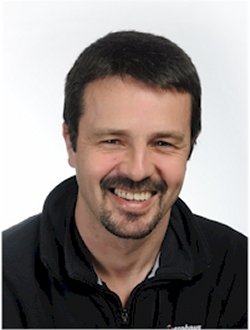 "Developing water, and fertiliser saving strategies, to improve fruit quality and sustainability of irrigated high intensity, modern and traditional pear production"
Amazingly, the rain held off for Mark's presentation in the Concept Pear Orchard where key research is ongoing!
This is the objective summary of Mark's research and with forecasts of climate changing influence on water availability, this research is a key element in our ability to produce high yields of quality pears.
Mark told us the canopy structure of the different high intensity systems, can be expected to result in very different irrigation requirements. In this HDC funded work (Horticultural Development Council) "we are developing targeted irrigation strategies to optimise water use efficiency, yields and fruit quality for each growing system" be it; V system, double leader or single leader 'run through' in practice this meant using Irrigation test regimes (ITR's) in 2011 based on soil matric potential that match demand with supply and reduce losses of water and fertiliser past the rooting zone. The effects of the ITR's on shoot extension growth and fruit quality are currently being determined. In addition the consequences for shelf life potential are being assessed in on-going work funded by AG Thames. The impacts of the ITR's on return bloom will be assessed in the spring of 2012.
During 2012 the ITR's will be applied from six weeks after petal fall until September.
The research will provide guidelines enabling growers to optimise water and nutrient use efficiencies in modern and high intensity growing systems on different soil types in our UK pear orchards.
Our final speaker was Neil Emery from Solicitors 'Whitehead Monckton' who sponsored the BIFGA Blossom Walk and are staunch supporters of BIFGA and the farming fraternity with their offices in Maidstone and Tenterden and a rural clientele.
Neil Emery - 'The Agency Workers Regulations 2010'
Neil attempted to brief growers on the impact of changes to employment regulations where growers use an agency to supply labour for tasks like apple picking or packing. This is generally the preserve of large farming and packing enterprises who require variable numbers of workers depending on the time of the year.
As with all government missives. I quote; The Agency Workers Regulations are designed to "ensure that the practical arrangements for employers are as simple as possible."
When government departments talk of making regulations simpler, it is a signal for employers to get really worried!
In brief, Neil delivered a very useful update on the practicallities of implementing the regulations.
The essence of the regulations is; the rights of agency workers, should be equal to full time workers. In particular 'agency workers' have the same right as permanent workers in terms of access to facilities and after a 12 week period equal pay for the same tasks.
That is all for this week, I am a little late finishing this week's Journal, primarily due to my very dear brother and sister-in-law treating me to a belated birthday lunch at Heston Blumenthall's Fat Duck Restaurant at Bray Village. I will tittilate your taste buds in next week's Journal with tales of my 'adventure'
Take care
The English Apple Man