Journal for 15th June 2012
Gosh it is so depressing; we Brits do seem to spend a lot of time talking about our weather, but with the heavy rain this week, it is difficult not to 'wallow' in the subject.
This week's Journal will be a little shorter as The English Apple Man is suffering with a neck & shoulder problem and not as mobile as usual; "I am feeling my 3 score years & 10" so not driving very far this week!

APPRENTICESHIPS
In recent weeks the new apprenticeship scheme at Hadlow College has attracted sponsors and any potential apprentices are encouraged to contact Pat Crawford at Hadlow College. It is worth taking note of this extract from the Press release;
"Because the funding has been secured from the private sector, there are no age or education barriers and application from graduates and others with higher level qualifications is especially welcome." For full information click on
HADLOW COLLEGE APPRENTICESHIPS
Back on the subject of our weather. In my farming days we grew Strawberries and a few Raspberries, as well as the main crop; Apples. Reflecting to my wife as I bought a perfect punnet of English Strawberries, took me back to my soft fruit growing days. 25-30 years ago, most of our production would have been 'unprotected' with our crops at the full mercy of the weather. "I would have been going 'NUTS' watching the rain spoil all our hard work"
The 'consistent quality' of our Strawberries & Raspberries today, is taken for granted, but just 15 years ago when protected fruit was less widespread, the influence of wet conditions on the variability of fruit on Supermarket shelves caused suppliers and retailers 'nightmares' and consumers many a disappointment.
The Strawberries pictured below were bought last Saturday in Tesco and although they are (today) one day past their Display Until date (14th) the quality is still outstanding. The variety is "Premier" grown by Mark Gaskain at Selling in East Kent. The EAM and his wife enjoyed one punnet last night, which was 'delicious' and this punnet was photographed today Friday (15th June) and will be consumed for supper tonight!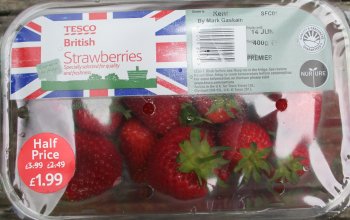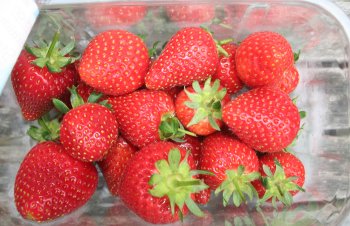 I make a point of stressing the importance of protected cropping. The sight of plastic tunnel houses can (and does) upset homeowners who live in sight of large plastic installations, but without this means of producing Strawberries and Raspberries, we would be back to indifferent quality and a much shorter season, plus a massive reliance on imported fruit and a reduction in rural employment opportunities.
GARDENERS!
During January 2012, The EAM purchased a 3 variety tree from
Frank P Matthews Nursery
and the pictures below show the tree less than 6 months later carrying a nice sprinkle of apples. "To ensure the tree does not over crop, I have thinned the fruit numbers back to a few of each variety. I would encourage home owners who have not tried this system to 'give it a go' but always buy a good quality tree, or the results will be disappointing.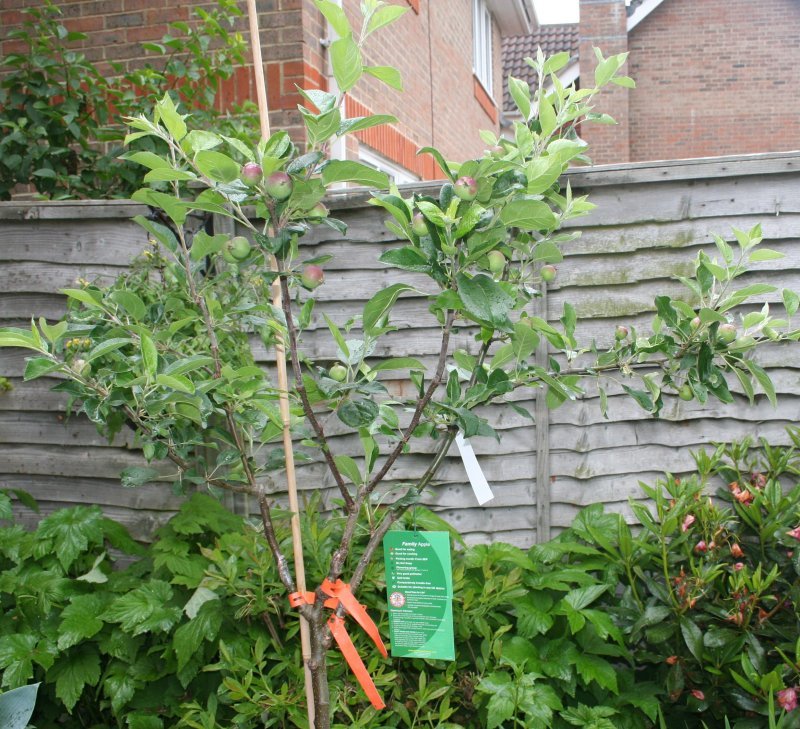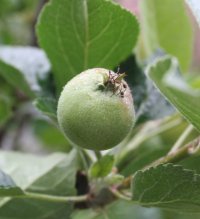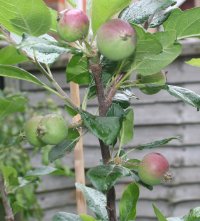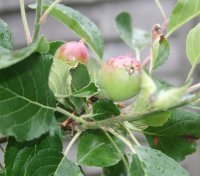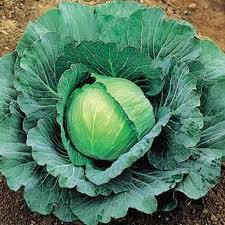 And to finish this week's Journal;
Like many of my friends, circulating 'funny emails' is part of my time spent on the PC. This one received from a farmer friend today, says it all!
Pythagoras Theorem 24 words
Lord's Prayer 66 words
Archimede's Principal 67 words
Ten Commandments 179 words
Gettysburg Address 286 words
US Declaration of Independence 1300 words
US Constitution with all 27 amendments 7,818 words
EU Regulations on the sale of CABBAGES 26,911 words
Hopefully I will be more mobile next week and 'out & about' in orchards again.
Take care
The English Apple Man