About me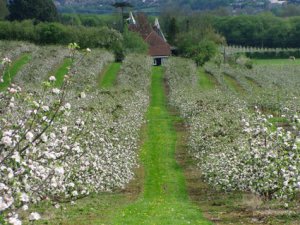 The English Apple Man's story is of a lifetime spent in the industry, as a boy straight out of school, then as a young man developing the practical knowledge of growing and later taking on the management of the family fruit farm, then changing course to join the major supplier of English Apples in a technical role and finally becoming Technical Director with a responsibility for product and environmental safety , product quality, and technical innovation.
Born in 1942 into a farming family going back at least a hundred years as the first born son of the 3rd generation to farm an 80 acre fruit farm close to the Kent and Sussex borders, spending an idylic childhood in the beautiful surrounding countryside it is no surprise that a passion for the countryside and in particular English Apples runs through the body like words in a stick of rock!
Now retired, The English Apple Man brings his unique experience of the English apple industry to all who visit the English Apple Man web site.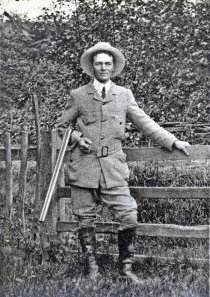 Before the second world war our farm had been a Game Farm, established when Grandfather bought the farm in 1921. Throughout the next two decades he supplied birds for the large shooting estates. Grandfather also started the family on the road to Apple production with his first plantings in 1927; Cox and Beauty of Bath; continuing with more plantings of Cox, Worcester Pearmain and Laxton Superb during the 1930's. Grandfather passed away in 1939, just before the outbreak of the war. With Game Farming brought to an end by the hostilities and the need to feed a hungry nation, Father grew a range of crops to help the war effort. After the war he developed the farm fully into a proper fruit farm. Our romatic love of the game farming days inspired Father to use the Pheasant as the marketing 'logo' on our Apple Packaging.
So many changes have taken place during the last 50 years: back then on the farm we grew mainly Cox Apples and the vagaries of the EU common market were a long way into the future. The post war years were very prosperous for many growers and small 'Empires' were created in the growing regions of Kent, Sussex, East Anglia and the West Midlands. Apple growers back in the 1950's numbered thousands, now there are only a few hundred of significance. Sadly many of the smaller growers have long since retired and over the last few years we have seen pressure on even the medium sized fruit farm's ability to compete in our highly competitive market place. Many factors have driven this rapid change, primarily supply from the global sources, which has brought stiff price competition for our English Apples, an inevitable consequence of global competition, and while Supermarkets are so often cast as the villians we must recognise that competition is fierce in every commercial sector, be it Electrical products or Fruit. I have no intention of castigating supermarkets for while they are very demanding on quality and price, we as an industry cannot hope to survive as a meaningful entity without them. Of course there is and always will be a viable place for small growers marketing directly to the consumer through farm shops and farmers markets and that market allows the consumer access to varieties fresh from the orchard which would be uneconomic through the costly supply chain of the supermarket.
From Robert Atkinson's excellent book GROWING APPLES written in the mid 1950's we learn that back before the second world war our most recognised national commercial apple was Worcester Pearmain, but during the post war years Cox Orange Pippin rapidly took over as the premium dessert Apple. By the mid 1950's there were more than 10 million dessert trees of which half were Cox. In addition Cooking Apples, mainly Bramley stood at 4-5 million trees. The world population of trees at that time was an estimated 400 million. In 1953 some 180,000 tons of dessert apples and 325,000 tons of cooking apples were produced, in addition a further 118,000 tons of dessert apples were imported.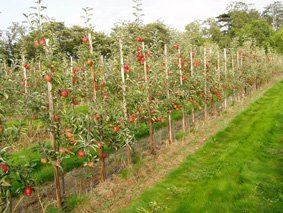 In 2009 we faced the reality that Cox, our most famous variety, would soon lose its place as the number one English apple; in 2015 Cox is now third on the home grown variety list, behind Gala and Braeburn. The decline in its appeal really started in the early 1990's with the emergence of other bi-coloured apples, Braeburn and Gala.; Braeburn with its firm texture and contrasting mildly sweet and slightly acid flavour competes head on with Cox. During the last 20 years this variety, more than any other has eroded the sales of Cox and particularly the price premium Cox had historically enjoyed. With yields of Braeburn consistently averaging twice that of Cox, it is no surprise that Cox acreage is rapidly declining and will continue to unless crop volumes reduce to a level where consumers who seek out Cox are prepared to pay a premium. In addition Apples like Braeburn and Gala are global varieties, on sale 365 days a year, while English Cox are on sale for no more than 7 months of the year from September to early April, so it is no surprise that consumers who enjoy Braeburn are unlikely to return to Cox in the next season. While the ready supply of Apples from a global market keeps prices at a competitive level which benefits the consumer and ensures the availability of favourites like Gala, Braeburn, Pink Lady, Golden Delicious, Granny Smith etc. it adds yet more pressure on our English Apple Growers trying to compete for market share in our Supermarkets which dominate overall sales of Apples.
Discovery, our only significant early apple for the last 30 years is in sharp decline; partly due to its very short shelf life which manifests itself as a tough chewy texture, moving to an acidic but refreshing flavour, and onto a mealy soft texture, all of which can happen in a few days. However eaten fresh from the tree, or soon after, it is a very refreshing apple. Speed of movement through the marketing chain is vital to its success. Before the competition from Southern Hemisphere Gala and Braeburn, Discovery sold in large volumes, the lack of competition guaranteed rapid sales, the ideal platform for an apple with a short shelf life; Pragmatically, it really only graces our Supermarket shelves due to its position of 'The First English Apples' of a new season. However with the recent introduction of Zari and Galmac, neither as early as Discovery, but both superior in texture and shelf life the UK apple industry is in better shape.
As an industry we are fighting back. The newer heavier cropping varieties Braeburn and Gala are are replacing many of our lower cropping Cox, and while this is sad, it is inevitable if our national acreage is to survive, the larger commercial apple farms which produce the majority of our national crop must maximise the benefits of varieties which satisfy the consumer. Our way forward is import substitution, which our larger growers and marketeers are vigorously pursuing, clawing back a share of the market from imported supplies. As long as we produce fruit equal to the quality of our overseas competition, we can with consumer support increase steadily our market share. The UK industry has also adopted 'Club varieties' modeled on the Global success of Pink Lady - the most successful Club variety; Jazz, Kanzi, Cameo and Rubens have led the way. More club varieties are emerging with Smitten and Envy at the forefront.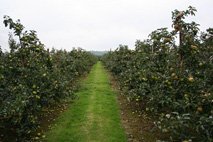 The Culinary market is quite different, with no imported competition, but a declining use of fresh fruit by the busy consumers who do not have, or perceive that they do not have, the time to make Apple Pies etc. Bramley, the dominant variety for many years and now almost exclusively the only culinary apple to be found on a Supermarket shelf, was planted heavily in the early 1900's and by the second world war an extensive acreage had been established. The variety was often grown on heavier soils considered unsuitable for the more 'fickle' dessert apple and many Farmers, as opposed to Fruit Farmers planted it as a cash crop on their mixed farms. The decline in Bramley is largely due to the increasing 'convenience market' encouraging consumers to buy ready to cook/ready to eat desserts. Now, in 2009 and due largely to the English Apples and Pears sponsored Bramley Campaign, processors are using more and more English Bramley in their products.
Also on a positive note, vigorous efforts by enthusiastic supporters like Common Ground to save our many Heritage varieties from extinction are resulting in Community Orchards, in Urban as well as Country areas. These Community Orchards can access Government Funding.
In some ways we could compare this with the enthusiast's desire to collect and cherish vintage motor vehicles, while our car manufacturing industry faces difficulties in survival. Very few cars manufactured in England have their origins here, many of our main apple varieties grown in England also originate from overseas, but whatever the 'recent' origin of apples available to consumers, all apples originate from the Tein Shan region of central asia 'the birthplace of the apple' where over thousands of years a continuous process of pips producing new seedlings has spread the apple to all continents. Our 'English' varieties result from 'invaders'or 'traders' introducing the species here and after either natural process (seedlings) and clever breeding by monks and in more recent times by dedicated nurserymen our heritage has evolved.
While the majority of 'modern' varieties have been developed by crossing known varieties, enhancing the individual attributes of each, many registered varieties are as a result of 'chance seedlings' and even today with much more sophisticated breeding programmes a number of our significant commercial varieties started life as a chance seedling.e.g. Cox Orange Pippin, Bramley Seedling.
So, for the opportunity to choose English Grown Apples it is essential that we maintain and if possible increase the supply of our home grown fruit by supporting the main body of English Growers supplying Supermarkets or before long there will only be imported apples available to our consumers.