The Journal gives a weekly update on events in our English apple orchards, using pictures and video clips to follow seasonal activities and giving the consumer a level of detail not available from any other source.
All aspects of growing, harvesting, storage, grading, packing and marketing are included enabling consumers to understand the challenges English growers face in supplying our sophisticated market place.
12 April 2019 - Looking for home grown apples and pears?
As we approach mid-April, The English Apple Man takes a look at what home grown apples and pears are still available to consumers.
05 April 2019 - April can make fools of all of us!
As we enter April, apart from April Fools Day the apple & pear fruit bud development is 'poised' to move from Green Cluster/Early Pink Bud (apples) and White Bud )pears) to blossom as soon as the weather returns to 15-20 Celsius.
Below: Green Cluster and early Pink Bud on apples.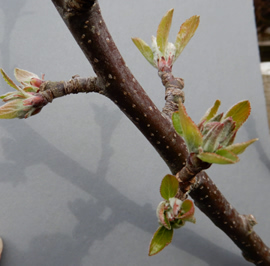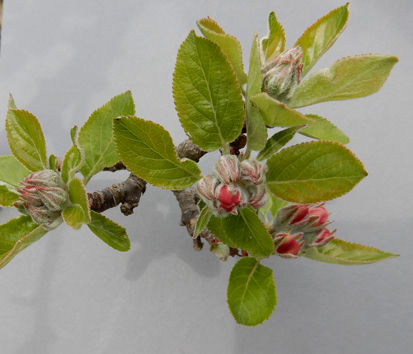 29 March 2019 - Robot apple picking and other news!

This week The English Apple Man looks at 'what's new?
The first commercial robot apple picker in operation.
Promotion for an award winning Production Manager.
Agrovista 'Sponsors' report on Under 40's in Chile.
22 March 2019 - Are we up a Gum Tree?
With Brexit spiralling into a complete mess, it is difficult for those of us who do not fully understand the complexities of a soft Brexit (whatever that means) and a hard Brexit (feared by many - but not by those desperate to leap into the apparent unknown,) I like many get more confused each day (no sorry, each hour of each day).
"Up a Gum Tree" The phrase originated as 'like a possum up a gum tree' and interpretations of this account for the variety of meaning. The allusion is to possums escaping up trees after being chased by hounds.
15 March 2019 - The English Apple Man in a Community Orchard
The English Apple Man joined members of the Capel Parish last Saturday, as they set about pruning their Community orchard, under the guidance of Roger Worraker.
08 March 2019 - Life is a series of mysteries
Do you ever wonder about the mysteries of life?
Virus's and Bacteria are embedded in the fabric of life.
Viruses are the smallest and simplest life form known.
The biggest difference between viruses and bacteria is that viruses must have a living host!
Antibiotics cannot kill viruses, but can kill most bacteria.
Bacterial Canker the scourge of many 'tree fruit' trees may be challenged by the use of 'phages'
Bacteriophage, phage(noun) a virus that is parasitic (reproduces itself) in bacteria. "phage uses the bacterium's machinery and energy to produce more phage until the bacterium is destroyed and phage is released to invade surrounding bacteria".
01 March 2019 - Time Marches on!
March is here; its the first day of Spring!
22 February 2019 - Haygrove Evolution - John Breach and U40's Conference
This week's Journal features Haygrove Evolution a wine & cider business: John Breach honoured by The Worshipful Company of Fruiterers and news of the Under 40's return from their visit to Chile.
Haygrove Evolution is; as the name suggests, an evolving business: Haygrove Evolution was established in 2015.
Combining operations from Vine & Wine, Once Upon A Tree and integrating with local business Haygrove Ltd, Haygrove Evolution is producing Wine & Cider under the Sixteen Ridges and Once Upon A Tree Brands and offering contract processing for other growers.
15 February 2019 - Rural Policing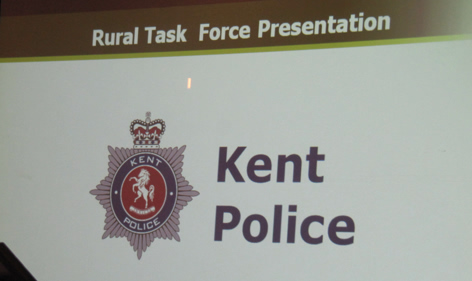 Rural Policing: At the 31st BIFGA Technical Day held at Dale Hill Golf Club on 30th January 2019, one of the presentations was made by Sergeant Darren Walshaw & PC Marc Pennicott from the Kent Police - Rural Liaison Team (RLT). The operational area is divided into three: North Division - East Division and West Division.
While there are many important areas of Policing carried out by the Rural Liaison Team, this week's Journal will cover just a few in depth.
08 February 2019 - Maximising Fruit Set and Quality
At the recent AGROVISTA Technical Seminar, the opening presentation 'Maximising Fruit Set and Quality' delivered by Leon Jahae reviewed the broad spectrum of essential elements involved in delivering quality apples.