The Journal gives a weekly update on events in our English apple orchards, using pictures and video clips to follow seasonal activities and giving the consumer a level of detail not available from any other source.
All aspects of growing, harvesting, storage, grading, packing and marketing are included enabling consumers to understand the challenges English growers face in supplying our sophisticated market place.
24 November 2023 - This week, a mixture of emotions!
When you reach my age (81) it is inevitable that from time to time 'ones contemporaries' pass onto the great orchards in the sky
During last weekend, two giants of our fruit industry sadly passed away, on Saturday Adrian Scripps died aged 86 and on Sunday John Cannon MBE died at the age of 92.
Below: left Adrian Scripps in his orchards and right. John Cannon MBE in his Cobnut Plat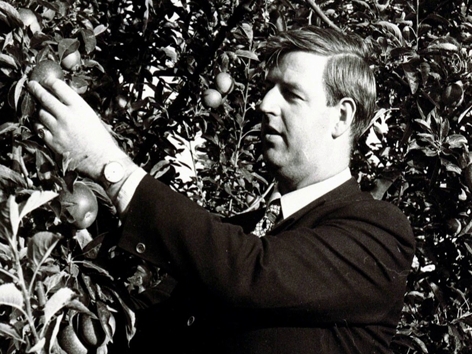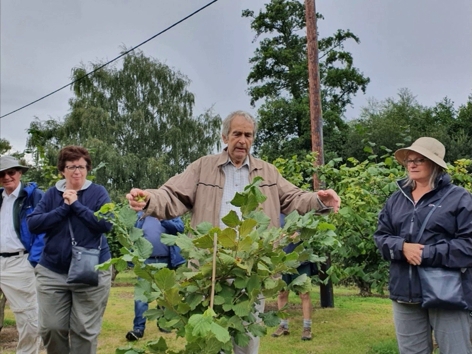 Adrian Braithwaite Scripps 1937 to 2023
A message from Adrian Scripps Ltd.
"It is with a heavy heart that we announce the passing of Mr Adrian Scripps on Saturday 18th of November. He started farming in 1956 and built the foundations of the business as it is today. He was for so many years the energetic driver of the business, an innovator and very much a pioneer within the industry. He will be greatly missed by colleagues, friends and family
John Ireland Blackburne Cannon MBE 20.3.31-20.11.23
A message from Giles Cannon
"Sadly my father passed away on Sunday following a stroke at the age of 92. Born and raised in Tasmania, he began farming in Plaxtol, Kent in the 1950's. A keen fruit and hop grower for many years, he developed a passion for the Kent Cobnut and was thrilled to be recognised for this work in 2020. We will miss him.
In 2-3 weeks time (when appropriate) The English Apple Man will devote a Journal to these two gentleman who made such a mark on the fruit and farming industry.
17 November 2023 - The English Apple Man takes a look at machinery at the National Fruit Show 2023
The National Fruit Show demonstrates a plethora of 'supportive suppliers' producing everything from services and small hand tools to large machinery designed for Fruit and Viticulture producers
Without doubt, the rapidly expanding Viticulture Industry is providing Machinery suppliers with a welcome boost, as apple and pear growers are under extreme financial pressures
10 November 2023 - More news from The 90th Anniversary National Fruit Show
The 2023 National Fruit Show - 90th Anniversary Show
Below: After presenting Minette Batters with The Jon Jones award, The English Apple Man poses with the NFU President and NFS Hon Chair Sarah Calcutt. Both ladies are retiring from their prestigious roles, of which they have both enjoyed distinguished success. While The English Apple Man is planning to step down from the NFS Committee after many years of 'hands on' involvement.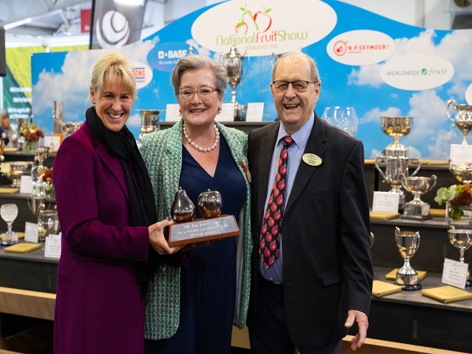 In the second instalment of the 90th Anniversary National Fruit Show, pictures of NFU President Minette Batters touring the show with NFS President Catherine Paice, Hon Chair Sarah Calcutt and NFS CEO Sally Flanagan.
The English Apple Man reveals the full list of winners of this year's prizes.
Also a picture collection of some of the award presentations by NFS President Catherine Paice
While this NFS is the 90th anniversary, a quite remarkable event took place on the John Breach stand as John and his team celebrated their 55th appearance at the show - See picture at end of show report
03 November 2023 - The English Apple Man visits the 90th Anniversary National Fruit Show
It's showtime!
On Wednesday 1st and Thursday 2nd November The National Fruit Show celebrated the 90th Anniversary of a show which began back in 1933 as The Marden Fruit Show
Below: Minette Batters, Sarah Calcutt & John Guest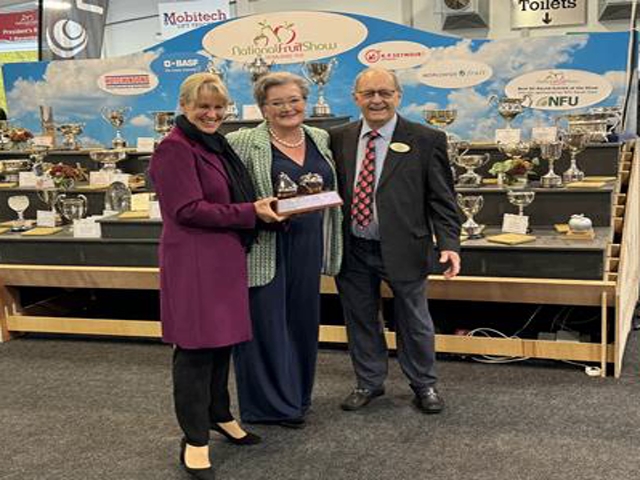 Opening the show, NFU President Minette Batters who is retiring after a five year period.
Minette was presented with The Jon Jones Award for ' a notable contribution to the fruit industry by 'John Guest Winner in 2022' and Honorary Chair Sarah Calcutt
Elected as president in February 2018. Minette is also an ambassador of Farm Africa and was made a Deputy Lieutenant to Her Majesty Queen Elizabeth in 2021.
This was Minette's third visit to The National Fruit Show and as she prepares to retire from The NFU Presidency it was appropriate that Sarah also retires after an equally successfully long term as Chair of The National Fruit Show.
NFU President - Minette Batters
Sarah Calcutt is stepping down after this year's show to concentrate on her role as chief executive at City Harvest. "I have loved my 14 years in the chair," she said. "It's been an absolute honour in every way, my privilege to lead this organisation and I will treasure every moment.
"I leave it in safe hands with a good structure and an excellent team, fit for a strong future doing what it has always done best - shouting about the very best of the British fruit industry."
NFS also has a new president this year, with Catherine Paice replacing Teresa Wickham, while Sally Flanagan has become the first chief executive at organiser Marden Fruit Show Society.
27 October 2023 - Growing Kent and Medway
Growing Kent and Medway
Growing Kent & Medway has awarded a share of over £1.6million to 13 businesses to fund projects that will sustainably transform the horticultural and plant-based food and drink supply chain.
Kent and Medway is home to some of the most exciting and innovative food and drink businesses in the UK and internationally. From growers of fresh fruit and vegetables, to food processes and makers, through to engineers and robotics specialists automating our supply chain.
Kent businesses are leading the way in healthy and sustainable food production.
Growing Kent & Medway is led by NIAB EMR in East Malling.
Dr Nikki Harrison Growing Kent & Medway programme director, who joined the team from the Agriculture and Horticulture Development Board (AHDB), where she was head of business development.
With a scientific career spanning more than 20 years, she is trained in plant biology and genetics; microbiology and biotechnology, and horticultural cropping systems. Prior to joining AHDB, Dr Harrison was senior research leader in horticultural science at NIAB EMR, and was an honorary research fellow at the University of Reading.
20 October 2023 - Fair Play?
Regular readers of The English Apple Man will be well aware of the challenges facing British apple growers desperate need for fair prices from our Supermarkets and the real possibility of many growers going out of business!
A former Asda buying chief has turned from poacher to gamekeeper to offer suppliers training in the Groceries Supply Code of Practice.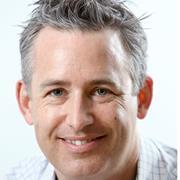 Ged Futter, who worked for nearly 15 years with the supermarket giant, the last four as senior buying manager for frozen food, told The Grocer he wanted to help bring "balance" back to the relationship between suppliers and retailers.
Supermarkets were turning their superior negotiation skills into a "billion pound industry", Futter warned, adding many suppliers were too scared to stand up to retailers because there was still a "climate of fear"
To help suppliers be more assertive, Futter is offering to train them up through his new business, Innovative Retailing Solutions, which he launched in February.
GSCOP training is designed to help suppliers understand their rights, protect their business, and grow. The training is crucial because without it, suppliers might not be aware of what they don't know!
13 October 2023 - The English Apple Man joins a community enjoying their Orchard.
Last Saturday, custodians and the community at Five Oak Green gathered to celebrate their Community Orchard.
The orchard inspired by Celia (it was her idea) and Roger Worraker as The Diamond Jubilee in 2012 has morphed from The Capel Community Orchard into The Worraker Community Orchard in memory of their status as members of their community.
Planted in 2012, The Worraker Community Orchard produces a wonderful mix of old and present varieties.
Click on: Planting the Worraker Community Orchard
06 October 2023 - More news on British Apples and Pears
Following on from The English Apple Man Journal from last week (25/9/2023) this week the focus is British Apples and Pears Ltd Chair Ali Capper who also featured in last week's BBC Countryfile programme.
Ali particularly takes issue with Andrew Opie, director of food and sustainability at the British Retail Consortium (BRC) who argued that Supermarkets were supporting producers.
Click on Ali Capper Video
29 September 2023 - English Apples, an industry in crisis, and a consumer responds!
On Sunday evening I watched Countryfile which featured the crisis facing British Apple Growers
On Sunday evening, I received an email from Sue a lady in Manchester responding to Richard Budd, one of the three growers visited by Countryfile presenters.
Dear Richard,
I am watching the item on Countryfile right now and am horrified that you are treated so badly by supermarkets. For example, I couldn't believe my ears that Bramley's the best apple for baking ever, are having to be juiced because some eejit in, say, Tesco is deciding the consumer, me, doesn't want small ones, odd sized ones etc. Also that they are then not paying you a decent price. I am also becoming concerned about imports and why I don't see the varieties of pears and apples, I know are grown here, in the shops.
I am sure that I cannot be the only consumer that is sick of being told that I don't want this, that and the other by retailers who didn't even ask me. I wondered if you would be willing to correspond further on this with an end user like me so that I can learn what more I can do to support British fruit and veg. farmers, e.g. buying directly for example.
Kind Regards - Sue - from Manchester
22 September 2023 - National and Global News
Start of season 2023 - British Apples and Pears Ltd
Talking start of season, and in preparation for British apple month in October, we have issued a press release to long-lead consumer media. The release will also be distributed via the PA Newswire on 1 October to national news media. Expect to see coverage from 2 October onwards.
In my inbox this week, and brought to my attention by BIFGA, an article published in FRUITNET New report suggests massive increase in production and operating costs over past three years has left around 60 per cent of GLOBAL supply unprofitable!!
According to the report, such an outcome will make it harder for consumers the world over to eat a healthy diet. Indeed, to keep their food expenses in check, people will increasingly rely on low-cost staple foods or turn to unhealthy calories, such as those from soft drinks. In addition, the economic difficulties faced by fresh produce exporters in developing countries counter the impact of efforts towards poverty reduction, and threaten the livelihoods of millions of families.
The Global Coalition of Fresh Produce brings together fresh produce associations from around the world, based on their joint vision to create resilient global value chains for fruits and vegetables that bring a myriad of economic, environmental, and societal benefits. The Coalition's mission is to voice solutions to address disruptions in global supply chains for fresh produce, including - but not limited to - rising costs, and share and promote best practices