Useful links
The English Apple Man will create LINKS to web sites he feels would be advantageous to Consumers. For example Nurseries that produce fruit trees for gardens, web sites with recipes, Farms selling their own produce directly to the consumer through Farm Shops and Farmers Markets.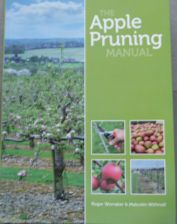 The new Apple Pruning manual written by Roger Worraker and Malcolm Withnall is highly recommended by The English Apple Man.
To buy The Apple Pruning Manual; click on blue highlighted section and then right click on image to save to your PC - The APPLE PRUNING Manual
The Premier League!
The fruit industry has a number of major grower/suppliers. This element of The English Apple Man - LINKS page will concentrate on the 'big players' who dominate the supply of UK Top & Soft Fruit.
The largest Top Fruit grower is MANSFIELD FARMS with the head office in Chartham Kent and more than twenty farms across the county, Paul Mansfield has expanded the business started by his father circa 40 years ago into the major Top Fruit grower/supplier in the UK.
Currently second in the Premier League; A.C.GOATHAM & Sons with the old business headquarters at Street Farm replaced by a new 'state of the art' storage, packing and offices at FLANDERS Farm in time for the beginning of the 2013 season.
NEWMAFRUIT INTERNATIONAL Melvyn Newman has built a Growing and Packing business which is still expanding, with 1.300 acres of Top and Soft Fruit.
Adrian Scripps Ltd established in 1960 by Adrian has grown over the last five decades into one of the biggest and best apple & pear growing businesses in the UK. Based in Kent with the Head Office at Moat Farm in the heart of Kent, the company has grown from modest beginnings into a 750 hectare business with 320 hectares devoted to fruit production.
Nurserymen who supply Apple trees!
Specialist Nurseryman supplying Garden Centres Frank P Matthews
Hampshire based Nursery; Blackmoor Estate is a high quality nursery!
Fruit Trees from North Pole; Fruit Trees in Kent from Cromar Nursery near Maidstone in Kent.
Clifford Cain runs Fruitscape based in Yorkshire he provides advice and management support, including pruning for small apple growers and gardeners in the North East of England.
The Apple industry promotional board, English Apples and Pears
Visit The Fruit Collections at Brogdale Farm, Faversham, Kent.
Visit Orange Pippin for an extensive data base of fruiting tree varieties.
Visit Orange Pippin Pollination Checker to match pollinating varieties.
Visit Ashridge Trees tree supplies and 'Online pollination checker for apple trees'
Interesting Apple Facts - Apples and Roses
Bramley Processors Visit Fourayes a major processor of Bramley Apples for the food industry. Fourayes process over 8,000 tonnes of Bramley apples a year. Growing almost 1,500 tonnes in their own orchards.
APPLE AND PEAR JUICE
Visit Moor Organics at Deerton Street, Teynham, KENT. The farm borders the original KINGS ORCHARD planted Richard Harris, head gardener to Henry V111.
Apple Juice Visit Arena Gold a new source of Apple and other juices located close to Bewl Water in Kent.
For gardeners/smallholders with apples for juice; OWLETS could be your answer!
Of interest at Fruit Focus; Fruit pressing equipment for APPLE JUICE
FARM SHOPS
The English Apple Man recommends GRANGE FARM SHOP in Funtington, near Chichester in West Sussex.
The English Apple Man recommends MAYNARDS - Windmill Hill, Ticehurst, East Sussex. Pick you own enterprise since 1952.
The English Apple Man recommendsLATHCOATS FARM SHOP Essex Fruit Growers since 1912. This is a very well established farm shop & Pick Your Own enterprise in Beehive Lane, Gallywood, Nr. Chelmsford , Essex. Note: Apples & Pears are NOT available as PYO.
The English Apple Man recommends PARK FRUIT FARM near Frinton-on-Sea, on the Essex/Suffolk border Farm Shop & Pick your Own.
The English Apple Man recommends MIDDLE FARM Nestling at the foot of Firle Beacon on the South Downs in Sussex,
The English Apple Man recommends GREAT PARK FARM at Catsfield in East Sussex.
The English Apple Man recommends RINGDEN FARM at Flimwell at Flimwell in East Sussex.
The English Apple Man recommends HOPE COTTAGE FARM SHOP at Ninfield in East Sussex.
The English Apple Man recommends PERRY COURT FARM home of Apple Crisps!
The English Apple Man recommends Eggs to Apples at Hurst Green in East Sussex on the A21 10 miles north of Hastings.
For a look at the best tastes in Kent visit Taste of Kent Awards
NUTS! Not 'whole hazel nuts' but Kentish Cobnuts.
On of The English Apple Man's delights at this time of the year is 'cracking' a fine Cobnut. The flavour is unique and quite special. Eat it with some Apple, a good English Cheese and a glass of Port (sorry, that's not English) and your flavour buds will be in heaven!
To find Kentish Cobnut suppliers follow this LINK
Birds of a Feather - The love of Birds & the Countryside is imbued by the enthuisiasm at the heart of FEATHERS website and Newsletter.
FRUIT PAGES an invaluable insight into the benefits of fruit!
Visit Gourmet Gift Baskets a collection of Fun Fruit Facts for Kids.
Another great website with children in mind, is FARM FOLK books written by John Breach
Produced in Kent is a website well worth a visit.
Weather Forecast for Canterbury area from METCHECK
NutriFitOnline. an interesting website devoted to health eating; not really relevant unless you live in the Los Angeles or Orange Counties of the USA, but nevertheless, thought provoking!
I have been alerted by a EAM reader to England in Particular a business in Essex specialising in mail order apples. I have not yet visited this farm, but will in due course.
I have been asked by Anne Smith; Gloucestershire Orchard Group Secretary if I would add LINK to their group. I am happy to support the efforts of GOG in their aim of preserving the history of apple growing in their region!
A Government 'how to' Guide for Community Orchards is available from:
An "Edible Wild Plants" Guide suggested by Katherine Kennedy and her Class. NOTE: Caution should be used whenever collecting wild plants and many of the sources include guidelines to avoid toxicity.
The Good Fruit Guide a comprehensive guide to the availability of all fruits, UK & Imported, featuring regular updated information.
Visit TOM HART DYKE & THE WORLD GARDEN @ LULLINGSTONE CASTLE.
Clockhouse Farm at Coxheath in Kent is a website well worth visiting. Robert Pascal, an old friend is a leading grower of Top & Soft Fruit.
MISCELLANEOUS WEBSITES
The websites listed below are run by friends of The English Apple Man who has had first hand knowledge of, and are recommended by me.
Click to visit ARENA PURSUITS for fun of all ages. From Children's parties to Team Building.
Corporate Entertainment. TEAM TACTICS. MD Tina Benson and Events Executive Hellen Kelly have been friends for circa ten years. They offer a wide range of Events from Corporate Entertainment to Birthday Parties.
For a guide to finding local food sources visit the FOOD SAFARI
Visit The Grocer Magazine for a wealth of information about fresh fruit and vegetables.
Visit Fruiticulture and discover Chris William's passion and expertise for Fruitculture!