Varieties
While there are thousands of varieties of Apples, the availability in our shops is very limited.
In any calendar year, global varieties like Braeburn, Gala, Golden Delicious and Granny Smith dominate the volume sales market; Bramley is virtually unique in the culinary sector.
In the perceived 'superior' area of Apples, Pink Lady and increasingly Jazz stand out. In our English Apple dessert season from August to April Cox no longer holds its own as the top seller, English Gala is now the dominant variety and Braeburn is vying with Cox for second place; it is only a matter of time before Cox drops into third place.
THE VARIETY LIST SET OUT BELOW IS STILL IN DEVELOPMENT AND WILL BE ADDED TO AT REGULAR INTERVALS UNTIL ALL VARIETIES SOLD IN UK SUPERMARKETS ARE LISTED.
THE NEXT PHASE WILL BE TO LIST ORGANIC VARIETIES AVAILABLE IN UK SUPERMARKETS. FINALLY THE HERITAGE VARIETIES AVAILABLE, OR WITH THE POTENTIAL TO GAIN ACCESS TO SUPERMARKET OR OTHER HIGH PROFILE OUTLETS LIKE SPECIALIST FARM SHOPS WILL BE LISTED.
For a full listing of all apples & pears, visit The National Fruit Collection
The English Apple season normally gets under way in early August with Discovery.
Starting dates for varieties of English grown apples grown in commercial volumes, in their natural order is:
August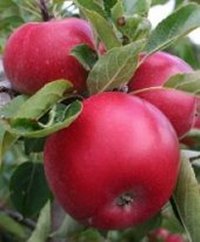 Discovery
Origin UK.
Raised in Langham, Essex by Mr. Dummer circa 1949 and named Thurston August. Renamed Discovery in 1962 and introduced by Nurseryman Mr. J. Matthews.
A cross between Worcester Pearmain & Beauty of Bath (possible) (B of B is almost certainly the second parent) When ripe on the tree it is 33-60% bright red with a pale green/cream background colour.
Texture when fresh is crisp and juicy often with a pink stained flesh. Flavour acidic with a hint of strawberry flavour. By 1980 Discovery had become the main early English variety.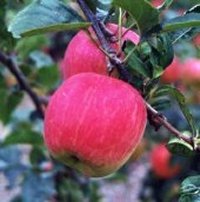 Delbard Estivale
Raised in France in 1956 as Delcorf by nurseryman G. Delbard.
A cross between Golden Delicious & Stark Jonagrimes. Given the trade name Delbarestival in 1998.
September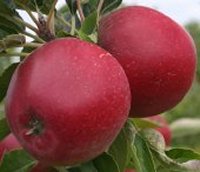 Worcester Pearmain
Origin UK.
Raised by Mr. Hale of Swan Pool, St. Johns, nr Worcester and believed to be from a Devonshire Quarrended seedling, grafts taken from mother tree by Mr. Richard Smith of St. Johns Nursery in 1873.
Recognised by RHS in 1875. Bright red, almost sunbaked over a bright green background colour, a firm juicy texture with white flesh and intense sweet almost strawberry flavour.
Best eaten when ripe as immature fruit has a greenish white flesh and tends to be chewy with poor flavour.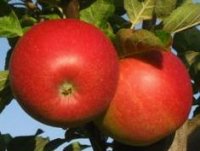 Early Windsor
Raised in Germany as Alkamenein th 1930's by M. Schmidt at The Agriculture & Horticulture Institute at Munchen-Mark.
A cross between Gehiermat Dr Oldenburg & Cox's Orange Pippin. Introduced in 1962. Renamed Early Windsor for the UK market in 1996.
Appearance orange/red stripes over yellow.gold background colour. Crisp juicy flesh, with a rich, aromatic, honey flavour.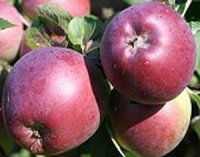 Spartan
Raised in Canada in 1926 by R.C.Palmer, Summerland, British Columbia.
A cross between McIntosh & Yellow Newtown Pippin. Introduced in 1936. A flushed crimson.
At its best the flavour is a perfumed cross between strawberry & melon, sweet with some acidity, juicy, crisp white flesh.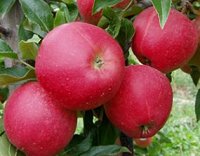 Gala
Raised in New Zealand circa 1934 by J. Hutton Kidd, Wairarapa Valley. Cross between Kidd's Orange Red & Golden Delicious. Named Gala in 1965 by Dr. W.M.McKenzie in Havelock NZ.
Appearance is bright stripy orange/red. Improved clones have bright red blush on 50-80% of the apple with pale green/cream background colour.
Rich, honeyed, very juicy with crisp, but yielding texture, it is a particular favourite for children in The Fruit for Schools programme.
In 1971 following favourable comments by Queen Elizabeth on her visit to New Zealand and further Royal approval by The Queen of the Netherlands an Improved clone with more red colour was named Royal Gala.
In 2009 Royal Gala, Mondial Gala (particularly in England) and Galaxy Gala amongst others are grown in every suitable climate and sold in nearly all countries in the world. A truly Global Apple!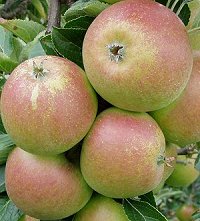 Cox
Cox. Origin UK. Raised circa 1825 by Richard Cox a retired brewer at Colnbrook Lawn, Slough, Buckinghamshire. Believed to be grown from Ribston Pippin pip. Introduced in circa 1850.
When perfectly ripe it exhibits a delicious sweet flavour, with a rich intense aroma. The flesh is deep cream and can be described as spicy, honeyed, nutty, even pear like, a subtle and complex blend.
First grown commercially circa 1862 by London and Vale of Evesham market gardeners and by Kent Apple growers in the 1890's although problems of disease placed a question mark over the variety soon after and it was not until the 1920's with the advent of Sulphur sprays that it regained popularity.
Planted heavily after the second world war it became the main English Apple by the early 1970's and is still the main English Apple variety by tonnage in 2009.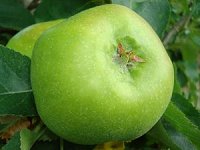 Bramley
Bramleys' Seedling. Raised in 1809 by Miss Mary Anne Brailsford and planted in a garden in Church Street, Southwell, Nottinghamshire. Introduced by H. Merryweather in 1865 and named Bramley's Seedling in honour of Mr. Bramley a local butcher who owned the Cottage and garden.
Bramley became widely known during the 1880's and following successful exhibitions at The RHS (Royal Horticultural Society) in the late 1880's commercial plantings followed.
The first Bramley Ochard in Kent was planted by Mr. F. Smith at Loddington Farm, nr Maidstone in 1890. The Smith family still farm at Loddington, but sadly the original trees have long gone.
Bramley is admired by Chefs for its ability to cook to a pale cream puree with strong acidity and flavour; its renowned ability to match the requirements of many diverse recipes is paramount to its lasting success.
For the opportunity to see many recipes go to Bramley Recipes