Journal
3rd Sep 2010 - Harvest gets closer. Gala Club report.
WOW! After the more than decent weather in June & July, followed by the 'not unexpected blip' in August, we are promised an Indian summer during September. This is welcome news for the Apple & Pear harvest. Good weather makes such a huge difference to the storage quality of the fruit and a much easier, more enjoyable working environment for our pickers!
As we get closer to the main harvest period, when Cox, Gala, Bramley and Conference are the major players, it is comforting to observe the visual quality of our apples & pears is very good. When we cast our minds back to the very cold weather experienced at blossom time, it is surprising how well the fruit has survived. We never stop learning, but it is highly probable that the long winter/late spring which kept trees in a dormant stage much later than we have experienced in recent years, is responsible.
As reported in my Journals in May, and particularly 7th May edition, the long dormancy optimises the strength of the fruit bud, and as the season finally got under way, this strong fruit bud, coupled with, in most varieties, an abundance of blossom, resulted in a fruit set way beyond our initial expectations.
This trait appears to be imbued in the quality of the coming harvest. The very warm June & July, with warm days and nights has resulted in high sugars at this stage of the season, with some some 2-3 weeks before the main harvest period gets under way. It is understandable that expectations for high visual and eating quality are forecast by our industry's technical experts.
Gala Club
Last week I mentioned the Gala Club, and the meeting at Newmafruit Ltd at Chartham In East Kent. We were blessed with a beautiful evening and a very good attendance of some 50-60 growers and industry representatives.
Melvyn Newman established his own business back in 1973 in the Paddock Wood region of West Kent. Historically his family were involved in wholesale markets in London.
In 1989 he moved the business to it's present site at Howfield Fruit Farm, in Chartham, near Cantebury in East Kent and now farms a total of 560 hectares (circa 1,350 acres) of Apples, Pears, Plums and Soft Fruit. Melvyn is now truly one of 'The Premier League' growers, e.g. 1,000 acres +
Melvyn uses Dole as his marketing agent and acts as a distributor for many Dole products destined for, in particular The Coop Supermarket.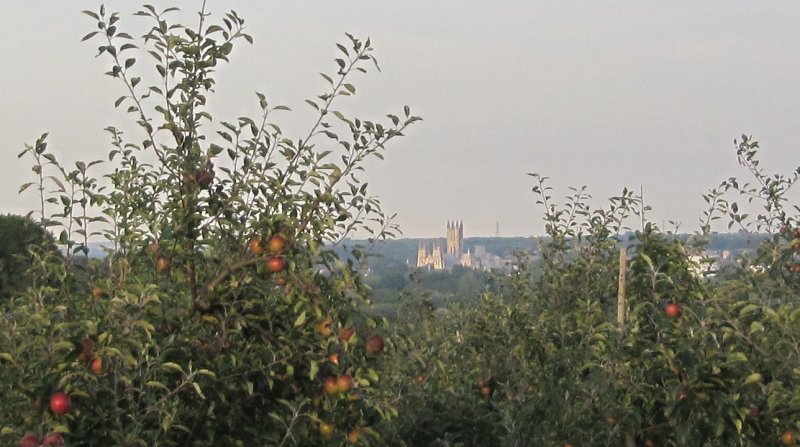 We toured the farm (by mini bus!) looking at Gala, Braeburn, Cox, Bramley, Cameo and Kanzi apples in addition to some superb Conference pears. Mike Barnet, Technical Consultant to Newmafruit gave us an insight into the philosophy driving production at Howfield Farm. The orchards are intensive, but not over complicated. The varieties designed to take account of consumers changing preferences. Altogether a very impressive display of high yielding, good quality fruit!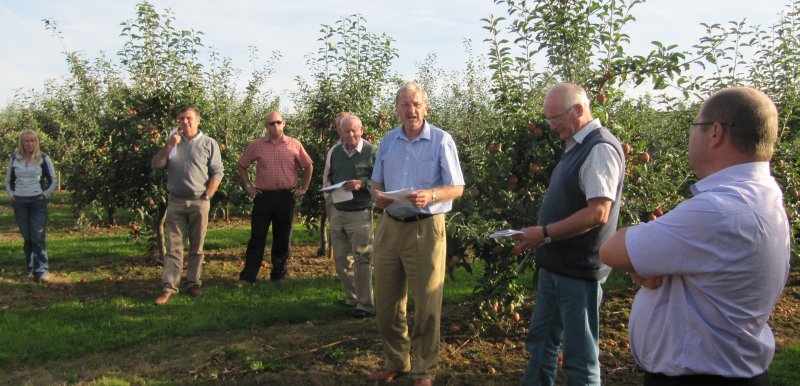 After our tour we settled down for a discussion and a number of poignant presentations under the control of Gala Club Chairman, Harry Wooldridge. Harry is a great supporter of Gala and was amongst the first 'tranche' of UK growers investing in what is now a truly 'global' variety. Indeed his determination to 'champion' Gala as an alternative to our older, more established varieties, has been a valuable benefit to our apple industry.
Representatives of Dole, The World's largest grower & marketeer of fresh fruit and vegetables and Melvyns' marketing agent, gave us an overview of what we could expect from the influence of global supply on our Gala prospects for this coming season.
The next speaker Adrian Barlow, CEO of English Apples & Pears gave us an 'in depth' account of the success of Gala, as a global variety and critically it's growing importance in our UK Supermarkets. As a variety Gala has grown from just 4% of the apples on our shelves in 1991 to a staggering 25%. Gala is now close to being the most important variety grown in The UK, very close to overtaking Cox, historically our number one variety over the last 60+ years.
The prospect for 2010 season is a good supply of high quality Gala for consumers enjoyment, with prices (due to global supply) perhaps a little higher than in 2009. In all probability, the retail price may remain as in 2009, but with less 'BOGOF' promotions which seriously reduce growers financial returns, indeed the 'vibes' I pick up from growers is quite simply, "we can survive on the listed prices, but too many promotions kill our returns"
The final speaker was Tim Biddlecombe of FAST speaking on behalf of The English Apple & Pears funded Quality Fruit Group
Tim reviewed the season's weather (to date) highlighting the fact that blossom time & blossom fall was 10 days later than 2009. The high temperatures in June/July coupled with high light levels, and the more than adequate leaf to fruit ratio, has been advantageous in development of fruit sugars. But, the season will still be later than last year, as starch levels have not shown any sign of dropping so far.
To review the monitoring system used to determine when harvest takes place visit my Journal for 4th September 2009.
I leave you with some nice pictures, all taken at Howfield Farm of apples to 'wet your taste buds'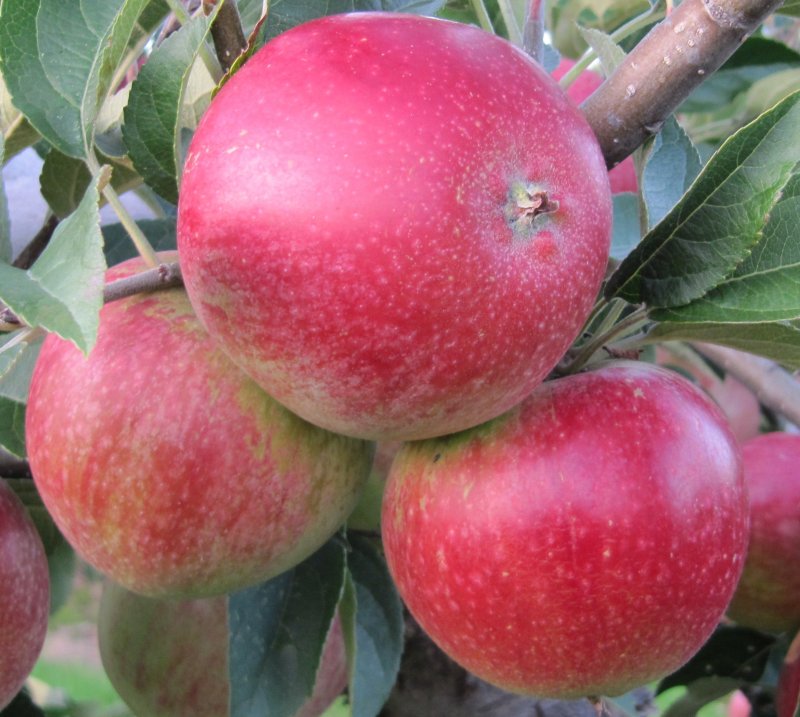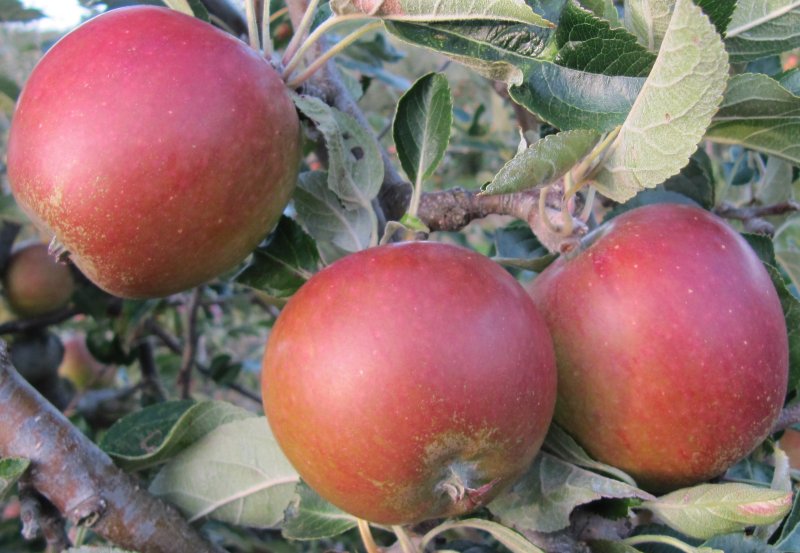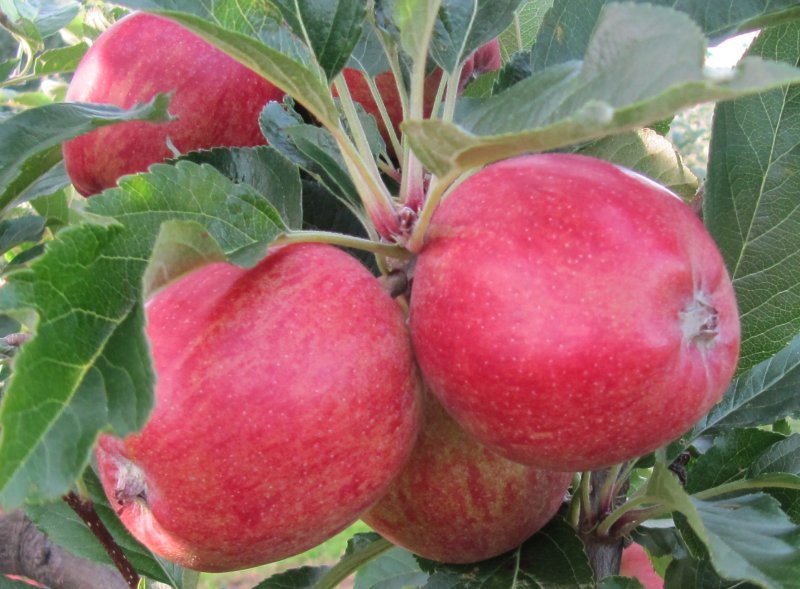 Take care
The English Apple Man