Journal
8th Oct 2010 - The English Apple Man visits West Midlands.
As reported in last week's Journal, The English Apple Man spent last Wednesday - Saturday visiting apple growers in The West Midlands
Wednesday morning and the sun was peeping through the clouds as I set of for Ledbury. It did not take long for the rain to set in and the journey thereafter was wet and miserable. Approaching Gloucester the rain eased and by the time I reached Ledbury the sky was showing clear signs of the sunny evening ahead.
My first visit, was to Cilla Clive & Tim Sobey at Redbank Farm, a delightful situation with views across the farm to Ledbury just a mile away.
Cilla and Tim have been good friends of mine for many years now. My knowledge of fruit growing is always enhanced after each visit. Redbank is Cilla's family farm, and her management is always spot on with each aspect thoroughly thought through. They grow apples, plums and blueberry nursery plants.
Her story is one The English Apple Man hopes to feature in People Profiles.
Tim, now past natural retirement age, is still making trips overseas advising growers in many countries on soft fruit, predominantly blueberries these days. At home his technical expertise is an invaluable support for Cilla at Redbank.
I am always astounded, not just by his encyclopedic knowledge of all plant life, but his ability to project ideas for development of new varieties and growing systems..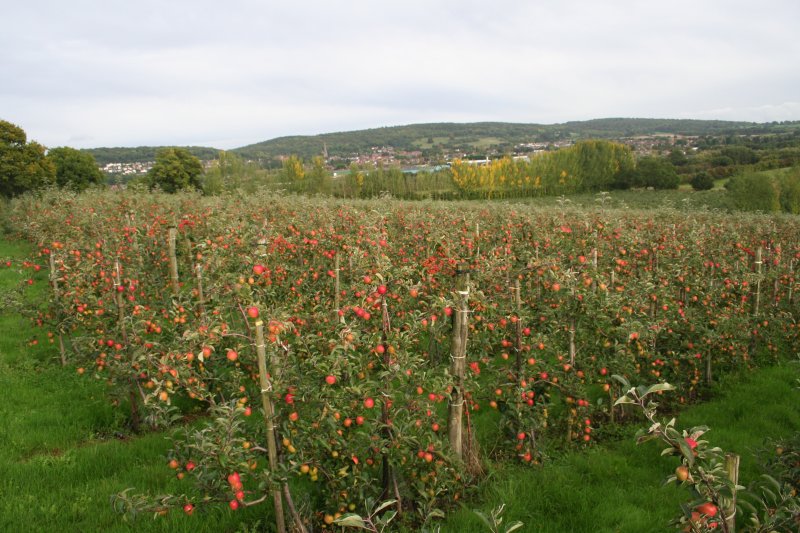 In the picture above an orchard of Jonagold in the foreground is 'crowned' by The Ledbury Church steeple in the background.
At this stage of the season, only the Jonagold and Jazz are still to be picked at Redbank. My main interest was the Jazz, which will be 'picked over' in the week commencing 9th October when enough of the fruit has sufficient red colour, which develops quickly with the cold nights, and particularly if the days are warm.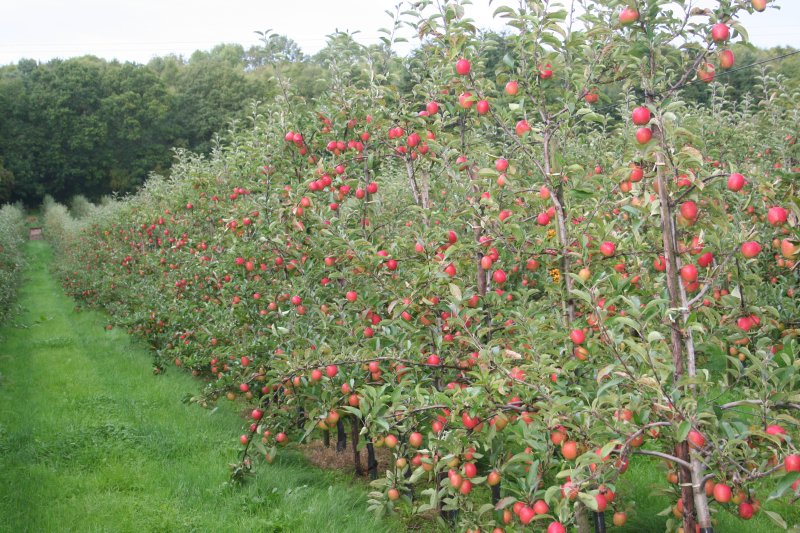 Bi-coloured varieties
'It is this day night' contrast which is essential in the production of 'bi-coloured' varieties like Cox, Gala, Braeburn, Jazz, Kanzi, Rubens and Cameo; varieties which now dominate the 'core' of apples grown in the UK.
In Chile for example, areas around Santiago, though warm by day, are not cold enough by night, but drive a 100 miles further south and the day night balance is perfect. In Italy, the bi-coloureds are predominately grown in the north around Bolzano in The Tyrol.
On the shores of Lake Constance (Bodensee) in southern Germany, Braeburn can be as green as grass as harvest approaches and change colour dramatically in just a week.
The Jazz at Redbank is now in it's 5th season and carrying a very good crop. Indeed all apple crops in the West Midlands are well above the previous year and generally much heavier than Kent.
As I left Redbank for my 'overnight stop' my thoughts drifted back a few years to the start of 'The Jazz story in England'
My involvement in those early days was a 'hands on role' supporting the commitment of our growers in a major investment programme designed to improve growers financial returns and replace imported varieties like Pink Lady with a superior 'home grown' Apple. Those seeds have now matured and Jazz is fulfilling all it's early expectations. English Jazz will be in the shops in November.
In the spring of 2006, over 200,000 Jazz Apple trees covering some 200 acres were planted around the UK in Kent, Herefordshire, Gloucestershire and Sussex. Millions of pounds were invested in the largest single apple plantation programme ever seen in the British Isles. The largest single producer of British Jazz Apples is Kent grower, Paul Mansfield - one of his farms in Chislet has a quarter of the total UK plantings after an investment of more than £1 million. It is anticipated that by 2012, Britain will be producing a whopping 1.5 million Jazz Apple cases.
Hot off the press! Worldwide Fruit Growers will be plantinga nother 115,000 trees this coming winter, so volumes of this superb apple will increase steadily over the next 5 years.
Rise Farm, Fownhope in Herefordshire
My overnight accommodation as a guest of my good friends Tony and Avril Jones is idyllic. Set in a valley in a quiet lane about a mile from the village, Rise Farm a circa mid 1800's farmhouse and buildings is now a sheep farm, with the remnants of old cider apple trees adorning the fields close to the buildings, with wonderful varieties like Tom Putt and Annie Elizabeth. In the old barn ancient Cider presses sit serenely in retirement.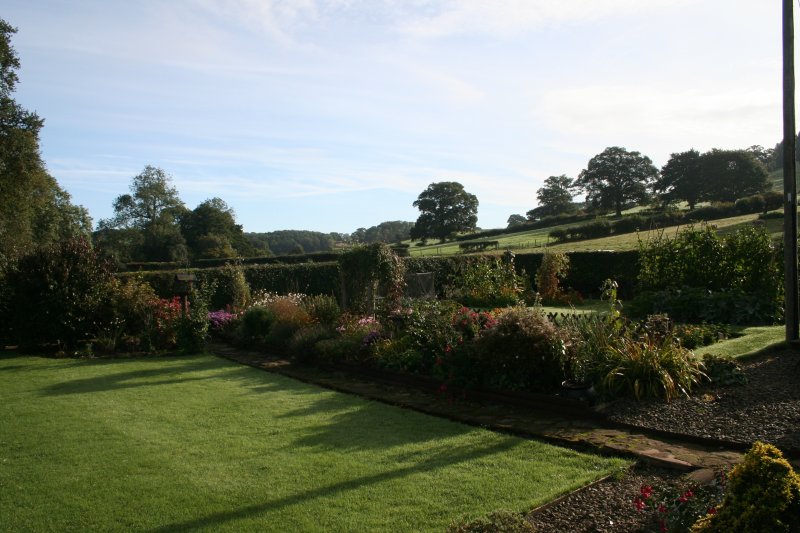 On arrival I found Tony & Avril with Tim, a near neighbour, well into the mandatory pint of cider while relaxing in the warmth of the oak logs on the chimnea. From the comfort of my garden chair, the rolling green countryside, complete with grazing sheep providing a scene of complete contentment.
My hosts, fifteen years into retirement from the hustle of London life mix their days with Cider and Apple Juice production from their ancient trees and 'forays' into Cardiff for Rugby Internationals or London for test matches at Lord's. Their Cider and Apple juice is not sold, but supplied free to village friends. At breakfast, I spied the postman tapping on the window, while waving an empty bottle he was returning. 'Two more were ordered for his families evening enjoyment'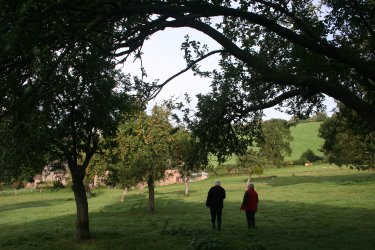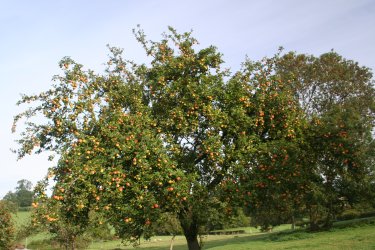 Avril grows as much as possible in her garden and matches this amazing fresh produce with a culinary zeal second to none!
All meals were memorable, but Thursday's supper of 'wild mushrooms' on toast, followed by her delicious 'beef tomatoes' in a superb sauce on a bed of pasta seduced my taste buds completely.
Thursday beckoned sunny and warm. After taking a few photos of the ancient cider trees, I set off for my next visit to Andrew Jackson at his family farm in Glewstone, just NW of Ross on Wye. Man of Ross and Andrew Jackson enjoy a fine reputation as one of the most successful fruit farming businesses in England.'Well just, as it is not far from Wales'
The picture below shows Andrew in the young Gala orchard. In adjacent rows the pickers are hard at work.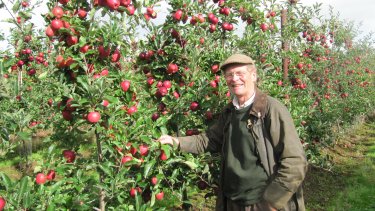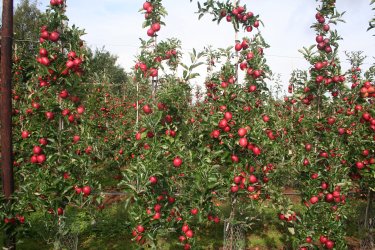 A visit to Andrew is always a pleasure as I always learn something new. Andrew has always been an innovator, and now as he enters his 8th decade he continues to demonstrate his deep understanding of the land beneath his feet and the husbandry required to increase further the yields and quality of the apples, pears and plums at Man of Ross.
On my last visit 4 years ago, Andrew was just about to embark on a large planting programme. This is now in place and 20 acres each of Braeburn, Gala, Conference Pears, Opal Plums and Jubileeum Plums. In excess of £1,000,000 in investment.
Many would consider this foolhardy (even Andrew at times) but this sort of investment in new orchards is essential if our English Top Fruit industry is going to continue the fightback against imports and fulfill the need for sustainable home grown produce.
For many years our industry stagnated in the face of overwhelming imports and the inevitable low prices, which undermined confidence in new investment. It is due to the ability to grow higher yielding varieties, almost all originating from overseas that the confidence to invest has returned.
The X factor in our favour is the undoubted benefit our climate bestows on superior 'flavour'
In the picture below, a new Braeburn Orchard, now in it's 4th year demonstrates Andrew Jackson's commitment in embracing the latest growing techniques.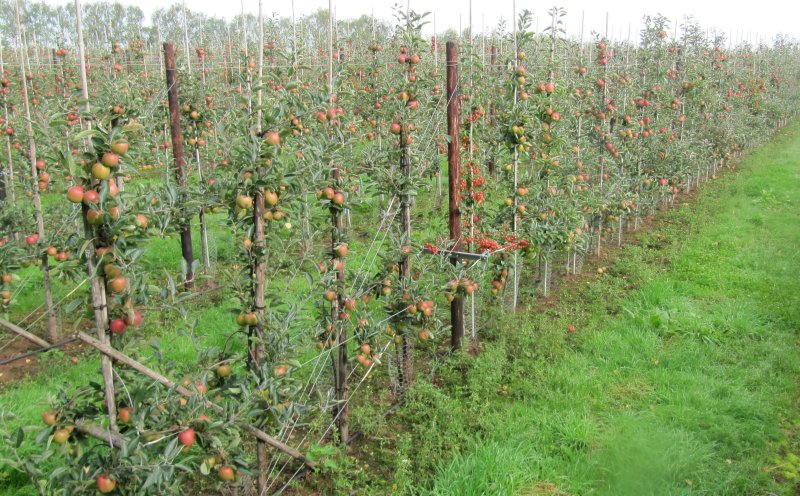 My next visit took me to Aston Fruit Farm in Gorsley, the home of David Morton the Chairman of West Country Top Fruit Growers. This is another stunningly beautiful farm and I was lucky enough to catch the last day of Gala picking and view the progress of Jazz.

The pictures of Gala below, show a crop of perfect colour, quality and yield. 'A joy to behold'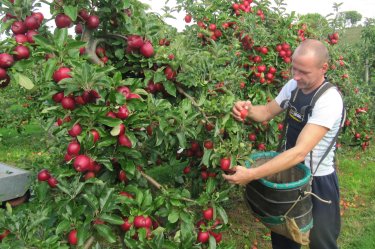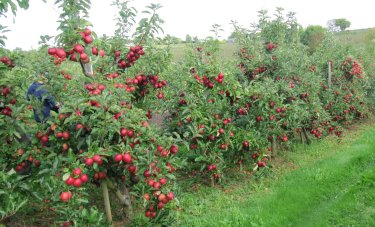 Friday, I awake to heavy rain, with no sign of a let up. Tony & Avril are already listening in to The Ryder Cup at Celtic Manor, about 3/4 of an hour away.
As this region is famous for it's Cider production, Tony organised a visit to Broome Farm near Ross on Wye. There we met Michael Johnson, who with his sister runs their family enterprise. The Cider Farm of 45 acres, Cider Mill, a Bed & Breakfast business, Restaurant and Cream teas in the summer, plus summer concerts in the barn.
A pity about the rain but we managed a stroll into the orchards and saw modern cider apple harvesting at work. The fruit is 'shaken off' the trees before a sweeper collects the fruit and deposits it into a waiting trailer.
Fascinating, as it is totally opposite to my dessert apple mentality where every 'touch' must be made with 'kid gloves'.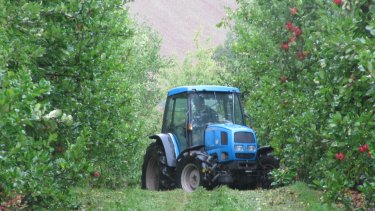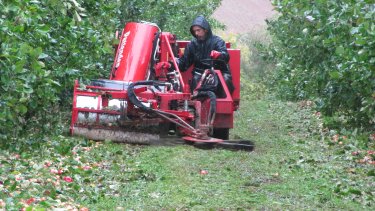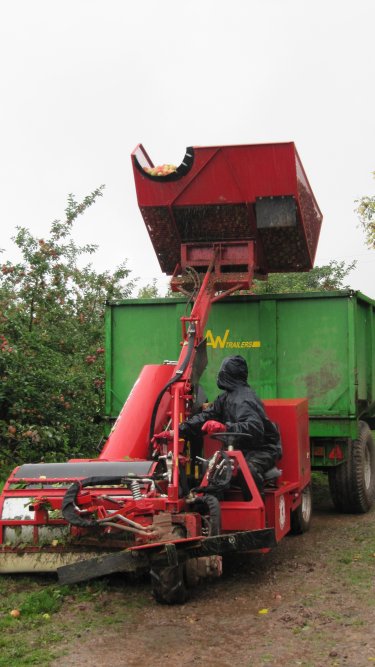 Lunch on Friday at The Moody Cow in Upton Bishop gave me the chance to catch up with my old friend Rob Simpson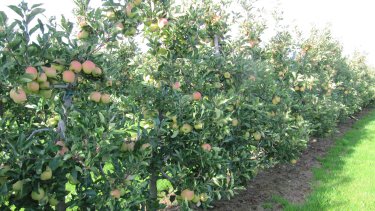 Rob is one of the great West Midlands characters. Over the years he changed the family business from chicory growing; hence the CHICORY CROPS sign on the farm gate, into a leading supplier of Raspberries and Apples to Waitrose and M&S.
One of the varieties Rob has specialised in is Tentation, similar in appearance to a Blush Golden Delicious, but with a much sweeter taste. This is a late variety and will not be picked until late October. Shoppers at M&S and Waitrose have been able to buy English Tentation for several years and consumers can find this variety in a number of Supermarkets from November onwards.
Rob has now passed on the management of the farm and pack-house to his sons Jake and Rupert. But Rob is not one to sit in an easy chair in retirement and may well be found 'Micro lighting' across the Herefordshire countryside or working on one of his vintage cars. He is currently preparing for The London to Brighton Rally.
Lunch by the way was superb. The Landlady Rebecca Fox or FOXY to her regulars has only been at the 'Moody' for 12 weeks, but I would recommend a visit to anyone visiting the area.
My last visit took me to Castle Farm, just north of Newent and the home of Michael and Chrissy Bentley.
Michael, an arable farmer with no previous experience of fruit farming, bought the farm from the previous owner John Nicholson some 10 years ago. A very well managed farm with Apples, Pears and Plums; traditional crops in this region. Michael also acquired Clive Maile, a very fine young farm manager, and his knowledge was invaluable in the transition of ownership.
On Friday with Michael & Chrissy enjoying a first opportunity for some months to 'get away for the weekend' Clive Maile brought me up to date with the recent changes at Castle Farm. My good fortune enabled Leon Jahae another old friend and an expert on tree management with experience of apple & pear production all over the extended EU to join us for an update on the new Jazz and Braeburn orchards I had last visited about 4 years ago.
Leon has been an invaluable asset in the transition of Castle Farm from a traditional fruit farm with less intensive orchards to a 'leading edge' approach with very intensive new plantings. The first of these, a Braeburn orchard planted in 2004 is now fulfilling it's promise. The Jazz, very close planted at 80cm apart looks superb.
The second Braeburn orchard planted at 80cm and 50cm apart created a working experiment comparing an Intensive planting with an Ultra Intensive planting. The rows are both 3.25 metres apart, allowing good light penetration into the lower aspects of the trees. Many growers would point out that 80cm is very intensive as a metre apart is a fairly standard planting distance on the majority of farms.
In these intensive trees, the aim is to produce a tree that is narrow and 8-10 feet tall with little pruning requirement. The best control mechanism is to initiate early and regular cropping. Varieties like Gala and Braeburn lend themselves to this tree management system.
As one would expect, yields in the early years were dramatically higher in the Ultra intensive planting, but as the tree cropping area expanded on the intensive plantings, the yield gap closed. In year year 2 (second leaf - 18month after planting) the Ultra intensive yield was 100% more. This reduced to 50% in year 3. 30% in year 4, and 25% by year 5. Clive Maile told me that on the Ultra intensive Braeburn, fruit size seems much more uniform, probably due to tree to tree root competition. This would be detrimental in a naturally smaller fruiting variety, but as Braeburn is more likely to grow too big if trees are vigorous, this close proximity appears to be delivering an unexpected bonus.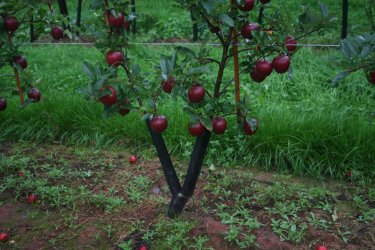 Finally we looked at the new 'double leader' Gala orchard. The thinking behind this tree type is at a tree spacing of 1 metre the leaders create a fruiting unit spacing off 50cm. That is a better environment for the roots than a tree spacing of 50cm and the investment in trees is less. A double leader tree is about 60% more expensive than a single leader tree. Some varieties will stand a 50cm spacing but others will suffer from the close spacing and weaker trees and smaller fruit will result.
Many in our industry will consider this 'ultra' intensive planting an unnecessary investment, but unless apple prices improve considerably, this high intensity production is the shape of future UK orchards.
Friday night in Fownhope!
After all Avril's hard work and excellent cuisine it was an opportunity for the three of us to try The Green Man in Fownhope. Apparently in new hands for only the last 8 weeks, it is already setting a fine reputation for good food and excellent service.
We found the ambiance perfect and the food absolutely superb; my Herefordshire Venison, served on a bed of celeriac mash, complemented by a delicate mix of vegetables was up there with the best meals I have eaten, and as a farmers boy spoilt rotten by a succession of good cooks in the family, my palate is an outstanding judge of good food!
FESTIVAL of BRITISH FRUIT
On Saturday and Sunday 23rd & 24th October at East Malling Research, East Malling, near Maidstone in Kent, The National Fruit Show in conjunction with East Malling Research will be celebrating the very best of English Apples & Pears.
ENTRY and PARKING IS FREE
Opening times; Saturday & Sunday 10am - 4pm.
The show fruit from The National Fruit Show will be on display. Visitors will have a unique opportunity to view the stunning show fruit and discuss with expert growers the benefits of English fruit, and taste & purchase the show fruit.
The Bramley Campaign 'Masterchef' will be baking Apple Pies for visitors delight.
East Malling Research personnel will be on hand to explain the science behind modern fruit growing and conduct tours of the science facilities.
Malling Heritage will display some of their Heritage Trees.
Also present, Kentish suppliers of English Apple & Pear juices, Kent Cobnuts, English Wines & Ciders and Apple crisps, will be displaying their produce.
The opportunity to taste & purchase will be available for visitors enjoyment.
Personnel from Sainsburys Supermarket will be on hand to demonstrate their support for English Apple & Pear Growers.
Videos of fruit production and Face painting for children enhance the family area.
Next week we will look at Rubens, Kanzi and Cameo.
Take care
The English Apple Man