Journal
9th Sep 2011 - Cox Apples now in the shops. Gala will follow soon!
The season is now in full flow. Most growers have picked Cox for long term storage and are now busy with Gala. On retail display, the increase in varieties available to consumers is increasing almost daily!
The English Apple Man bought his first Cox apples on Wednesday in M&S and Cox are now on sale in most Supermarket outlets.
GALA CLUB
On Wednesday 31st August the annual Gala Club workshop took place at Giles Cannon's Roughways Farm at Plaxtol, a few miles East of Tonbridge in West Kent.
This is a perfect opportunity for Gala growers to clarify the harvesting and storage requirements and update on the UK and Global prospects for Gala yields this season.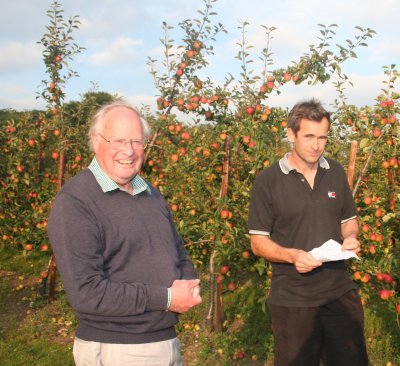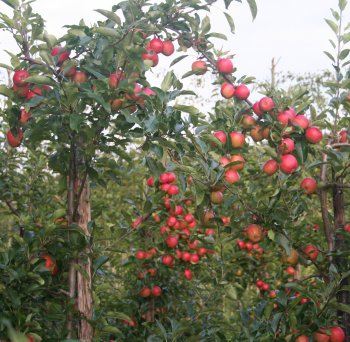 Chairman, Harry Wooldridge introduced Tim Biddlecombe (FAST), Adrian Barlow (EAP) and Mark Culley (Orchard World) and after our walk around Giles Cannon's highly productive and scenically magnificent farm, we sat in the magnificent barn and heard very encouraging news about the prospects for growers and consumers in the season ahead.
Tim Biddlecombe. FAST Ltd.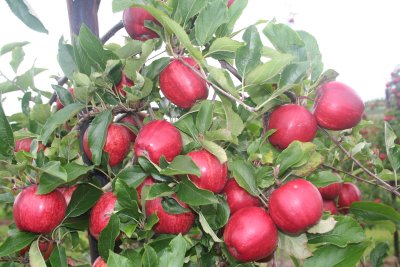 Tim is a key member of The Quality Fruit Group, the official industry advisory body funded by English Apples & Pears to advise apple and pear growers on the correct picking dates for fruit intended for long term storage.
Representatives of all the main marketing groups are involved in the decision making. The technologists, of which Tim is one, gather samples of fruit from 'monitor' sites and carry out tests for; 1) Background colour. 2) Fruit firmness. 3) Starch levels. 4) Sugar levels.
While background colour and sugar levels are important, particularly for consumer satisfaction, the firmness of the fruit and critically the starch levels are the deciding factors.
For a more detailed appraisal of the maturity assessment process, visit The JOURNAL for 4th September 2009.
Tim explained the QFG can only give growers a general guide on when picking should start as each region and indeed each orchard can vary considerably. There are sites which are traditionally 'early' or 'late' but growers cannot take previous site history for granted.
Tim said this season the key 'driver' which is the reduction of starch levels, varied by as much as 15% within a single farm. Growers are advised to carry out their own maturity assessments for each orchard and variety. He also told us that on one early farm in Faversham, the starch levels for Gala had dropped to 70% by that day, 31st August; making the fruit unsuitable for long term storage.
The planned storage period 'drives' the status required at harvest. For Cox apples intended for storage until February/March, the starch must not have dropped below 75% and the fruit firmness must exceed 8.6kg.
Gala intended for the same period delivers the best results when the starch level is between 80 - 90%.
So, the critical factor for each variety is to FINISH harvest and have the fruit safely 'tucked up' in store before the starch and firmness drop below the required standards.
An interesting and important fact that many people are not aware of, is that the red colour on apples is not an accurate indicator of 'maturity' in fact green fruit inside the tree is often more advanced than the red fruit exposed to the sun. Sugar levels however are more likely to be higher in the fruit exposed to the sunlight.
Adrian Barlow, English Apples & Pears (EAP)
Adrian reviewed the history of Gala in the UK over the last two decades. UK & imported Gala accounted for 4% of apple sales in the UK in 1991. By 2010 this had risen to 25.1% of ALL apples sold in the UK. English Gala has risen from 6,720 tonnes in 2001/02 to 26,983 tonnes in the season 2010/11.
Adrian is forecasting the 2011/12 marketing season will reach 29,300 tonnes of English Gala, up 8.6% on last season!
While most English Gala is sold between mid September and late April, this period has the potential to extend into June.
Mark Culley, Orchard World.
Mark Culley, MD of Orchard World one of the major suppliers of English Gala informed the members that the total Gala sales in the UK season (UK & Imported) account for 55,000 tonnes. The potential for further growth of English Gala as a replacement for imported in our season, is therefore considerable.
Retail watch!
Visiting a Sainsburys store on Tuesday, I was pleased to see English Worcester Pearmain, Delbard Estivale and Organic Discovery. Bramley as always on display and the first 'new season' Conference Pears.
I purchased a 4 pack of Estivale, very attractive bright stripy red on a cream background and when eaten full of juice and flavour!
On Wednesday I found Cox Apples in M&S, about two weeks earlier than a normal season. The grower is up near the estuary in North Kent, a naturally early site.
Eating one I found it typical of the first Cox of the season; crisp, a definite sweet taste but with an acidic 'edge' which from my experience, many consumers enjoy this early sharpness but some will prefer to wait another week or two.
Given the choice, I would stick with the Estivale for another week.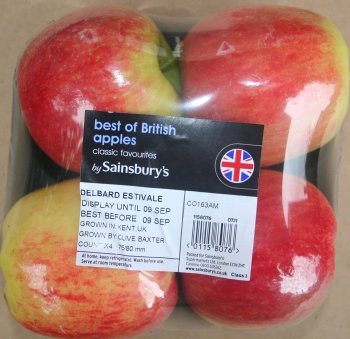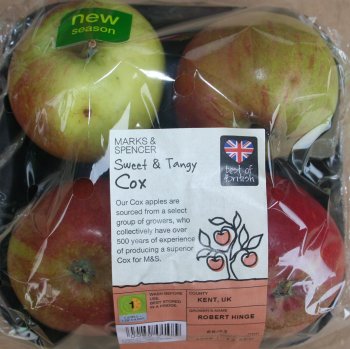 Although pleased to see an increase in English Apples & Pears, the shelves are still dominated by imported fruit, emphasising the opportunity for more early English grown varieties.
My recent report on Zari and Galmac is a poignant reminder of the vacuum in early season!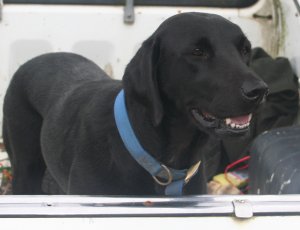 Today; Friday, The EAM visited Alan Wickham at his Combourne Farm, Goudhurst, Kent to view his Gala on the first day of harvest.
This is a farm with some spectacular views. The lower slopes always at risk from frost, which Alan told me recorded - 3.5c in blossom time this year causing some significant damage, even on the higher slopes where - 2.5c reduced the fruit set on the lower branches.
Alan was one of the very first UK growers to plant Gala and has formed firm views on which rootstocks suit his land best. Most of his orchard land was formerly hop gardens, back in the days when KING HOP ruled this part of Kent.
From the top of the hill at least half a dozen Oast Houses (now converted) can be seen, three of these were part of the Wickham families working oasts
The EAM enjoyed an hour or two touring Combourne Farm orchards with Alan in his 'trusty' Subaru pick up truck, accompanied by JET, Alan's delightful black Labrador!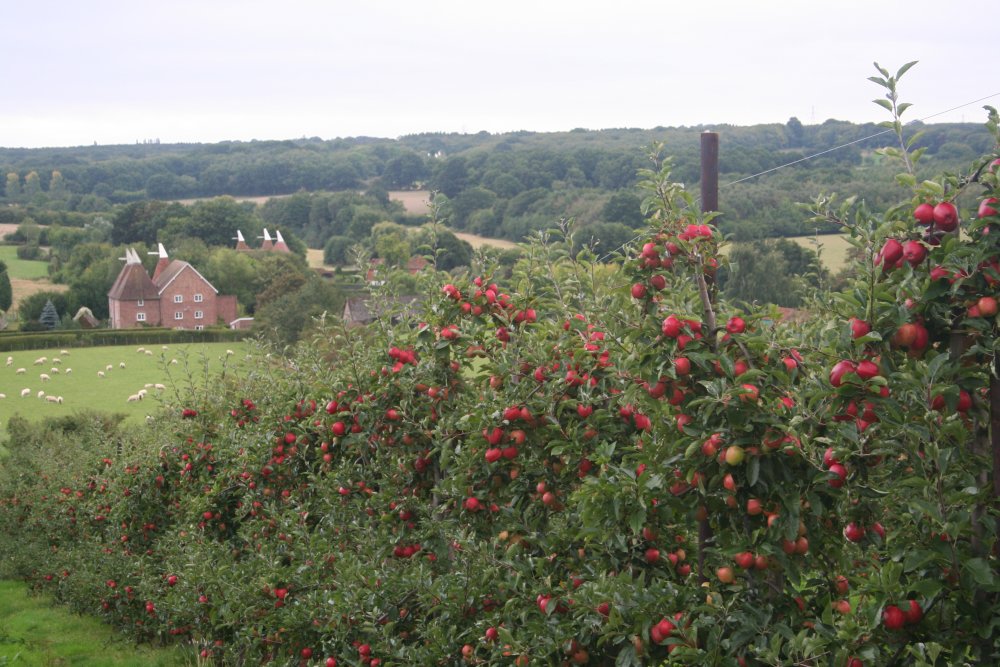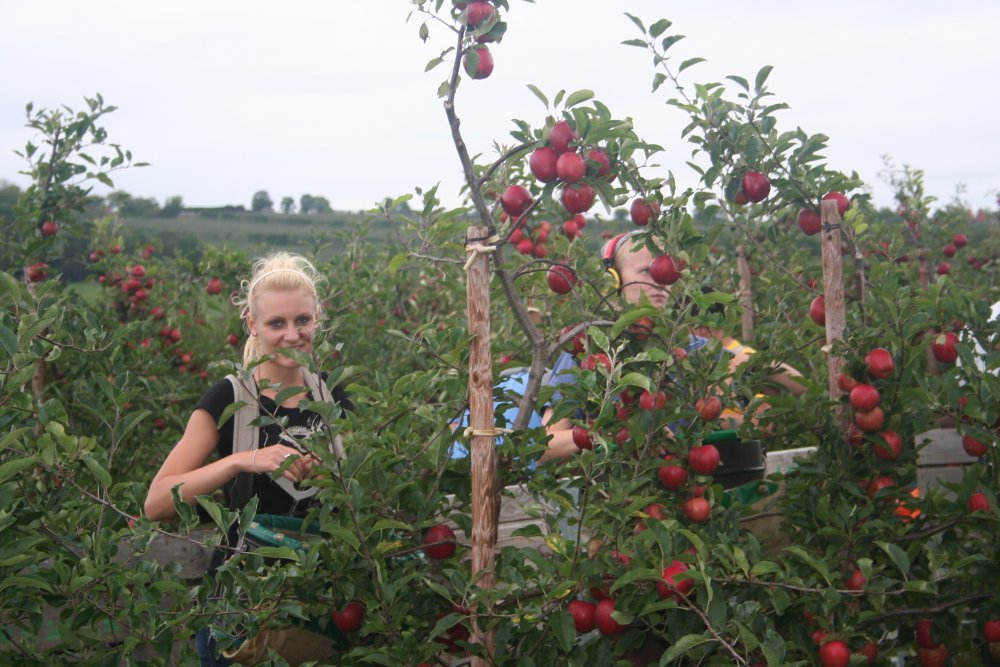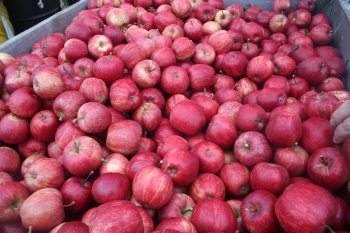 Finally, on Monday, The EAM took part in The 21st Brian Moore Memorial Golf Day at Cherry Lodge Golf Club in Biggin Hill, Kent.
It is now 10 years since Brian Moore, the consumate Football commentator passed away, poignantly on the very day England beat Germany away by 5 - 1.
This Charity Day's golf raises in excess of £7,000 pounds for Threshers Day Nursery for underpriviledged children. The annual event was initiated by Brian and his good friend John Alexandre. Their committment has raised large sums for this worthy charity and after Brian died his family agreed to allow the day to be named after him.
Now, his son Simon acts as host and with his sporting contacts ensures many charitable sportsmen, mainly ex footballers, support the day by joining the golfers on the golf course. Integral to the fund raising is the donation of a free day (no green fees) by Cherry Lodge, this gaurantees a considerable sum as 70 + golfers take part annually.
Pictured below; The English Apple Man starting the proceedings with a 'shotgun start' and Simon Moore on the first tee. In the second picture The EAM poses with Matt Lorenzo, who was the first sports presenter on Sky News when Sky started broadcasting in 1989 and the Cherry Lodge Golf Captain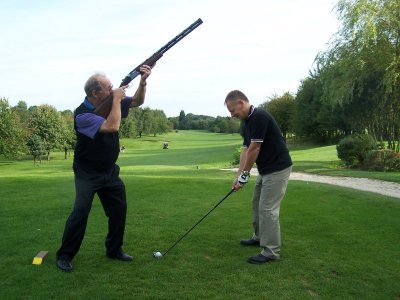 That's all for this week!
Take care
The English Apple Man