Journal
2nd Mar 2012 - A Community Orchard and the Future of English Pears
The English Apple Man is in Malta for the next two weeks and will be catching up with some of the presentations from the recent Pear Conference held at East Malling Research.
But first, a look at an inspirational event down in Kent at the village of Five Oak Green, just a few miles from Tonbridge. To celebrate our Queens Diamond Jubilee, a community orchard has been planted.
Diamond Jubilee Orchard.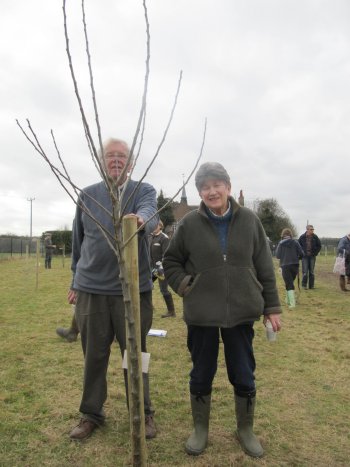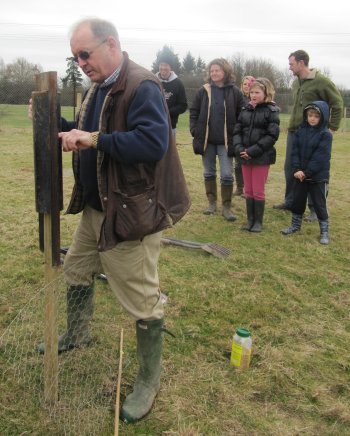 Last Saturday, The English Apple Man joined old friends Roger & Celia Worraker and fellow villagers at the planting of a community orchard at Five Oak Green in Kent. A mixture of dessert and cooking apple varieties, plus pears, cherries and plums will in time produce a wonderful scene in springtime as each tree bursts into bloom.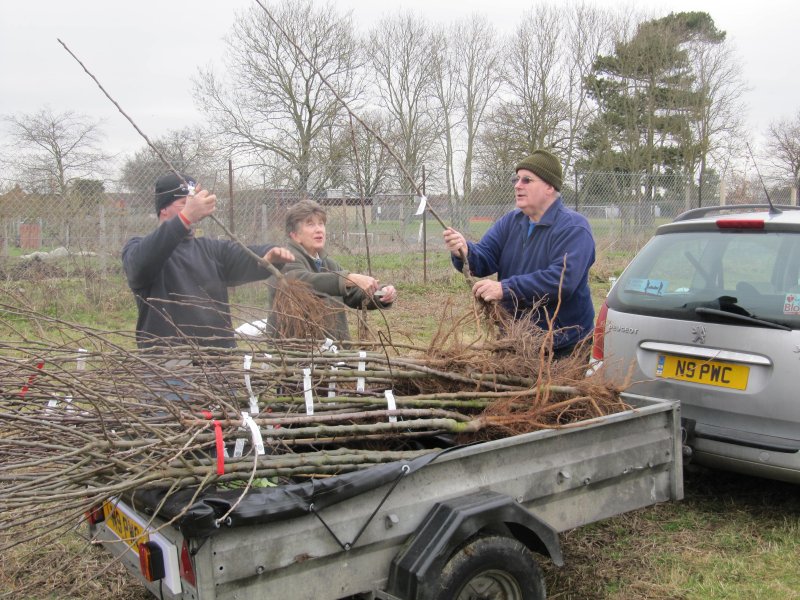 As the trees develop and come into cropping, one can picture families picnicking on the grass beneath the trees and enjoying the 'fruits' of Saturday's endevour.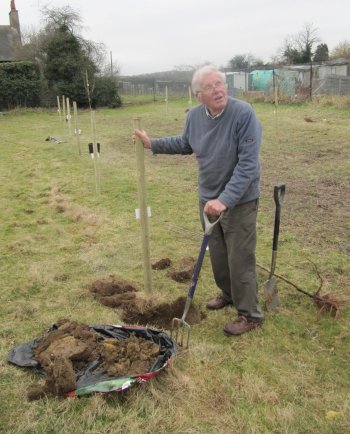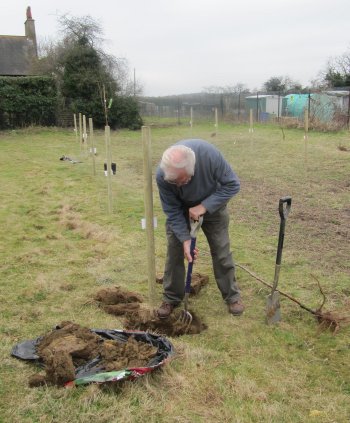 Celia & Roger had put a great deal of thought and effort into planning what will become a lasting celebration of our Queen's Diamond Jubilee and hopefully an inspiration to the villagers who will benefit from this 'living memorial, as the many children involved in the planting. grow into adults and reap the physical and inspirational benefits.
The trees are all on vigorous rootstocks and will be grown as half standards (the branches start at 4-5ft above the ground) to form a tree with a canopy diameter of 10 - 12 feet when mature. The planting distance of 16 x 11 feet will allow the grass beneath to be easily mown with a motor mower and plenty of room for the villagers to walk between the trees when fully grown.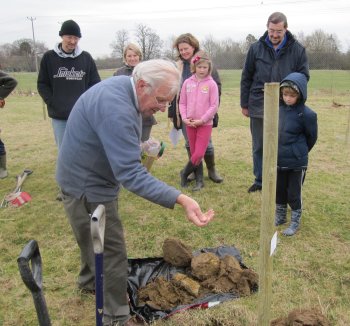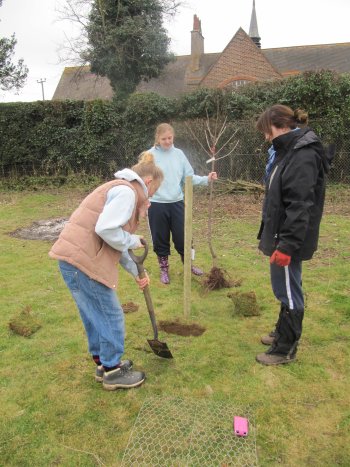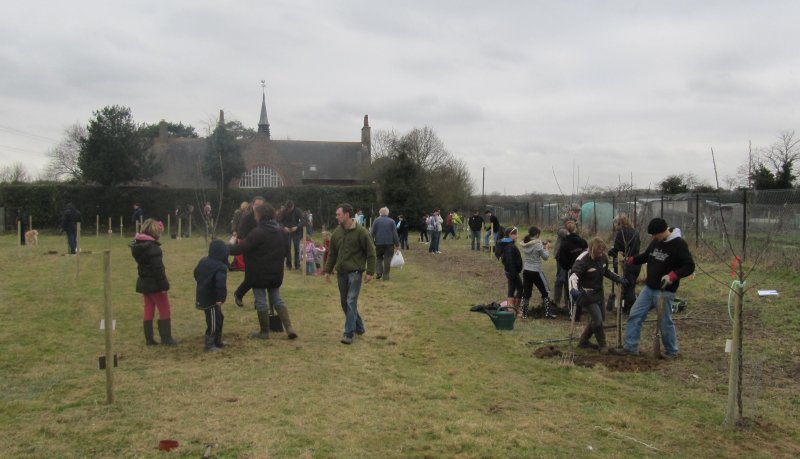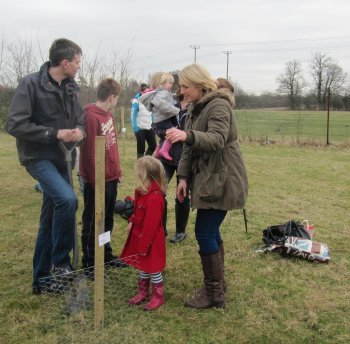 The enthusiasm of local groups and families has enabled all the trees to find a sponsor. In return for paying for the cost of the tree and stake, each sponsor, has their identity attached to the tree. Among local groups; The Scouts, Guides, Brownies, Women's Institute, Schools and many families who have endorsed a tree in memory of a loved one, or a child who will be able to watch their tree grow and bear fruit as they themselves grow into adulthhod.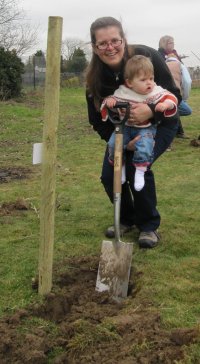 In days gone by, a community orchard would have been commonplace in each village and small town across the country. Varieties would have been quite different from region to region. many would have been 'chance' seedlings and would have been named after the place where they first appeared, or the person who found them.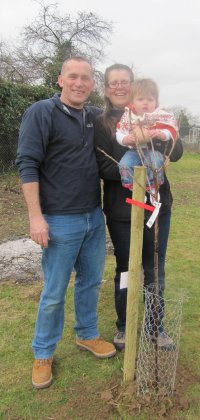 This new orchard has a diverse mix of old, well known varieties, and some newer varieties with a promise of delivering high yields of fruit with excellent eating quality and some resistance to the 'number one' disease, apple & pear scab.
In the area dedicated to culinary varieties, the famous Bramley's Seedling sits beside Crawley Beauty and Newton Wonder, famous for inspiring Issac Newton's understanding of gravity, and "how many young Five Oak Green children will sit beneath this one and hear the story of gravity from their parents or schoolteachers in the future?
Charles Ross the very attractive dessert/culinary variety, Worcester Pearmain, the most prolific English apple between the two world wars, Laxton Fortune, a most delicious eating apple and one which the EAM ate voraciously as a young man on the family farm, and Sunset, a Cox like dessert apple, and another from my youth and ideal as a variety in a community orchard.
Spartan introduced in 1936, but not prominent in England until the 1970's and still a regular on the shelves of our Supermarkets is at its best in late September and October, but can be stored successfully into the new year.
A collection of excellent dessert pears, led by our dominant English pear; Conference with the early Beurre Hardy and superb Concorde complemented by Sensation; a Comice clone with an attractive red blush which matures in August.
Of the newer varieties, Herefordshire Russet, 'bred in Kent' by a well know breeder Hugh Ermen, is joined by Red Devil, Santana, Meridian, Red Falstaff, Red Windsor and Scrumptious a very early dessert apple with superb eating quality.
Plum varieties, Opal, Czar, Jubilee and the ever popular Victoria are joined by the Old Green Gage. Cherries include Morrelo, Stella, Sunburst Sweetheart and Van.
Next winter it is planned to add Quince to the collection.
The Orchard-Visiting Wassail
(An extract from Wikpedia)
In the cider-producing West of England (primarily the counties of Devon, Somerset, Dorset, Gloucestershire and Herefordshire) wassailing also refers to drinking (and singing) the health of trees in the hopes that they might better thrive.
An old rhyme goes: "Wassaile the trees, that they may beare / You many a Plum and many a Peare: / For more or lesse fruits they will bring, / As you do give them Wassailing."
Traditional Apple Wassail rhymes
Here's to thee, old apple tree,
Whence thou mayst bud
And whence thou mayst blow!
And whence thou mayst bear apples enow!
Hats full! Caps full!
Bushel—bushel—sacks full,
And my pockets full too! Huzza! — South Hams of Devon, 1871
Huzza, Huzza, in our good town
The bread shall be white, and the liquor be brown
So here my old fellow I drink to thee
And the very health of each other tree.
Well may ye blow, well may ye bear
Blossom and fruit both apple and pear.
So that every bough and every twig
May bend with a burden both fair and big
May ye bear us and yield us fruit such a stors
That the bags and chambers and house run o'er. — Cornworthy, Devon, 1805
Stand fast root, bear well top
Pray the God send us a howling good crop.
Every twig, apples big.
Every bough, apples now. — 19th century Sussex, Surrey
Apple-tree, apple-tree,
Bear good fruit,
Or down with your top
And up with your root. — 19th century S. Hams.
Bud well, bear well
God send you fare well;
Every sprig and every spray
A bushel of apples next New Year Day. — 19th century Worcestershire
Here we come a wassailing
Among the leaves so green,
Here we come a wandering
So fair to be seen.
Love and joy come to you,
And to you your wassail too,
And God bless you and send you a happy New Year.
And God send you a happy New Year. — Somerset, 1871
So, in keeping with old traditions; each tree on Saturday was 'Baptised with Cider'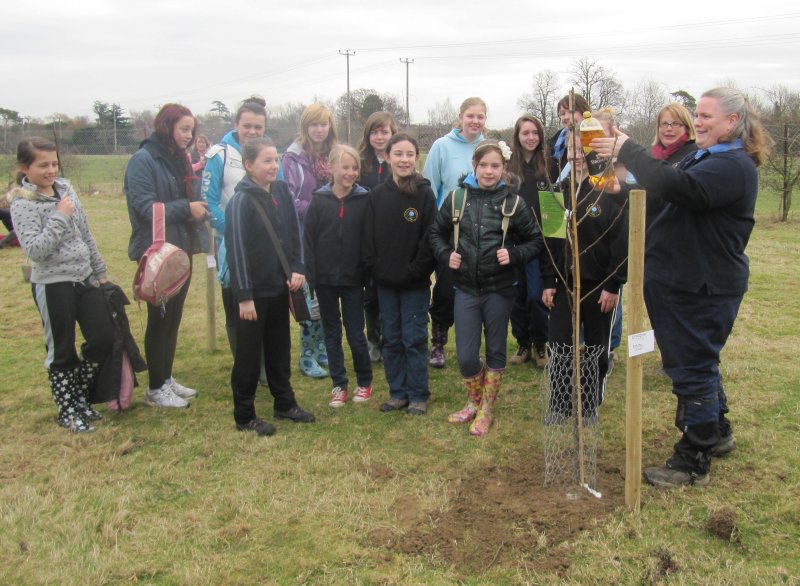 East Malling Research - Pear Conference held on Monday 27th February 2012.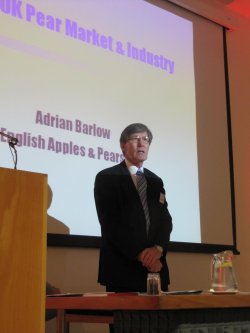 English Apple Man's comment!
This Conference; "what else would you call the event" where increasing the yields and profitability of our most popular pear 'sat centre stage' of the day's presentations, and brought a distinguished, albeit eclectic mix of industry experts and growers under one roof for the day.
My observation was that those with a 'positive or negative' view of the future of pear growing in England, probably left with their opinions unchanged. However, the illuminating detail presented by the speakers probably polarised the individual's mindset; 'glass half full' and 'glass half empty' mentalities may have stayed firmly in place, but the excellent information available to us all, will encourage the positives to go forward, with a better understanding of the key factors for success, while the negatives will go away comforted by the many pitfalls.
One thing is clear, growing pears in England will continue to be a longer term investment than apples; while apples can payback after 5-6 years, pears will need as much as twice the time period before the accumulated establishment and annual growing costs are overtaken by financial returns. It is this uncertainty which encourages the majority to plant yet more Gala apples, but while this makes financial sense at this moment in time, I think the 'core' of pear growers who are making money, often due to a long history of 'understanding the beast' and growing in climatically favourable areas (micro climates) will see their investment in the longer term, equal, if not superior to the increasing dependency of a Gala apple growing 'monoculture'

Introducing the speakers, Adrian Barlow, CEO of English Apples & Pears (EAP) set the scene with an overview of the opportunities and challenges for English Pears.
Economic influence is clearly affecting the produce market. The competition on the high street has resulted in the top 4 retailers; Tesco, Morrisons, Sainsbury & ASDA controlling 70 of the grocery market.
The plethora of exotic and other fruits has squeezed the sales of mainstream products like apples and pears. Consumption per capita is static.
The UK pear market totals 160,000 tonnes, but only 30k is produced at home, with imports accounting for 130,000 tonnes.
Pears contribute 5.5%, Apples 20.8% and Bananas 29.8% by volume of the UK fruit market. By value the three categories contribute; pears 4.6%, apples 17.9% and bananas 14.6%, reflecting the downward pressure on prices by the leading retailers.
The percentage share of the grocery market held by leading retailers, places Tesco well ahead of the rest with a 24.8% share, Morrisons with 16.4%, Sainsburys with 14.6% and Waitrose on 3.1%.
The picture for UK Pears however is dramatically different, with Sainsbury well in front with sales of 6,505 tonnes (30.8%) Tesco 4,407 tonnes (20.9%) Morrisons 3,714 tonnes (17.6%) and Waitrose punching well above its weight with 2,203 tonnes representing 10.4% of the UK pear market.
There is a strong demand for local produce from retailers reflecting the need to stock English to satisfy consumer demand. Farmers markets ar doing well and Magners now produce a Pear Cider; however only 40 hectares of Perry orchards have been planted to date in England.
Conference dominates the UK pear market with 60% of all pears sold, but yields are regularly no more than 20% of our national requirement. Consumption levels per head per annum here of 2.1kg are well below the EU consumption of 6.6kg and a staggering distance behind the 13.3kg of Italy, the leading EU country.
Pear production in Europe is dominated by the Benelux countries, with Holland leading the way with 310,000 tonnes, closely followed by Belguim on 288,000 tonnes; Italy is the single largest producer with 886,000 tonnes, Germany 40,000 and UK just 26,000 tonnes.
The key factor in the low profitability of UK pear production is emphasised by the comparative yields of Conference in the UK and the most productive country. UK production averages 17.3 tonnes per hectare, while Belgium produces 35.5 tonnes per hectare.
Next week, I will cover many of the presentations delivered by the speakers at the Pear Conference.
Take care
The English Apple Man