Journal
27th Jul 2012 - The English Apple Man in The Italian Tyrol
Another very busy week for The English Apple Man!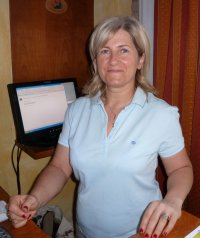 Tuesday mid-day and I am off with Chris and Sheena Levett to Gatwick Airport for our flight to Verona in Italy. At Gatwick we link up with the rest of our group before leaving on the 3.50pm flight; "unfortunately a short delay resulted in take off at 4.35pm" not a problem, but it shortened our first evening in Italy and delayed our 'thirst quenching' first lager and enthusiastic perusal of the wine list!
The group traveling on this FAST organised visit to Italy was a mix of Agronomists and Growers + The English Apple Man!
Chris & Sheena Levett and James Shillitoe also of Fast, led the touring party; Richard Castle of Moor Organics, David Long from Marshgate Farm, Caroline Ashdown - Worldwide Fruit Technologist, Simon Bray from Monks Farm and Kathryn Neville from Bigbury Farm @ Chartham Hatch near Canterbury..
The 'prime' objective of our visit was to learn more about the 'Fruit Wall' format for growing and the 'Twin Leader' trees that are rapidly gaining popularity as the basis for tree systems of the future.
Right Street, right Postcode, BUT, wrong Town!
After an overnight stay at the delightful, and very reasonable HOTEL TRE RONDINI located near the banks of the Adige River, we set off for The Gruber Genetti Nurseries nearby; "I say nearby" but after 3/4 hour following our SatNav and driving down every road possible, before ringing for assistance, we were told we were in the wrong place" how could this be with the infallible SatNav; well, in the words of Christoph Keller who escorted us around The Gruber Genetti Nursery and Orchards, we were in the right street, with the right postcode, BUT, in the wrong town!
How can this be? It seems its not just the Italians who are different to us, but their Postcode system as well!
Christoph Kofler took us around the nursery with trees ready for lifting this Autumn; some of these trees are destined for FAST members this winter. The stunning growth achieved in one season in the nursery 'takes our breath away' as we are familiar with trees; even very good trees, with a height of 1 - 1.5 metres and with 5-8 reasonable feathers (young branches) whereas the Gruber Genetti trees are 'stopped' at 2.5 metres in the nursery and are furnished with a generous supply of strong feathers.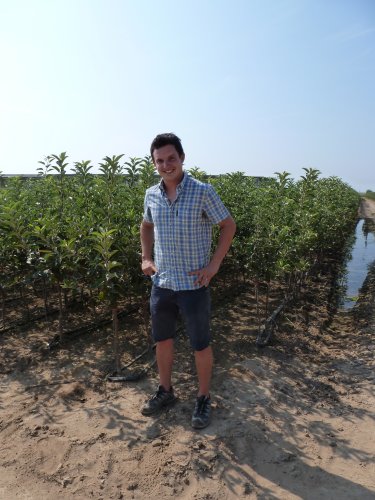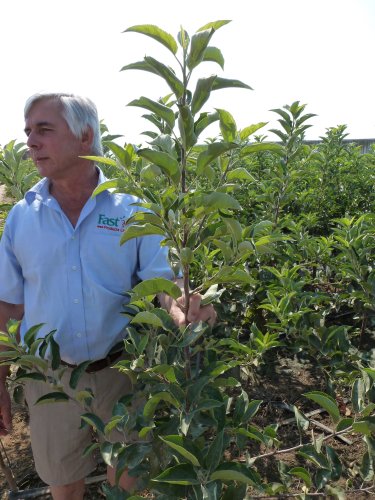 This superb young tree enables 4 tonnes per hectare of apples to be grown successfully in the first year in the orchard after planting (known as 'First Leaf') and capable of growing crops of yields of 30 tonnes per hectare in year 2 (2nd Leaf) e.g. just 18 months after planting.
How does it all begin?
The trees we were most interested in were Gala Schnico and the process starts with the selection of a suitable rootstock; M9, is well known in England but within the parameters of M9 there are a number of variants.
The rootstock we saw was an M9 - T337 and onto this a Golden Delicious 'interstem' is grafted; this is planted out before the first summer and allowed to grow before the Gala Schnico bud is inserted. During the second summer the young tree grows into the unit which will be lifted in the Autumn and planted into a new orchard that winter.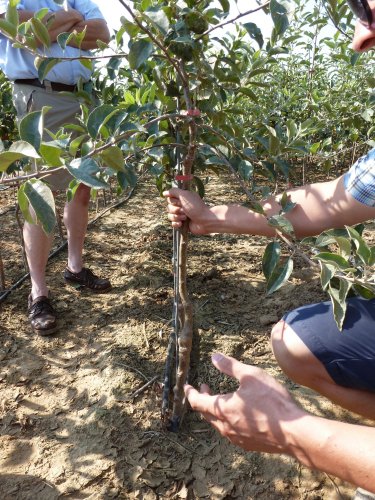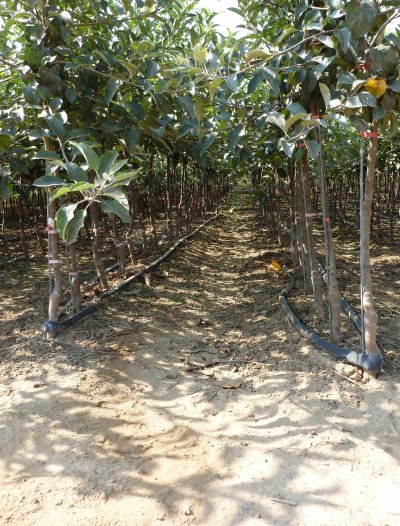 The use of a Golden Delicious 'interstem' makes the tree a more precocious cropper and reduces the risk of Canker.
Gruber Genetti raise 1.5 million trees each year and to accommodate this programme land is rented for a two year period, using land which has not grown apple trees before, thus reducing the risk of soil borne Soil Apple Replant Disease (SARD).
Land is rented at Eu 1,500 per hectare pa; Eu 3,000 per two year cycle. Key to the high quality of trees produced by the nursery is trickle irrigation, ensuring an even application of water to each young tree. When the rootstock + interstem is planted, 2 machines with operators plant 100,000 each day AND install the trickle lines in one process.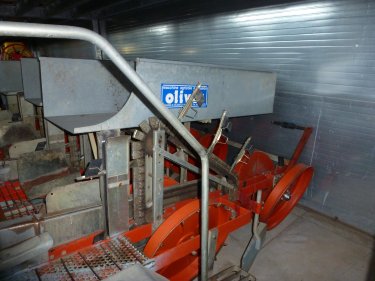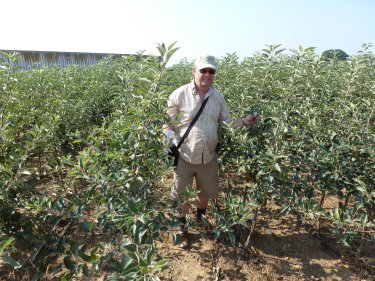 Gruber Genetti raise 30 varieties and use 150 hectares of land in rotation. 50 people are used for the budding process, working in teams of seven, with an Italian team leader and generally Eastern European workers.
Gruber Genetti Orchards.
We moved on from the nursery to a production orchard nearby; the investment for a new orchard costs Eu 50,000 for each hectare. This covers the concrete post and wire support system, the overhead irrigation use for frost protection, the hail netting and the trickle irrigation system + the actual trees and planting.
The orchard we visited covers 9 hectares. 9 x 50,000 = 450,000 Euros!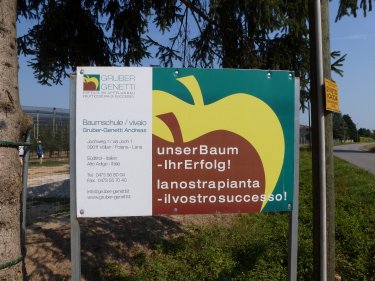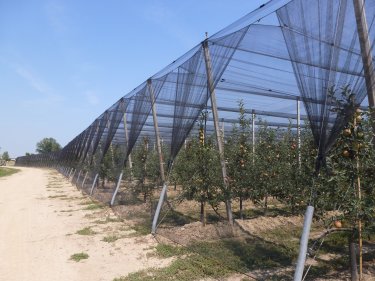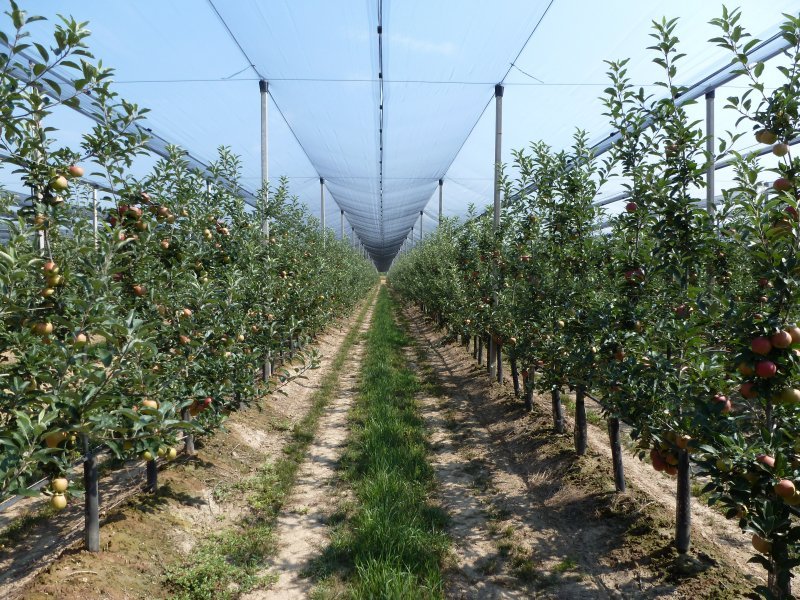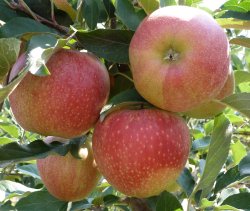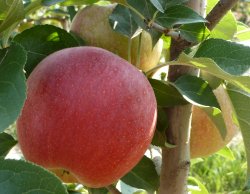 Trees are planted at a spacing of 0.8m (80cm) in the rows and rows are 3.20 m apart. The trees are kept at 2.25m high.
The cropping profile per hectare for this new orchard is; 1st leaf - 4 tonnes, 2nd leaf - 30 tonnes, 3rd leaf - 80 tonnes, 4th leaf - 90 tonnes.
Consumers in Europe tend to prefer much larger fruit than UK consumers; the optimum size in this Italian orchard is 75-80mm but fruit over 85mm is considered of low value.
BIBAUM trees in the Southern Tyrol!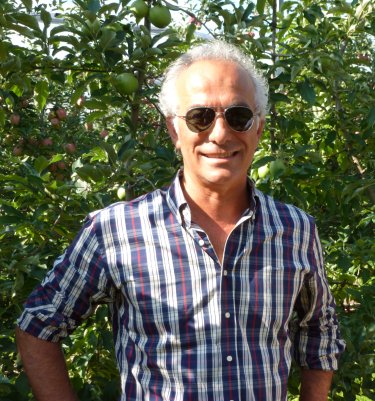 From The Gruber Genetti farm we drove North towards Bolzano; a two hour drive with the last 1-1.5 hrs on The Autostrada flanked on both sides with a patchwork of Vineyards and Orchards. with not a wasted square metre between.
Just south of Bolzano Town we met Carlos and Bettina from Mazzoni for lunch; and an opportunity to discuss the SUDITROL region with them and grower Manfred Varesco, over it should be said a very nice meal and a 'welcome' cold lager!
The region around Bolzano; The SUDITROL produces one million tonnes of apples, grown on 18,000 hectares. The region is 'Top of the World Production' for apples. in the 1950's growers achieved circa 20 tonnes per hectare and in the 50 years since, production has increased 'threefold' while price is 1/3 of the price then taking inflation into account.
An average size for a grower's holding is 2-3 hectares, with 5 hectares (circa 12.5 acres) enough for a family to live off. Most growers with 2-3 hectares will have a second job, either the grower or his wife may have a job. Because of the small unit size, growers will 'manicure' their orchards, in the same way a keen gardener will 'fuss' over a much loved garden.
Our prime objective was to visit orchards using the Bibaum (twin leader) tree invented by Carlos and patented by Mazzoni Nurseries. This; "the latest tree format to appear in modern orchards is now seven years since inception and we saw orchards from 2nd leaf - 7th leaf (the oldest in production).
After lunch we visited Manfred Varesco's Gala Buckeye orchard, now in its 2nd leaf. The first impression is WOW!
Buckeye is one of the many clones of Gala and choice of clone depends on the growing region; a region with extreme 'day night' contrast requires a naturally 'lower colour clone, while a region with poor 'day night contrast' needs a much higher coloured clone.
In a trip to the Bodensee region of Germany a few years ago, The EAM stood in an orchard of Braeburn one week before harvest and all the fruit was as 'green as grass' but due to very cold nights (the influence of Lake Constance) and the warm sunny days, colour comes very quickly as harvest approaches!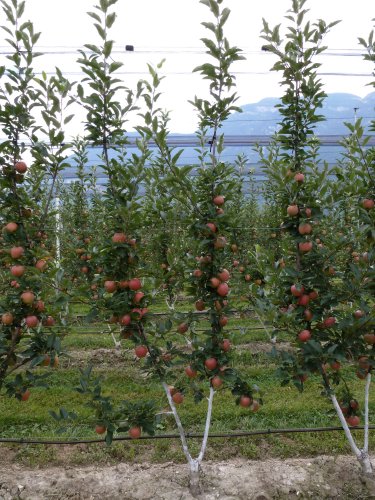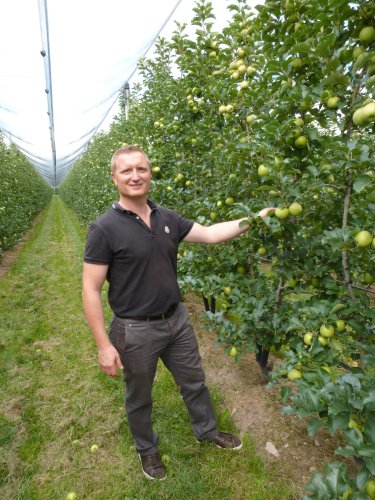 Planted at 1 metre apart in the row and rows 2.9 metres apart, (3,500 trees per hectare) with height controlled at 3 metres it is a stunning sight of almost instant production. In this the 2nd leaf Manfred estimates a crop of 30 - 32 tonnes per hectare. This based on circa 50 apples per tree and an average size of 6 apples per kilogram. Estimation is easy with all apples in view and quickly counted; 50 fruit x 3,500 trees divided by 6 = yield. (29 T +)
Manfred gave an indication of crops of Gala Buckeye per tree; Year 1. 1kg. Year 2. 5kg. Year 3. 8-10kg. Year 4. 15-20kg. Year 5. 25-35kg.
Responding to a question, Manfred said due to the easy process, with fruit close to the bulk bin, pickers would pick about 250kg each per hour.
Our second orchard was in its 5th leaf and is another Gala orchard.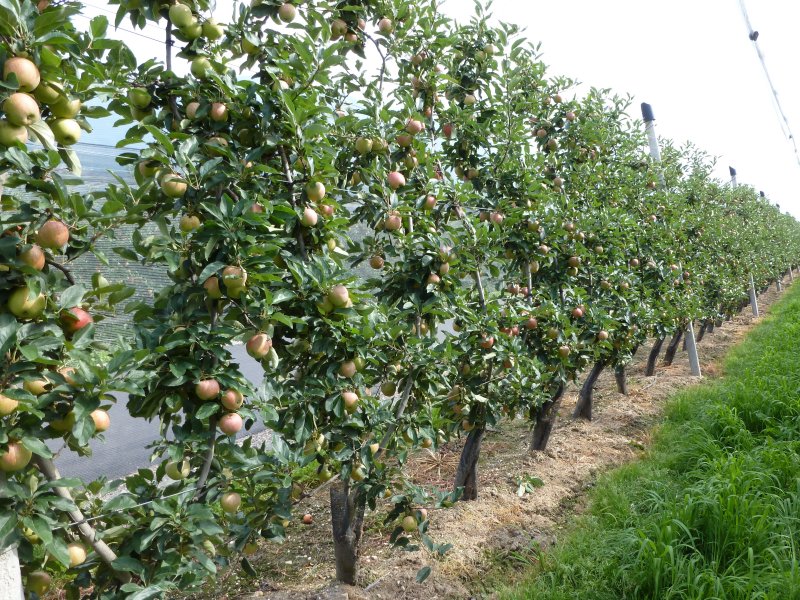 The final orchard was in its 7th leaf (the oldest) and is Pink Lady; the most valuable apple growing in The South Tyrol ( Südtirol ) Pink Lady commands a 25 cents premium over any other variety and as a consequence the demand for trees is highly competitive resulting in Pink Lady trees commanding a massive premium over the other varieties.
Manfred told us his yields of Pink Lady range between 60 and 90 tonnes per hectare. In spite of this high profile, Golden Delicious is still the most planted variety in Südtirol.
One of the great benefits of the BIBAUM tree is its different physiological influenc on tree performance; on a standard tree with one leader, inspection of the root zone shows most of the roots form on one side of the tree, but on the Bibaum tree roots develop equally on both sides. A clear and favourable benefit with the Bibaum tree is that it has a 'calmer' growth habit; e.g . unlike a standard tree where vegetative growth increases 'year on year' and needs carefully applied pruning to keep the tree in valance, the Bibaum tree with its 'calmer' nature requires 20-25% less work than a standard tree.
In the picture below of A Bibaum Pink Lady orchard in its 7th leaf, the fruit is easily visible and the annual growth 'calmer'
Will Bibaum catch on in the UK?
A few plantings of Bibaum trees took place in England about 4-5 years ago, but so far there has been little inclination to plant more, although Richard Castle told me Moor Organics will be planting several thousand trees this winter, with more planned for the winter of 2013/14.
The English Apple Man who has written about fruit walls on many occasions and is a supporter of the taller, narrower, 'fruit wall' wonders if all the plans for mechanical pruning are really necessary as the consensus in the Bolzano region is that the Bibaum trees need far less pruning and can be pruned by hand more easily and with less cost than a mechanical pruner on more vigorous standard single leader trees.
An extract from an appraisal of BIBAUM trees by Dr. Michelangelo Leis
Physiological aspects
Mazzoni Nurseries's Dr. Michelangelo Leis explained that good light interception is one of the main advantages to the biaxis tree structure. Fruiting branches are short and uniform throughout the tree, with few suckers. Biaxis shoots are shorter than those on a central leader tree, but the number of shoots is higher, resulting in higher ­numbers of buds.
Though the two axes are smaller than a central leader trunk, he said that if the diameter of the two are added together, the trunk would be 30 percent larger. "That means increased canopy without impacting the light interception. You have more leaves but less shadow."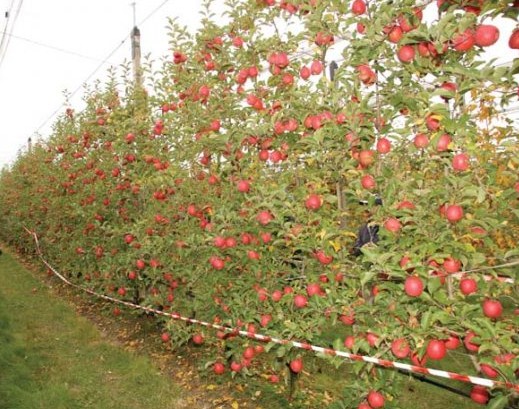 However there is a potential problem as the Bibaum patent belongs to Mazzoni and most Club varieties which are very much in the plans of growers in Europe as well as the UK are licensed to dedicated nurseries. Pink Lady IS producd as a Bibaum, but Rubens and Jazz are not; will the license holders and Mazzoni come to an arrangement mutually beneficial to them and the growers who would like to match Bibaum and their favoured Club vatiety!
All this took place on one day; "Wednesday"
Before we left Carlos, Bettina and Manfred, we enjoyed a glass of wine overlooking Lake Caldaro. "Stunning"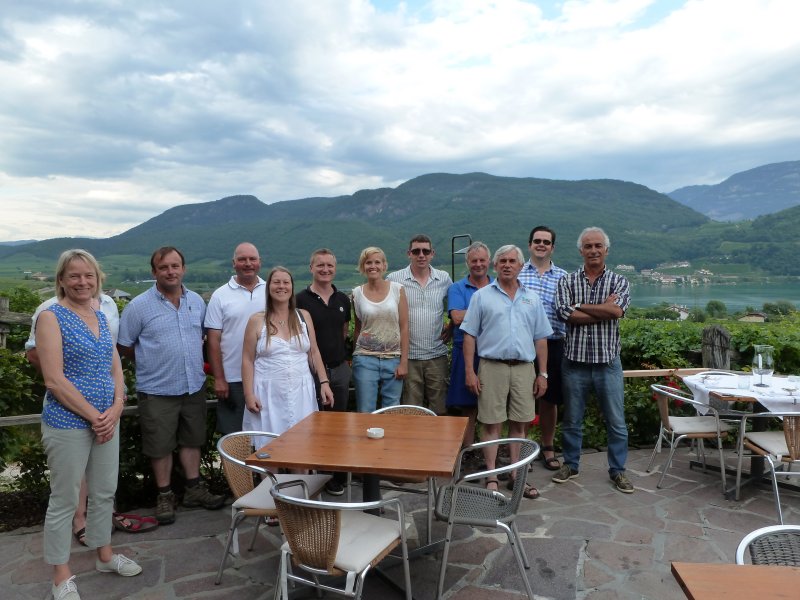 Lago Caldaro (Lake Caldaro)
On Thursday we visited LAIMBURG RESEARCH INSTITUTE but I will leave that for another day!
It is now late on Friday evening; 27th July and the climax of the opening ceremony is reaching its climax,, ...........soon we will know who will light the Olympic Flame!
Its.................... Sir Steve Redgrave..... Oh no it is'nt, its.... The young athletes!
Bye until next week.......
Take care
The English Apple Man