Journal
7th Sep 2012 - The English Apple Man at The Gala Club pre-season meeting.
A busy week for The English Apple Man as three opportunities for 'orchard walking' occurred in the one week!
Brian Moore Memorial Golf Day
Monday, and I was walking the Golf Course at Cherry Lodge near Biggin Hill as the 22nd Charity Golf Day in aid of Threshers Day Nursery took place. It is now eleven years since its 'originator' Brian Moore died and in tune with tradition, his son Simon fulfilled his customary role of Master of Ceremonies. Regular 'celebrity' participants Matt Lorenzo, Angus Scott and Scott Minto entertained attendees and presented prizes to the successful teams.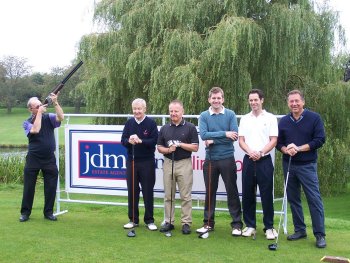 After a most enjoyable few hours on the golf course, in perfect conditions; 'so devoid of wind' you could almost hear the 'quiet' the four members of our team, under the captaincy of Jason Alexandre, finished a credible 2 points behind the third placed team. Jason is the son of The EAM's good friend John Alexandre who with his 'charm and endless enthusiasm' has been the mainstay of each year's organisation of this charitable day since the first event 22 years ago.
A bumper 19 teams took part at Cherry Lodge Golf Club in Biggin Hill who once again hosted the event; "This money is so important for the children who need extra help in and around St Mary Cray," explained Chief Fund Raiser Evei Ross.
TV Presenter Matthew Lorenzo, who was Guest Speaker, also thanked sponsors The News Shopper and Estate Agents jdm (Jeremy de Maid) for their continued support
Our resident Auctioneer Bob Hayton 'teased' the best possible values for donated prizes. The English Apple Man donated a Clay Pigeon Shooting Day for two at Northall CPS Club at Fletching in Sussex. Funds raised during the day contributed £7K+ towards the running costs of the Day Nursery which provides for 'under privileged children'
On Tuesday afternoon, an opportunity to visit Stuart Wood's Teynham Court Farm as FAST organised a fascinating 3 hours looking at the latest growing techniques on this excellent farm. The EAM will report fully on this visit in The Journal for 14th September.
Wednesday and it is off to Clive Goatham's Gore Farm at Upchurch for the annual pre-season meeting of The Gala Club. This event gives Gala growers the opportunity to discuss pre-harvest issues and walk outstanding examples of English Gala orchards.
On Thursday I visited Highland Court at Bridge near Canterbury, a key growing and packing site in my time with Worldwide Fruit. Now leased by The Co-operative Farms. Too much to report in this Journal, so look out for my visit report in the next few weeks.

Gala Club
Now in its 20th year, this annual get together is a mixture of 'celebration' and a valuable opportunity to update growers before the new season gets under way.
The celebration? UK Gala has come a long way since the early 1990's when a few growers and advisors embraced the variety and had the vision to encourage Growers, Marketeers and Supermarkets that UK Gala could be, and indeed would be, a superior apple to imported Gala. Now 20 years later UK Gala is the number 1 UK variety by sales volume and along with imported Gala represents one in every four apples consumed in the UK!
The Update.
Harry Wooldridge, Gala Club Chairman and one of those early visionaries, introduced Adrian Barlow CEO of English Apples & Pears and Mark Culley CEO of Orchard World. Adrian & Mark updated club members on prospects for the season ahead.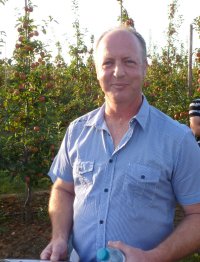 The success of English apples over the last decade is considerable; Adrian's first slide emphasised the progress from 2006/7 season where English apple sales to Supermarkets recorded 57.2 K tonnes and by the past season of 2011/12 the tonnage had reached 94.3 K. Taking 2006/7 as 100% the 2011/12 season is 165%.
20 years ago Gala (English & Imported) had only a 4% share of the UK market; in 2011/12 it represented 27% or more than 1 in 4 apples consumed in the UK.
In the last 10 years, English Gala has increased from 6,720 tonnes to 32,208 tonnes.
Total Gala sales in the UK amount to 117K tonnes for 2011/12, with estimated sales to Supermarkets accounting for 93K tonnes, of which 32K tonnes are English grown, giving home grown Gala a 34% share of total Gala sales.
Forecast Gala volumes for 2012/13 marketing season are; English Gala - 37,271 tonnes. EU Gala 1.070 million tonnes. This projection puts English Gala up by 1% on last year with EU Gala down by 6%. The probability is both are optimistic estimates!
The factors for caution are linked to size and quality. Size of fruit is behind last year and scab and skin russet are likely to impact on final volumes of harvested fruit. After the awful wet growing season, the risk of fruit rots is high on the agenda with Nectria 'eye rot' a major factor.
The EU Gala crop forecast varies dramatically from country to country with English forecast 1% + Spain down by 22% and Hungary up by 57%. The key to overall yields is the negative forecasts from Austria -16%. France -16% and Italy -13%.
Mark Culley drew our attention to the statistics; even with the rapid rise in English Gala over the last decade, we still supply only 58% of UK Gala sales in 'our own season' the potential for a continued increase in English Gala is considerable.
English Apple Man readers may be concerned that with the shorter forecast of supplies of Apples in Europe and beyond will mean a 'hike' in retail prices in these 'recessionary' times. It would be wrong to suggest overall prices will not rise, but my overview is the retail price per unit may not rise by more than a 'few pennies' but the customary Supermarket promotional activity of 2 for 1 (BOGOF's) is likely to be minimal.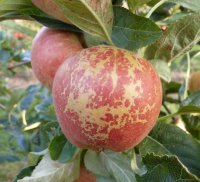 The English Apple Man also expects Supermarkets to take advantage of the second class fruit (small blemish, russetted fruit etc.) as a means of offering growers an outlet and consumers a 'lower price' option.
A.C Goatham.
The A.C. Goatham business encompasses several farms, and packs and markets fruit from a number of other growers. Key to the success is the strong management structure created by Clive Goatham. At events like this Clive tends to take a bsck seat and allows his management team members the opportunity to present the 'GOATHAM' business philosophy!
Nigel Stewart - Technical Director welcomed Gala Club members to Gore Farm and introduced Dave Riccini - Production Manager, who kept us well informed as we toured Gore Farm on Wednesday evening.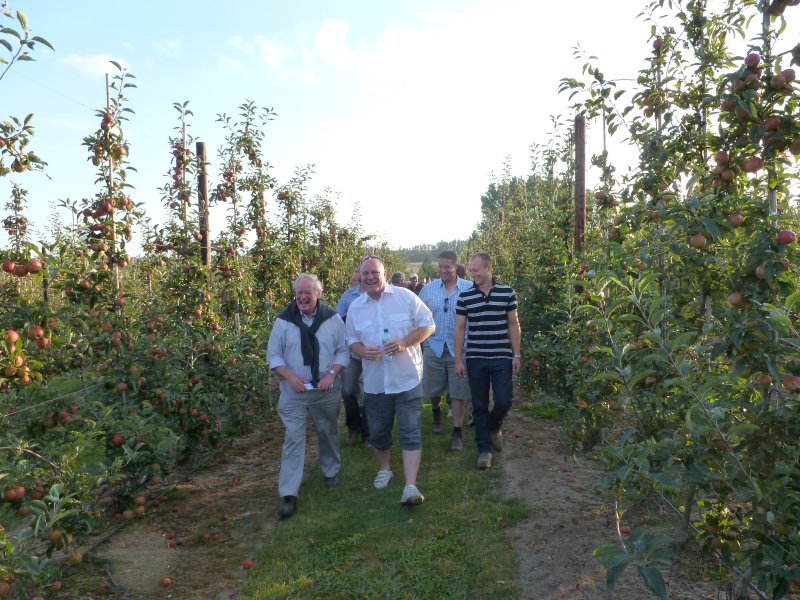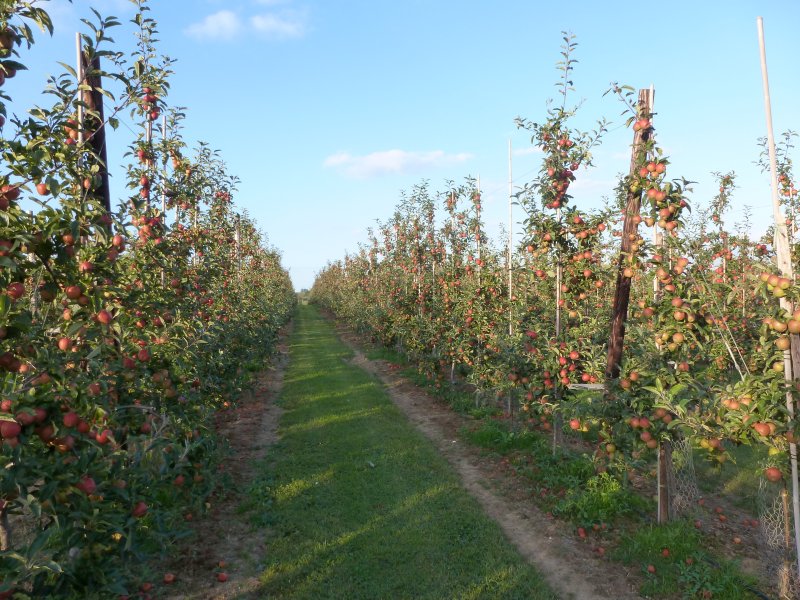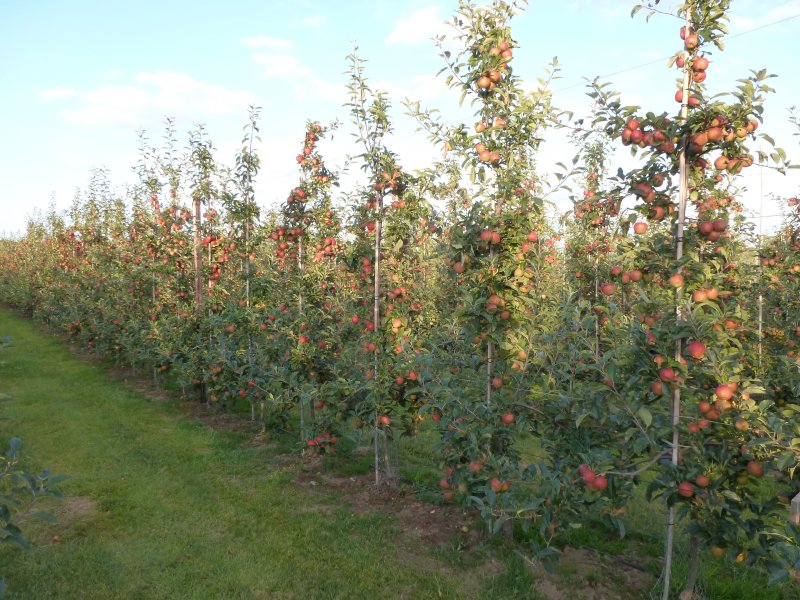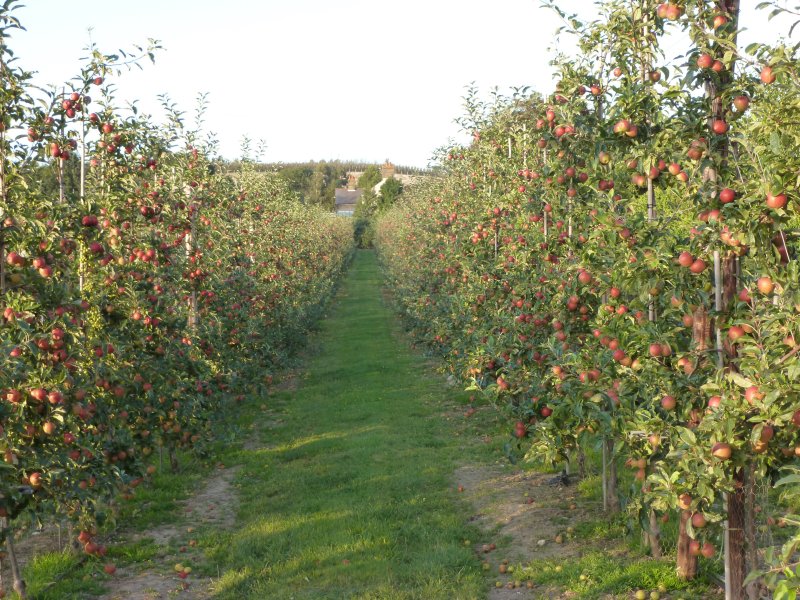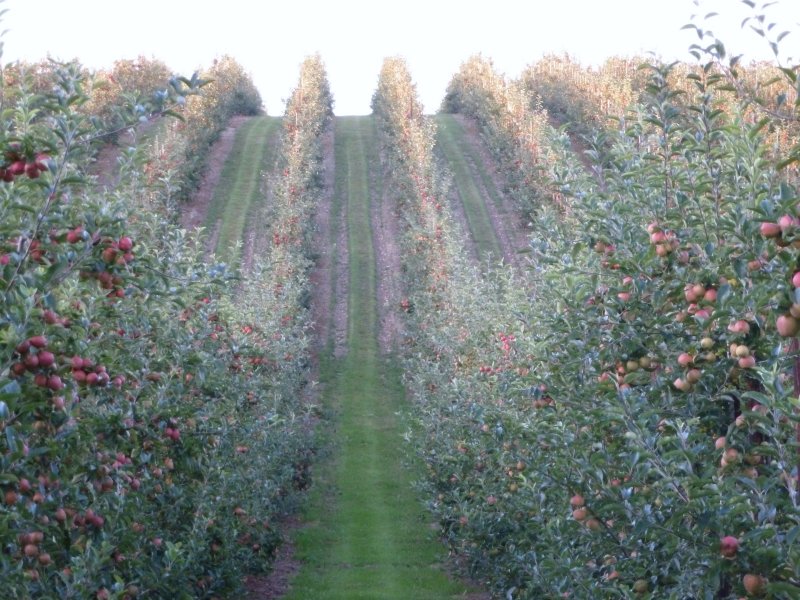 This season; as reported, has been challenging for 'our industry' but the management at Gore Farm, and no doubt the quality of the site; "it is always an advantage" if the farm has good soil, a beneficial micro-climate, e.g. no nasty frost pockets. This is evident as Breaburn and Rubens are both carrying good crops of decent quality fruit. Braeburn in particular is a disappointment on most farms, but not at Gore Farm.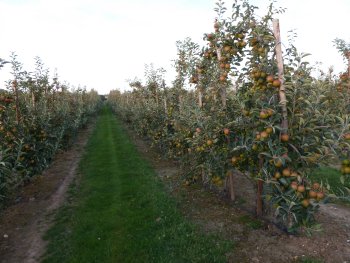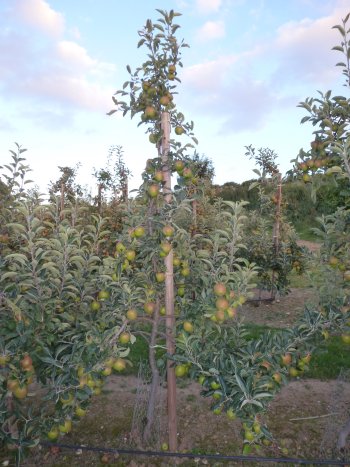 For members of the general public who have not visited The Barnyard at Gore Farm, The English Apple Man recommends a visit. In addition to the farm shop and excellent restaurant, a 'scenic farm walk' with a collection of animals will entertain families with young children.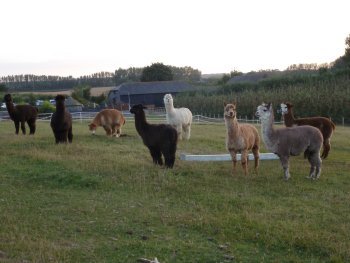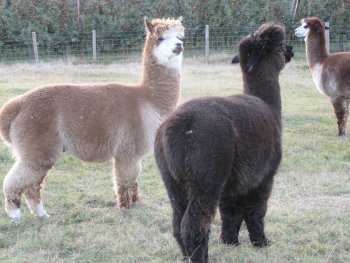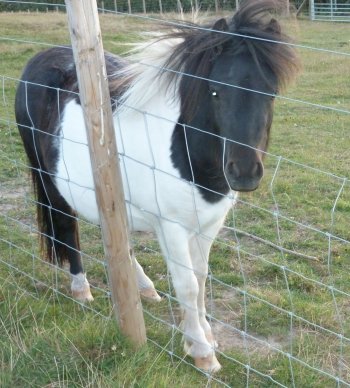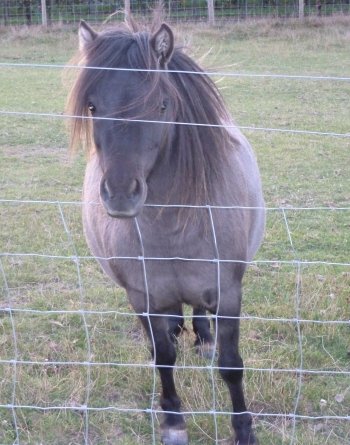 To finish this week's Journal The English Apple Man 'popped into' a couple of Supermarkets to see what is on offer.
In Morrisons at Canterbury, the lone 'English' dessert representative @ £1.75 was a polybag of Discovery. They looked ok, but did not inspire me to eat more than one apple in the bag!
In Tesco at Hastings, only Bramley apples representing English supply. They were very good quality and priced @ £1.50 a kilo.
ZARI is now on sale in Sainsburys and one of 'the new kids on the block' buy some if you have not tried it, it is a very juicy, crisp and tasty apple!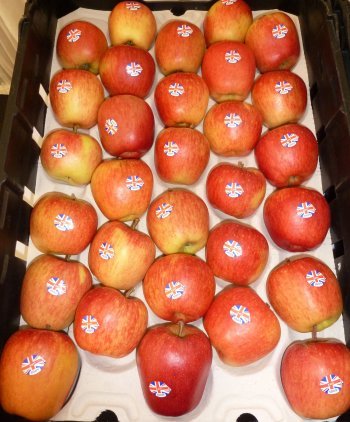 Our season is much later than 2011, but over the next few weeks, English Apples & Pears will become available in greater numbers; by variety and by volume!
That is all for this week!
Take care
The English Apple Man
PS: " Sorry this a bit late on-line tonight, but as I finished this week's Journal I had one eye on England's 5-0 victory in Moldova and a second on our wonderful Paralympic athletes winning yet more medals!