Journal
13th Sep 2013 - Apple picking is well under way. Gala Club 21st Birthday
Its taken a long time, but we are now picking apples into store.
Early season Discovery is all picked and now about to be followed by Galmac, Zari and Worcester Pearmain. The English Apple Man caught up with Worcester picking at Nickle Farm at Chartham near Canterbury this week and Bramley being picked into long term storage.
GALA CLUB - 21st Birthday.....
On Wednesday the 2013 Gala Club Day was held at Broadwater Farm at East Malling in Kent. This annual event gives Gala growers an opportunity to meet and walk some Gala orchards before discussing with industry technical and marketing personnel the prospects for the season and the visual and storage standards required for a successful financial return. This year is the 21st Birthday of The Gala Club.

Peter Checkley - Farm Manager at Broadwater took the Club Members to three areas of specific interest; our first stop, an orchard of Gala planted in 2009 and the subject of a pruning and thinning trial.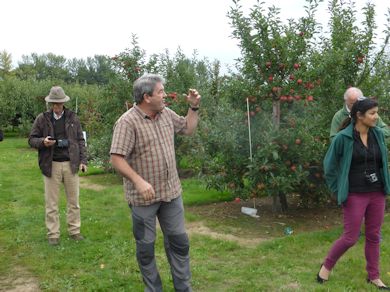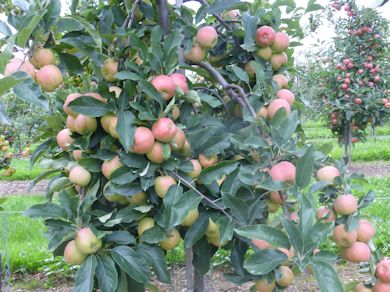 The trial is split into seven treatment areas;
1. Control. 2. Mechanical Pruning. 3. Mechanical Thinning. 4. Chemical Thinning. 5. Hand Thinning. 6. Mechanical Pruning and Mechanical Thinning. 7. Mechanical Pruning - Mechanical Thinning and Chemical Thinning.
Earwigs
The second orchard visit to an orchard where trials are taking place under the watchful eye of Professor Jerry Cross and Michelle Fountain from nearby, East Malling Research. The trial measures the efficacy of earwigs as a control for various pests. Once considered a pest, Earwigs are now showing their ability to reduce the number of troublesome pests.
LIDAR
The third orchard visit looked at the trial of LIDAR; an experiment using laser light to highlight the efficacy of light penetration into the canopy of an orchard. The method involves moving a LIDAR machine down the orchard row using a converted power driven golf cart as the vehicle and mapping the light penetration.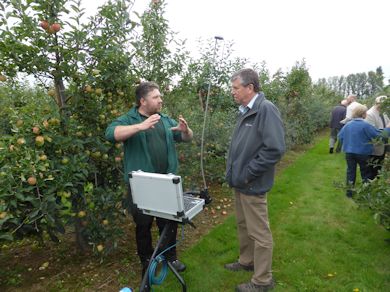 LIDAR (Light Detection and Ranging) is an optical remote sensing technology analogous to Radar. The range (distance) to an object is determined by measuring the time delay between transmission of a pulse and detection of the reflected signal.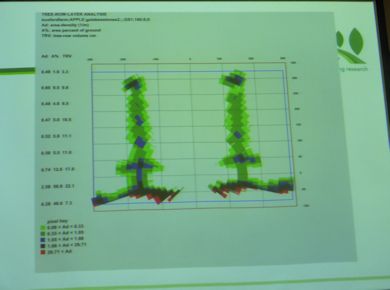 After our visit to Broadwater - Gala Club Members drove the short distance to East Malling Research for a presentation by industry experts.
Caroline Ashdown - Fruition Technical Manager - explained the objectives behind The FRUITION PO project.
Dr. Eleftheria Stavridou - explained the progress with LIDAR
Professor Jerry Cross - presented the progress made with the Earwig trial.
Dr.Martin Luton - Fruition Technical Manager and leading storage expert updated growers present on the Quality Fruit Group (QFG) 2013 harvest data; the late season is at least two weeks later than normal and Martin reported the current status of Starch, sugar, firmness, background colour (significant in maturity progression)
It all indicates a starting point for Cox picking on 23rd September and Gala seven days later, however some early sites will be ready for picking 4-5 days earlier. Martin emphasised the QFG data is only a guide with fruit taken from a small number farms.
It is critical for ALL growers to carry out their own maturity testing in EACH of their orchards; Martin and Tim Biddlecombe (the key members of QFG) said they cannot emphasise enough the importance of growers maturity testing their own fruit!
The final presentation by; Adrian Barlow - CEO of English Apples & Pears - reviewed the development of Gala over the last 20 years and highlighted the rise of Gala as THE number one apple in the UK. 27% of all apples sold in the UK are GALA; not all grown here, but taking a steadily increasing percentage of the market share.
In 2001/02 UK Gala tonnage = 6,720
In 2011/12 UK Gala tonnage = 32,208
In 2012/13 UK Gala tonnage = 30,415
(down from the previous season due to lighter apple crops; not just in UK but across the EU)
Adrian told the Club members the forecast for 2013/14 (this season) is 42,000 tonnes. 21% up on last year.
The strength of GALA as a global apple is clear; the supply of Gala onto the UK market in 2011/12 was 133,000 tonnes; the supply to Supermarkets, 125,000 tonnes;
The English share of the Gala supply to Supermarkets was 29%. The opportunity to increase the percentage of English grown Gala is considerable. BUT Adrian emphasised the importance of maintaining 'top quality fruit' visual appearance is vital if we are to maintain and increase our market share!
To celebrate the 21st Birthday of The Gala Club, Chairman - Harry Wooldridge thanked all concerned for their support; the Gala Club has been, and still is a valuable medium for ensuring English Gala meets the challenge for keeping home grown Gala the choice for our consumers.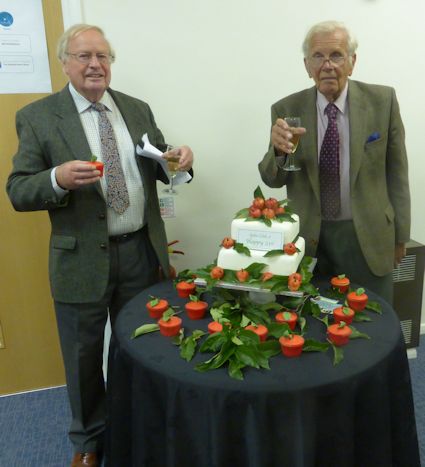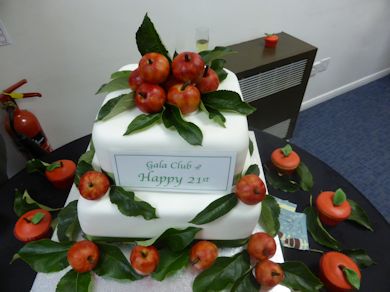 Apple Picking is well under way!
The English Apple Man was in East Kent on Thursday and popped into see Bramley's and Worcester Pearmain being picked at Paul Mansfields Nickle Farm in Chartham Kent.

The quality of this seasons Apple crop is excellent; the Bramley picked at Nickle Farm on Thursday was superb. We depend heavily on our Eastern European pickers to get the harvest picked. Below this group of pickers from Romania and Bulgaria, were working in teams of six as they picked Bramley into bins on a picking train.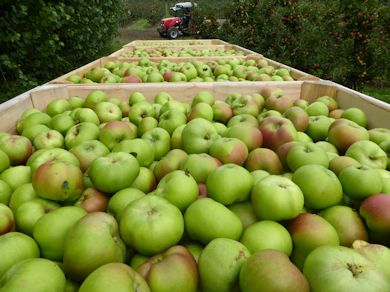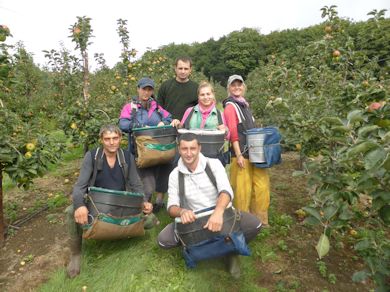 The hot sunny weather this summer has resulted in a higher than usual percentage of Bramley's with a red blush. This can be a problem, as some Supermarkets are not keen on Bramley with too much red colour. It makes no difference to the eating quality, just does not fit into the perception of a green Bramley!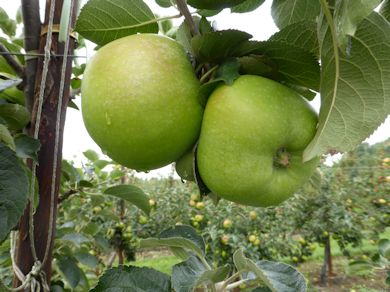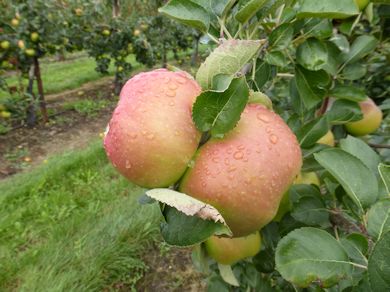 Worcester Pearmain is an apple that The English Apple Man grew up with; when ripe it is a fantastic eat. and the Worcesters at Nickle Farm were in perfect condition.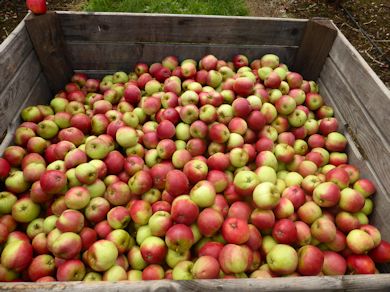 Below a bunch of beautiful Worcester Pearmain at Nickle Farm and Melinda a Supervisor in charge of Plum pickers at Nickle Farm.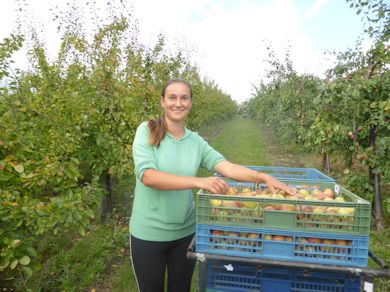 As I visit many of our fruit growers I meet many young people from Eastern Europe and marvel at their 'fortitude' many depend on their earnings to get through the 6 months that they spend back home in countries like Romania; with no jobs available back home, they have no choice but, to come back year on year in the hope that the future may, 'somehow' become better.
Did you watch the Harvest programme on BBC2 with Greg Wallace and Philippa Forester?
I watched tonight's episode featuring Cherries, Strawberries and Blackcurrants; and I congratulate the BBC for producing such an accurate overview of life on a UK fruit farm. Excellent TV!
Tomorrow; Saturday 14th September, The English Apple Man will be at the Public Open Day at East Malling Research as they celebrate the 100th Anniversary of this very special research station which has been (and still is) integral to the success of UK fruit growing!
Take care
The English Apple Man