Journal
25th Apr 2014 - Beautiful blossom and The Young Guns look to the future!
Easter is over and the blossom will soon be over too!
Last week The English Apple Man visited orchards in North Kent and took the pictures below at two of Paul Mansfields farms.
Below a view of Mansfields Spade Lane Farm at Rainham.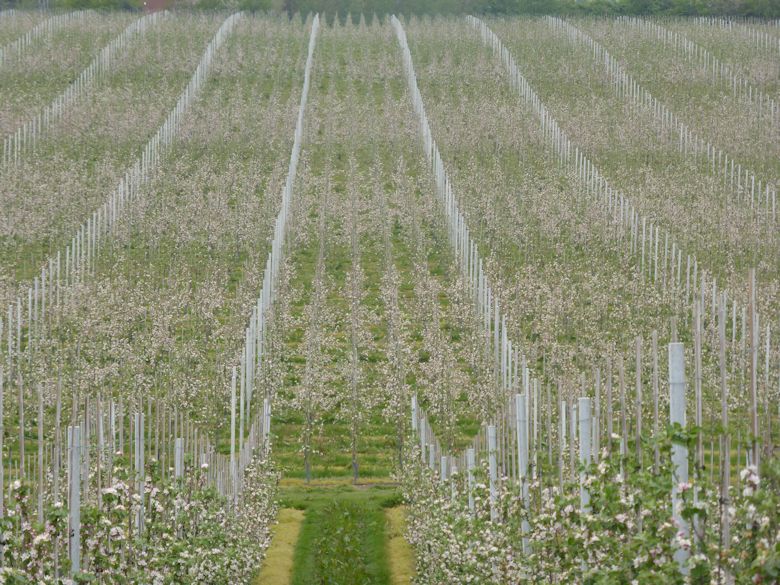 Below views of Mill Farm in lower Rainham set in a scenic situation with view across the River Medway.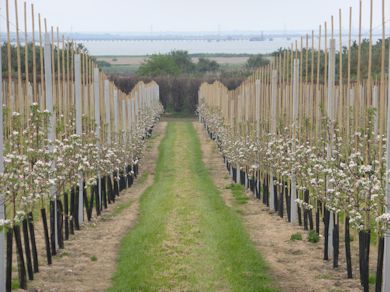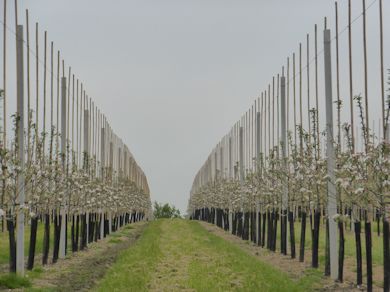 The prospect of a good fruit set is high after the good weather during blossom time; however we cannot be complacent as the heavy winter rain left many orchards waterlogged and even well drained soils were very wet for extended periods. Trees with root damage will be relying on 'in built' nutrient reserves and as the trees seek more 'energy to fuel further growth' the stress on such trees will become apparent.
It is worth casting an eye back to The English Apple Man Journal for 24th January 2014 when many of the anticipated problems were featured.
The 'Young Guns' look to the future
Last week, at the last winter meeting of BEST Group members, two dynamic young English Apple growers; scions of two distinguished top fruit growing families, presented their thoughts for the future shape of UK top fruit growing.
Ross Goatham; scion of the Goatham family business based on the Isle of Grain and James Smith scion of the Smith family with farms at Loddington near Maidstone and Laddingford near Paddock Wood.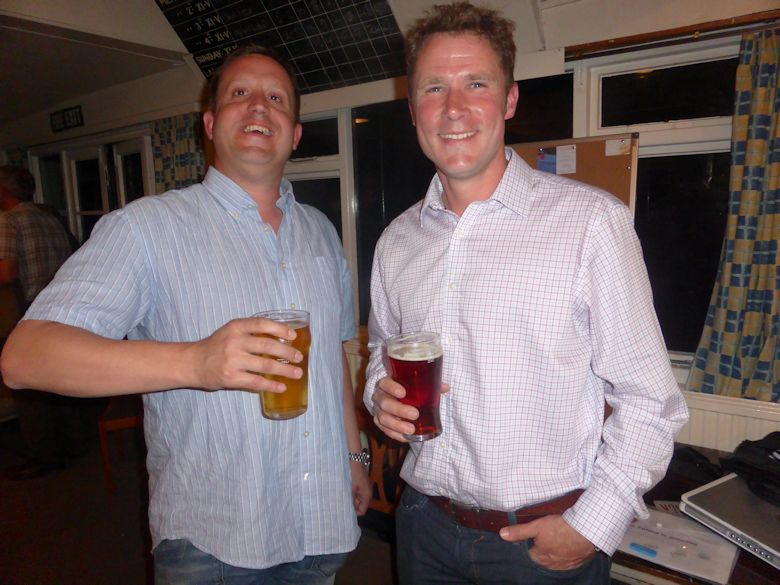 Ross Goatham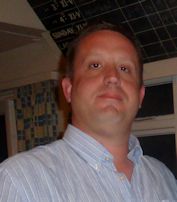 First to speak; Ross Goatham son of Clive Goatham and very much the face of the future as the A.C.Goatham business continues a rapid expansion of their apple and pear growing business started by Ross's grandfather Arthur 'Conference' Goatham in 1947.
From the original Street Farm on the Hoo Peninsula, the business has expanded with 14 farms now owned or leased across Kent and many more grower owned farms committing their packing and marketing to the expanding business.
Flanders Farm became the new Headquarters last August with an opening ceremony performed by Justin King - CEO of Sainsburys.
View the opening of FLANDERS FARM in The English Apple Man Journal for 23rd August 2013.
Ross Gotham said; my Grandfather started the business in 1947 as an Agricultural contractor before venturing into buying fruit on the trees in the annual fruit sales. "Our future is fruit growing" is the strong message from Ross; his father Clive has transformed their top fruit growing business from the original farm down near the Medway at Hoo into the fastest growing top fruit business in the country, extending the production area by 500 hectares since 2004.
Today A.C.Goatham grow apples & pears on 14 farms across Kent totaling 716 hectares and market fruit from a further 20 farms belonging to associate growers, adding another 800 hectares to the supply dedicated to Sainsburys, Morrisons and ASDA who share the majority of Goatham's offer to Supermarkets.
The commitment shown by Clive Goatham and his fellow directors to the rapid expansion of their top fruit growing business has allowed them to become a 'big enough player' to serve Supermarkets direct; e.g. without the use of a Marketing Desk/Group/Company. This has given Goatham's a 'competitive edge' allowing keen prices to the end customer without penalising the grower returns.
Ross said; "The fruit industry needs to look at more direct supply" if we are to retain a competitive edge and survive against imported competition.
On the growing side, Goatham's have adopted the latest technology; using Gore Farm at Upchurch to host their trials, precision farming techniques (common to the large arable growers) has been introduced. Soil mapping, where 30 soil samples per acre are taken and analysed to create a 'soil map' of the farm has allowed precision application of fertilizers. Using GPS the fertilizer is distributed in accordance with the need of each 'zone' and this has now been rolled out across the entire production areas saving 50% of the previous applications, and cost!
Gore farm is worth a special mention; one of the first acquisitions in the expansion of the Goatham business, it is much more than a fruit production unit. Already an attraction for visitors to the Farm Shop and visitor centre when Goatham's took over in 2008, it has been extended to accommodate The Barnyard Restaurant and spacious marque for weddings and special occasions.
The Barnyard Visitor centre attracts 125,000 visitors annually.
Gore Farm offers an opportunity to engage with the consumer in many ways and education is high on the agenda. Trees are regularly donated to schools and Ross told us the establishment of 'classrooms at Gore' to extend the knowledge of fruit growing to children and adults keen to understand the 'mechanics of fruit growing' is part of the future need to attract more local people into fruit growing. The days of 'Darling Buds of May' have long past and "We need to grow our own people"
Reverting to the need for more 'direct marketing' Ross said most Marketing Desks make more money from imported fruit and 'understandably' want to continue with a supply balanced between 'Northern & Southern Hemispheres' but IF we are brave enough to grasp the opportunity we as 'growers' can take more control of our own destiny.
We can grow our market by displacing imports and extending our varieties further, beyond the traditional September to May season. Cameo can be stored well into the summer months, Gala can be extended into June. There will be other 'new variety'opportunities.
Ross recounted his father Clive's statement of intent: "To be the most trusted grower" and to encourage an agreement between grower and customer (retailer) to work on a 20 year orchard cycle basis. We (growers) need to be playing an integral part in the 'long term'plans.
In conclusion; Ross said over the last ten years our sector has undergone a major change - retailers want our product - what we need to do is - 'be close to our customers' to ensure our future .
James Smith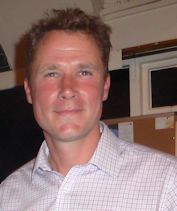 Our second speaker; James Smith - son of Alan and Great Grandson of Fred Smith who planted the first 'commercial' Bramley orchard in Kent in 1890. James runs the family business assisted by his brother Paul who manages the production side of the business, with Dad Alan, for several decades a stalwart of the English Top Fruit Industry, now taking life a bit easier, but always available for sound advice.
Loddington Farm hosted the first commercial planting of Bramley apples by James Smith's Great Grandfather back in 1890. Set on the hillside below Linton ridge near Maidstone, with stunning views of the Kentish Weald, the farm extends to 79 hectares, with 45 hectares of top fruit. Gala is by far the dominant variety with close to 20 hectares. In total the Smith family business farms nearly 140 hectares on four sites in West Kent.
James said when considering his presentation, he decided to 'take stock' and looked at the previous 10 years, 'now' and the next 10 years.
In 2004 the Smith business grew 375 tonnes of Gala, 174 tonnes of Bramley, 255 tonnes of Jonagold , 45 tonnes of Cox and 150 tonnes of Pears. In total 1000 tonnes of top fruit.
Looking back, James said regular labour costs amounted to £42,600 per annum. SAWS (the seasonal workers agricultural workers scheme) became part of their labour supply.
NOW: Gala accounts for 1100 tonnes, Bramley 300 tonnes, Jonagold 325 tonnes, Cox 150 tonnes and Pears 50 tonnes.
The Smith family now farm on 4 sites with 86 hectares of fruit and 10 hectares of arable. The top fruit tonnage now exceeds 2,000 tonnes.
New varieties planted include; Breaburn, Evalina, Opal, Spartan and Rubens. Regular labour now costs £118,000 per annum.
Five full time English staff supported by workers primarily from overseas makeup the workforce.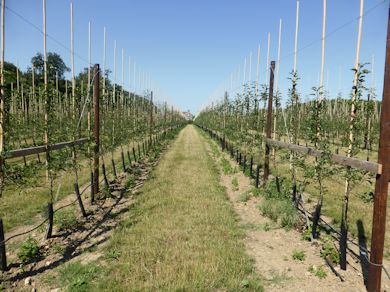 New intensive orchards are steadily replacing mature orchards; the driver is better quality and greater productivity. Greater use of technology, such as 'working platforms' the 'focus on quality' means newer varieties bred overseas are taking the place of our traditional ones; "Just English is not enough" the use of improved clones to ensure good colour and grade-out is a 'must' to stay competitive!
James said scale of operation is vital; SCALE = CONTROL and a more direct relationship with retailers is the way forward (echoing Ross Goatham's views on 'direct selling') The supply chain needs 'transparency' the business must be 'grower owned and controlled' we must 'focus on what the market needs' improve our offer and keep costs down. James sees the closer relationship and direct supply the 'key' to keeping prices down and maintaining competition.
James markets his fruit though FGA a fruit grower alliance with 15 grower members growing 63 varieties.
For more detailed information Visit FGA website
2024 Looking a further 10 years ahead, James anticipates more mechanisation, less labour input, higher yields; he speculates - 'will genetic modification become accepted and allow improved breeding?
James expects NO price inflation, so finding means of lowering costs and/or increasing productivity essential to survival.
Will growers use covers for increasing quality and yield in the same way Cherry Growers have embraced protected production. This may be the way forward for the high value 'Club Varieties' certainly James feels the growers who maximise 'ingenuity' e.g. 'be clever' will be the one's who prosper.
The English Apple Man comments:
Having spent a lifetime in the top fruit business and been fortunate to have tasted the 'good times' circa 40-50 years ago and suffered the depressing times when our industry came under immense pressure from imported fruit grown in climates more favourable for heavy cropping, it is an exciting time as our industry fights back with new varieties endowed with 'positive' yield and eating attributes.
However, the most exciting aspect is the increase in young growers accepting the responsibility for taking their family businesses forward and acting as the driving force for re-establishing UK Top Fruit as THE consumers choice.
On Thursday I attended an HDC (Horticultural Development Company) meeting at East Malling Research on Top Fruit. 'More on that subject next week!
On my way home; the weather was beautiful, warm with blue sky sunshine and I managed to snap a few nice pictures of Apple Blossom on my way home.
Below - Red Love at East Malling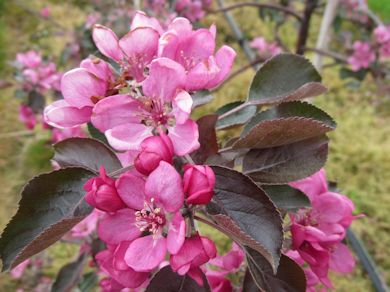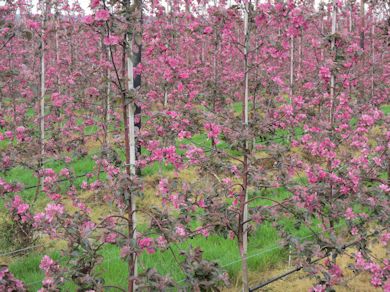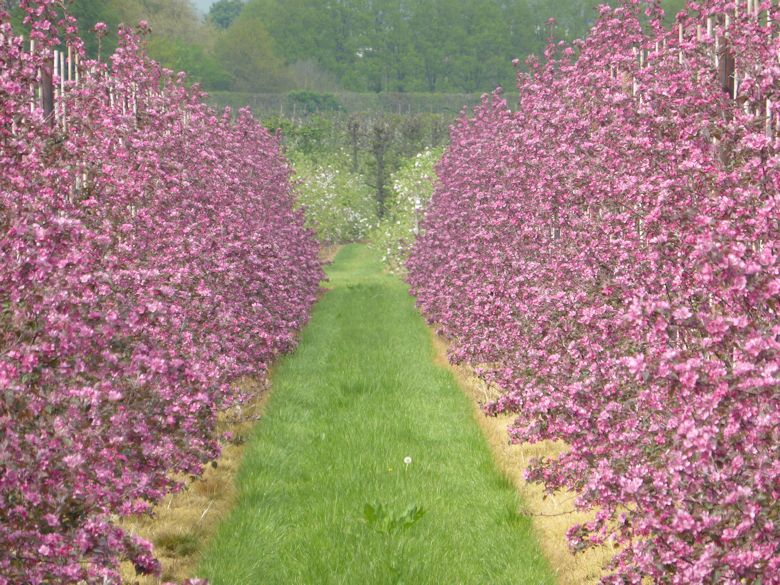 Braeburn at Broadwater Farm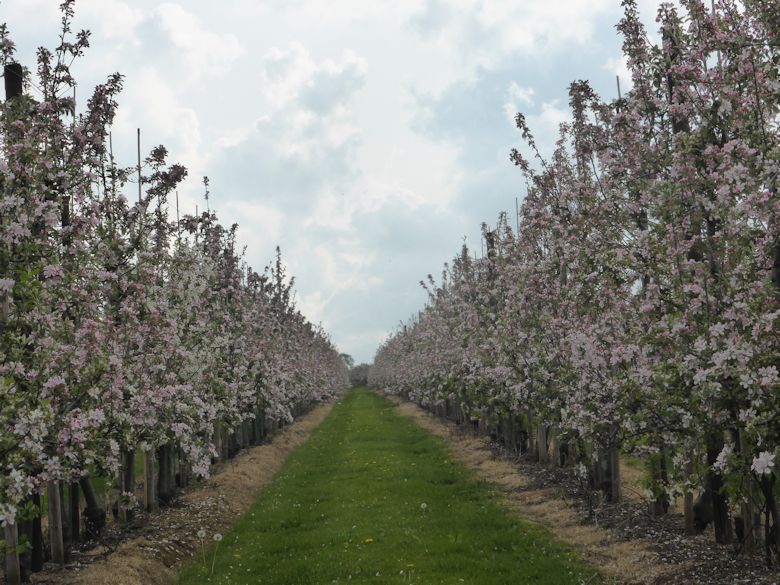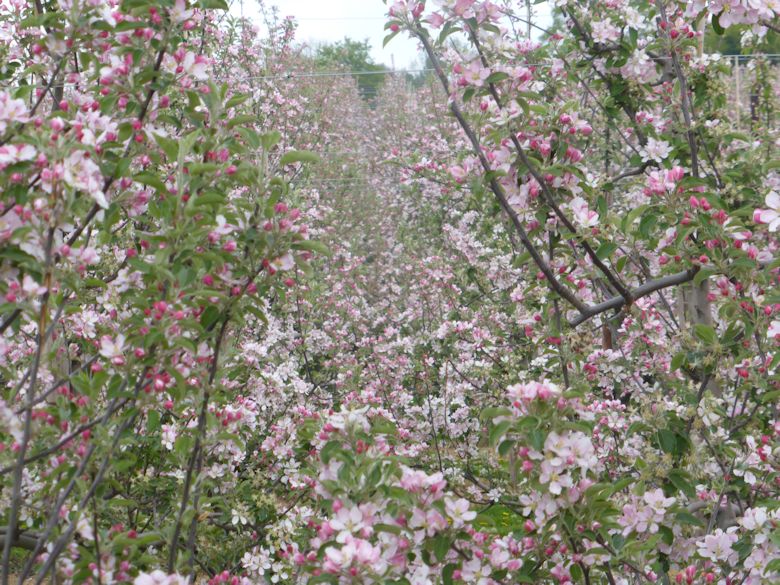 Next week The English Apple Man will report on The HDC Day at East Malling........
Take care
The English Apple Man