Journal
31st Oct 2014 - A new Farm Shop in West Kent and The Brogdale Apple Festival
This week The English Apple Man reports on The Brogdale Apple Festival and Chris & Sheenagh Levett's new farm shop at Hartley near Cranbrook in West Kent.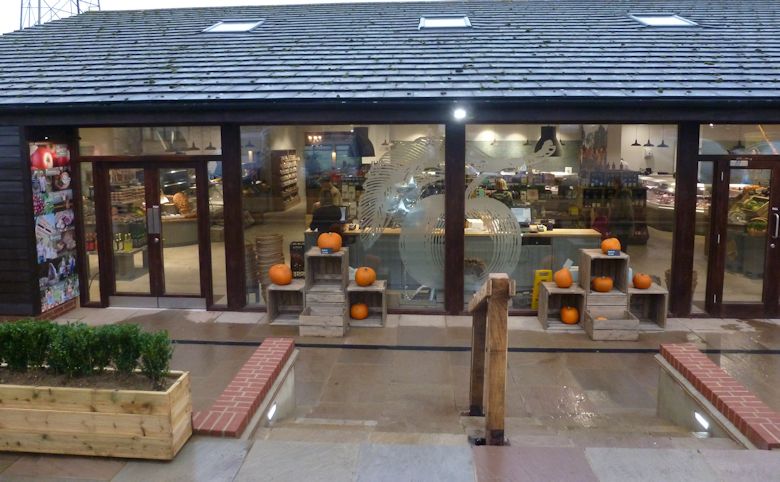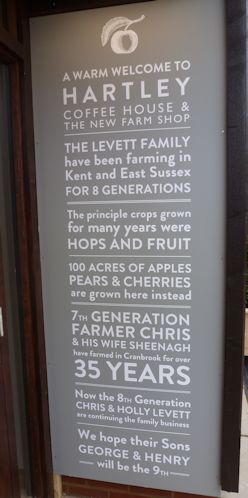 The English Apple Man is in the process of visiting and evaluating a number of farm shops in the South East region; on 23rd October a visit to Hartley Coffee House and Farm Shop which opened the previous Saturday (18th October) is the subject for this week's Farm Shop review.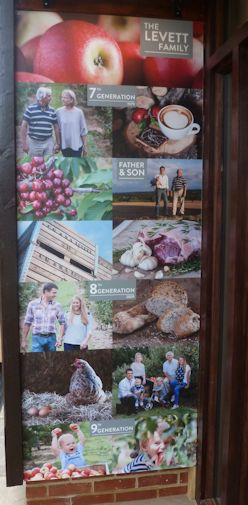 Hartley Coffee House and Farm Shop is owned by Chris and Sheenagh Levett and their son Christian. The English Apple Man has known them for circa 30 years when we both grew apples on opposite sides of the parish of Hawkhurst in West Kent. While The EAM sold up in 1991 and set of on a new career in the apple & pear supply industry, Chris and Sheenagh expanded their business interests with the acquisition of Hartley Dyke Farm.
Fortuitously our paths crossed frequently in the next two decades as Chris and Sheenagh both joined FAST advisory services as advisors.
Family history:
The Levett Family have been farming in Kent & East Sussex for 8 generations. The principal crops grown for many years were Fruit & Hops. Now 100 acres of Apples, Pears and Cherries are grown instead. As the 7th generation; Chris and Sheenagh have farmed in Hawkhurst and Cranbrook for 35 years. Now the 8th generation; Christian and his wife Holly are integral to the future of this family business, and in their sons George and Henry, a 9th generation is 'waiting in the wings.
Chris and Sheenagh also have a daughter Nikki who is a Headteacher and lives with her husband Ross and children Lily 8 and Harry 9 in Peterborough. Although pursuing a career outside of farming, Chris told me Nikki had been involved in the farm in her younger days at every opportunity and still lends a hand when they visit Mum and Dad in Kent.
Chris & Sheehanagh opened 'The Coffee House' in December 2011. Offering high quality refreshments and service it has become an established venue for visitors from Cranbrook and the surrounding area. All the cakes sold in the Coffee House are 'home made', The design quality of the Coffee House and New Farm Shop is clear as soon as one enters and the welcoming 'ambiance' engenders a desire to stay and enjoy the 'fare' in either the Coffee House or Farm Shop.
Cranbrook Fishmongers
In addition to the Coffee House and Farm Shop, the opportunity to purchase high quality fish from Cranbrook Fishmongers, situated in an adjacent building to the Coffee Shop adds another dimension for visitors. Chris and Sheenagh rent the shop space to fishmonger Jim Lyons. While visiting I met Jack Thorpe who manages the fish shop for Jim Lyons.
During my visit, Chis Levett told me the new shop has been 2 years in the planning with extensive market research and the support of an architect experienced in 'retail design'
The Coffee House covers an area of 70 sq m and has direct access into the Farm Shop which covers an area of 290 sq m. Cranbrook Fishmongers has 27 sq m.
It is clear an investment in personnel has been a key part of the planning process; the farm Shop employs 18 staff in total equal to 12 full time (equivalent) while the coffee house employs 6 full time (equivalent) and the ability to employ staff on a flexible format has advantages for employer and employee.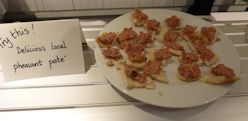 All the staff are local and Sheenagh Levett spends two days a week sorting staff rotas; it was clear when visiting that all staff have an empathy with ethos set by Chris and Sheenagh; "to provide good quality food from local sources". To this end, Andrea Clark - who spent five years at John Lewis Food Hall at Bluewater Shopping Centre was recruited as Purchasing and Farm Shop Manager. Andrea walked me around the shop explaining her buying strategy, seeking out local 'artisan products' with local 'meaning' searching in the area close to the shop, and only widening the search where necessary. Andrea is supported by Kim Dalton as assistant Manager of the farm shop.
The menu's in the Coffee House and the prepared foods in the Farm Shop are the responsibility of Bridget Goodwin a farmers wife from the village of Peasmarsh in East Sussex.
The Cheese Counter
Below left: The Cheese Counter - Below right: Treena Bettley and Rosie Levett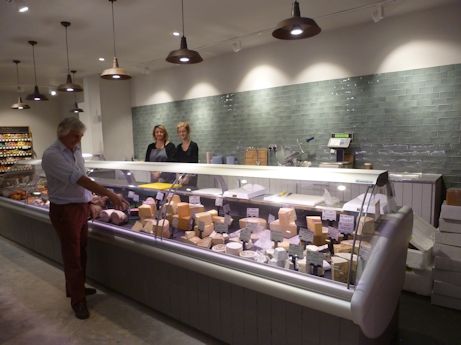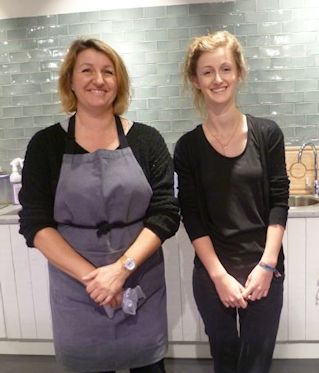 On the Cheese Counter - Treena Bettley and her assistant Rosie Levett (no relation) display a wide range of English cheeses with a 'sprinkling' of the best of imported cheeses. This counter also accommodates Salami, Scotch Eggs, Olives and a variety of tasty prepared foods. The cheese is procured form Neal's Yard in the Borough Market, a bastion of the finest home produced cheeses. Click to view Neal's Yard website.
Chris Levett posing for The English Apple Man by the Cheese counter with a delicious selection of Olives, Scotch Eggs, Salami, Pies, Pate, Hams and many more mouthwatering delicacies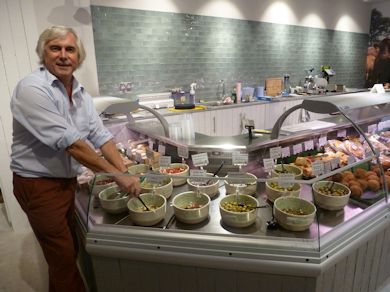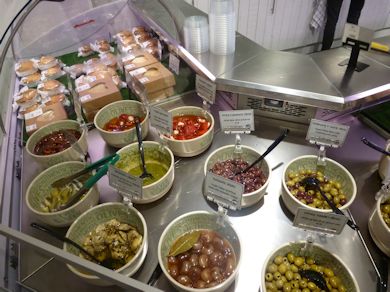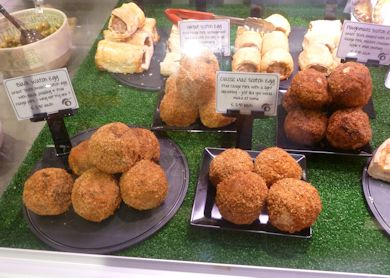 Salami is sourced from Cornish Carcuterie or Trealy Farm Charcuterie in Monmouth. Pork Pies are sourced from : Hartand Pies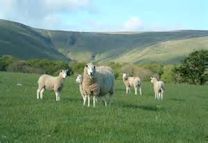 The Butcher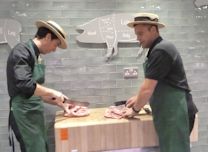 Moving onto the Butchery, where Ian Jones and Gary Simmons were busy preparing preparing pork joints for the counter display. Ian told me he has his own pig herd producing 20 piglets at 60kg each at 6 months old, which he butchers and cures himself. He also has a flock of 100 Llyen Welsh Hill Sheep producing around 150 lambs each year plus some cattle from local farmers. Chris Levett told me he has built a smokery on site at Hartley, enabling Ian to produce his own smoked hams and bacon. In the Coffee House at lunchtime The English Apple Man enjoyed a superb baguette of smoked chicken (Ian's product) and the most delicious baguette baked on site by resident baker Keith Mclintock.
Lleyn sheep are a breed of sheep from the Llyn Peninsula ('Lleyn'), in Gwynedd, north-west Wales. They are bred for prolificacy, good mothering, quiet in nature, high milk yield and excellent for white wool. They are suited to both upland and lowland grazing. Lamb can be finished well on a grass based system. 180% - 200% lambing percentages can be seen regularly. This gives you more lambs hence more turnover.
Below - Left Ian Jones and colleague Gary Simmons; Right; The Butchery Counter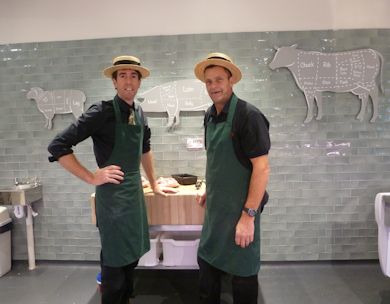 The Baker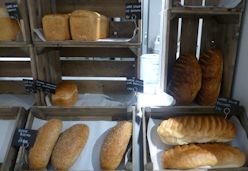 There is nothing quite like the smell of fresh baked bread and at Hartley Baker Keith Mclintock produces the finest bread 'on site' for customers. Keith is a very experienced baker and his consummate skills further enhance the Hartley Coffee House and Farm Shop appeal. We are all familiar with the technique used by Supermarkets where the 'in house' bakery finishes ready made dough, however at Hartley Farm Shop Keith Mclintock produces 'the real thing' starting with flour, water and yeast and making all the bread on sale daily. Any bread left at the end of the day is removed from sale.
I mentioned earlier my lunchtime baguette; this was without doubt the best baguette I have ever eaten; the filling was superb, but the bread so good it could easily have been eaten without any filling.
Below left: Baker - Keith Mclintock - Below right: A Wheatsheaf Loaf made by Keith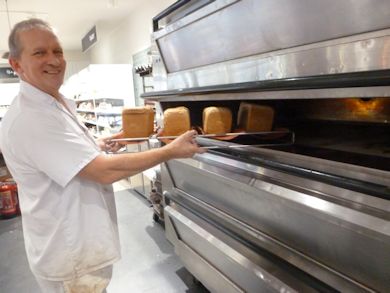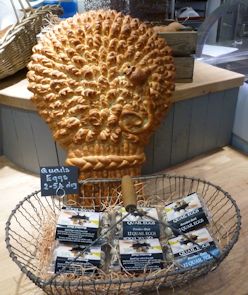 Fruit and Vegetables
Talking to Chris about the source of apples and pears, he said they have various local sources; their own fruit grown at Hartley Dyke Farm and Bare Tilt Farm and from Ockford Farm at Northiam which they 'share farm' with the owner. Ockford Farm has a broad selection of varieties ensuring a wide spectrum of English apples & pears. Next summer the new cherry orchards at Bare Tilt will guarantee 'juicy home grown cherries' for shoppers at Hartley Farm Shop.
Chris has also developed a relationship with Paul Harnden @ Brightling East Sussex who has set up new orchards grown on bush trees, 'just like they would have been' in the 1950's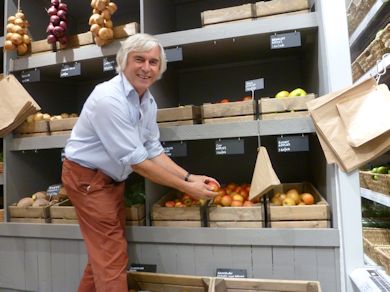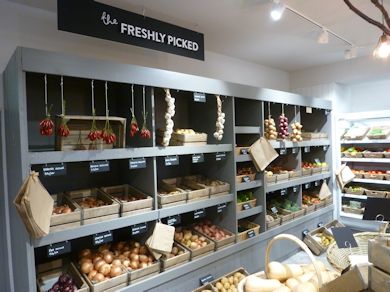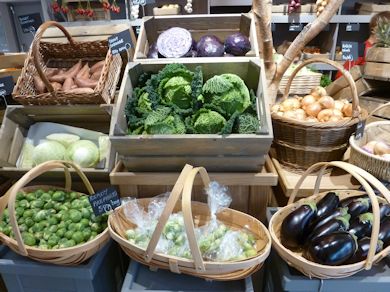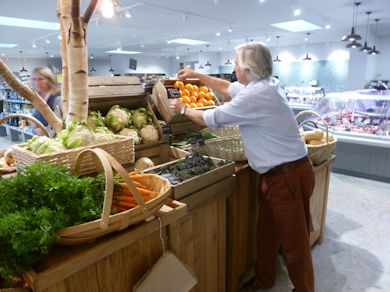 The Coffee House
Back in the Coffee House, Chris told me all Coffee House staff travel to London twice a year for training at the Drury Tea & Coffee company with all staff receiving the renowned 'Barista' training. The Drury Tea & Coffee Company supplies its 'Rainforest Alliance Certified' Café Cuidado espresso coffee to Hartley Coffee House and a range of specialist teas.
Beer and Wine display
On the wine and beer display many local beers can be found and at the heart of English wine, Westwell Ortega and Westwell Cuvee sparkling wine.Click to view Westwell Wines The Beers are sourced from Harveys and Cider from Chris Hunt at Sedlescombe.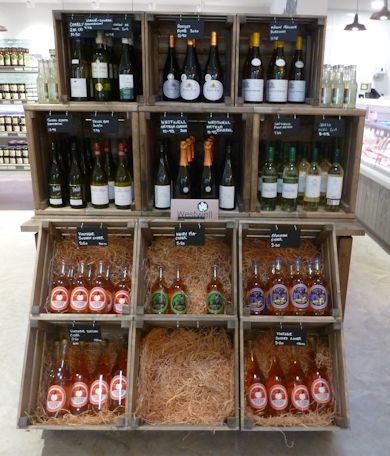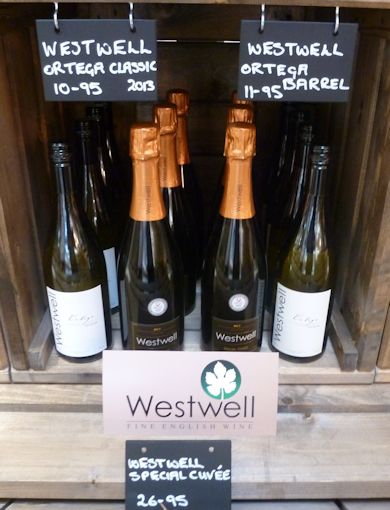 Without doubt, the Levett Family have created a 'centre of excellence' in rural Kent with many 'artisan products' and all in view of their apple orchards.
Below: Anno Gin made in Marden Kent - Balsamic Oils are sourced from: Mediteranean Direct at Whitstable in Kent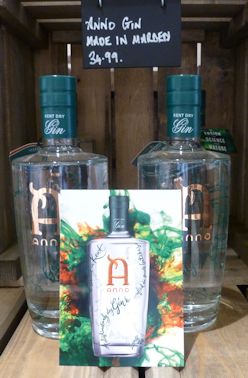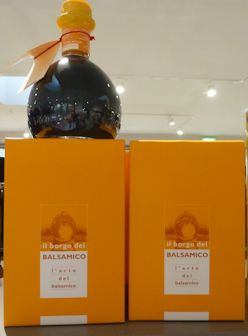 BROGDALE APPLE FESTIVAL
On Sunday 19th October, The English Apple Man attended the Brogdale Apple Festival, an annual two day event with a huge following. Due to commitments with the National Fruit Show, I have never managed to get to it in the past. However, this year with my Sunday free it was an opportunity to redress the balance.
This Festival takes in far more than apples, with many small businesses in the locality taking part. Hog Roasts, Cider Makers, Local Mini Breweries, Cheeses, and umpteen more attractions.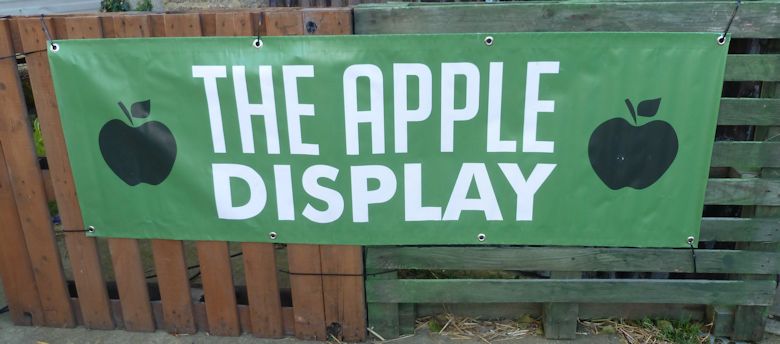 But at the heart of the Festival; The Apple Barn, where a very high proportion of the varieties in The National Fruit Collection were on display. Also in the Apple Barn, apple industry experts on apple recognition; Joan Morgan and Dr.Brian Self identify apples brought in by visitors, many of whom have an apple tree in their garden but no knowledge of what variety it is.
Further on in the Barn an opportunity to taste and buy fruit from the National Fruit Collection. This a rare event as there are few places in the country with 'historic varieties' available and certainly nowhere with the number of different varieties in one place.
So, those magical names from the past could be tasted and purchased. Varieties like; Blenheim Orange, Wadhurst Pippin, Kentish Quarrenden, .................
Below: the display of varieties from the National Fruit Collection creates a perfect opening scene as one enters The Apple Barn.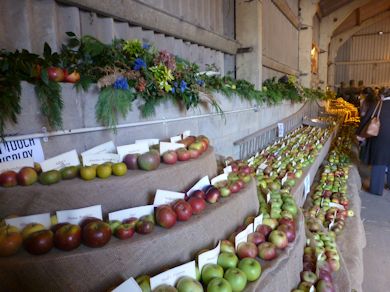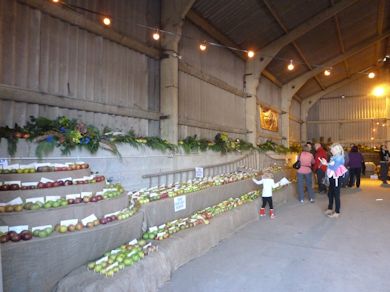 Below: Fruit experts Joan Morgan and Brian Self identity varieties brought in by visitors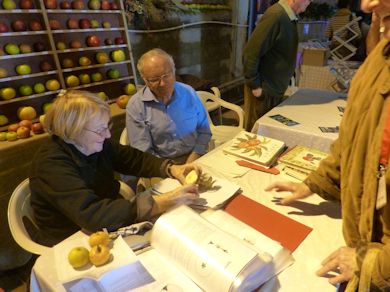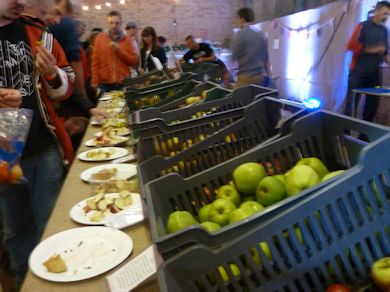 Among the collection, a number of varieties caught my eye. Blenheim Orange a variety revered for its flavour....but not a heavy cropper. Baxters Pearmain first recorded in 1821.
Below left: Blenheim Orange - Below right: Baxter Pearmain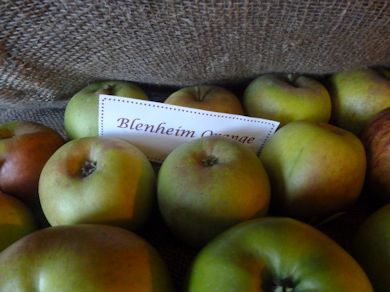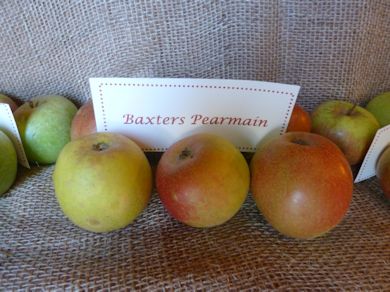 John Standish...I remember my Uncle John Bligh grew Standish and always spoke highly of them as a useful commercial variety. Kentish Quarrenden originates in Kent UK 1931.
Below left: John Standish - Below right: Kentish Quarrenden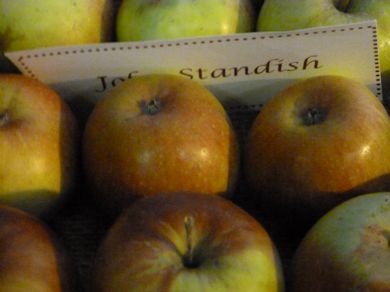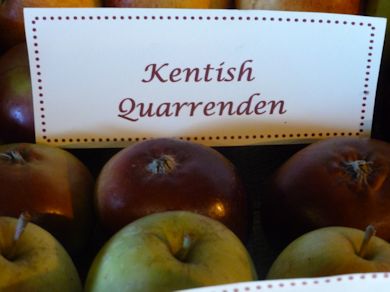 Wadhurst Pippin dates from the early 1800's, it is a culinary apple primarily, but it has also been considered dual purpose and has been used for cider. Knobbly Russet was first exhibited in 1820.
Below left: Wadhurst Pippin - Below right: Knobbly Russet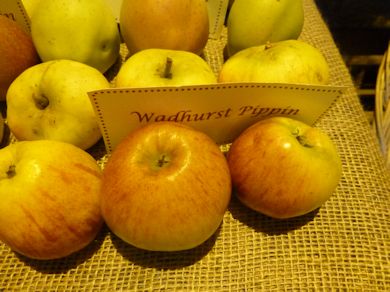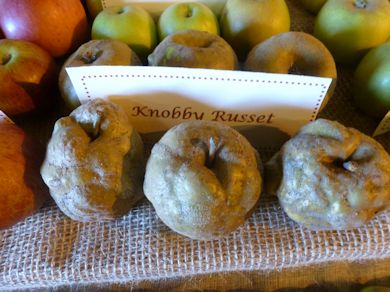 Walking around the Festival I popped into the Sausage making demonstration; 'they make it look so easy' reminded me of the showmen twisting balloons into all sorts of shapes.
Below left: Sausage making demonstration by 'The Butcher at Brogdale' drew large numbers of interested visitors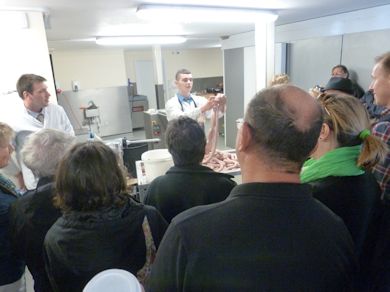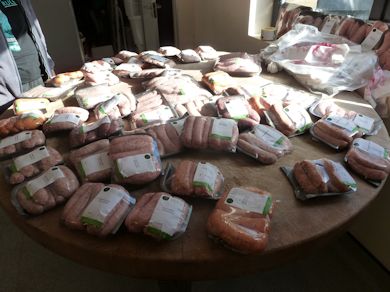 Below left: The English Apple Man enjoyed 'an ale' at The Madcat Micro Brewery to wash down a Hog Roast Bap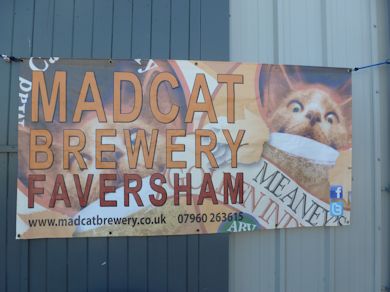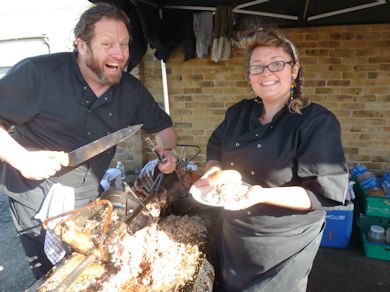 Whenever I see animals ill treated on TV it makes me wonder how some people can be so cruel to a defenceless creature. The Happy Endings Animal Rescue Sanctuary cares for animals and ensures a 'happy ending'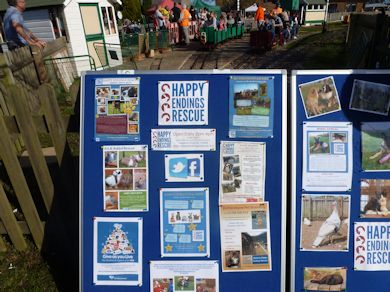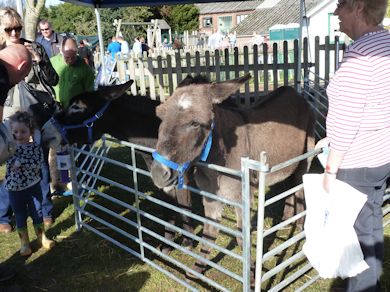 One of the most popular activities at The Festival was the Apple pie eating competition; contestants 'should be' and 'were' - "applauded" for their sportsmanship - wrestling with an apple pie coated in cream is a humiliating experience!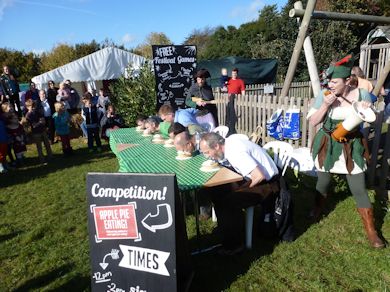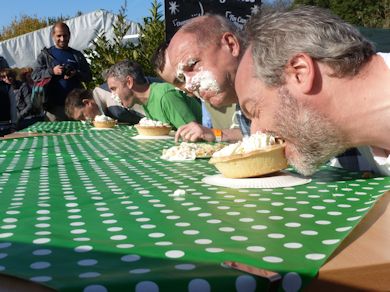 Brogdale is the perfect place to acquire a 'heritage variety' with the Brogdale Collection allowing members of the public an opportunity to plant a 'Bona Fide' heritage variety bred from a tree in the collection.
Below: This decorated Cider Press was in the apple barn, at the heart of the display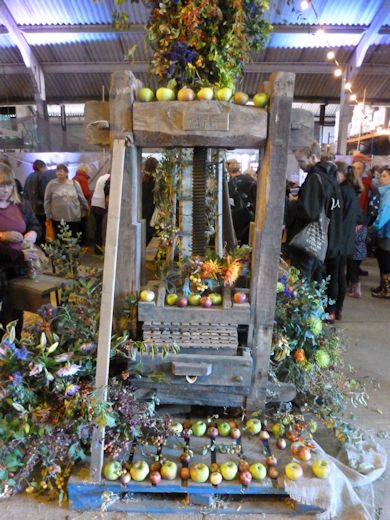 For an extensive review of The Brogdale Apple Festival: Click to view the Brogdale Apple Festival website
That is all for this week...........
Take care
The English Apple Man