Journal
18th Dec 2015 - Upping the stakes for recruiting harvest workers
Responding to the need for better trained harvest workers,,,,,,,,,,,,,,,,
The horticulture industry depends heavily on migrant harvest workers....without their input our top fruit, soft fruit and stone fruit industries would be decimated.
Back in February at the Under 40's Conference in Benelux, The English Apple Man met Estera Amesz and in a conversation at The U40's Gala Dinner her enthusiasm for a new recruitment business venture started by her and her husband Douglas caught my imagination. I promised to visit them and learn more about their 'adventure' - I met them both again at Fruit Focus during the summer where we set a date for September
Below: Doug and Estera in their office with Marcin (on the left) who deals with a lot of the IT aspects of AG Recruitment & Management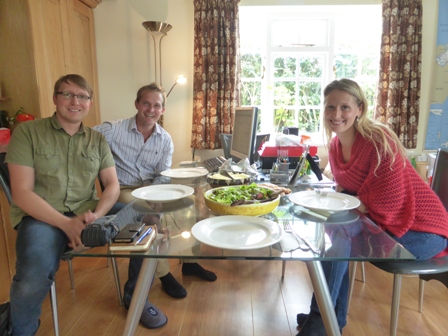 Visiting Douglas and Estera at their office in East Kent, it was clear they are determined to provide a high quality recruitment service for UK horticulture, using their experience in the fruit industry allied with their contacts in Romania and Bulgaria and built on an integrity imbued in them both.
Harvest work history
Before embarking on Doug and Estera's story of their life in England which began in 2000, it is worth reviewing the changes in the harvest work practices over the last 25 + years
The numbers of migrant workers from Eastern Europe is regularly raised by the media, but without the support of those hard working young people our horticultural industry would be of minor significance to home grown sustainable produce.
Turn the clock back 30 years and the soft fruit industry used to be over in a matter of weeks; top fruit - e.g. apples and pears employed young mothers while their children were in school; it was common to find pre-school children in the fields as mummy picked strawberries, raspberries, blackcurrants, cherries, plums, apples & pears, while in my day couples would take a two week holiday to join my harvest team; it was a tradition which had endured since the earliest days of fruit picking in the English countryside.
In the overall scheme of things, it is easy to forget why we depend so critically on migrant workers and so often the cheap labour v lazy English workers is portrayed, with impassioned arguments from both sides of the spectrum. What is easily forgotten is the bureaucracy which destroyed the age old tradition of 'home grown' harvest workers - legislation controlling children in the workplace; the 'Creche' became the only way for local mums to bring their children to work in the fields; now this is an understandable advancement in health & safety, but it was instrumental in the change from home grown harvest workers to a reliance on migrant harvest labour.
It was not long before the cost of childcare, the difficulty in part time (casual) employment made harder by tax and national insurance regulations making harvest work less attractive than welfare payments for mums and anyone unemployed, that the available labour for harvest workers could only be solved by migrant workers. Initially this was solved by the 'post Perestroika' dissolution of the Soviet Union and the new found opportunities for former eastern Bloc students to travel and seek work in the West. I well remember my first employee from Poland, a delightful and very hard working lady who had been here for a few years and married a local Policemen.
The horticultural industry has depended on labour from overseas for circa 25 years; the recruitment process under the SAWS scheme (Seasonal Agriculture Workers Scheme) allowed fruit and vegetable growers to employ migrant workers from Romania and Bulgaria for up to six months at a time. This ended on 31st December 2013 as the UK Government considered the extended EU membership of which Romania & Bulgaria are part, would with the extended EU (described as EU2) provide a sufficient pool of labour within the EU, rendering SAWS unnecessary.
In the past horticulture relied heavily on Concordia and HOPS, two well established organisations. Founded as a charity in 1943, Concordia is recognised for providing high quality seasonal workers to UK growers for 70 years. Concordia was founded with the aim of recruiting British volunteers to pick fruit and crops as part of the war effort.
HOPS is wholly owned by the National Federation of Young Farmers Clubs, HOPS History - The Harvesting Opportunity Permit Scheme (Great Britain) - or HOPS (GB) - was founded in 1989 as a department of the National Federation of Young Farmers' Clubs (NFYFC) England & Wales. Its primary aim was to provide youth experience to students from Eastern Europe through work placements with UK employers in the agriculture and horticulture industries.
With SAWS discontinued it was inevitable new agencies would join the established agents Concordia and HOPS in providing recruitment services for the fruit, vegetable and flower industries.
AG Recruitment - Douglas & Estera - their story...
Doug arrived in England in 2000 - born in Perth Australia to a Dutch father & mother of English descent, (great grandmother was English) he had plans to backpack while funding his travels with harvest work. In his first summer he started in 'the Garden of England - spending the summer at Gaskains in the village of Selling in East Kent; Doug then backpacked in winter, with plans to do this for 3 years.
Estera was born in Romania and came to pick soft fruit at Gaskains where she met Doug in 2002 - she remembers he was in charge of her group, she laughingly described him as a hard taskmaster!
However love followed and Estera stopped her studies for one year and on the 30th August 2003 they were married. In Sept 2004 Doug started at University, spending the summer as Harvest assistant manager at Gaskains. In 2004 Estera started work in Gaskains office, where she 'learnt a lot' about the structure of business and 'on farm' working practices which would prove to be valuable experience for the future!
In 2005 Doug & Estera bought a house in Faversham but could not afford to furnish it, so rented it out while they lived in a caravan at the farm.
Estera also worked in Sainsburys cleaning and Debenhams, including some part time modelling, the work ethic comes naturally to Estera who is proud of her Christian background; she and Doug are both active members of The Baptist Church. At 14 Estera was working with young people at Sunday school - she has also had valuable experience with NGO's working as a translator for Americans.
2006
Life continued with Doug studying hard while working in the summers at Gaskains; Estera worked full time having given up her own studies in support of Doug; their resolve paid off when Doug gained a degree in Accounting Finance & Business Management Science (a double degree).
Doug finished University in 2007 with ambitions to be an accountant; gave it a go for almost a year working for Kreston Reeves at their Chatham office, but realised it wasn't for him and went off to do an MBA instead.
Returning to the farm, he accepted a position as Operations Manager at Gaskains.
Doug & Estera sold their first home in 2007 and bought a bigger house in Faversham - over the next few years they bought and sold 6 houses - 3 were 'buy to let' properties - they are natural entrepreneurs........
Doug gained his MBA in September 2009........
Doug and Estera continued their roles at Gaskains until December 2014.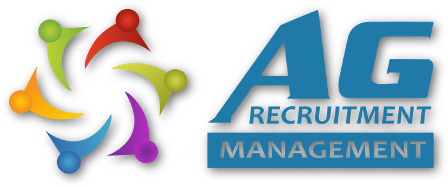 AG Recruitment was launched in the autumn of 2013 when Doug & Estera fulfilled their ambitions to start a recruitment agency.
With SAWS gone the opportunity to launch new recruitment companies instigated change and healthy competition between recruitment companies.
The idea had been building for some time and it was now time to start AG Recruitment. Their shared experiences at Gaskains gave them an advantage; Doug said "we developed ideas on how to make harvest workers more efficient". Their valuable understanding of the mechanics of such a complex business, allied to their work ethic and undoubted intelligence put them in a commanding position to create a 'new module' for recruitment.
AG initially started as a joint venture between Doug, Estera and Gaskains; after December 2014 Estera and Doug got the majority of the shares, always remaining grateful for the support given to them by Gaskains whose investment in AG Recruitment eased the 'start up' funding - The removal of SAWS was the driver for a new style of recruitment - Concordia & HOPS had a monopoly but Doug said with no competition there was no improvement in the recruitment service.
AG supplies seasonal workers to the Agricultural Industry, particularly Top Fruit, Soft Fruit, Stone Fruit, Salads, Vegetables and Flowers.
Below: First interview for an applicant in Romanian AG Recruitment Office...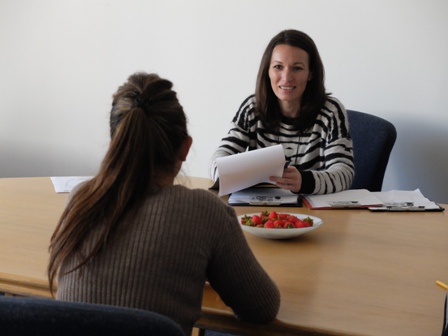 Looking ahead, Doug foresees greater volatility of the business; Agriculture is difficult, the influence of weather will increase, changing ambitions of people seeking employment will have a significant influence on the ability of available 'harvest' workers, the impact of a 'living wage' however morally correct, will add considerable cost to growers wage bills; Doug highlights the need to 'organise to overcome' the challenges.
In conversation with Doug and Estera one cannot be anything but impressed by their determination to create a highly principled business, they have experienced the 'good and bad' of being in a harvest worker role and have an understanding of the emotional aspects of being in a foreign country, far from home.
Estera points out that when harvest workers first leave their home, they will be carrying emotional burdens. Maybe leaving small children at home with parents/grandparents.....
With her own experience of coming to the UK as a young woman, she can empathise with the emotions of the harvest workers. It can be VERY HARD!!!!
AG Recruitment aspire to be a market leader alongside HOPS & Concordia.
In 2014 AG Recruitment served 13 clients and in 2015 served 42 clients with a placement of 1700 - 1800 people.
The business (people) has grown in one year by 400% while the client growth has grown by 300%
Modus operandi....
During 2015 AG Recruitment opened an office in Bulgaria in addition to the recruitment office in Romania. The' seed is planted' (opportunity) by publicity in 6 cities in Romania & Bulgaria.
The AG Recruitment & Management website allows interested applicants an easy 'first step' in the process.
People wishing to work in the UK contact AG in their home country and are then offered an extensive interview process. Doug comments; "One of the key differences between AG and Hops and Concordia is that AG doesn't outsource agents, all the recruitment is done with AG employees which gives us better control and transparency", everyone else is using the same system and procedure as HOPS & Concordia who use outsourced agents.
When applicants come to the AG offices in Romania & Bulgaria they receive an in depth interview consisting of 2.5 hours in a group session. Initially a group of 3 - then group of 6 - and finally group of 12.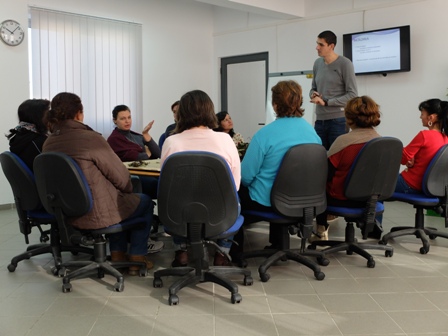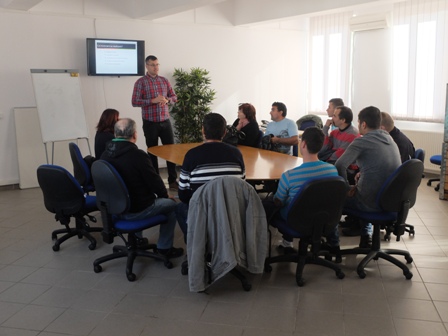 Raising the bar.........
Doug is trying to 'raise the bar' creating a module which 'shakes up the industry' - he feels highly frustrated with what was going on before - initially the harvest workers were 'educated students' but this is changing - the better educated are now seeking employment prospects beyond the harvest worker zone. Younger people have higher expectations - the people seeking harvest work are not as educated as their predecessors were a decade ago. BUT, with social media, they are very well aware of the opportunities - their expectations are higher.
Doug stresses with the pool of potential harvest workers not as educated, training is more important than ever!
AG ensure each harvest worker has a minimum of 6 hours with AG recruitment staff before leaving their home country.
Doug recognises a major issue facing the industry with a deficit of people with skills.
Key Staff training is vital if the industry and harvest workers are to realise the 'mutual benefit.
In their Romanian & Bulgarian offices they simulate outdoor settings 'indoors' assessing dexterity, motivation and ability to work in a social environment. Simulation is valuable, it moulds expectations.
Below: trainees during simulated strawberry harvesting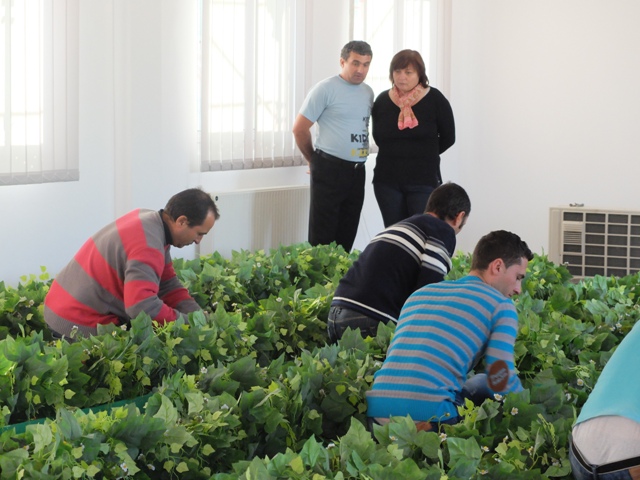 Below: simulated harvesting gives the trainers an insight into workers dexterity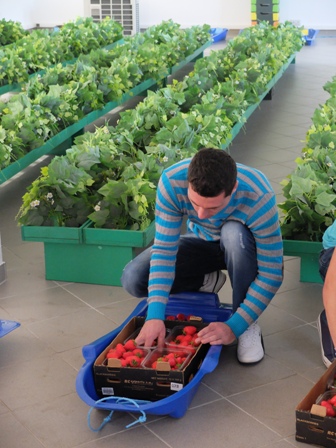 The Harvest Simulation in Romanian & Bulgarian offices is invaluable, dexterity is not found in everyone; understanding each applicants skills is essential to moulding expectations - Doug stresses the importance of 'matching the applicant to the potential tasks' - ensuring a sense of reality rather than a false dream is vital for worker and grower satisfaction.
Labour is 40 - 50% of growing costs, so improving the quality of the harvest workers skills is paramount for future cost efficiency.
The Future?
Doug stresses; there will be higher wage costs, margins will be squeezed - more peaks & troughs - global pressures - consumer pressures - economics has to change - 'we need food inflation'
Decisions will have to be made - 'What is healthy for the country?
Either a combination of greater efficiency supported by better prices (food inflation) to maintain the 'status quo' of fresh home grown produce - OR - Food factories will become the norm. It will not be possible to continue production as it is today without a realistic price for the product, either the consumer pays a realistic price or home grown produce will decrease, imports from cheaper production areas will take the place of home grown and/or production processes will increasingly adopt food factory systems.
Doug sees more specific training to progress sectors AG is involved with - Soft Fruit, Top Fruit, Stone Fruit and Flowers. In 6 months living wage to rise from £6.50 to £7.20 + 10% + other costs
Future objectives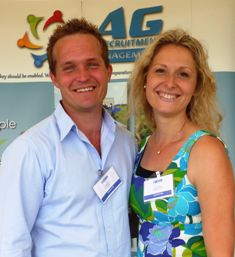 AG to 'work with growers' - 'share best practice' - learn how to get reasonable labour force better trained - improve quality of labour force - create services that will help growers improve their business.
AG will continue to work hard - Team building, Consultation and Software development are part and parcel of the future for AG and their clients. AG aspire to be so much more than a recruitment agency, AG is a complete service for efficient harvesting.
The English Apple Man is very impressed with Doug and Estera's desire to develop a principled approach to providing harvest work for migrant labour while ensuring the UK horticultural industry remains competitive by utilising the most up to date working practices.........their enthusiasm, intelligence, and a full spectrum of experience in their field augers well for the future of AG Recruitment, their clients and their employees..........
Below: Happy Harvest Workers......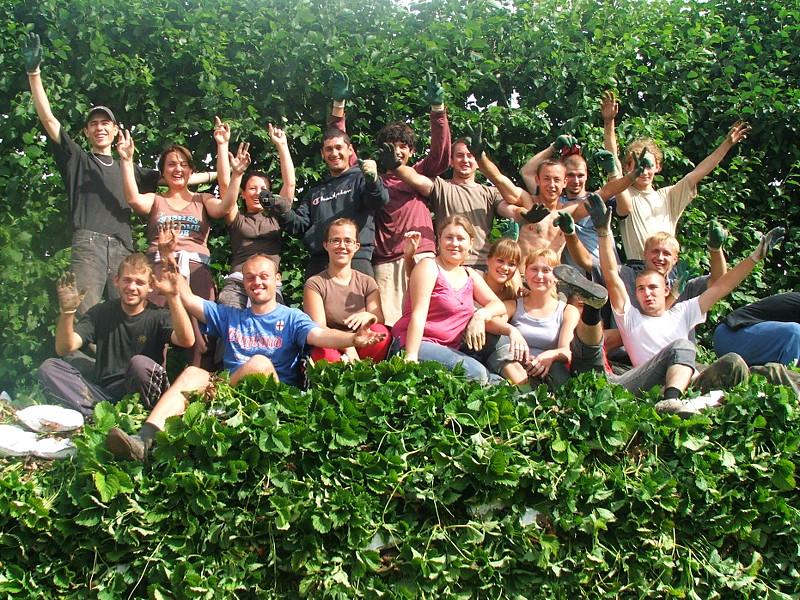 So, just seven days until Christmas Day....next week The English Apple Man Journal will be on-line on Christmas Eve...
Take care
The English Apple Man