Journal
1st Apr 2016 - April fool
Easter is over, April is here, the clocks have been reset, the evenings are lighter; a reason for us all to feel brighter!!!!
Before March ended, The English Apple Man celebrated a birthday and wedding anniversary....
Tuesday 29th was my 74th Birthday and Wednesday 30th our 53rd Wedding Anniversary......
On Tuesday my brother and sister-in-law drove down from Windsor and took us to Pier 9 at The Zanzibar Hotel on Hastings seafront for a truly magnificent lunch. Pier 9 is one of our very favourite Restaurants and well worth visiting for that very special celebration.................
Visit the website at Pier 9 at The Zanzibar
Getting back to Apples & Pears; the cold weather has held the bud development back; it has been running at circa 2 weeks behind 2015. Now with some warmer days bud development is catching up, so much so that if the warmer conditions continue, the season may align with 2015 by the time blossom arrives.
It may be April, but visiting Supermarkets this week there is still plenty of high quality 'home grown' apples & pears available.
Below: English Cox apples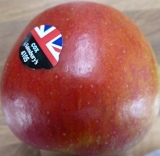 My sources tell me Cox should last until at least mid-April by which time the first New Zealand Cox will be on the horizon. Home grown Cox is very good with good firm texture.
English Gala and Braeburn should last until mid May. Home grown Jazz will last until mid May with the smaller sizes from English growers and the larger Jazz sources from France and/or Italy. English Organic apples will also last until around mid May, with home grown Conference pears expected to stretch into June.
Another source told me; Cox will last for another week, while Rubens, Gala and Braeburn should last until the end of April; Cameo will last into early May.
Below: English Envy apples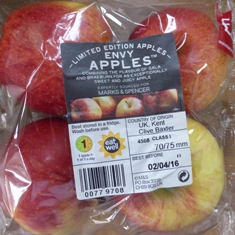 The English Apple Man bought 'Limited Edition' ENVY in M&S - 'delicious'
English Egremont Russet; a favourite with the 'older generation' which includes The EAM delivers a mixed message; one source told me the Supermarket sales are on the slide, but wholesale demand is good - one assumes the traditional greengrocer still has a demand for this unique apple. In contrast, another supplier (different customer base) has had a steady demand for Egremont Russet this season.
While discussing the vagaries of weather on fruit quality; the wet weather at harvest time in UK last year (2015) affected the quality of some fruit in store; when the fruit takes up too much water, the cell structure is changed and the fruit will not retain its texture or taste in comparison to apples harvested in perfect conditions.
UK weather is not unique in influencing fruit quality into store; the harvest in South Africa this year has been much hotter and drier than normal affecting fruit size (smaller than normal) and fruit firmness (texture) - this will be more challenging for importers bringing in apples from RSA.
Below: English grown Jazz - Gala - Rubens apples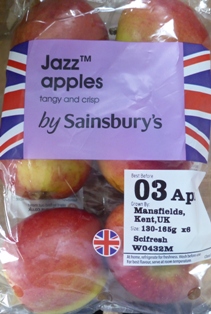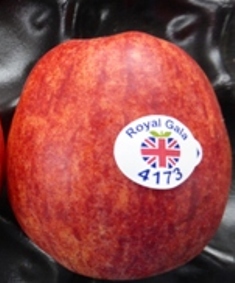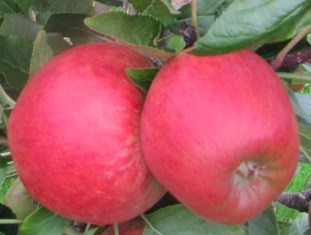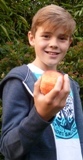 Today my 'apple loving' Grandson Jack joined me in a tasting of English Cox, Envy, Jazz, Braeburn, Cameo and some 'imported' Chinese Fuji.
Jack loves apples, to the point he will 'crunch away' at several each day, 'given the opportunity' - he is very 'fussy' when it comes to texture; any apple with poor texture will be labelled ' soft & mushy' - our tasting determined the Jazz and 'Chinese' Fuji as the most pleasing with plenty of 'crunch and taste' - the Envy was next best and Cox, Cameo and Braeburn in the 'chasing pack'

The English Apple Man 'grumbles'
Every now and then, I get wound up by comments in the media - usually by 'trendy journalists' who wax lyrical about the quality of our heritage varieties, while describing any apples on sale in a Supermarket as 'plastic'
I am always intrigued by the notion propagated by 'some' supporters of community orchards that we must save the wonderful heritage varieties, the flavour of these old varieties is identified as 'so much better' than the 'plastic apples' sold by our Supermarkets.
I fully support those who want to save old orchards and heritage varieties; of course that is the right action to take, after all as an industry we cherish the National Fruit Collection at Brogdale. However why do those same souls so often denigrate the varieties sold in our Supermarkets, all of which have been subject to consumer tasting panels.
I would argue that 95% of all apple varieties, if eaten straight off the tree in prime condition would deliver a good eating experience; I would also argue that the majority would have insufficient shelf life to deliver texture & taste for more than a day or two in the supply chain and however much we would like to go back to the past, 80% of our fruit is sold in Supermarkets and that is unlikely to change.
In my humble opinion, if those old varieties are so good, they, not Pink Lady, Jazz, Gala, Braeburn, et al would be on the retail shelves.
Many may not appreciate the support for home grown 'heritage varieties' by our Supermarkets, but Tesco sell more than 40 varieties of English grown apples and Sainsburys close to 50 home grown varieties across the English season!

Job opportunities...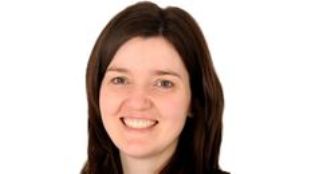 We hear so much about the lack of jobs for British workers and the influx of immigrant workers. I am grateful to Alison Baldwin of Coast Communications for allowing me to include this Press release: 31 March 2016
Over 500 jobs available at Medway Farm...
Apple and pear grower AC Goatham & Son has over 500 seasonal jobs available and is now looking to recruit workers for the 2016 harvest, based largely in Medway and Swale.
The first batch of the full time jobs will begin in May, when the thinning of fruit takes place in the orchards, through to picking fruit in the orchards from August and then working in the packhouse through to May 2017.
75-100 thinners, who will work in the orchards from May-late June/July
400 harvest crew, who will work in the orchards from Late August to November
55 packhouse workers, who will work at Flanders Farm, Hoo from September to May
Gayle Goatham, HR Manager at AC Goatham & Son comments: "We have a significant number of seasonal, full time jobs available and we are looking for people with a variety of skills to join the team. Many people join over the summer months and stay on for as long as possible, moving from role to role. We are looking for people who are physically fit, flexible, as the teams work in shifts and will enjoy working both inside and outside, in all weather.
This is hard work but financially rewarding and many people have gone on to other senior roles within the organisation, who started off as part of the picking or packing team several years ago."
AC Goatham & Son is also supporting local mums back into full time work with flexible working hours in their head office team. Directors' Assistant Nickola Caney, a single mum has been able to transition from flexible part time to full time, along with other returning mum's Liz Worne and Lauren Eames in the accounts team.
Gayle Goatham continues: "I'm a working mum myself with young children, so I know how difficult it can be to juggle both roles. Being a family owned business, we are happy to help all our workers to manage their working hours where possible, to help ensure they have a better work/life balance."
AC Goatham & Son has 17 farms and 20 partner farms across Medway and Kent and grows 1 in 4.5 of the British apples sold in the UK and 1 in 3 conference pears, growing in total around 150 million apples each year.
All jobs can be applied for via www.acgotham.com opportunities but applications can only be accepted from individuals only, not agencies.
A C Goatham & Son began trading in 1947 as agricultural contractors and fresh produce merchants. In 1980 it established a farming operation growing apples and pears. It is now run by father and son Clive and Ross Goatham along with their business operations team.
- Among the business' 17 farms is Gore Farm, Upchurch near Sittingbourne, which is open to the public all year round attracting around 125,000 visitors. Gore Farm is also an ambassador site for the Kent Wildlife Trust and visitors can see how farming operations are working hard to preserve the permanent living landscape.
In 2015 AC Goatham & Son won The Fresh Produce Journal's - UK Fruit and Vegetable Awards - Fruit Grower/Supplier of the Year Award - The Total Produce Award for Best Supporter of British - while Senior Partner Clive Goatham personally won the Lifetime Achievement Award, in recognition for his individual work.
FINALLY.............
Those of you who remember Spaghetti growing on trees back in 1957 will be intrigued by the development of a multi fruit tree by Phil Acock, Managing Director, Fourayes Farm Ltd.
Below: Harvesting Spaghetti in 1957
Below: Experimental grafted 'multi variety tree' developed by Phil Acock and his technical team!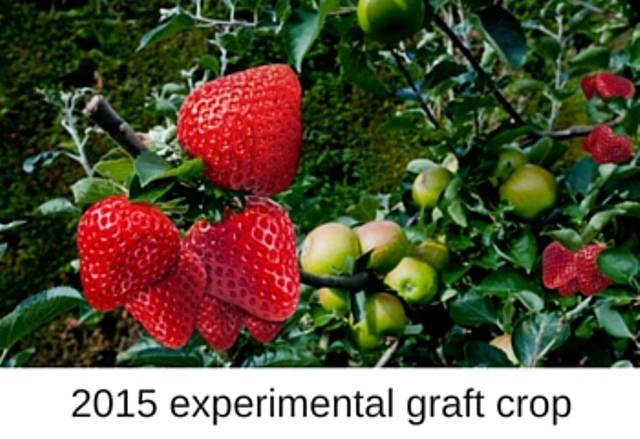 To read about how this ground breaking tree was developed........
Click on to FOURAYES breeding breakthrough
Well, that is all for this week, I hope you enjoyed the depth of technical information in this week's Journal. Phil Acock has developed a unique new tree, which will no doubt be the subject of many conversations in the days, and weeks, possibly even years ahead!!!!!!!!!!
Take care
The English Apple Man
PS: APRIL FOOL......................