Journal
17th Jun 2016 - Keeping apples in perfect condition
Storage technology is a vital part of supplying quality apples to the consumer........
The top fruit industry has achieved a spectacular increase in sales of home grown apples; the tonnages have risen dramatically over the last 8 years- English Apple Sales 2008/09 - 2014/15
An essential element of that success is the continued improvement in storage technology.....
There have been many improvements in storage technology over the last few decades; refrigeration equipment is far superior to older systems, with rapid cooling removing field heat from the fruit and modern insulated panels making 'air tight' stores (essential for Low O2 storage regimes) much easier to attain.
Ultra Low Oxygen (ULO) has become the norm for storing dessert apples. The ability to slow respiration to a low level, lengthen's the storage life considerably. In ULO oxygen levels can be reduced to around 1% - at the same time Carbon Dioxide (CO2) must be scrubbed out of the store to avoid internal damage to the fruit.
Below: Global installations of Isolcell DCA storage using HarvestWatch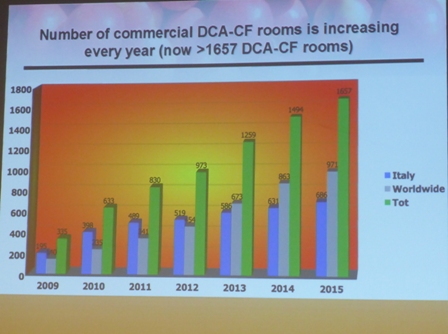 DCA storage is the latest 'holy grail' of storage technology. Still a minor percentage of our (UK) storage regimes, DCA is widely used in many countries around the world. Over the last three years DCA has been installed by a few leading UK growers and this is likely to gain increasing momentum in the next few years.
Its non-chemical feature makes it appealing to industrial users who wish to reduce post-harvest chemical use or store 'organic' product. Others have adopted it because it is a one-time capital expense that can have a pay-back period of 2-3 years, compared with repeated annual expense with competing chemical-based methods.
Dynamic Controlled Atmosphere using HarvestWatch
Below: Dr.Robert Prange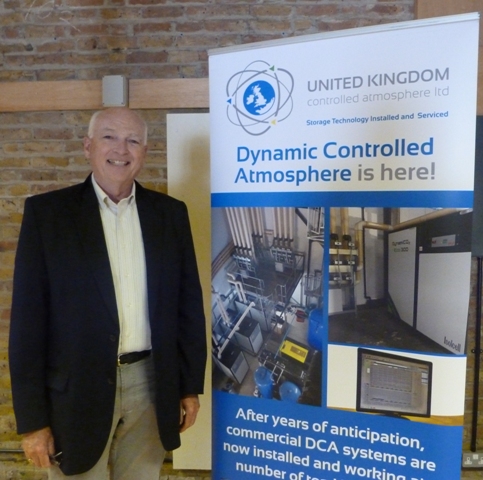 This new technology was developed and patented in Canada in 2001 by a research team led by Dr. Robert Prange and Dr. John DeLong. Further research evaluation was conducted internationally, especially by Dr. Angelo Zanella of the Agricultural Research Institute Laimburg Italy which led to commercialisation in the U.S.A and Italy in 2003-2004.
The technology detects stress, e.g. low oxygen, by continuously monitoring changes in the chlorophyll fluorescence (CF) of the stored product. The major application of HarvestWatch technology is in dynamic controlled atmosphere (DCA) storage of fruits and vegetables.
FAST DCA seminar
Below: The history of combating Scald with low O2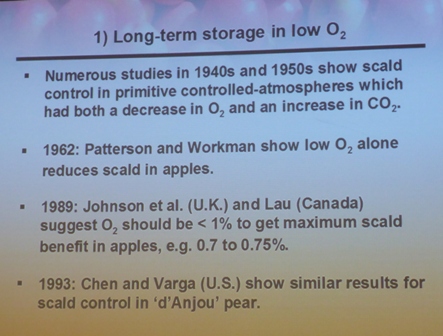 On 7th June, FAST and UKCA Ltd organised a seminar where the inventor Dr.Robert Prange reviewed the history behind the development of HarvestWatch.
The use of DCA is seen as the Holy Grail of storage technology, with the ability to take oxygen levels down to levels well below the traditional ULO regimes.
However the initial interest in achieving very low O2 levels was driven by the research into avoiding scald due to CO2 damage. The discovery that very low levels of O2 appeared to reduce the incidence of scald led to further research into how much oxygen levels could safely be reduced to without causing fermentation.
During his presentation, Robert Prange demonstrated how in a trial, Elstar apples had been taken down well below the critical oxygen concentration zone in an attempt to push fruit in low Oxygen/Nil Oxygen to the very limit and this demonstrated the absence of O2 did not cause any visual damage to the fruit - however, as he said, the taste was awful, as one would expect with fruit deliberately taken into the 'fermentation zone' - the strength of the Harvest Watch system monitoring the 'Fluoresence' allows storage down to very low O2 without entering the danger zone.
Below: Scald damage on the left and free from Scald on the right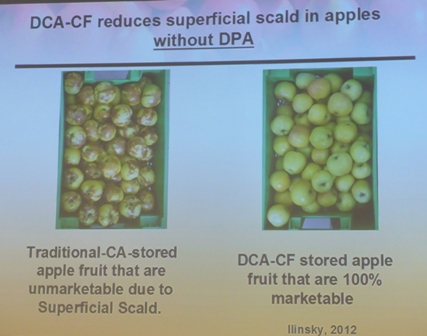 Historically scald has been controlled by the use of chemical treatment; e.g. DPA (Diphenylamine has been the major scald treatment for apples and pears but had a MRL (Maximum Residue Limit) which varied from country to country. In November 2009 the EU decided to de-register DPA. In April 2013 the EU reduced the DPA MRL from 5 ppm (parts per million) to 0.1 ppm making the use of DPA without risking exceeding the 0.1 ppm MRL virtually impossible.
Diphenylamine is used as post harvest scald inhibitor for apples applied as an indoor drench treatment. Its anti-scald activity is the result of its antioxidant properties, which protect the apple skin from the oxidation products of alpha-farnesene during storage. Scald (Apple scald) is a physical injury that manifests in brown spots after fruit is removed from cold storage.
By moving away from DPA to combat scald, organic fruit can benefit from DCA regimes allowing longer storage potential.
In addition to keeping fruit in 'tip top' condition in long term storage, evidence of flavour enhancement has added another positive element to DCA storage.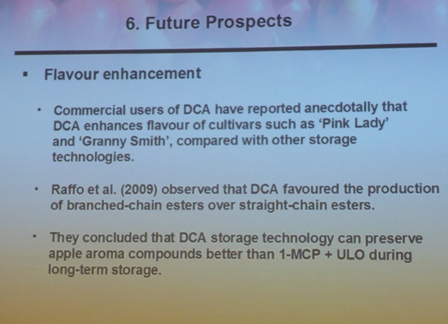 Flavour enhancement was noted during research by Dr. Angelo Zanella of the Agricultural Research Institute, Laimburg, Italy.
Historically acceptance of low O2 storage has been low compared with DPA as a means of combating Scald.
This is due Controlled Atmosphere (CA) rooms not being air tight enough, with DCA storage, chambers need to be able to hold O2 below 0.5% - modern storage chambers are far superior to older stores and the new technology allowing monitoring and control of O2 below 0.4% supports the capability for DCA storage.
Today the most serious problem is the fear of undesirable anaerobic effects e.g. off-flavours, skin purpling, if the O2 level is too low for too long; these factors drove the desire to know the anaerobic compensation point (ACP)
DCA - CF has removed these concerns!
Until DCA - ULO (Ultra Low Oxygen) and 1-MCP were the standard storage regimes for managing quality of fruit in store
SmartFresh (1-MCP) is used globally to maintain fruit quality
The SmartFreshSM Quality System is globally recognized as an important tool for fruit quality management. SmartFresh successfully manages fruit and vegetable ripening by controlling naturally occurring ethylene during storage and transport.
Ethylene triggers ripening and spoilage in most fruits and vegetables, and can be responsible for storage disorders which can spoil products and result in loss and waste. SmartFresh reduces fruit waste and maintains the texture, firmness, taste and appearance of fruits by warding off negative ethylene effects.
Click to view SmartFresh technical overview
DCA in practice: Presentations by; Tito Spaldi, Isolcell - James Simpson, MD Adrian Scripps Ltd - Ken Hatch, UKCA
Tito Spaldi - Isolcell said Isolcell 'HarvestWatch' DCA stores have been operating successfully in Italy since 2003...'initially driven by the need to combat scald' - still an important element in long term storage of apples....
Click on The English Apple Man's visit to Bolzano in December 2014 for detailed information...
James Simpson - Installed 12 Isolcell DCA stores in 2014 having come across DCA at trade fairs (Interpoma) and is in the process of installing 10 more in readiness for the 2016 storage season. The refurbishment of 10 chambers to the specification required for DCA is in process and Isolcell DCA equipment will be installed by UKCA in advance of the 2016 harvest.
Operationally James Simpson said they use 2-3 orchards of similar storage quality in each chamber. The great benefit of DCA is the ability to market the fruit when the customer want's it - rather than when the fruit (in inferior storage) dictates....this has been very beneficial with Braeburn which can be prone to internal disorders in standard CA when marketed in April.
Of course James said it is important to save the best fruit for long term storage, both in terms of storage capability and consumer satisfaction especially as late stores 'home grown' fruit will be competing with 'new season' Southern Hemisphere fruit........
Below: Ken Hatch MD UKCA Ltd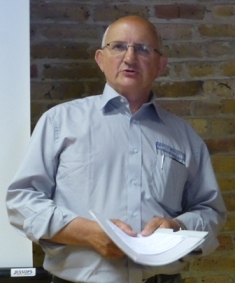 UKCA have installed all the Isolcell DCA stores working commercially in the UK.
Ken told the story of how he came to be the Isolcell agent in UK; Tim Biddlecombe- FAST MD had been carrying out investigation of DCA in Italy and in particular Dr. Angelo Zanella at Laimburg....when Paul Mansfield (the largest UK apple grower) heard about DCA he decided to install DCA technology at his East Kent Storage site at Faversham. Tim alerted Ken to the opportunity and Ken with the support of Tito Spaldi installed the first DCA stores in the UK at EKS in 2013.
How HarvestWatch works
The HarvestWatch system is a specialised fluorometer developed by Dr. Robert Prange and colleagues at (AAFC and Satlantic Inc. Novia Scotia, Canada) and distributed by Isolcell Italia S.P.A. - It uses Fluoresence (FA) to let storage operators know when their fruit are stressed!
Below: The 'sensor' is situated in the lid of the 'kennel' and sends the fluoresence reading via 'a hub' to the Computer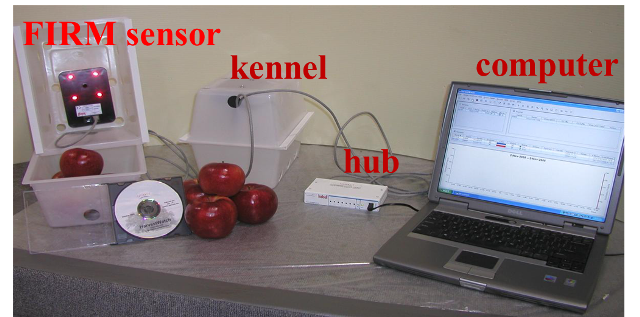 Below: Sensors located 'in store' - and - layout of apples in the F.I.R.M. sampler kennel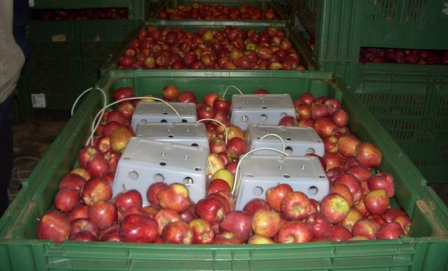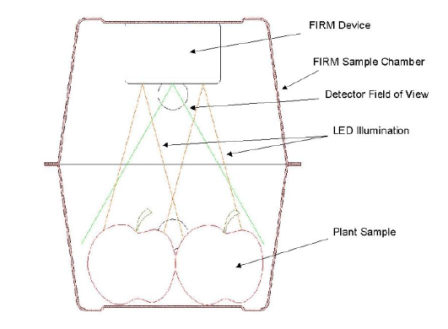 Below: Chlorophyll, a pigment found in all higher plants, is a Fluorophere. The image below of Spinach Chlorophyll dissolved in solutions shows how Chlorophyll fluoresces red.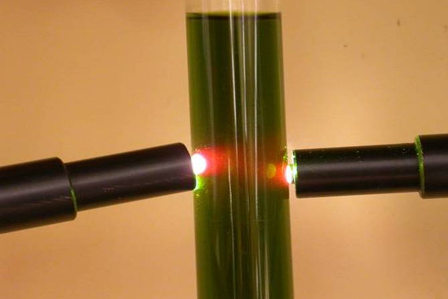 Store operators use Protocols developed by Isolcell for different varieties as initial guidance and add their own experience with HarvestWatch to adjust where required the individual DCA regimes.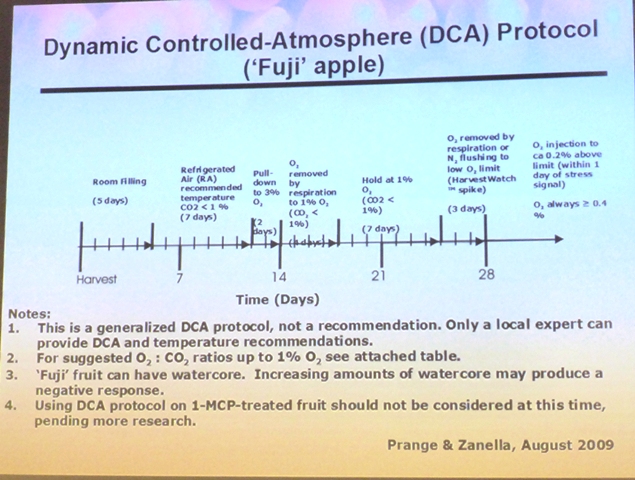 Footnote: DCA installations are still few in proportion to the UK apple & pear crops; Isolcell is the only commercial system working at the moment with stores on three sites in Kent.
The English Apple Man first encountered HarvestWatch at Laimburg in 2012 and was 'understandably sceptical' that 6 apples in a small box (Kennel) could be relied upon to accurately guide the control of a very low oxygen regime, however having spent considerable time looking at the HarvestWatch system used by Isolcell in Italy and the UK, the future of long term storage is surely....DCA.....
That's all for this week......
Take care
The English Apple Man
PS:
Open Farm Sunday
In the Journal for 3rd June The English Apple Man previewed two of the many Open Farm Sunday venues.
These were highly successful with 1,500 + visitors at Chandler & Dunn and 2,500 + at The Barnyard