Journal
24th Jun 2016 - Brexit
What will Brexit mean for our fruit growers?
In this week's English Apple Man Journal, I intended to cover purely apple growing issues - in particular the importance of dry matter in the eating and storage quality....

BUT Brexit has blown that thought out of the water (for the time being)..........
I have to confess as a 74 year old, I approached Brexit with the over-riding feeling of; 'better the devil you know' but over the last few weeks, my attitude began to change - most people recognise the ridiculous 'bureaucracy' at the heart of Brussels, surely unsustainable in the near future; however 'that step into the unknown' still worried me.
The plethora of programmes on TV intended to educate us, but mostly driven 'on both sides' by fear, seemed to make the decision even more difficult....the story of the Algerian Murderer given a house and financial support, while two Australian families were told they may have to go home really upset me; Australians, like so many of our commonwealth cousins fought and died bravely in support of our freedom, and not just our freedom...freedom for the people of Europe.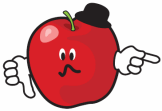 By Monday I had decided to vote LEAVE...but by Thursday morning the fear of the unknown grabbed me again and my vote went to REMAIN...
Friday morning TV brought a shock....OUT!
As the day progressed I was in many ways not unhappy with the outcome, but it will be a long time before we as a Nation can be sure of the wisdom of the decision...in fact, I like many of my age group, may not live to see the full consequences - 'good or bad'
My son (50 this year) voted out, my daughter (48) voted in...who knows who is right. It is they and their children who will suffer the consequences - 'hopefully' the benefits will far outweigh the disadvantages....
In all the excitement of LEAVE supporters, I do hope that support for our farmers and growers is not forgotten in the plans for spending the 'forecast' billions of savings.......
What will Brexit mean for our fruit growers?
"Talking to my industry friends; those who supply the large volumes of English apples & pears; the concern over who is going to harvest our home grown produce without the availability of the EU migrants who we have become totally dependent on is at the centre of their concerns...
There is a myth that these hard working Eastern European harvest workers are:
1) Taking the work away from English workers and..........
2) That the potential earnings (rates of pay) are driven down by the willingness of migrant workers to accept pay below the National rate....frankly that is a myth...most harvest workers earn 1.25 to 1.5 times the national wage rate.....finding home grown labour is an almost impossible task......as one large producer and packer of English apples & pears find each year when they advertised for staff in the Spring of 2016....
Over 500 jobs available at Medway Farm...
Apple and pear grower AC Goatham & Son has over 500 seasonal jobs available and is now looking to recruit workers for the 2016 harvest, based largely in Medway and Swale.
The first batch of the full time jobs will begin in May, when the thinning of fruit takes place in the orchards, through to picking fruit in the orchards from August and then working in the packhouse through to May 2017.
75-100 thinners, who will work in the orchards from May-late June/July
400 harvest crew, who will work in the orchards from Late August to November
55 packhouse workers, who will work at Flanders Farm, Hoo from September to May
Gayle Goatham, HR Manager at AC Goatham & Son comments: "We have a significant number of seasonal, full time jobs available and we are looking for people with a variety of skills to join the team. Many people join over the summer months and stay on for as long as possible, moving from role to role. We are looking for people who are physically fit, flexible, as the teams work in shifts and will enjoy working both inside and outside, in all weather.
This is hard work but financially rewarding and many people have gone on to other senior roles within the organisation, who started off as part of the picking or packing team several years ago."
AC Goatham & Son is also supporting local mums back into full time work with flexible working hours in their head office team. Directors' Assistant Nickola Caney, a single mum has been able to transition from flexible part time to full time, along with other returning mum's Liz Worne and Lauren Eames in the accounts team.
Gayle Goatham continues: "I'm a working mum myself with young children, so I know how difficult it can be to juggle both roles. Being a family owned business, we are happy to help all our workers to manage their working hours where possible, to help ensure they have a better work/life balance."
AC Goatham & Son has 17 farms and 20 partner farms across Medway and Kent and grows 1 in 4.5 of the British apples sold in the UK and 1 in 3 conference pears, growing in total around 150 million apples each year.
All jobs can be applied for via www.acgotham.com opportunities but applications can only be accepted from individuals only, not agencies.
A C Goatham & Son began trading in 1947 as agricultural contractors and fresh produce merchants. In 1980 it established a farming operation growing apples and pears. It is now run by father and son Clive and Ross Goatham along with their business operations team.
- Among the business' 17 farms is Gore Farm, Upchurch near Sittingbourne, which is open to the public all year round attracting around 125,000 visitors. Gore Farm is also an ambassador site for the Kent Wildlife Trust and visitors can see how farming operations are working hard to preserve the permanent living landscape.
In 2015 AC Goatham & Son won The Fresh Produce Journal's - UK Fruit and Vegetable Awards - Fruit Grower/Supplier of the Year Award - The Total Produce Award for Best Supporter of British - while Senior Partner Clive Goatham personally won the Lifetime Achievement Award, in recognition for his individual work.

OUTCOME! One would reasonably assume that at the very least, A.C.Goatham would receive a decent response - but only 8 applied and 2 accepted jobs - however, neither turned up for work........
Picture the future without migrant harvest workers:
1) An end to low priced 'home grown' fruit....
2) Or 'more likely' a very large reduction in the availability of home grown produce...
3) An increase in imported fruit......
In recent years 'home grown' Soft Fruit (strawberries, raspberries, blueberries) has changed completely the old image of home grown soft fruit; 'only available for a few weeks of the summer months' has gone, with strawberries available from April to November........today the success of British soft fruit growers has seen a forecast of the 2016 soft fruit industry generating a value of £1 billion for the first time.
Our Top Fruit industry (apples & pears) has increased the 'home grown' share of the sector; sales to Supermarkets (80% of sales) increased from 67,139 tonnes in 2008/09 to 101,478 tonnes in 2014/15
2014/15 101,478
2013/14 98,968
2012/13 69,700
2011/12 94,246
2010/11 80,640
2009/10 76,474
2008/09 67,139
None of these increases in 'home grown' fruit would have been possible without the migrant harvest workers....
..................................................................................................................................................................
From a story of National & Global influence, to a rather more 'homely' story of a new 'very English' apple variety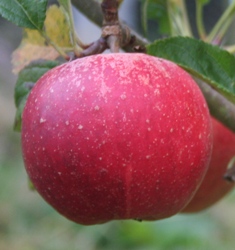 The English Apple Man spent Tuesday afternoon thinning apples at a trial plot in East Kent. The variety belongs to my friend Sean Morris who discovered the 'seedling variety' growing in the grounds of his business near Oxford. On retirement Sean brought the tree to his personal garden and over the years bred new trees from it with the support of his Oxford Mentor Professor Barrie Juniper and Barrie's daughter Sarah who carried out the 'budding' of new trees.
About five years ago, Barrie alerted me to this variety and introduced me to Sean; in time we took bud wood and had trees produced in a professional nursery for trialing, with a view to 'hopefully' taking the variety to commercial producers with a view to marketing it in some way; Supermarkets (perhaps) or possibly targeting the garden centre trade.
The variety has been tested for DNA at East Malling research and one parent is definitely Cox...the second parent is unknown...e.g. not on the DNA data base. The variety - superbly named as Bladon Pippin fits the classical seedling format; no doubt a Cox flower cross pollinated by something growing in a hedgerow (with help from a bee) and when the Cox became a discarded 'core' probably tossed aside, grew into a seedling tree, or perhaps a seed dropped by a bird after 'lunch' on an apple somewhere......either way a seedling tree grew, Sean was impressed with the apples and the start of an adventure into propagating new trees with dreams of introducing a new variety into the eclectic collection of English apples.
Sean Morris traveled to many parts of the world with his company; the world-renowned Oxford Scientific Films, started in 1968 by a small group of Oxford biologists. "We were the first folk to put "plants" onto mainstream UK TV. The Tender Trap (about carnivorous plants). Sexual Encounters of the Floral Kind (pollination). Forbidden Fruit (seed dispersal)".
Sean is very proud of his 'baby' and in his opinion; "Bladon Pippin is a more attractively-coloured apple than Cox, with hints of green, yellow and orange, to temper the traditional red. It stores very well, has a sweeter, slightly yellow flesh, and can be eaten directly from the tree, even by someone (like me - aka Sean) who likes apples to be sweet. Yummy!
Below: Bladon Pippin trees in the trial plot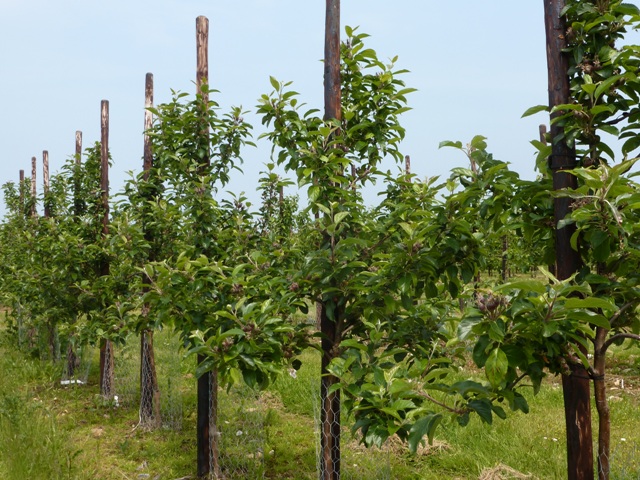 Below: a Bladon Pippin tree.....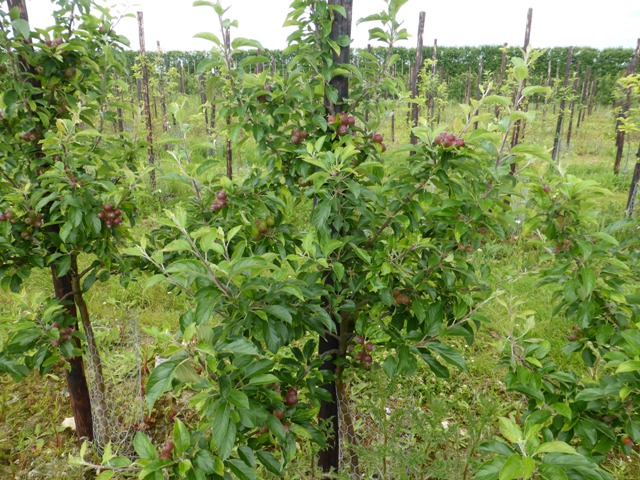 Below: a bunch of Bladon Pippin fruitlets - and - a bunch with the King fruit removed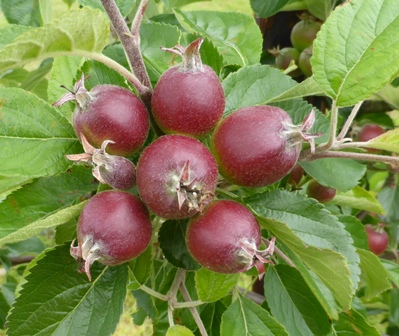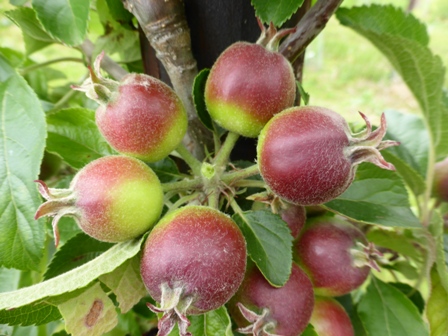 Below: Bladon Pippin after thinning
Bladon Pippin resembles Cox in appearance during the summer months; by harvest which is a few days later than Cox, it has more of an orange skin colour and from tasting delivers a flavour similar to 'how Cox Orange used to be...
Below: Bladon Pippin in the trial orchard in early August 2015 - and - Bladon Pippin at harvest time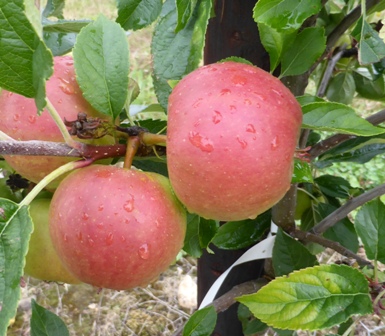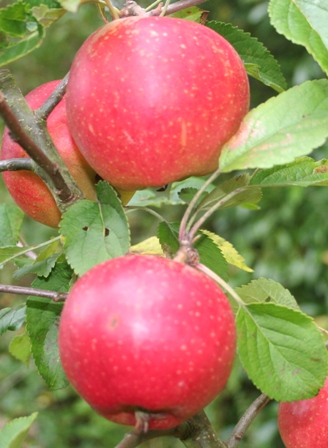 Below: the Bladon Pippin 'mother tree'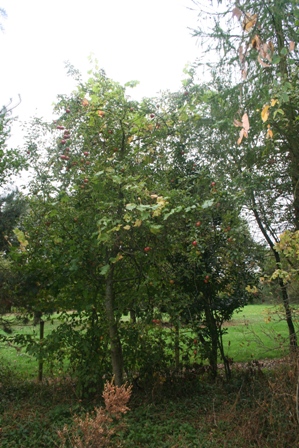 Bladon Pippin is named after the Village of Bladon in Oxfordshire where that Great Englishman Winston Churchill is buried; It is a poignant moment with the referendum result today......
Below: St Martin's Parish Church - burial place of Sir Winston Churchill
The churchyard is the subject of the poem 'At Bladon', by Avril Andersen (also known as Mrs Crabtree):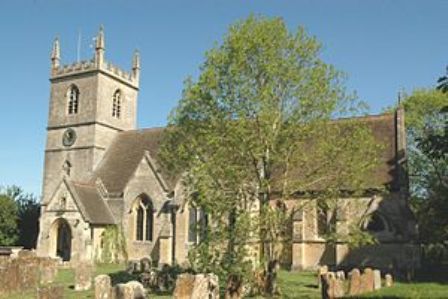 From the halls of king's they bore him then
the greatest of all Englishmen
to the nations the world's requiem
at Bladon.
Drop English earth on him beneath
to our sons; and their sons bequeath
his glories and our pride and grief
at Bladon.
For Lionheart that lies below
that feared not toil nor tears or foe.
Let the oak stand tho' tempests blow
at Bladon.
So Churchill sleeps, yet surely wakes
old warrior where the morning breaks
on sunlit uplands. But the heart aches
at Bladon.
Oxford Scientific Films, started by Sean and his group of Botanical friends in 1968 has continued since his retirement to make a plethora of diverse films for TV and other mediums. Click on Oxford Scientific Films for an up to date view of the company.
That is all for this 'historic week' .....as a football fan, I hope our national team manage to 'stay in Europe' for a bit longer....
Take care
The English Apple Man