Journal
21st Jan 2022 - A mixed bag for The English Apple Man this week!
This week The English Apple Man joined family and friends of Graham Caspell as we paid our respects and said farewell to a very good friend.
Since 2008, Graham was responsible for all farming operations at East Malling Research station both commercial and science.
On a happier note the opportunity to celebrate 'Cabaret' an excellent bi coloured apple bred by John Breach.
Graham John Caspell - 2 May 1957 - 12 December 2021
Graham Caspell came into my life some forty years ago when he and his father John moved two chambers of Cox apples (300 bins or 100 tons) from a hire store to their packhouse at Shrubbery Farm in East Kent and packed them for me.
The apples were showing signs of maturing and required moving quickly. Since then I have been good friends with Graham.
Sadly Graham passed away after a short illness on 12th December 2021 at the relatively young age of 64 years.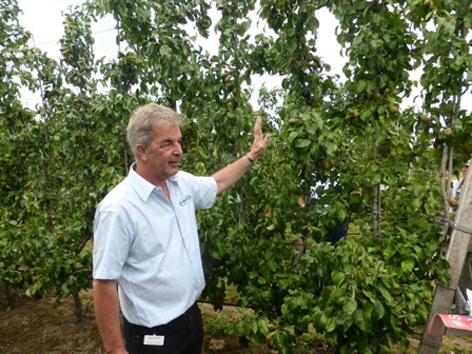 Having spent many years farming at Shrubbery Farm with his father, Graham moved to East Malling Research in 2008 as Farm Manager where he planted and maintained the many trial plantations which were integral to the scientific experiments carried out by the staff at EMR.
Graham joined East Malling as Farm Manager in 2008, taking on a post at the forefront of UK fruit growing. His role involved innovating, adopting and adapting scientific and agronomic advances from EMR or other parts of the world, and applying them to commercial growing situations, on the 220ha site, to challenge the status quo.
In 2009, Graham established the Concept Pear Orchard at EMR, an innovative intensive orchard comparing three Dutch systems against a traditional system which has proved invaluable as an educational and training tool for growers contemplating future plantings.
Around that time (2007) I retired from my position at Worldwide Fruit and soon after set up The English Apple Man website.
I have been a member of EMR for circa 50 years (or more) and was a regular visitor, either at the many conferences or visiting scientific experiments. As The English Apple Man I visited frequently and my first 'port of call' was Graham.
One of the many visits took in the Sainsburys Concept Conference Pear Orchard
In 2015 I visited Graham Caspell and the Concept Pear Orchard. This was part of the official Fruit Focus Programme and Graham (East Malling Research Farm Manager) updated visitors on the progress of the Concept Pear Orchard.
Planted in 2009 the Concept Orchard carried circa 15 tonnes per hectare in 2010 (18 months after planting) already above the national average for Conference Pears and according to the plan a yield of 55 tonnes per hectare was anticipated by the time they were 4 years old in 2012.
The cost of establishment was very high, The English Apple Man estimated a capital investment of £35,000 per hectare, for what is a 'state of the art' plantation, but if all goes according to plan UK growers could at last compete 'head on' with growers in the Benelux countries who currently supply a high proportion of the pears sold in UK supermarkets. The potential to replace imported with English grown pears is massive.
Graham told the visitors that the Concept Orchard has 4 formats; in 2014 the V system recorded 51 tonnes per hectare - Twin leaders 49 tonne per ha - Run through '45 tonnes per ha and Traditional English system 38 tonnes per ha.
Below: Sainsburys Concept Pear Conference Pear Orchard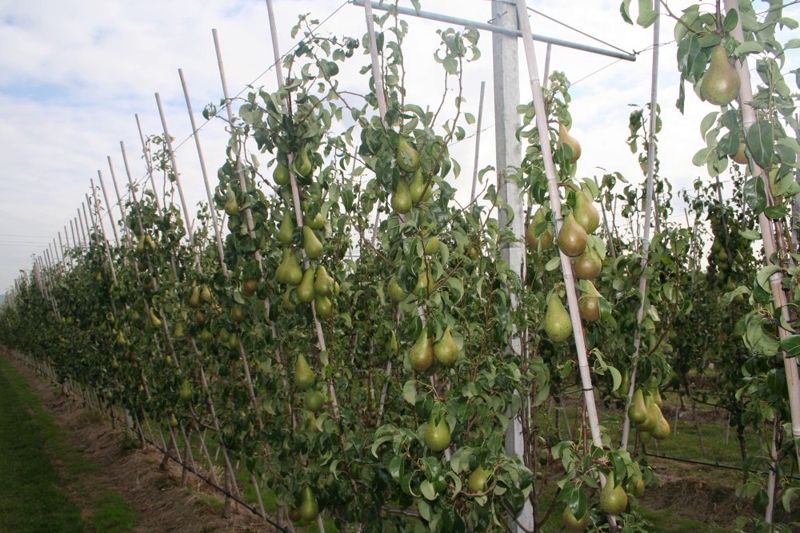 The Concept Pear Orchard was just one of many projects at EMR planted and managed by Graham and his team.
On Wednesday I and many, many others assembled at Barham Crematorium to pay our respects to a man who was a special friend to so many colleagues at East Malling and to farming and sporting friends who had been part of his very busy life.
Afterwards we moved onto Bradbourne House at East Malling for a wake celebrating Graham's life. He was clearly loved by his colleagues at EMR and will be sorely missed by them all.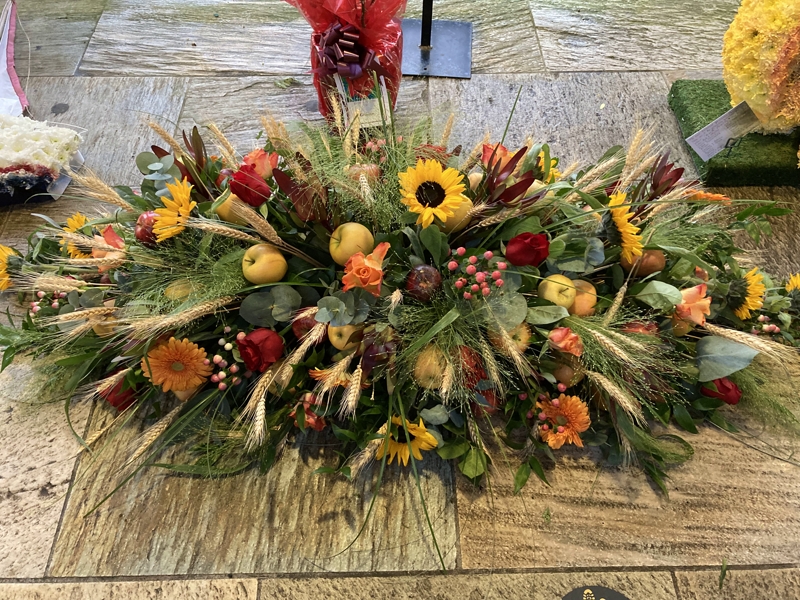 Rest in Peace old friend
-------------------------------------------------------------------------------------------------------------------------------------------------------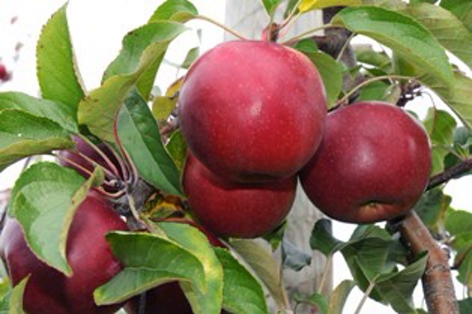 Cabaret TM
"Launching a successful new variety depends on several key factors. It must have visual and organoleptic appeal to the consumer; it must be an easy variety to grow and yield high levels of first class fruit and with the ongoing reduction of available crop protection chemicals, resistance to pest & disease is a sought after attribute.
With these attributes in mind, John Breach raised two new varieties; NC2 an open-pollinated cross of Saturn x Braeburn made in 2001 and NC3 also an open-pollinated cross of Saturn x Braeburn made in 1999.
Cabaret TM - Origin : Nuvar NC3; a cross Saturn x Braeburn, 2001, UK - Breeder : JR Breach, UK
The parents bring specific attributes to their progeny, with Saturn's scab resistant gene mixed with Braeburn's propensity to deliver high yields of visually attractive fruit and excellent texture. The term 'open pollinated' means the pollination of the Saturn (in this case; the female) by Braeburn (in this case; the male) happened naturally with pollen from the Braeburn arriving on the Saturn flower by a carrier; a bee or another pollinating insect. The fact that both NC2 & NC3 have Saturn x Braeburn parents (even though they were pollinated in 1999 & 2001 is explained by the very close proximity of the Saturn and Braeburn trees. The Braeburn (male) parent was subsequently determined (proved) by a DNA test.
The 'open pollinated' term describes a natural crossing of the female x male pollen. In closed 'hand' pollination, the flowers of the female are protected from natural pollination (either by bagging, or by only using unopened flowers and removing the petals) and male pollen from a selected variety introduced to the female brushed on the (bagged) flower, thus ensuring the flower and subsequent apple will carry the genes of the 'chosen parents' - this is how breeders match varieties with known attributes to create new progeny. Of course the seeds (maybe 5+) of each pollinated apple when planted will 'each' produce a new unique variety, albeit with genes from the parents which MAY be similar, but never exactly the same.....
Below: Cabaret rows and cabaret in a bulk bin at harvest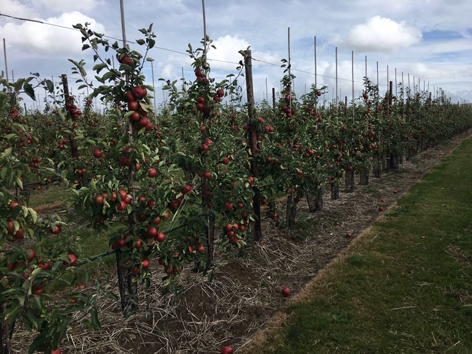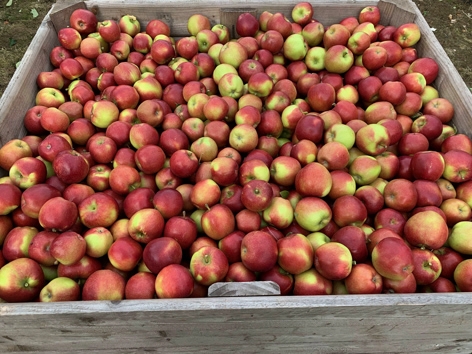 On Tuesday a parcel arrived....I didn't remember ordering anything....opening it brought a nice surprise....a box of Cabaret apples sent by John Breach for tasting and evaluation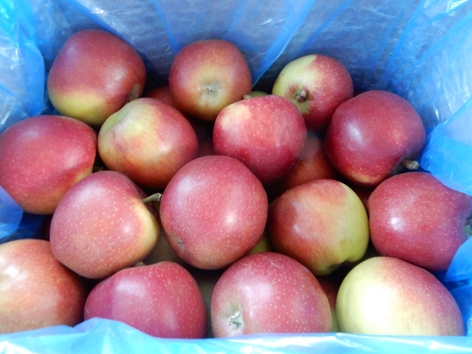 These were grown by Giles Cannon at Roughways Farm at Plaxtol.
See below: Grower Testimonials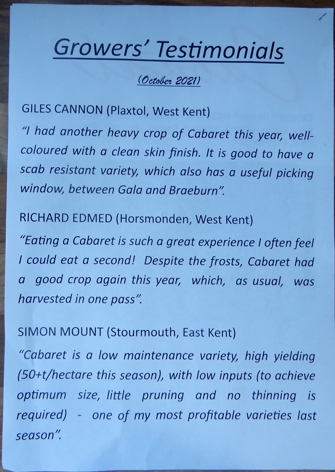 The English Apple Man Comments: Sampling the Cabaret this week, they have excellent texture, no doubt inherited from Braeburn and plenty of juice with good flavour.
Cabaret is now established on Supermarket shelves and adds to the variety of excellent apple varieties grown in UK.

That is all for this week
Take care
The English Apple Man