Journal
22nd Apr 2022 - The English Apple Man and Farm Shops
Farm Shops have developed considerably over the last 50 years, from simple buildings offering a limited range of home produced produce to many very sophisticated enterprises selling a wide range of produce, not necessarily grown 'on site'
On Tuesday The English Apple Man visited Chris & Lesley Dench and their sons John and Nathan as they re-opened their farm shop with a new upgraded shop and supporting area servicing the needs of the shop and their fruit juice business
Ringden Farm is among the unique selection of farm shops 'producing the vast majority' (95%) of the produce they sell!
Originally founded in 1949 after the sale of land belonging to the Seacox Heath Estate. Ringden Farm was a just a bare 17 acre field.
The Dench family have been at Ringden Farm since 1963 and is very much a family run business. With an award-winning range of juices made from fruit grown, pressed and bottled in the heart of the Kent & The Sussex Weald.
RINGDEN FARM
Originally founded in 1949 after the sale of land belonging to the Seacox Heath Estate. Ringden Farm was a just a bare 17 acre field.
Purchased by John and Robert Hunt from Brenchley, they felt the site was suitable for growing fruit. They planted up the land with apples, pears, plums and even a few peaches. These young trees formed the backbone of a quite mature holding when in 1963 they moved to a larger farm in Sedlescombe and Ben Dench bought the farm.
Over the next 15 years, older trees were replaced and an additional 6 acres was purchased from the farm next door. This new orchard was planted with smaller trees, closer together to give a better yield. New coldstores were built and an extension was made on the Packhouse to handle the larger volume of fruit from not only our farm, but other farms in the 'Markads' growers co-operative
Ben died in 1978 and Chris, his son took over leaving East Malling Research Station where he had been working since leaving Hadlow College.
On Tuesday The EAM enjoyed conversations with Chris and his wife Lesley, his eldest son John and youngest son Nathan
Below: left - right; Chris Dench, youngest son Nathan, his wife Lesley & eldest son John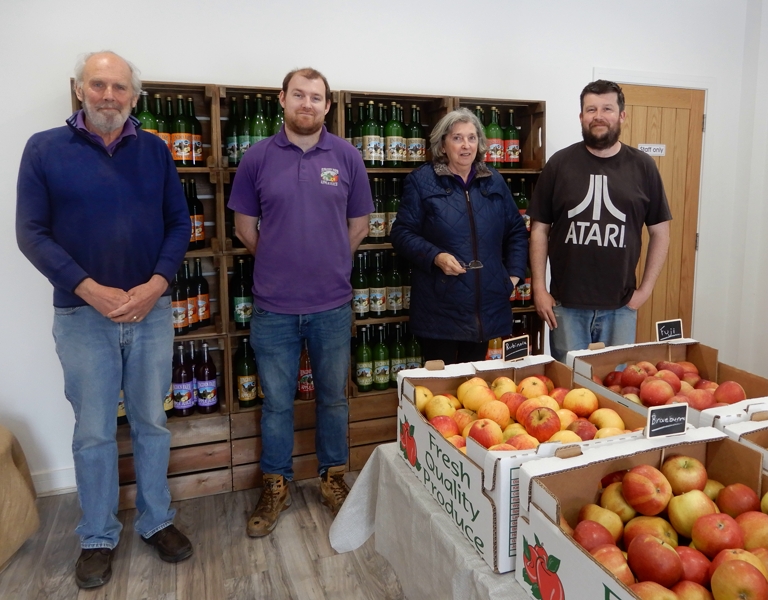 In the early 1980's fruit prices were fluctuating and Chris and Lesley looked at making fresh juice from the apples that were not 'Class I' but decided against it. Then in 1990 a violent hailstorm swept through Kent and Sussex, decimating the fruit crop and leaving them with hardly any saleable fruit.
This storm proved the tipping point, so they had a small batch made by a local vineyard. The labels were printed in Hastings and applied by hand to each bottle. The juice was then offered to all of our wholesale fruit customers.
The juice sold much better than anyone could have hoped for, so the decision was made to purchase a press, mill and a pasteurising bath. New equipment was almost all either German or Austrian and very expensive. Luckily a second had press came up for sale in Somerset. We had a pasteuriser made for us by our local agricultural engineer, which we still have and still works!
Realising the demand for fresh farm juice, more money was invested into the juicing side of the farm, until eventually the juice production was all enclosed in it's own building, with four full time members of production staff.
From a starting point of 1,000 litre bottles to last a whole season in 1990, the Dench Family can now make 8,000 litres in a single day.
Below: Misty Rose Pears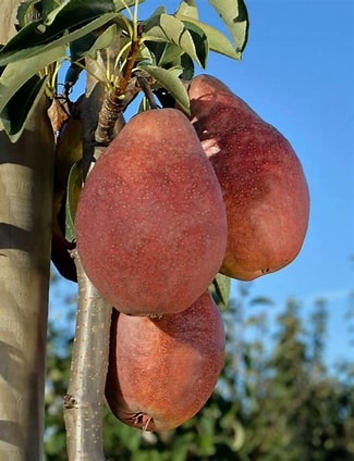 Today Ringden Farm grows around 40 different varieties of apples and pears. these are sold through their wholesale operation, some farmers markets and the Ringden Farm Shop. Fruit juice has developed over the last 30 years and now contributes 60% of their turnover with fresh fruit circa 40%.
John told me they grow the Misty Rose pear bred by John Breach which crops very well and; 'to date' produces return blossom in abundance!
While the fruit juice business is the bedrock of the Dench family enterprise, Lesley Dench has been making Jams and preserves for many years. What started in her kitchen, expanding into a converted container and with a 'Jam Room' planned with in the new builing complex, the future will see an expansion of the jars of jams and other preserves.
Chris Dench pointed out the Canned fruit juice is carbonated, but only with 20% carbonated water. Many 'fizzy fruit drinks' only have 40% juice topped off with 60% carbonated water.
Visit a pub or provisions shop in the general locality and well beyond and you will almost certainly come across Ringden Fruit Juices.
Chris Dench though of retirement age, still plays an important role in the delivery of their juice to wholesale customers in the South East of England.
Below: left; By this time of the year, the 'home grown' varieties left for sale have reduced.
Below: left and right; Preserves and Fruit Juices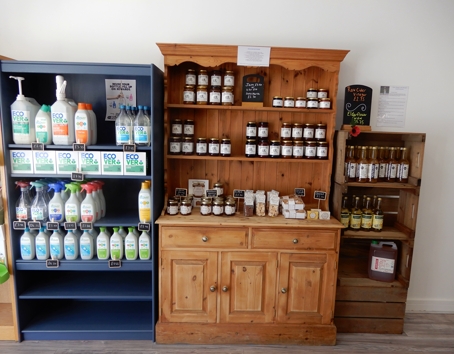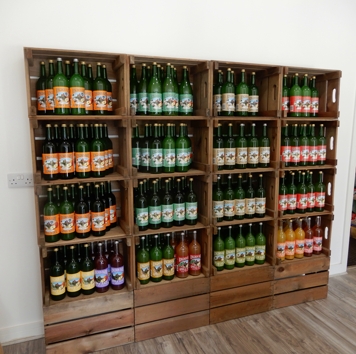 Below: left; Juice in cans is becoming very popular and right; cold cabinet and crisps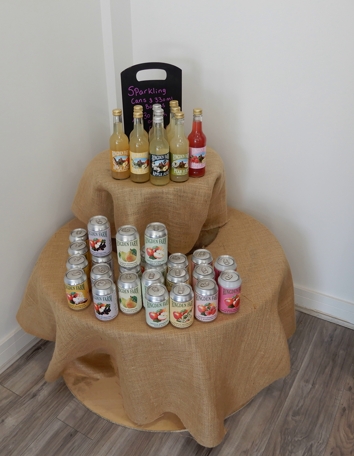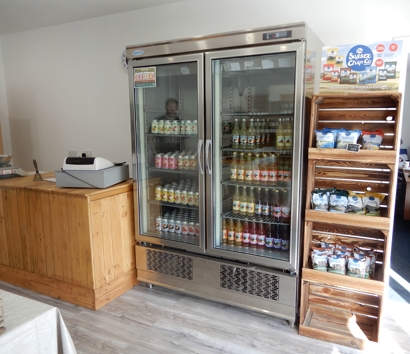 Below: left; the storage area behind the shop and right; Canned fruit juices are now becoming more popular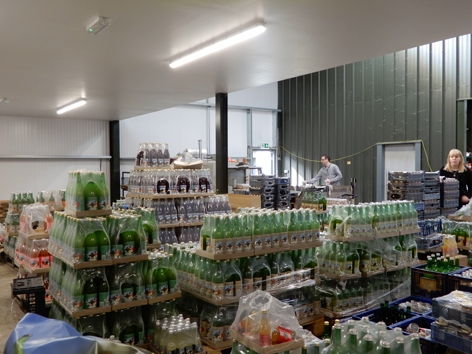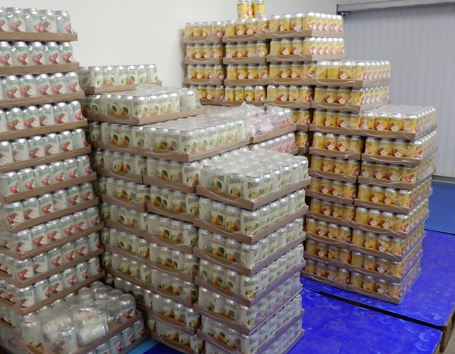 Below: the view from Ringden Farm towards the location of Seacox Heath across the apple blossom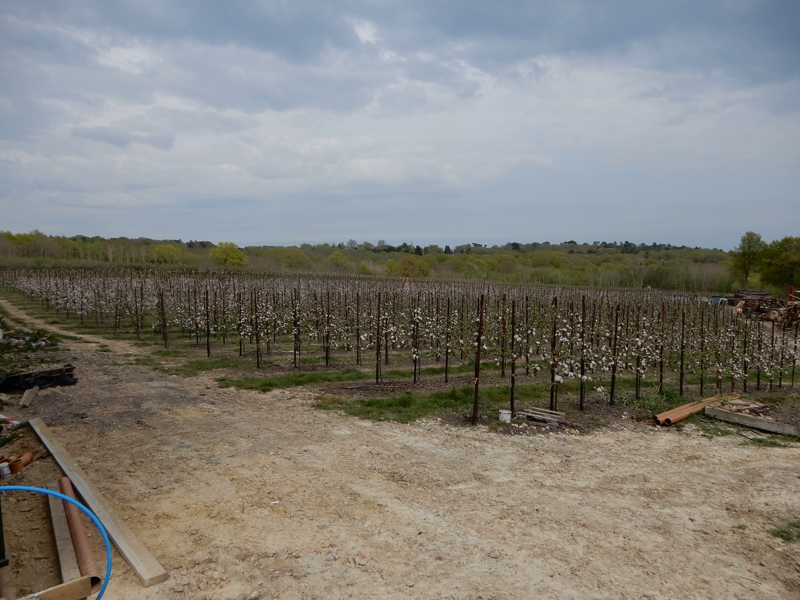 The English Apple Man last visited the Dench family in 2014 and in the LINK to the Journal below, readers can access my report.
Click on 2014 Ringden Farm visit
FOOTNOTE - Seacox Heath Estate History
Unbeknown to many residents of Hawkhurst and Flimwell who make the three-mile drive along High Street between the two, there is a key link to Putin's Russian regime hiding behind the greenery of the countryside.
Tucked away along the main road, 1,750 miles from the actual Kremlin in Moscow, with cars zooming back and forth is a small black gated entrance with a bright red private sign and gold plated plaque reading Seacox Heath.
Seacox Heath is an historic house set in a secluded area of woodland on the Kent & Sussex border between the villages of Hawkhurst (in Kent) and Flimwell (in East Sussex)
Seacox Heath was presented to the Soviet government by the English Lord Goschen after WW2.
It was a gift after his son was saved by Russian sailors.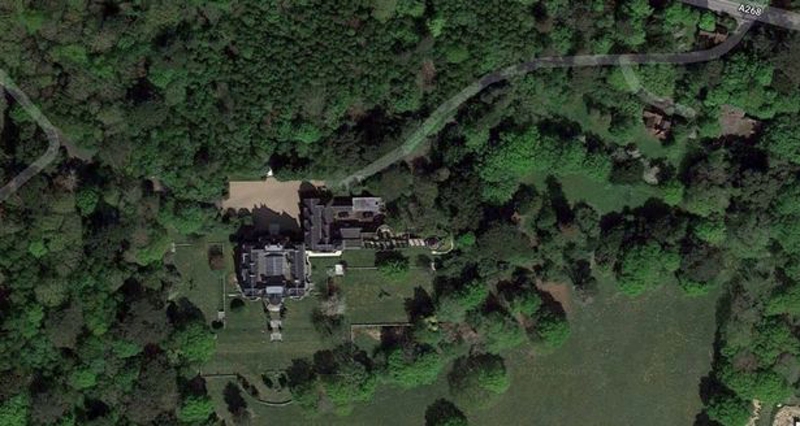 That is all for this week
Take care
The English Apple Man