Journal
13th May 2022 - Major new investment at NIAB @ East Malling
On Thursday morning The English Apple Man joined fellow members of The Press for the official opening of the new £11.3 million investment in a 'state of the art' research centre at NIAB at East Malling
Prior to the 'formal opening ceremony' - introductory comments were made by: Professor Mario Caccamo NIAB CEO,and Tom Tugendhat MP. Additional speakers; Oliver Doubleday (Chair of East Malling Trust) and Jim Godfrey (Chair of NIAB Board)
Following the opening ceremony, invited visitors toured the research centre.
Principal among the guides: Glasshouse Manager Emma Easton who began her career at EMR 37 years ago and is now managing this exciting new research complex.
Nicola Harrison - Programme Director for 'Growing Kent & Medway' UKRI Strength in Places Fund at NIAB
Robert Saville, Growing Kent & Medway, Innovation Growth Manager.
NIAB at East Malling - Scott Raffle, Ross Newham, Dr Mark Else and Professor Dan Sargent
Dr Flora O'Brien Specialist in Root Biology NIAB at East Malling
NEW £11.3 MILLION HORTICULTURE RESEARCH CENTRE OPENS DOORS IN KENT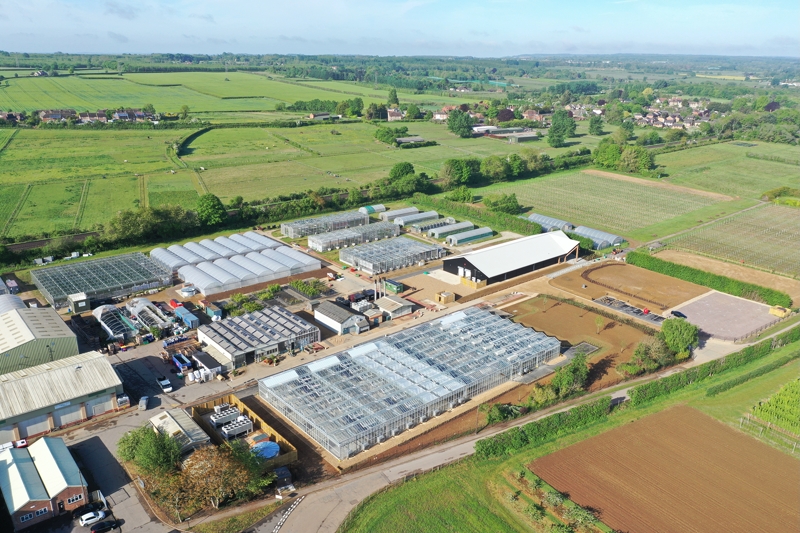 NIAB at East Malling Press Release
The £11.3 million GreenTech Hub for Advanced Horticulture was officially opened by Tom Tugendhat MP at NIAB's East Malling site, today (Thursday 12 May).
Below: L-R; NIAB glasshouse manager Emma Easton, Jim Godfrey, Oliver Doubleday, Tom Tugendhat, Nicola Harrison, Mario Caccomo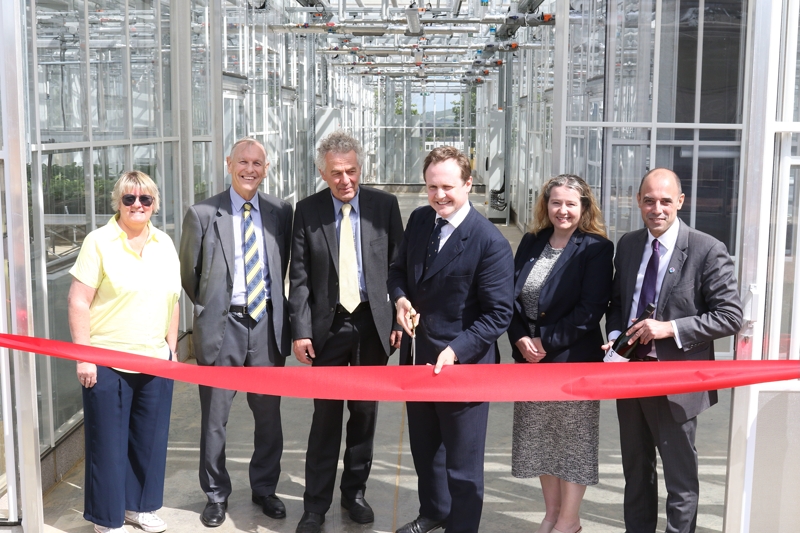 The Hub will provide the UK horticulture and viticulture industry with access to a new state-of-the-art research facility. It includes 2,000sq metre of specialist glasshouses, 14 modern polytunnels, growth rooms and cold rooms.
Prior to the 'formal opening ceremony' - introductory comments were made by: Professor Mario Caccamo NIAB CEO, and Tom Tugendhat MP. Additional speakers; Oliver Doubleday (Chair of East Malling Trust) and Jim Godfrey (Chair of NIAB Board)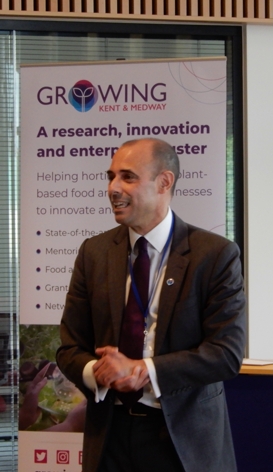 Professor Mario Caccamo, NIAB CEO, said: "The site at East Malling in Kent has a long history of delivering exceptional research to advance horticultural production.
As the sector makes significant progress in areas such as robotics and intelligent growing systems, these fantastic new facilities mean we can continue to provide cutting-edge research that reflects the technology being used by commercial growers.
"The Hub will also enable our research teams to advance their work in important areas such as plant genetics, pest and disease control, crop management and our world-renowned fruit breeding programmes."
The research facility is expected to generate over £600,000 in additional research and development investment per annum, as well as create new highly-skilled jobs in the region.
Tom Tugendhat, MP, said: "Kent has a deserved reputation as the Garden of England, being home to many of the leading fruit growers and wine producers in the UK. The GreenTech Hub for Advanced Horticulture will help strengthen our region's reputation for innovative, sustainable food and drink production. In addition, it will support economic development in the area by bringing in new investment and creating jobs."
Trials at the research centre will focus on creating sustainable growing systems to help make UK food production more resilient to climate change. NIAB's leading research experts will help businesses to use resources, like water, more efficiently, as well as cut carbon emissions in their production.
The project has been funded by UKRI's Strength in Places Fund (£2.5 million), SELEP's Local Growth Fund (£2.1 million) with matched funding from the East Malling Trust (£6.7 million).
For further information about the GreenTech Hub for Advanced Horticulture, visit: www.growingkentandmedway.com/greentechhub/.
The Growing Kent & Medway project, funded by UKRI's Strength in Places Fund and led by NIAB, will ensure local businesses are able to access and benefit from the new facilities, through grants and knowledge exchange support.
Press Release ENDS
The English Apple Man comments:
Having been a regular visitor to East Malling for circa 50 years, I have experienced the 'highs and lows' of the EMR adventure. This institution came into being 110 years ago when fruit growers with a vision recognised the need for research into fruit and horticulture. The East Malling Trust was born!
EMR was responsible for identifying apple rootstocks and M9 and other rootstocks have benefitted fruit growers World Wide!
After some difficult times 20-25 years ago with reduction in Government funding, the EMR Trust drove changes in funding and when NIAB (National Institute of Agricultural Botany) took over the research centre a new era was born. Throughout the East Malling Trust has continued to be the landlord and the key supportive guide to the ongoing history of the globally important institution!
Click on East Malling Trust for more information.
Organised tours of new Research Complex
Below: left; Glasshouse Manager Emma Easton and right; Dr Mark Else Head of Crop Science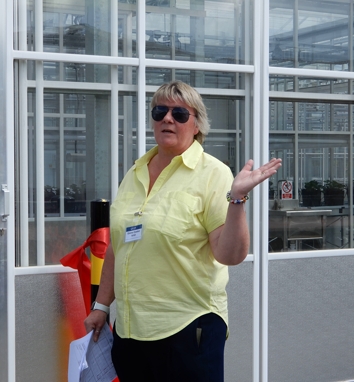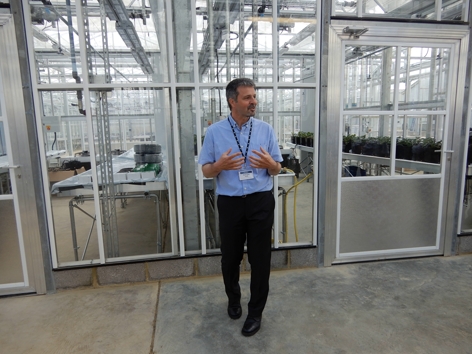 Below: left; Strawberry day/night temperature experiment and right; Professor Dan Sargent NIAB - Head of Genetics, Genomics and Breeding - East Malling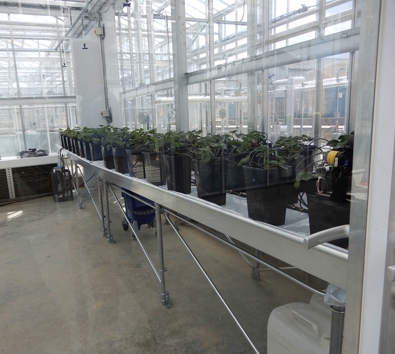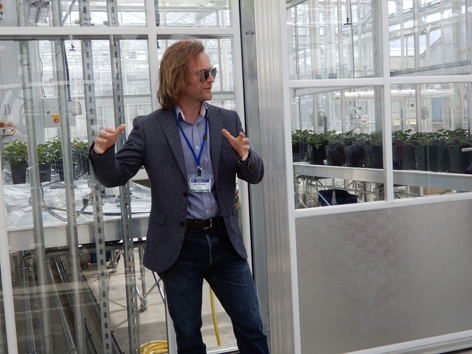 Mark Else spoke about Strawberry 'day/night temperature profile' - he said we do not know what is the optimum day and night temperature and indicated it may also be different by variety. This facility enables that knowledge pursuit. Professor Dan Sargent explained some of the work critical to Strawberry breeding, with identification of seed quality when searching for the characteristics influencing improved plant quality.
Professor Sargent is Head of the Genetics, Genomics and Breeding department at NIAB East Malling in Kent. The department is focused on developing industry-leading varieties of strawberries, raspberries, apples and cherries, and delivering cutting edge genetics and genomics research to support variety development.
Below: left; Ross Newham and right; Scott Raffle and Dr Flora O'Brien at the research Vineyard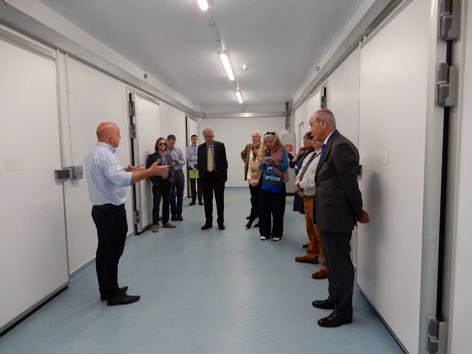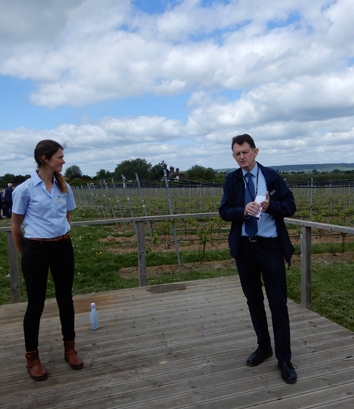 Ross Newham explained the structural characteristics required for a 'state of the art facility' - from the new buildings we were taken to the Research Vineyard where Scott Raffle and Dr Flora O'Brien, Specialist in Root Biology presented some of the research into viticulture. Among the aspects Scott covered; the overhead frost protection which turns on automatically when temperatures reach the threshold. Scott said in 2021, the frost protection system was activated 16 times and fortuitously a full crop resulted!
Flora presented the trial of weed control. 1. Herbicide strip under vines. 2. Mechanical weed control with serrated disc. 3. Weed control with blade. 4. No control of weeds, only strimming off the weeds when they got to prevalent. While the difference between herbicide treatment and mechanical weeding showed no discernible difference on crop quality and yield, the untreated area saw a considerable reduction.
The East Malling Viticulture Research Consortium helps direct the focus of the work undertaken at NIAB East Malling and to ensure the application of its science will play a significant role in the sustainability and profitability of the UK wine industry. The original consortium comprised NIAB and the leading UK vineyards Bolney Wine Estate, Chapel Down, Nyetimber, Gusbourne Estate, Halfpenny Green, Hencote and Kingscote vineyards, and was launched at 2016 Fruit Focus with the aim of providing much-needed underpinning science to the rapidly growing UK quality wine sector.
The current funders are Chapel Down, Nyetimber, MDCV UK and Gusbourne Estate.
Below: left; Dr Flora O'Brien and right; part of the experimental vineyard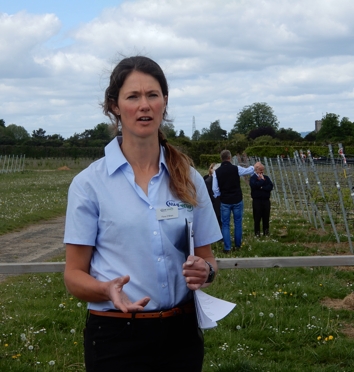 An important element in the new research centre is the Wine Innovation Centre and Research Winery
A 260sq metre research winery, coming soon!
Including: Fermentation area - Temperature controlled cellar - Pressing room -Laboratory area.
The new research centre is without doubt a magnificent creation, which will hopefully create an 'exponential upward curve' in solving the many technological challenges our horticultural industry faces.

That is all for this week
Take care
The English Apple Man