Journal
26th Aug 2022 - The English Apple Man visits Le Manoir aux Quat'Saisons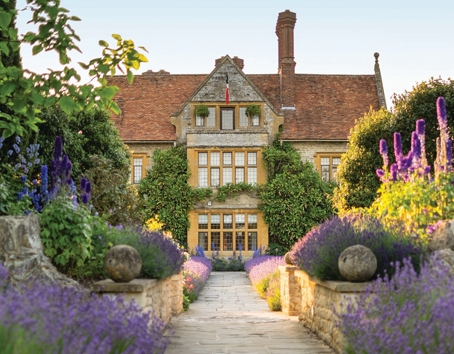 Back in March the English Apple Man crossed the threshold into the realm of an Octogenarian and asked by his brother David; "what would you like for your birthday present, I replied, well I have always fancied a visit to Raymond Blanc's Le Manoir aux Quat'Saisons.
" Ok, then we will do that said David"
My wife and I have been a fan of Raymond Blanc and always followed his various masterclasses on TV. But when I purchased his book: "The Lost Orchard" and read about his childhood growing up in the French countryside with access to a plethora of fruit and learning how to cook by his grandmother and mother, I realised we have much in common: "our joint passion for the countryside and particularly our love of apples, pears and many stone fruits.
I bought Raymond Blanc's book The LOST ORCHARD in the early part of 2020 (lockdown time) and this inspired me to learn more about his orchard in Oxfordshire.
Raymond Blanc OBE
When he arrived in England he worked initially as a waiter and Five years later: Quote "i was chef-patron of my first restaurant, Les Quat'Saisons in Summertown, Oxford" setting off on a gastronomic adventure, which now 50 years on is the epitome of creating exquisite flavours from a wide range of ingredients produced in the gardens and orchards of Le Manoir.
In 1983, Raymond Blanc purchased a manor-house in the Oxfordshire village of Great Milton where he opened Le Manoir aux Quat'Saisons, a country house hotel and double Michelin starred restaurant.
Reading about his dream, planning and creation of his Heritage Orchard at Le Manoir and the many people he drew on for advice as he sought to identify apples, pears and various stone fruit and styles of growing systems was music to my ears. Many of those he drew inspiration from are also well known to me personally, Will Sibley, David Pennell and Barrie Juniper!
The LOST ORCHARD - A French chef rediscovers a great British food heritage - Stories and recipes by RAYMOND BLANC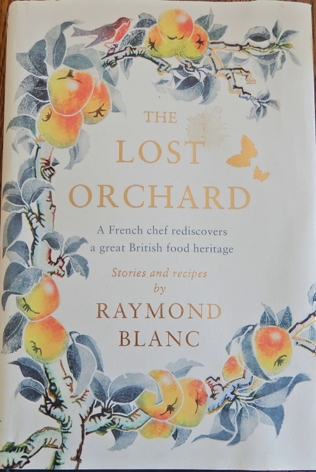 The Lost Orchard published in 2019 caught my imagination as like Raymond I grew up in the idyllic environment of a 80 acre fruit farm. Not quite as romantic as Raymond's childhood, but similar with my days enjoying the freedom to play all sorts of games; the cow field doubled up as a football & cricket pitch - "if the cricket ball landed in a cow pat, we would just wipe it on the grass, and carry on.
Fresh milk and cream on my cereal every morning; Mum would make butter, eggs from the chickens apples in abundance (though we were not allowed to eat a perfect one, "take one with a bird peck said Dad!
The Lost Orchard oozes " Raymond's passion" this enthused me to visit Le Manoir aux Quat'Saisons and Raymond's Orchard.
Here my good friend Sarah Calcutt - Chair of The National Fruit Show and formerly Operations Director of British Apples & Pears who has worked with Raymond on The Annual Launch of the British Apple season, introduced me to Raymond and arranged for me to visit Raymond's Heritage Orchard with the the man himself!
So, on Monday 22nd August we arrived with my brother and sister in law at Le Manoir to be spoilt by the outstanding service at all stages of our stay!
After relaxing in one of the lounges with a glass of Veuve Clicquot champagne and nibbles we made our way to our rooms and prepared for dinner.
Click on video Le Manoir aux Quat'Saisons
Dinner
"We gather in the lounge for more Champagne before entering the dining room, we were in the Conservatory where we enjoyed a perfect evening of exquisite flavours, fine wine and superlative service.
SUSTAINABILITY AT LE MANOIR - Quote from Le Manoir website
"From the moment you arrive at our countryside manor, you'll feel the spirit of our gardens and our core mindset of sustainability come to life. This approach is born out of our Chef Patron Raymond Blanc OBE's personal ethos, where seasonality, foraging and no waste are part and parcel of the holistic approach to dining and beyond".
Nurturing a potager kitchen garden, the menu is inspired only by what is fresh and what is locally grown. From this, we have earned a Green Michelin Star that joins our existing two Michelin stars for culinary excellence.
MENU - our seven course taster menu with wines to accompany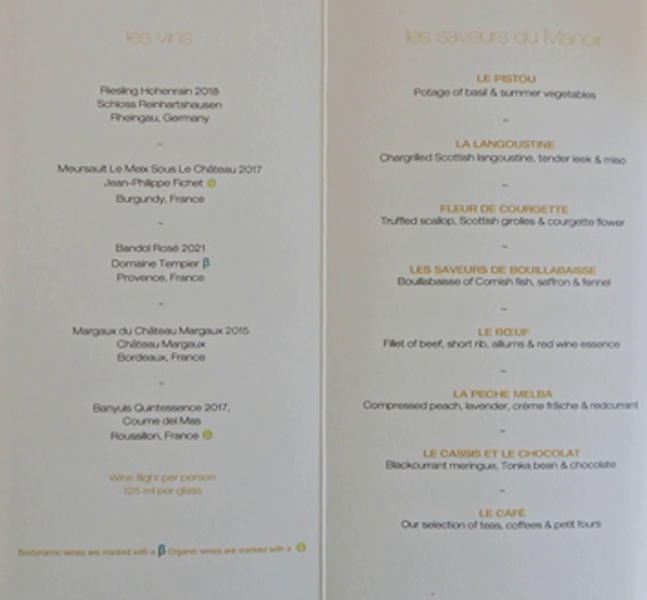 Below: three of the menu courses. L-R; La Langoustine - Le Beouf - La Peche Melba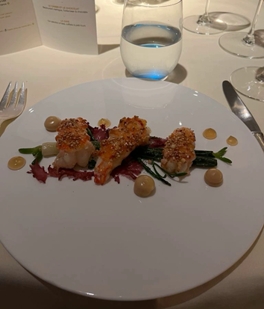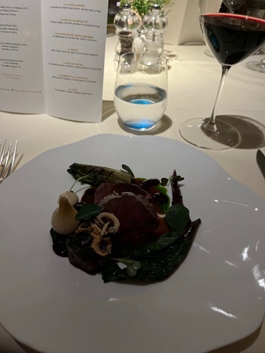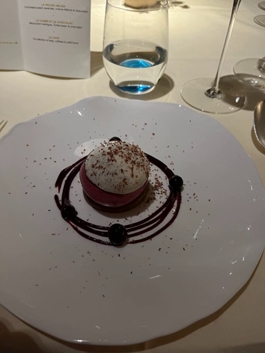 The Heritage Orchard
After a very enjoyable breakfast, Raymond Blanc enters and visits every table, chatting animatedly to everyone and giving those new to Le Manoir a very special moment. Once he had completed his round he invited me for a walk in the new orchard. Joining us, - Orchard Manager Paula Fleming.
Below: The English Apple Man with Chef Patron Raymond Blanc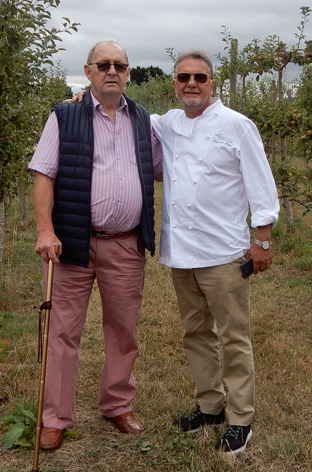 Raymond explains this is a story of not one, but two orchards: an English orchard and a French orchard, but intertwined.
"At Belmond Le Manoir aux Quat'Saisons, an old English house in Oxfordshire with a French heart and vision, our two cultures constantly enrich each other. The heritage orchards is the latest story of our magical organic gardens, which are a beating heart of everything we do at Le Manoir.
The orchards is the latest chapter in the story of our magical organic gardens, which are the beating heart of everything we do at Le Manoir. The twelve gardens are the canvas on which our gastronomy and our values are written by people who love what they do. For so long I had dreamed of enriching this ensemble with an orchard filled with thousands of fruit trees, and finally that dream has become a reality".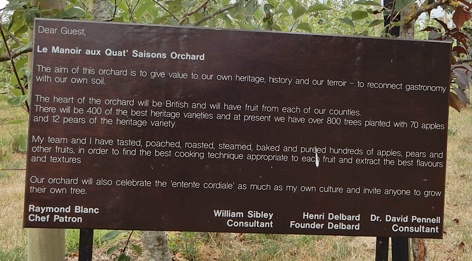 After 30-40 'passionate minutes' discussing the aspirations and creation of the Heritage Orchard, Raymond left me in the care of Paula Fleming his Orchard Manager while he set off for another meeting.
Below: Orchard Manager Paula Fleming
Paula took me around the orchards describing the objectives of creating an Organic orchard in line with Raymond's passionate desire for saving many of the memorable varieties of the last 200+ years. In addition the Tasting Orchard contains varieties in which Raymond and his team recognised 'unique flavours' suitable for the Kitchens at Le Manoir.
Tree formats including Espalier, Palmette and Step Over are featured in the orchards. Apples, Pears, Cherries, Peaches et al: are central to the varietal spread.
Considering the challenging weather experienced this summer, the trees are generally in good health. There is an irrigation system which has helped, ( this year fruit growers have told me that even with modern irrigation systems, the drought has exposed poor soil structures; Where the soil is good - fruit size is fine, but where it is poor, even with irrigation the fruit is not making size)
Below: Apple archways add definitive structure and blend nicely with the different tree formats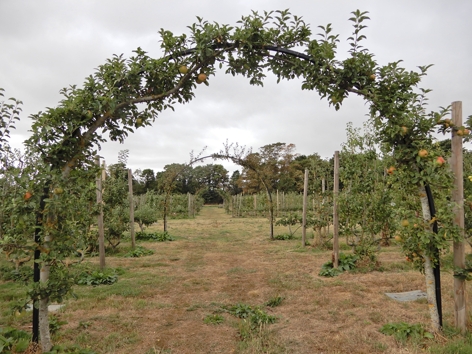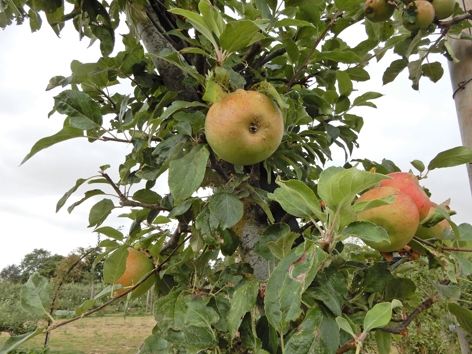 Below: Winter Peach Apple and right; what I would describe as a multi stem format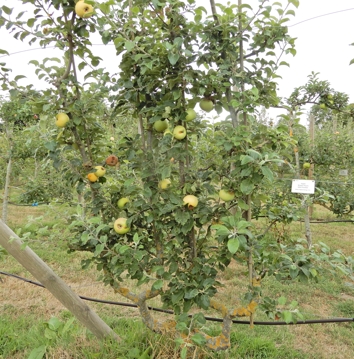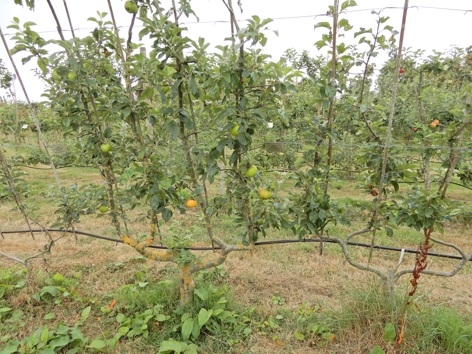 Below: Left; Kidd's Orange Red (Gala parents are Golden Delicious and a Kidd's Orange Red) and right; Millers Seedling - popular circa 50 years ago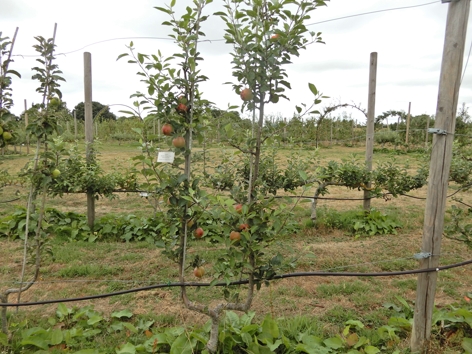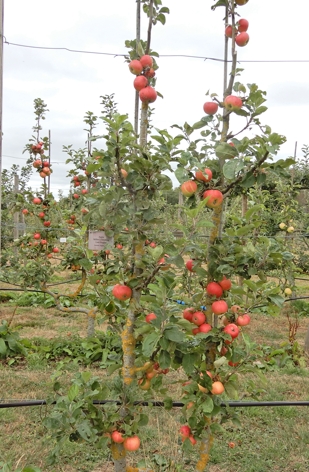 Below: left; Fondante d'Automne pears and right; Part of the French pear collection on Palmettes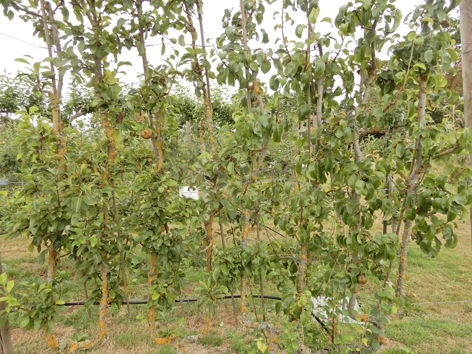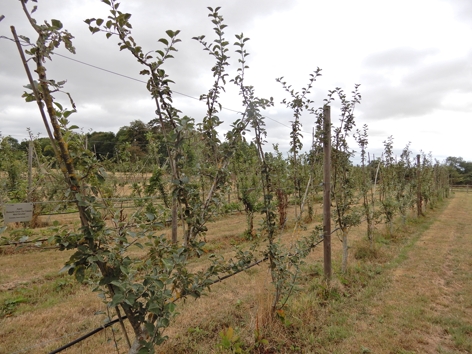 Below: Stepover Format: left; Norfolk Royal Russet apple and right; Celebration pear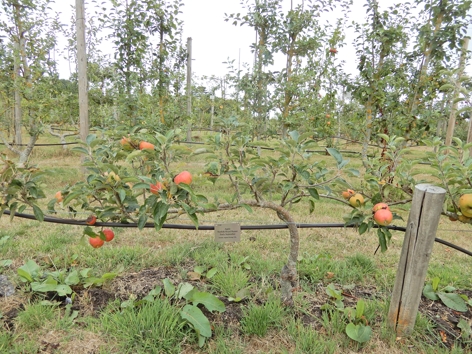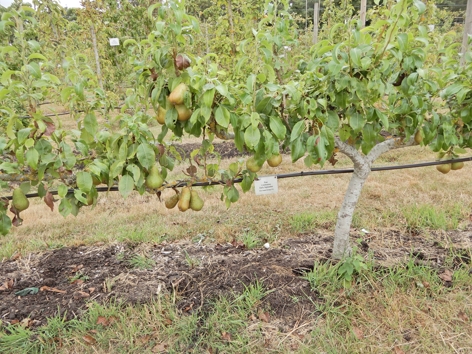 To do justice to Raymond Blanc's the LOST ORCHARD, I would need to write a book; there is so much excellent narrative. My advice to anyone even mildly interested in fruit growing - BUY IT!

That is all for this week
Take care
The English Apple Man