Journal
30th Sep 2022 - The English Apple Man visits an Organic Farm in East Kent
Yesterday, Thursday 29th September the EAM called in at Nichol Farm at Deerton Street near Faversham in East Kent to see how apple picking was progressing.
Nick Moor and his manager Richard Castle grow predominately Gala and Spartan at Deerton Street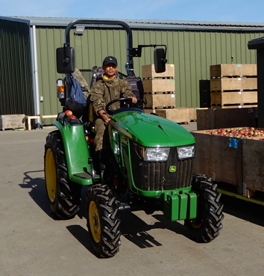 It was very reassuring to find Richard in a relaxed mood!
How is the crop - I said - very good - He said - got enough pickers I said? YES, around 50 he said!
You don't look at all stressed, I said!
Richard has his pickers (all from Kurdistan) well organised into small groups, each with a small John Deere tractor and picking trains to fill.
There are 12 small John Deere tractors!
As we talked in the yard, at very regular intervals a smiling tractor driver arrived with another full picking train, unhitched, then hitched on another train with empty bins and off he went.
Richard unloaded the full train, refilled with empty bins and the cycle continued smoothly.
Nichol Farm is the home of Moor Organics started by Nick and his father John in 2007
See LINK to: Moor Organics
From Moor Organics website "We produce a total of 14 apple and pear variety juices, incorporated into 3 brands. The organic ranges are Moors and Moor Organic Juice, both produced entirely from our own hand-picked fruit, and the Kings Orchard range is produced from our neighbours superb conventional fruit, all of which is pressed and bottled at Nichol Farm, to ensure only the freshest, top quality fruit is used to produce these fine juices"-
Nichol Farm is blessed with good soil and from the higher levels of the farm, a gentle slope down to Deerton Street and the farmyard where the fruit is stored in modern Controlled Atmosphere (C/A) stores.
The site benefits from good air movement which reduces conditions conducive to apple scab.
"During the past twenty years new techniques of Integrated Crop management have been developed and chemical applications significantly reduced. This has culminated in a full organic system of production. Nicholas saw that this was the right way forward and with Johns full support, he achieved full Organic Status in 1999"
Below: Views from the upper slopes of Nichol farm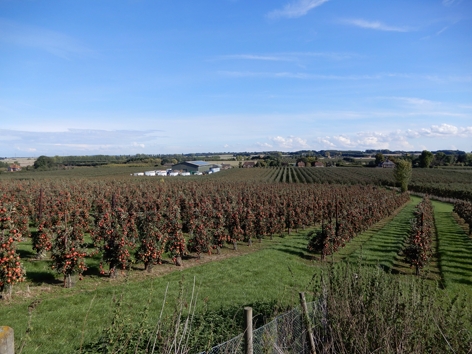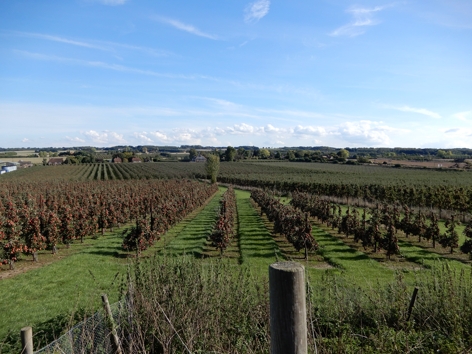 "Nichol Farm adjoins the land originally planted with apples, cherries and other fruits by the gardener to Henry VIII, namely Richard Harris, in the sixteenth century. This was known as the 'Kings Orchards situated in the village of Teynham, for the enjoyment of King Henry'.
From the founding of the first commercial apple & cherry orchards here at Teynham in the reign of Henry VIII, Kent has been and remains the apple capital of the country. The county's' climate and soils are ideally suited to growing apples and other fruits. Historically the proximity to London guaranteed a ready market and this remains a target today for the high quality juices that we produce"
Below: A John Deere with picking train arrives in the farmyard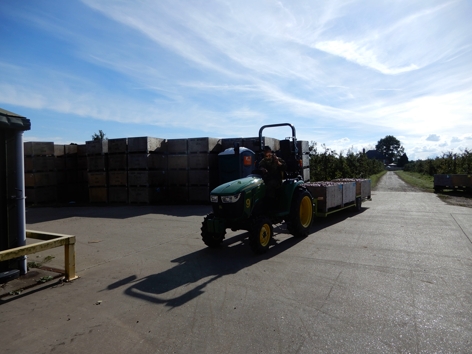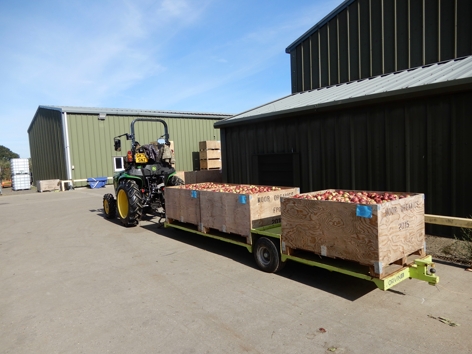 Below: Richard Castle removes bins of apples from picking train and takes them to a cold store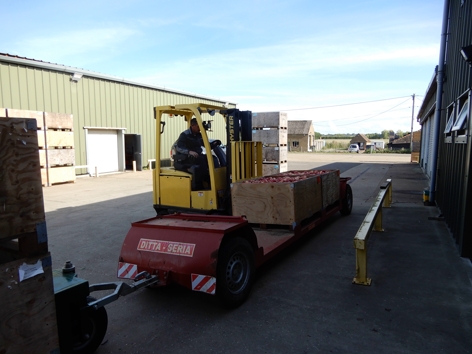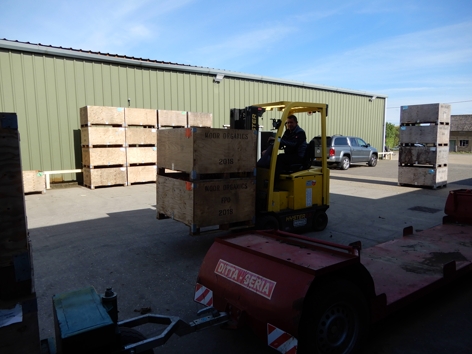 Below: This addition of a picking platform behind the tractor with attached picking train allows complete harvesting of the rows in one pass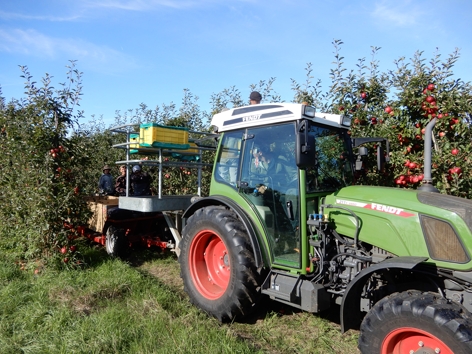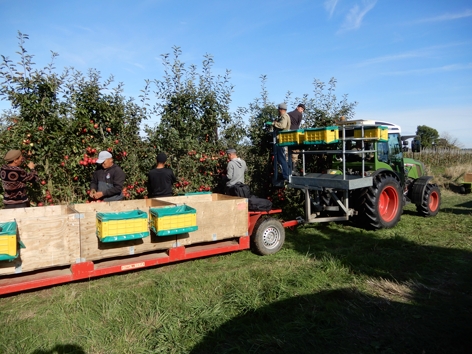 Below: The system works well, but requires an experienced tractor driver to ensure health a safety, so only a few of these platform/picking trains are in action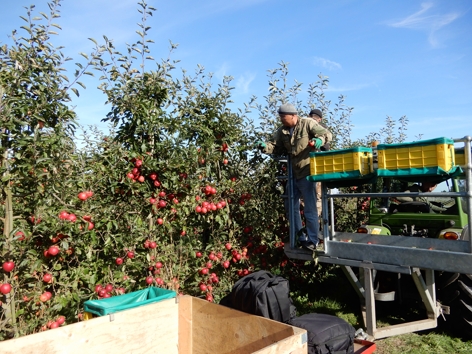 Below: left; A picking platform and picking train on the slope in Gala and right; a view down to John Moor's house on Deerton Street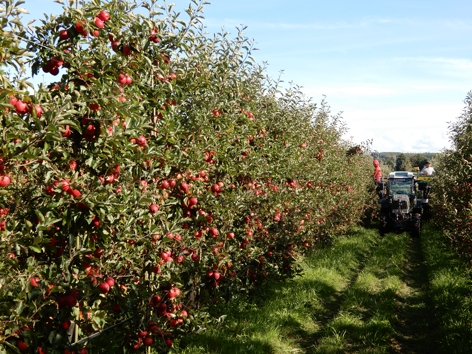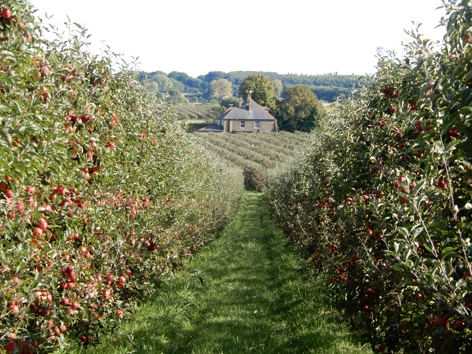 Below: Left; Spartan rows and right; these Spartan are carrying an even crop all the way to the top circa 4 metres high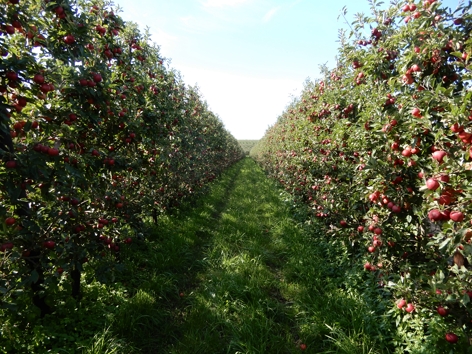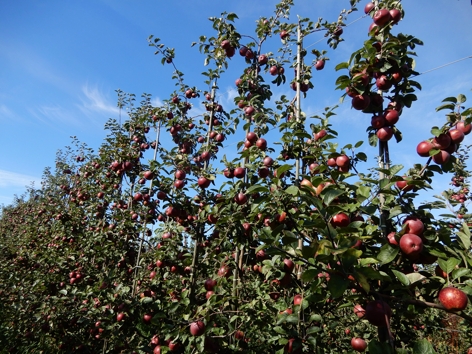 Below: left & right: magnificent Spartan apples in abundance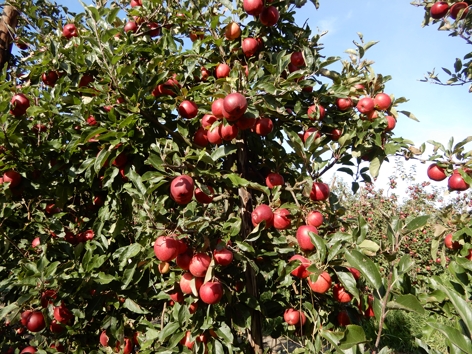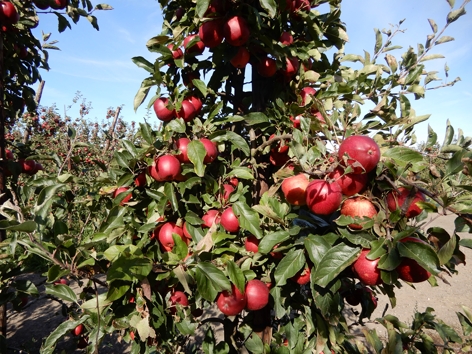 Looking back 10 years at Nichol Farm
In 2012 when John and Nick were transforming Nichol Farm away from the old varieties into a more modern organic enterprise, The English Apple Man joined fellow fruit fanatics on a beautiful evening in May to view the modernisation process.
Click on: Organic Blossom Walk in 2012
Below: 'Same slope' - 10 years between pictures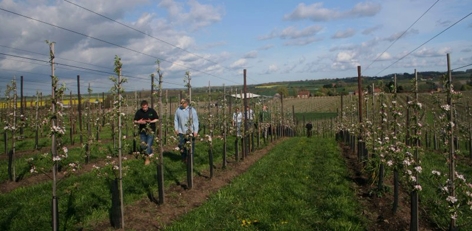 Sadly John Moor died very recently and we lost another fine fruit grower who in his 90 years made a lasting impression on the world of apple growing. He was a gentleman and "one of the old school" - my condolences go to Mrs Moor, Nick and the Moor family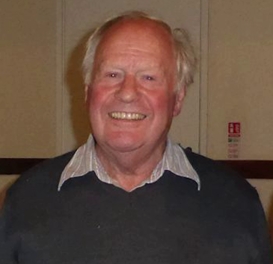 As we reach old age. we lose good friends all too frequently, and in mid-September another illustrious member of the fruit fraternity; Harry Wooldridge, sadly died after a short illness. Harry was a great character and integral to the success of The Gala Club.
After a private family funeral in October, his family will announce a Memorial Service in November.
Rest in Peace Harry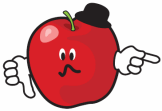 Until next week
Take care
The English Apple Man