Profile: Brian and Norma Tompsett
A Growing Partnership
This is the fourth in the English Apple Man - People Profiles - series; the previous subjects included an MBE and a Master of The Worshipful Company of Fruiterers. The first profile featured one of our great industry characters, who since appearing in The English Apple Man People Profiles in 2010 has become an industry personality with appearances on TV in the programme - 'The Food Chain'
The fourth 'Profile' is the first to feature a husband and wife; Brian & Norma Tompsett embrace the title perfectly - "A Growing Partnership" tells the story of a couple very much in love with each other, the countryside and many associated ventures.
I first met Brian Tompsett in 1994 in my first year at Home Grown Fruits on a QC visit to Rickards Farms near Canterbury. The visit was part of our routine QC (Quality Control) checks to ensure the customers specifications were being adhered to; my memory of that visit was of very good quality strawberries fully meeting customer specification.
I remember meeting Norma with Brian in Canterbury one Saturday, when I was taking a look at our strawberries in M&S; then as always with a huge smile on her face.....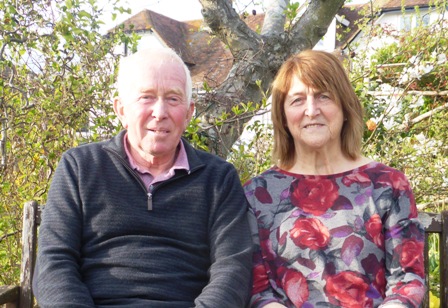 Over the last few years Brian and Norma have become good friends; our paths cross regularly at National Fruit Show events and we are regular visitors to farm walks held by fruit societies during the summer months. Brian and I have both been very involved at the annual pruning day at Hadlow College in February and the 'Pip to Plate' event in September, where local schools are invited to bring young people interested in horticulture to learn the production process of apples from their 'origin' through the science and practical management of tree husbandry. Brian's practical experience of pruning all systems and varieties is a valuable asset as he demonstrates the techniques to Hadlow horticultural students.
My involvement with The National Fruit Show brings me in contact with both of them on a regular basis; Norma is central to the NFS Apple Juice 'Tasting Competition' - organising the samples for each of us on the tasting panel to make judgement. Brian & Norma also play a key role in the 'Tastiest Apple' competition held annually at The National Fruit Show..........since our Head Steward - Sue Daly tragically succumbed to a terminal illness, Brian has taken on the role of Head Steward of the Judges on 'Judging Day' which is held on the Tuesday; the day before the National Fruit Show when all the 'show fruit' is displayed in all its glory.
Below: Brian and Norma's garden
Country folk
Brian & Norma are 'proper country' folk - they both enjoy being in the open air whether in their garden, walking in the hills at home or abroad in Switzerland or during the winter shooting season, taking part in one of the 'countryman's' favourite pursuits; Brian will be found with other farmers shooting, while Norma will be fully involved joining in with the 'beaters' - they both enjoy their food and grow a plethora of vegetables and fruit in their garden and on an allotment nearby. How they manage to fit all their interests in 'I do not know' but they do.... Their garden reminds me of Monty Don's on his TV Gardening Programme - immaculate raised beds, greenhouses, apple, plum and cherry trees.......at Christmas Brian lifts new potatoes and picks Chrysanthemums from his greenhouse. The Chrysanth's are first grown in pots in the garden, before moving into the greenhouse ensuring they are in bloom for Christmas.
Below: the garden is a perfect balance of floral beauty and a plethora of fresh produce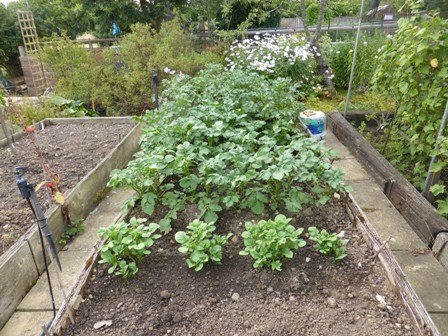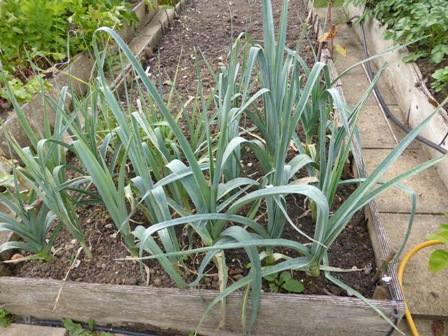 Brian preparing the next bed with his rotovator - and - productive beds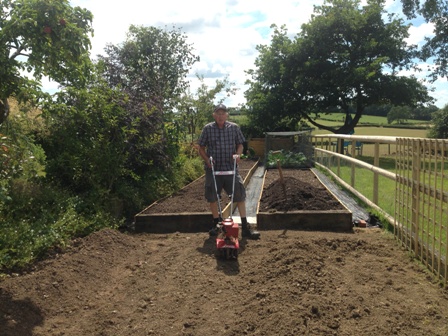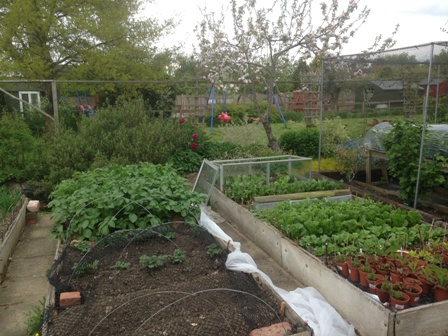 Asparagus fern, runner beans - and - fruit trees in bloom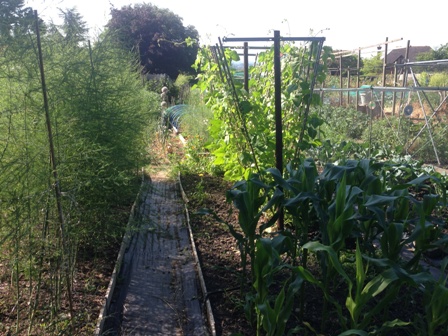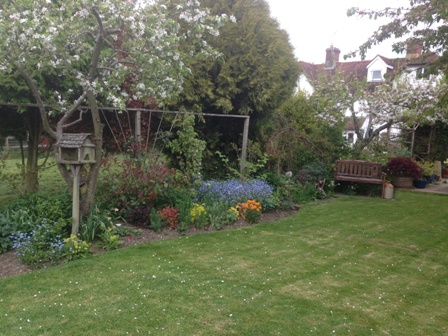 Below: Chrysanthemums growing in pots - and - Chrysanthemums in bloom for Christmas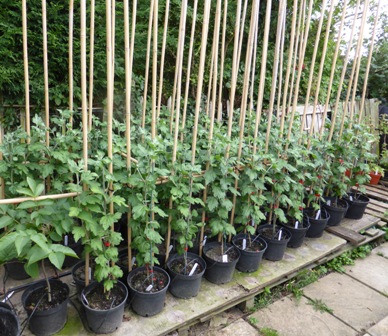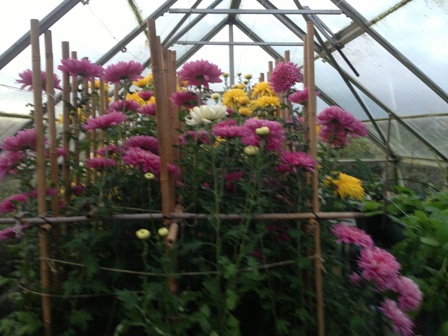 Below: On the table under the trees in the garden, I enjoyed a relaxing summer evening supper with my hosts!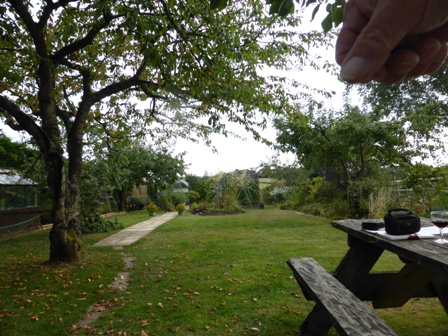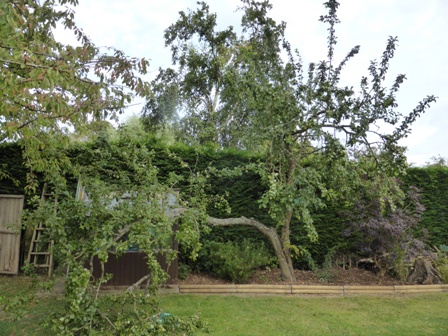 A gourmet treat!
A meal with Brian & Norma is a gourmet treat; between Christmas and New Year my wife and I enjoyed a very special lunch; Norma cooked 'goose' accompanied by fresh vegetables from their garden; with an abundance of choice in their garden, Brian expects (and gets) fresh vegetables with every meal.......
Returning to their 'roots' - the Tompsett family had a long association with Rickards Farms and Brian was the third generation to work for the Rickards family. Brian attended Hadlow College from 1969/70 studying for a National Certificate in Fruit Management. Prior to this he attended Brooksby College in 1966/67 gaining a Certificate in Farm Organisation and Management, also he gained a Certificate of Agriculture at The Kent Farm Institute in 1964/65.
Brian remembers the excellent course at Hadlow preparing for entry into the fruit industry, with plenty of emphasis on practical work carried out on the college fruit holding.
After leaving Hadlow Brian returned home and took on managing the small fruit enterprise at Rickards Farms at Canterbury, taking over from his father and becoming the third generation of Tompsetts working for the third generation of Rickards.
While Brian followed the natural progression and set out to make a career in fruit growing, Norma took the route of many young women into an office based working environment. On leaving school Norma worked as an accounts clerk in WH Smith & Son, then went into F R W Berry Estate Agency as the office junior, then to The Co-operative Insurance as a Motor Insurance Clerk. During that time she attended night school to learn to touch type, and was successful in obtaining that qualification.
Below: Brian & Norma's Wedding Day in 1972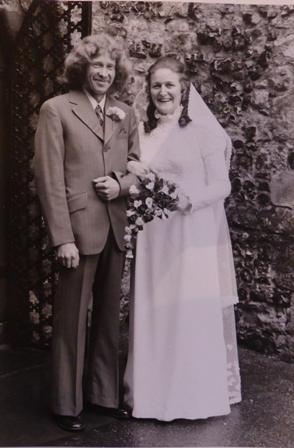 Norma then moved on to work for John Wiltshier & Sons the building company, then to Westgate Wholesale, a veterinary wholesalers in Canterbury, at which time she met Brian and they married in 1972. Now marriage between Brian & Norma could be described as a little unusual as Brian's brother married Norma's sister and to add another dimension, Brian's father and brother (Uncle) also married sisters. How unusual is that.............
Brian and Norma started a family with first daughter Debbie born in 1975 and second daughter Jenni born in 1977.
Debbie now runs her own business as a chocolatier and Jenni is PA to the directors of a local motor dealership, and between them they have given Brian & Norma four delightful grandchildren.
While Debbie and Jenni were young Norma worked on the farm with Brian at Rickards Farms, acting as supervisor for picking apples, pears and strawberries.
Growing strawberries at Rickards took a slightly unusual route; Brian always had an interest in growing and grew strawberries in his garden using the latest techniques. Trickle irrigation and raised beds were at the cutting edge then and after a couple of years of 'garden production' he introduced strawberry growing to Rickards Farms in the 1970's.
Brian's experience with strawberries would prove to be valuable when he moved to West Kent in 1999.
The 1990's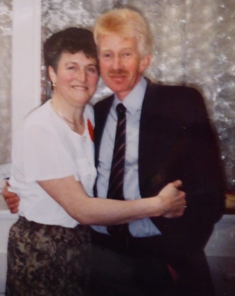 In 1990 Norma went back into office work for a Lloyds syndicate in Canterbury; Ibex Motor Policies at Lloyds, where she started in the adjustments department, then moved on to run the classic car scheme. A further development followed with another change of direction into Training of new employees, which included starting to obtain a formal qualification in Insurance.
Brian stayed at Rickards until 1999 when Dick Rickards retired from farming and sold the farm; during that time Brian doubled the top fruit acreage by planting mainly Cox apples and Conference pears. Brian also introduced strawberry growing using raised beds with polythene mulches.
With the retirement of Dick Rickards, Brian looked further afield and moved from East to West Kent to join Alan Firmin Ltd at Linton near Maidstone, taking the position as Top Fruit Manager and two years later became overall Fruit Manager responsible for 180 acres of top fruit and 24 acres of strawberries.
When Brian moved to Alan Firmin Ltd in 1999 Norma soon followed and worked in the accounts department for the company.
When the farm secretary retired Norma was offered the position which she accepted, saying "it's the job I've been looking for all my life" it combined her love and interest in farming with her skills in accounts and computers, she was the ideal assistant for Brian.
Below: Brian inspecting a Braeburn 'fruit wall' at Bluehouse Farm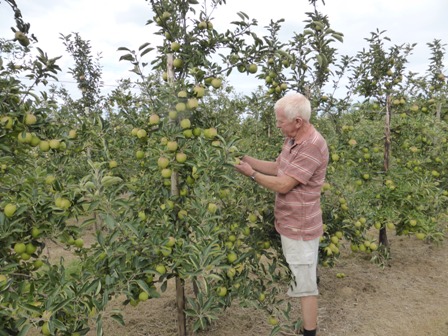 Following frequent trips abroad, Brian introduced modern intensive systems of fruit production at Firmins and gradually converted all the Strawberry production to 'table tops' - While at Firmins, Brian always welcomed students onto the farm to give 'practical' backup to their 'college' studies. Frequent visitors came from Hadlow College and Shropshire College.
With Firmins withdrawl from top fruit, Nigel Bardsley took on the Firmin farm at Bluehouse in Marden and Brian continued the development of 'fruit wall' production - his experience with Braeburn, Egremont Russet and Cameo developed a much better understanding of the influence of varietal characteristics when managed as a 'mechanically pruned' fruit wall.
Brian carried out various trials; searching for the optimum timing for mechanically pruning each variety; He found there was a need to treat each variety slightly differently.
The annual Huxley Pruning Day at Hadlow College is now a regular calendar fixture and Brian plays a key role in the event. His practical understanding of many different varieties and pruning systems is integral to the teaching experience available to Hadlow Students each year.
Below: Brian addressing Hadlow Students at the annual Huxley Orchard Pruning Day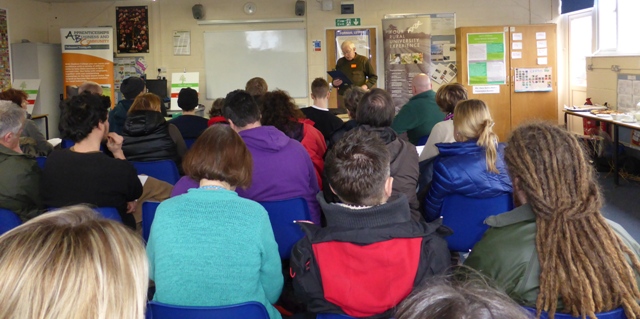 Below: Brian demonstrating pruning techniques to Hadlow Students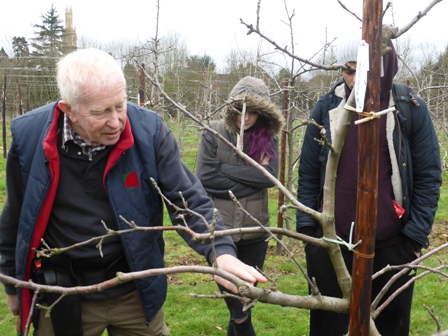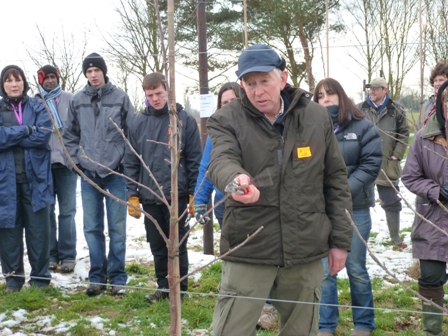 Brian & Norma - National Fruit Show Stalwarts.....
Brian and Norma are very involved with Marden Fruit Show Society and attend all MFSS events; in the pictures below, they are pictured at a MFSS visit arranged as part of the 80th Anniversary Celebrations of the Society, to Peter Hall's Organic orchards and the Herbert Hall Vineyard managed by his brother Nicholas Hall in Marden. The second and third pictures wer taken at the National Fruit Show - 'After Show Event' at St. Anselms where Brian and Norma are pictured helping to man the tasting tables.
Below: Norma and Brian at a MFSS visit to the 'Herbert Hall' Vineyard at Marden in Kent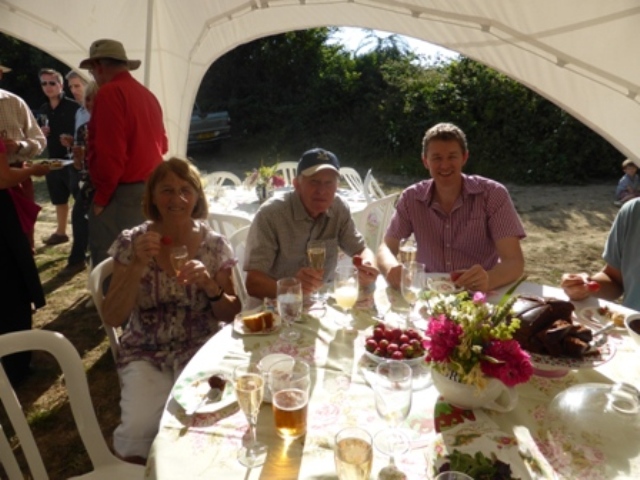 Below: Brian 'fine tuning' the display - and - Brian and Norma helping on the tasting tables at the NFS 'After Show Event' at St. Anselms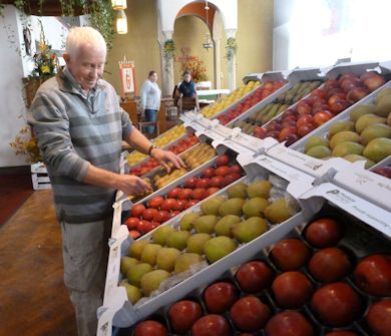 Below: Norma receives a bouquet of flowers from National Fruit Show Chair Sarah Calcutt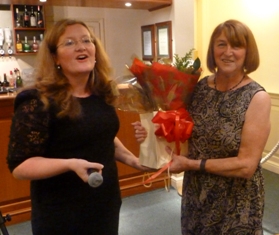 Norma and Brian are both very involved with the National Fruit Show, Norma and Brian organise the Tastiest Apple Competition and Brian is Chief Steward for Judges in The Show Fruit Competition.
Norma lists her interests and hobbies as: Reading, Cooking, Grandchildren, Walking, Family, Crosswords, Field Sports, Dogs, Gardening and Antiques............
Brian has served on several committees; the East Kent Fruit Society and the Marden Fruit Show Society; organisers of The National Fruit Show. He was also a Director of Mid Kent Growers.
Winning Industry Awards
Below: Brian and Norma ready for The Grower of the Year Awards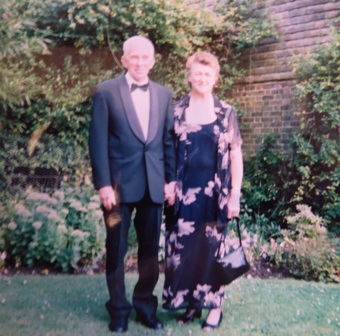 The Commercial Horticulture Industry recognizes annually the hard work and innovation of the horticultrural sectors with awards for 'Grower of the Year' in each sector.
In 2004 Brian was awarded 'Runner Up' in the Soft Fruit Grower of the Year and in 2009 won the Top Fruit Grower of the Year and then went onto win 'Edible Grower' of the Year.
In 2008 as a supplier to Tesco, Brian was awarded Tesco 'Fruit Category' Grower of the Year out of all their 'Global' fruit suppliers; a highly prestigious achievement.....
In 2009 the Firmin Family decided to come out of fruit growing and Brian made the short journey to Staplehurst to become Farm Manager for Nigel Bardsley at Bardsley & Sons.
In 2009 Norma left Firmins to take on two part time jobs; one was the 'Show secretary for the National Fruit Show and the other was administration assistant at Mid Kent Growers where she processes payments to grower members.
Semi retirement.........
In 'semi retirement' Brian stays active; he has set up a service to fruit growers under the banner of 'Apple Growing Solutions' his tree management skills are called upon regularly by Hadlow College, either demonstrating pruning techniques to students, or keeping an eye on the Huxley and BIFGA training orchards.
He has given presentations around the country on 'The Fruit Wall' system of apple production. Other services he provides are maturity testing, SmartFresh treatment of apple stores, fruit and leaf sampling and Audit preparation. He has clients in the UK and Ireland.
Brian and Norma love to explore the countryside, on the continent as well as across the UK.
Brian recalls some amusing events while holidaying abroad; "we had invested in a folding camper which enable us to visit places in Europe, but returning back to Calais after our first venture abroad Norma remembered that she had packed the passports in a cupboard in the centre of the camper, you can imagine the amusement this caused when we had to erect the camper in a motorway car park to allow us to crawl in and retrieve them, still a source of amusement to all but Norma to this day!
"On another occasion while on holiday in Switzerland, we were parked beside a beautiful lake and I turned to speak to Norma, who had been sitting there beside me, only to find she had disappeared. I got out of the car and noticed that customers at the beer garden the other side of the road were finding something very amusing and on investigation I found Norma lying on the ground next to the car with her foot tangled in the strap of her handbag, a rather undignified exit from the car!!!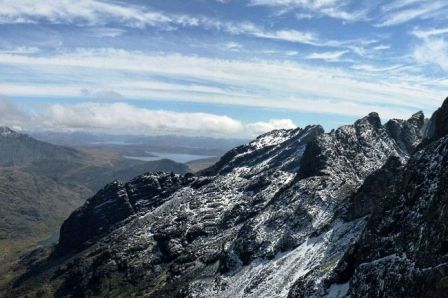 In Brian's youth he was a very enthusiastic rock climber, he started climbing on the sandstone outcrops in the Tunbridge Wells/East Grinstead area and was president of the Hadlow College Rock Climbing Club, he has climbed in North Wales, The Lake District, Cornwall, Derbyshire and Scotland. On one trip to the Isle of Skye he was climbing in the Black Cuillins with his cousin, which turned out to be quite an adventure..................
Brian tells the story.....
"Having scaled the Cuillin ridge and crossed over the other side the plan was to traverse around the inner horseshoe ridge and find a way back over the top and drop down the other side to the campsite. Caution was necessary as there was distinct evidence of recent rock falls on the scree slopes. At last by 11.30 pm a way was found back up to the ridge and although it was June the light was now fading fast. We ate the last of our provisions and set off down on the homeward stretch now in darkness, climbing down through waterfalls and abseiling where necessary. We arrived back at the campsite by 2.30 am exhausted and shattered, luckily we still had some whisky left in the tent"
Below: a guide to the challenge faced by rock climbers intending to Traverse the Cuillin Ridge
A very high level of fitness is paramount along with good core strength and balance. Previous experience in the Cuillin or on rocky ridges in the Alps is the best way to know if this challenge is for you and we are happy to advise. Like many aspects of mountaineering, the Traverse is fundamentally dangerous and our number one priority is to keep all members of the party safe. For this reason we vet all potential clients who enquire - Skye Guides and the Cuillin Ridge Traverse
Below: Brian and Norma in their garden with their dog Buster, who has now sadly passed onto the great kennel in the sky......
Bringing this 'People Profile' to a conclusion; the title "A Growing Partnership' sums up Brian & Norma perfectly!