Profile: Peter Checkley
For my first 'People Profile' I have chosen Peter Checkley and his partner Wendy Johnson.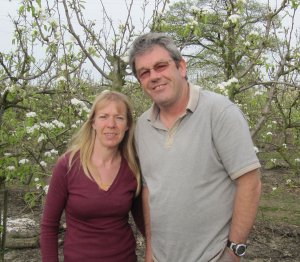 Their story in the challenging world our apple growers live in, is a particularly poignant one; as the Top fruit industry e.g. Apples & Pears comes under increasing pressure to survive in the harsh climate of imported fruit from global sources and ever increasing demands for higher quality standards, coupled with downward price pressure by Supermarkets, many question the viability of their businesses.
The pragmatic approach Peter and Wendy have adopted may well be a model for the future of small fruit growers. By pooling family resources they have 'tested the water' with a 'foot in each camp'
While Peter manages Howard Chapman Ltd at Broadwater Farm near West Malling in Kent, a typical fruit farm supplying Supermarkets through the largest supplier of home grown apples and pears; Worldwide Fruit Ltd. Wendy manages the 'day to day' activity at Castle Farm at East Farleigh near Maidstone in Kent.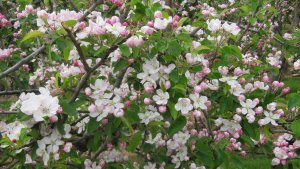 Castle Farm is a family partnership; Peter and Wendy are joined in this venture by Peter's father Brian who adds some financial support and a life time of valuable management experience in the Top Fruit sector.
Peter left school back in 1976 and joined his father at J. Edmonds & Sons, where Brian had been employed as farm manager since 1970. Peter spent 2 years under his father's guidance while achieving his City & Guilds and then obtained an NCA in fruit at Hadlow College and an ANCH specialising in fruit.
After working with his father and gaining the necessary diplomas he set off in 1982 for Israel where he worked in a Kibutz for a year experiencing growing a wide range of crops including Melon and Avocado. Not suffering from any shortage of sunlight the Kibutz decided to grow very high worked trees and had mechanical 'cherry pickers' adapted for apple picking with picking bags attached to them, this enabled the pickers to harvest from a height that would have been dangerous on a ladder.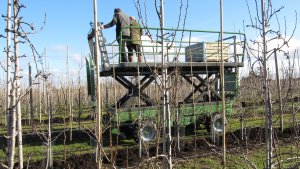 Returning to England Peter joined Alan Firmin Ltd. at Linton near Maidstone where he stayed from 1983 -1988. Firmins is a large operation with a range of business activity including transport and distribution. The founder Alan Firmin's first love was farming and he created a fruit farm using the latest technologies; an ideal environment for Peter to further his knowledge. During his time at Firmins Peter worked under the management of Jeremy Boxhall as Fruit Foreman. The farm benefitted from membership of FAST an advisory team at the forefront of new ideas. This period of employment gave Peter valuable experience in the operation of a modern fruit farm.
In 1988 and seeking a change, Peter spent 15 months with Foremans of Headcorn before taking up employment with Langmead Tractors at Lingfield in Surrey. While he was at Langmead he sold a tractor to Bill Chaplain at Beechin Wood Farm at Borough Green in West Kent. Soon after Peter joined Bill as Farm Manager.
Peter remembers Bill as a 'Frugal' farmer and a great character. The farm grew 32 different crops and operated a farm shop. One of their specialities was Rhubarb, or as Peter puts it; 'lots of Rhubarb' and during the 1990's he was the driving force behind Beechin Wood Farm's development as a major supplier of Rhubarb to Tesco.
In the early stages supplying Tesco was a dynamic period and the support of Marion Bates their Technologist, paramount in Beechin Wood Farm's success. Marion came from a time when the Supermarket buyer would pop in for a coffee on her way through the county. This 'personal' touch created a unique relationship where she was like personal friend of the family. Bill Chaplain's daughter Gina was very involved in the accounting side of the business. Between them Peter and Gina set up a direct supply to Tesco, Safeway and Waitrose.
In 1998 Peter joined Gedneys at Southfleet as Manager of salads and Vegetables, supplying major Supermarkets. This was another excellent 'career opportunity' increasing further Peter's broad spectrum of management experience in the produce industry.
In 2003 - Peter joined Broadwater as Farm Manager; his current position.
WENDY:
Wendy joined Broadwater in 1986 when Andrew Lockstone was Manager in a picker / packer role as she had two young children. When the packhouse manager decided to leave she was offered his job. By that time Chris Patt had been appointed as the Farm Manager.
In 2001 when Howard Chapman Ltd decided to close the packhouse, Wendy joined Fruit First at Clockhouse Farm in Coxheath near Maidstone as Production Manager and worked very closely with General Manager Jim Pollard to provide the growers with a level of personal service that is shamefully missing in todays over regulated box ticking operation
Fate took a hand in 2006 when Fruit First closed their packing operation and fortuitously a small fruit farm at East Farleigh, just a mile from Coxheath, was put up for sale when the owner Jack Martin reached retirement age. Jack enjoyed a reputation as a very good grower with an attractive farm, these factors and the scale of the business attracted Peter and Wendy.
In January 2007 Wendy left Fruit First and in May, Peter, Wendy and Brian bought Castle Farm.
Now, in 2010 Peter continues his management role at Broadwater while Wendy manages the day to day activities at Castle Farm.
Broadwater Farm is owned by James Vestey and has been in his ownership for 30 years.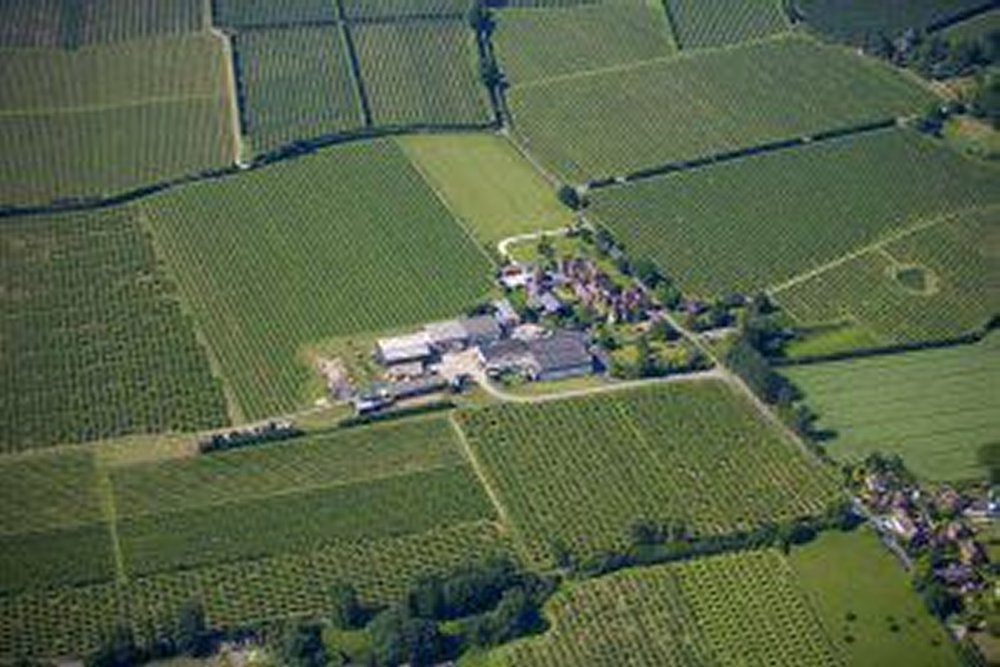 The Top Fruit enterprise at Broadwater extends to approximately 288 acres (120 hectares) and as a farm with a long history of growing Bramley & Conference Pears; it is not surprising to learn that there is 135 acres of Bramley and 60 acres of Conference. The more modern varieties are represented with 70 acres of Gala, 20 acres of Braeburn and 7 acres of the exciting Jazz (TM).
Plans are in place to plant more Gala; replacing Plums and Cherries which have been designated for grubbing.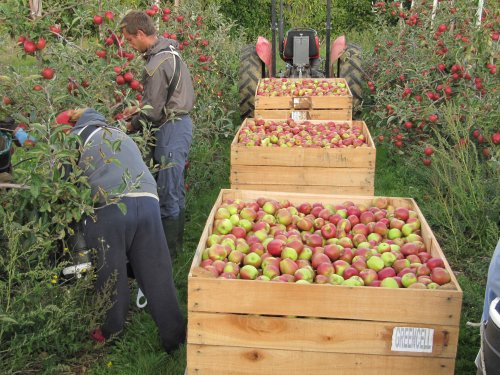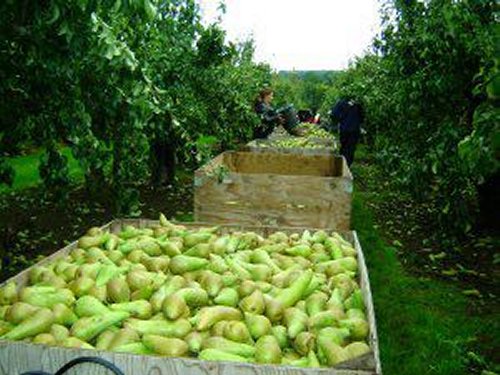 Broadwater is an excellent example of a medium sized English fruit farm, representative of the 'core' of the English Top Fruit supply. The farm is well managed in all aspects, with sound financial management and intelligent investment in new orchards and modern storage facilities. It is vital that farms of this quality are profitable for the survival of a meaningful English Apple & Pear industry.
The new storage block is 'state of the art' with temperature and store atmosphere controlled by computer. The accuracy of this instrumentation allows 'precise' storage regimes and easy monitoring for the different varieties grown at Broadwater. Namely; Bramley, Braeburn, Gala, Jazz and Conference Pears.
Peter has adopted management systems at Broadwater aimed at reducing pesticide residues in response to consumer concern and retailer demand. The strategy for reducing residues has been developed by Worldwide Fruit in conjunction with East Malling Research.
While the strategy has been successful on a limited acreage, it is impossible in our climate to achieve residue free fruit on all varieties in all orchards on all farms. The prospect for controlling pests with a reduction in the use of Insecticides is progressing very well, but our weather dictates the level of Fungicide use. However the drive to develop a residue free strategy teaches us a lot about managing the use of Pesticides.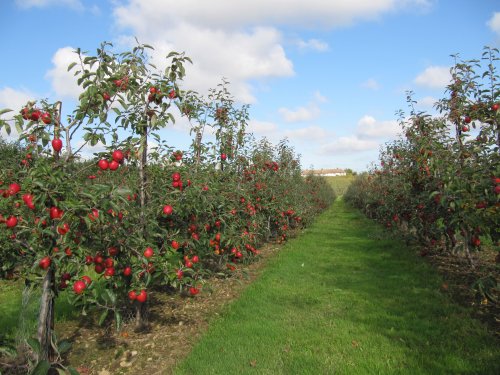 Peter despairs however that with so much commitment by the grower, the worrying result commercially is the abject failure of retailers to pay a price worthy of the effort and increased costs growers incurr in delivering this 'perceived' safer fruit!
Consumers naturally want to eat only safe food, but the perception that fruit with a low residue is unsafe in comparison to fruit with no determinable residue is false.
All fruit must achieve a residue below the MRL (Maximum Residue Limit) this legal limit however is NOT a level recognised as an unsafe level for human consumption; it is instead the level of residue expected when applying a pesticide at the recommended application rate. These MRL's were historically set after trials using the application rate calculated to deliver efficacy.
In turn the MRL is well below the actual safe limit determined by food safety standards. So the level found in pesticide residue testing is minute by comparison to the legal limit e.g. MRL and infinitesimal in terms of fruit safety.
CASTLE FARM:
With a total land area of 50 acres, Castle Farm has 10 acres of Bramley cooking apples, 20 acres of Cox apples and 6 acres of Pears. Peter & Wendy have grubbed most of their pears as this is the most difficult crop to make money.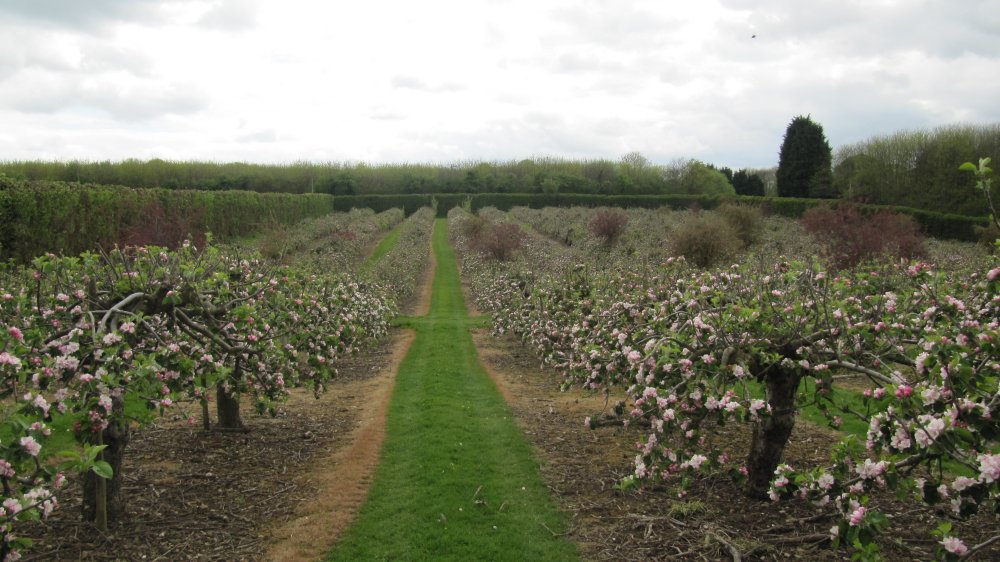 Making the most of management experience.
With the considerable experience of managing large growing businesses depending on a Supermarket as the sales outlet, Peter and Wendy decided to run Castle Farm on a low input basis. Using lessons learnt at Broadwater and drawing on mutual past experiences they knew it would be impossible to generate enough net income if at Castle Farm they were drawn into the world of Supermarket supply.
This dilemma faces many small, even medium sized growers; in particular where the fruit is no longer packed on the farm due to rationalisation demanded by Supermarkets and their marketing agency suppliers. Peter and Wendy recognise that so much cost is wasted in Supermarket supply.
With each Supermarket using dedicated packaging designed to their specific requirements, pressure on packhouses to maintain adequate stock of the many packing variables is enormous. Multiply this, maybe 10 times over for each customer where a large packhouse is catering for several customers; add in the retailer's desire to frequently change packaging design and it is easy to understand how large quantities of expensive packaging become obsolete. Directly, or indirectly the grower foots the bill for this wasted material.
The customer specification adds further challenges. Apples are a natural product; each one is an individual, but in the highly competitive retail world where each retailer is in fierce competition, the drive to create a point of difference, whether by quality, packaging or price differentiation is an ongoing, almost daily battle.
As a consumer we may feel the price we pay is ample for a product that just 'grows on trees' but the breakdown of the retail price has so many variables and it is so easy to gobble up the value in costs, leaving the grower with insufficient returns. The many cost variables make trying to predict the financial status at the end of marketing as certain as predicting the weather in 6 months time.
Growers can only put their trust in the marketing agency for their financial future. It is this high cost and the uncertain financial prospect which caused Peter and Wendy to take Castle Farm on a low cost growing and critically low cost marketing direction. The equation between growing and marketing is broadly 1 to 2. That is to say of the full cost of a kilo of apples, 1/3 will be accrued up to the point of harvest, while 2/3 will be accrued from point of harvest to customer delivery.
Consumers will be aware of our media highlighting the unnecessary bureaucracy surrounding many aspects of our daily lives; however the media are first in line to criticise the retailer when a food scare surfaces. It is no wonder any industry puts in place what are seemingly over cautious precautions in the form of complex accreditation schemes.
In our apple & pear industry there is a tendency for retailers to not only protect their reputation with schemes designed to demonstrate their 'due diligence' which should they face litigation is integral to their protection in law, but also by extending their brand specific position to create a 'perceived' marketing advantage over other retailers by creating a feeling of added trust in 'their brand' image.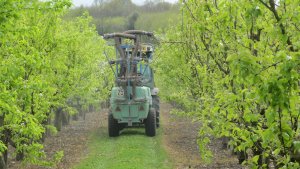 In company with any business sector growers are very properly required to meet all legal standards deemed necessary by our law makers. Peter & Wendy have decided while ensuring their business at Castle Farm is fully compliant with all legal standards, no unnecessary retailer demands will be entertained. This reduces dramatically the time they spend on endless paper trails, allowing them to devote more of their time, energy and husbandry skills to totally productive activities.
Peter and Wendy are driven by a simple philosophy:
"We are working very hard to simplify the route that our apples take from the tree to the fruit bowl and trying very hard to not only sell our fruit locally, but also to employ local people to harvest and pack our fruit"
In terms of growing, Wendy and her staff can concentrate wholly on exercising their husbandry skills, while in the packhouse, unfettered by the demands of the Supermarket, they concentrate on maximising the crop they have so lovingly grown.
One of the frustrations of selling through Supermarkets is finding a viable outlet for all the harvested fruit. Supermarkets require a specification which exceeds the legal standard laid down by the EU; while there are well argued reasons for this, it still leaves much 'very edible' fruit without a viable outlet and inevitably this fruit does not command sufficient return in the wholesale markets to cover the cost of packaging, transport and marketing costs. Inevitably this fruit ends up being sold for juice. The price varies but rarely covers the cost of harvesting, any storage, transport to the packhouse, and grading costs; in a nutshell, it is better left on the orchard floor. Consumers who see 'wasted' fruit lying in the grass must feel angry at this apparent waste of food, but unfortunately that is the realism of the grower's existence.
A very positive message in these times of global warming and Carbon emissions concerns fruit farms contribution to a greener planet. An on farm audit at Broadwater Farm reveals the farm absorbs 6 times the C02; emitted; not many industries can compete with this exemplary record.
At Castle Farm, Peter & Wendy are investigating solar panels and a wind turbine to create carbon free power which will at the very least supplement and in optimum conditions eliminate, the need to draw on energy from the national grid!
At Castle Farm the objective is to keep all costs to a minimum. One significant 'on farm' saving involves the cost of thinning. Growing for a Supermarket requires immense attention to detail and one of the most expensive 'must do's is thinning. Apples left to their own devices will set unevenly; with each flower truss producing from 0 to 5 fruitlets. The potential, especially for varieties like Gala is more fruit than the tree can adequately support, resulting in a wide variation in fruit size and almost certainly too much of the smaller fruit which will attract more cost and less monetary return. Hand thinning is now standard practice. Costs will vary, but generally will be in the region of £450 per acre.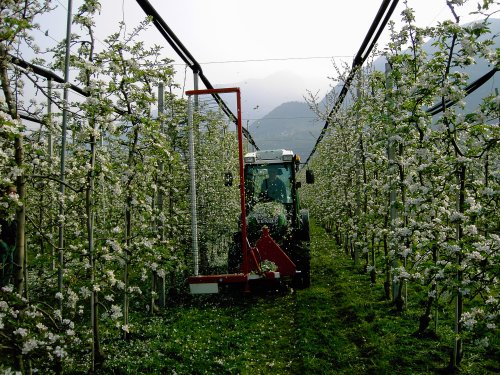 By targeting the wholesale markets, who supply greengrocers, restaurants, and other specialist outlets Peter and Wendy have reduced the need for detailed thinning, they have however made use of the latest mechanical 'blossom' thinning equipment reducing the number of flowers and improving the balance between fruit numbers and fruit size.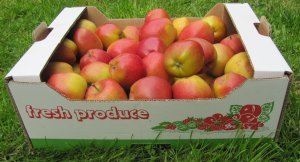 By selling all their apples in one standard 6kg cardboard box, this simple format keeps packaging cost to a minimum and eliminates the high waste commonplace in supplying Supermarkets. Of course there will still be a percentage, around 30 - 40% of unsuitable fruit; this is sold on contract to specialist apple juice suppliers.
Readers may well question why other growers do not follow Peter & Wendy's example; the answer is, some do, but this is a finite market, incapable of maintaining a profitable return if oversupplied. Like all things in life 'balance' is critical to success.
Packaging used is basic but adequate and sourced locally. Labour costs are sensibly managed by using local workers from the village; two women working from 9am - 3pm and one man working an 8 hour day `supplemented by agency staff; namely Gurka families living in Maidstone are the main source of labour for Castle Farm's picking and packing operation. Flexibility is the prime concern as Wendy will only pack apples when the market justifies it. This would be impossible in the large packing sites supplying Supermarkets with a permanent workforce who must be occupied profitably at all times, or costs will quickly escalate. 'down time' between different variety runs must be kept to a minimum.
The concept at Castle Farm is to utilise all harvested fruit, unlike Supermarket supply where so much edible fruit is designated unsuitable; or too costly to use for any other outlet than juice.
Time will tell, but Peter and Wendy feel confident their 'low cost' approach at Castle Farm is their road to success. Time will also tell if farms of the quality of Broadwater survive the demands of our Supermarkets; if not the presence of English Apples on Supermarket shelves will truly become minimal in the 'not too distant' future!
In summary Peter and Wendy set out their business objective:
'Our aim is to do the whole job ourselves. We have been developing good relations with salesmen in key positions in southern markets. We are trying hard to sell our fruit as locally as we can. This will include, in the future utilising farmers markets and pick your own'
'While discussing the finer points' with Peter and Wendy recently, Peter said this last season has been a challenge, due mainly to the surplus of Southern Hemisphere apples left in Europe at the start of our new season in 2009 resulting in a depressed market forcing down prices to unprofitable levels. While this may seem a 'bonanza' for the consumer, it seriously harms English growers ability to survive. Like most growers, Peter is an optimist and hopes the market will be better balanced when the 2010 season starts in late August.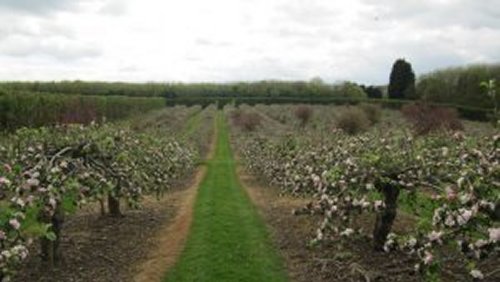 Peter retains so much energy and enthuisiam inspite of the challenges growers face. In addition to his farming roles he is an Horticultural Development Council 'panel' member assessing and allocating with his fellow members the use of funds growers pay in a levy to HDC for valuable research projects.
Peter and Wendy are passionate in their desire to 'farm' the land they own, but recognise the financial pressures they may face in the future could well see Castle Farm turned into 'Pony Paddocks' a much easier existence and far more profitable than farming. They are someway from making such a dramatic change like that, but if growers cannot win the support of consumers, it is an inevitable conclusion. Sad, as while ponies are beautiful, they cannot match the benefit English Apples contribute to our countryside and to maintaining a healthy diet for our growing population.
I hope they will succeed in making Castle Farm a successful 'model' of low cost green efficiency and that fears for the future of excellent farms like Broadwater can be dismissed, by renewed consumer support for English Apples & Pears.
The retail price does not necessarily need to rise dramatically, a modest increase, or more pertinently less fruit sold on 'BOGOF' promotions will make a significant difference to growers survival.