Profile: Roger Worraker
Pictured below; Roger Worraker receives The President's Award from Marden Fruit Show President - The Right Hon. Michael Jack at The MFS AGM on 24th April 2019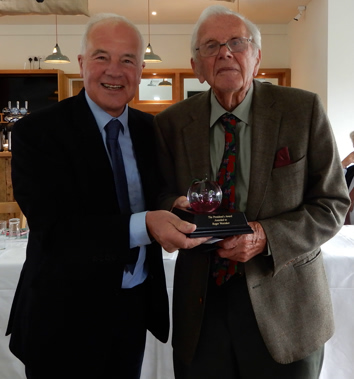 Roger Worraker is a friend, a mentor and a revered member of the top fruit growing fraternity. He has enjoyed a distinguished career as a lecturer at Hadlow College and advising apple & pear growers, with a particular forte for his pruning prowess with Bramley apples and one of the key players in the success of British Gala apples.
Where does Roger's story start?
Roger's story starts when he was born on a sheep farm in South Africa to Clarence and Hilda Worraker.
Looking further back at the Worraker family history, Roger's forebears owned the Maldon Salt Works in Essex between 1777 & 1882.
Robert Worraker (Grandfather) a dispensing chemist moved to South Africa in the late 19th Century and Roger's father was born there.
Roger's father Clarence Worraker saw active service in both World Wars and was awarded the Military Cross and Bar for his service in WW1.
Roger said: 'Dad' went into German South West Africa (now Namibia) as a Mounted Commando during the campaign (1914-1915), then to France as transport officer on horseback taking supplies to the front line. The horse was still an essential form of transport back then and it seems unimaginable now that 350,000 horses died in the Great War.
Clarence started sheep farming in South Africa after the Great War.
Between wars Clarence continued sheep farming in South Africa. Roger was born there and still remembers assisting in the packing of Merino wool into the hessian sacks ready for export to England. In the 2nd World War Roger's father served as a volunteer in the Green Howards a Yorkshire Regiment. Initially he guarded reservoirs near Sheffield and was later posted to North Africa and Italy in a support role.
After the 2nd World War Clarence returned to South Africa before selling his farm and then retired to England.
In 1938 Roger's brother Godfrey (known as Geoff) won a Kipling Scholarship to Imperial Service College (now Haileybury). The scholarship was endowed by Rudyard Kipling, perhaps the ISC's most famous pupil.
In addition to Rudyard Kipling, Post War Prime Minister Clement Attlee, Sir Stirling Moss and Prince Andrew Romanov were educate at Haileybury.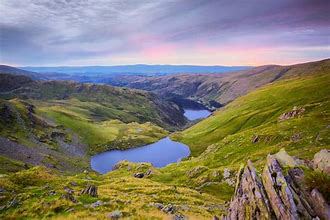 Between 1938 & 1948: Roger attended two schools in England. In the Lake district The Craig, a Preparatory School where the Headmaster had been a triple blue at Oxford and married the most beautiful girl in the Lakes. 'Roger remembers the daughters were also beautiful'. "Funny how some things stick in the mind!
From the Craig School, Roger continued his education at St. Edwards School Oxford (affectionally known as Teddies) between 1943 & 1948 where among the many distinguished Alumni were - Squadron Leader Guy Gibson famous for the Dam Busters raid and Group Captain, Sir Douglas Bader 'legless' WWII pilot.
Below: St. Edwards Oxford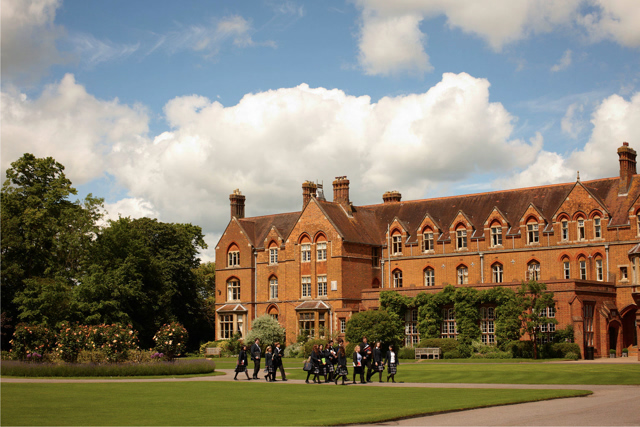 Roger enjoyed most sports, sailing and rowing in particular; sailing has been a lifelong passion and Roger still sails on occasions with his sons and granddaughters at West Wittering where he and his wife Celia have enjoyed their 'retreat' by the sea.
Roger has sailed from the age of 10 years old and built a little 10 ft dingy with his father while still at prep school and after the war bought or built various other dinghies. (Dinghy specified as under 18ft) Roger has owned his current boat named Watersong for 20 years. It is 22ft and he has sailed and raced it during that time.
Below: Watersong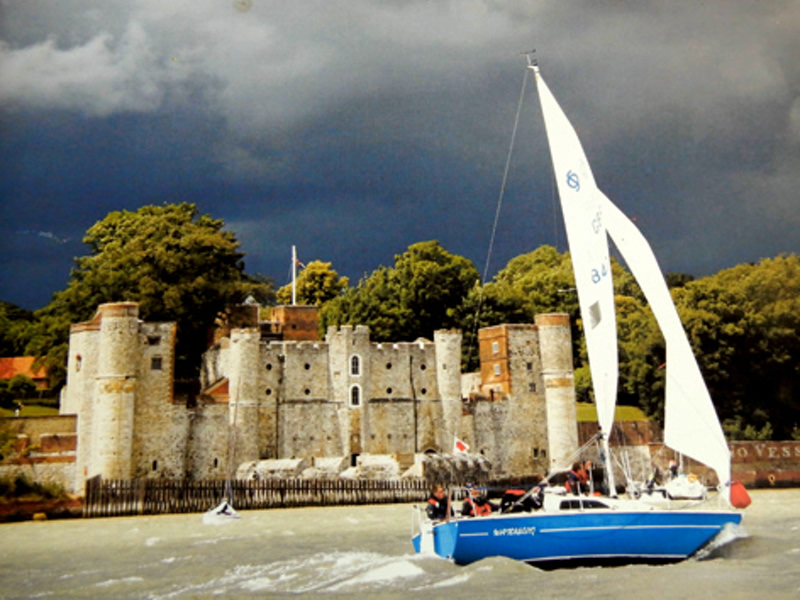 An older boat named Welkin (let the welkin ring! - roof of the sky) was built in the drawing room in his parent's house in Devon during his bachelor days.
Below: Welkin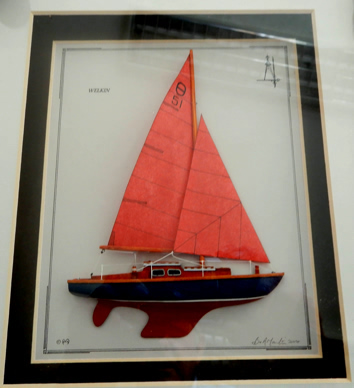 The word welkin comes from the Old English wolcen, a cloud, related to the Dutch wolk and German Wolke. Very early on, for example in the epic poem Beowulf of about the eighth century AD, the phrase under wolcen meant under the sky or under heaven (the bard used the plural, wolcnum, but it's the same word). Ever since, it has had a strong literary or poetic connection.
Around 20 years ago Roger joined a syndicate with fruit growers, John Collingwood and Paul Hopper on the Medway - the boat named Watersong (Sonata class) was kept at Upnor in Kent.
The Sonata was adopted by the RYA as a National class in 1980. It has the option of either a lifting or fixed keel and has a Bermudan rig. It carries a mainsail, a variety of headsails and symmetric spinnaker. In a racing format Sonata would have a deep keel.
From 1949-1952 Roger was at the Universities of Exeter & Nottingham (Sutton Bonington) training in horticulture where he achieved a BSc Hort: and gained valuable practical experience. The University of Nottingham: 'Sutton Bonington Campus' has a 420-hectare (Ref: Wikipedia) site just to the north of the village:
Below: Sutton Bonington Campus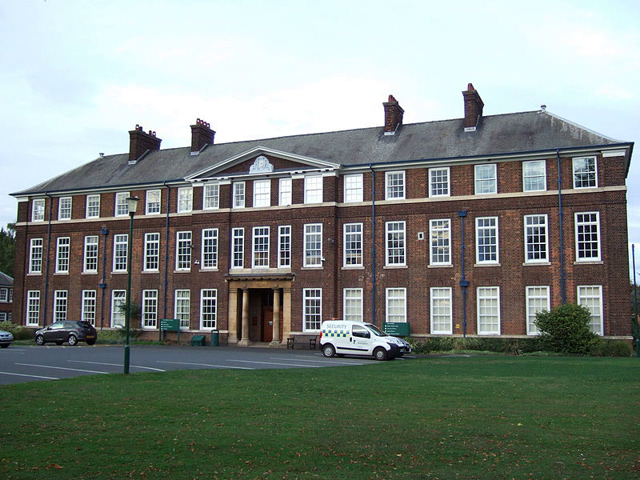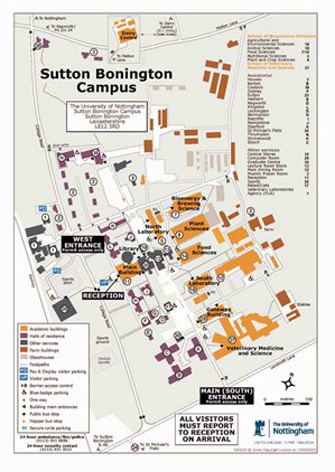 At that time, Professor John Hudson was head of horticulture at Sutton Bonington and later became Director of Long Ashton Research Station. Hudson was much admired because he was in bomb disposal in World War 2.
During his wartime career he was one of Britain's foremost experts in bomb disposal and won two George Medals.
He was awarded a George Medal in 1943 for disabling the first anti-tamper bomb.
On the night of January 17/18, 1943, the Germans dropped on London the first bombs containing a new type of anti-handling fuse, designed to go off when the device was moved.
On January 24 Hudson, using improvised tools, most of which he had himself devised, began to work on a 500kg unexploded bomb which was obstructing access to Albert Bridge Road and a nearby flour works. Hudson spent the best part of two hours attempting to make the fuse safe for extraction by remote control, but it then proved impossible to remove the device.
With the light failing, he decided to remove it himself. It was decided that 20 minutes was the outside margin of safety for him to work; 23 minutes later Hudson, having constantly telephoned information about what he was doing, in case he should fail, 'disarmed the bomb', for which he was awarded the George Medal.
In 1944 he received a Bar to his George Medal for defusing the first V! Flying Bomb or "doodlebug" to land intact. The nature of his war work remained unknown to friends until a Channel 4 television series on defusing was shown in 2001 making his heroics known to all.
Below: John and Greta Hudson circa 1985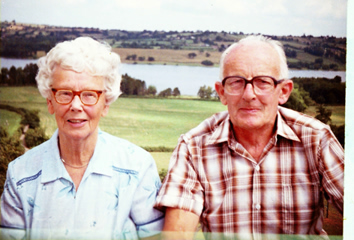 John Pilkington Hudson, horticulturalist and bomb disposal officer: born Chapel-en-le-Frith, Derbyshire 24 July 1910 - died Wrington, Somerset 6 December 2007.
Professor Hudson is revered within the fruit industry for creating the Under 40's fruit group, which has over the last 52 years grown from a modest Conference 'spreading the wings' of young fruit growers, initially within England before maturing into an organisation travelling overseas biennially, enabling so many young people in the UK fruit industry to learn new techniques and make lifelong friends.
Professor Hudson engaged four young members of the fruit fraternity who became the Founding Fathers of the Under 40's.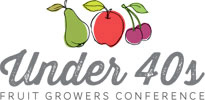 The Founders were: Malcolm Withnall, Peter Vinson, Nigel Harland and Andrew Jackson.
Malcolm Withnall
Spent a lifetime in the fruit industry; experienced in growing, as an educator lecturing at Hadlow College, and as a distinguished writer for fruit industry publications. Malcolm has been inspirational in his support for the UK fruit industry.
Peter Vinson
Peter is one of the most respected fruit growers in the South East of England; with a family history of over 150 years growing fruit. In the last 35 years Peter has established the family business (Edward Vinson) as a breeder and producer of Strawberry plants, and as one of the largest suppliers of quality soft fruit to UK Supermarkets,
Nigel Harland
Nigel farms at Saltwood in Kent and has been producing high quality apples for many years. One of the original suppliers of M&S Tree Ripe Cox Apples.
Andrew Jackson
Andrew Jackson is one of the leading fruit growers in the West Midlands; the family business; 'Man of Ross' situated just a few miles from Ross on Wye between the villages of Glewstone and Peterstow on the edge of the Wye valley. MoR is a 650-acre fruit and arable farm, which has been producing top quality apples, pears, plums, strawberries for many years.
While at Sutton Bonington, Roger Worraker developed a friendship with Colin Hutchinson when they were fellow students there in the 1950's.
The university campus was originally the Midland Agricultural and Dairy College, which formed in the first decades of the 20th century. In 1948 the college became part of the University of Nottingham.
Colin Hutchinson joined his family business; HL Hutchinson in Wisbech and under his 23-year tenure took it from a £16,000,000 business to a turnover in excess of £200,000,000.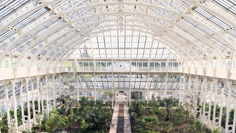 From 1952-1954: Roger served as a Student Gardener at Kew Gardens, fulfilling a need for a practical understanding of the technical education gained at University. Roger was interested in ornamentals and lived in digs near Kew.
Fortnightly students were required to identify 40 specimens laid out for inspection, a valuable learning curve for anyone seeking a career in horticulture.
Following on from Kew, Roger gained further experience between 1954-1956 on an East Malling Research Station (EMRS) 'Plantation Assistant Scheme', taking part in many EMRS trials, including grafting with Robert Garner, pest control with Raymond Masse and Pruning with (his mentor) Tony Preston.
Gaining useful information on 'general pruning' of Cox and other dessert varieties, Roger developed an enthusiasm for the science and practice of pruning. The Plantation Assistant role attracted many future fruit growers including Alan Todd and John Breach who went on to become highly influential in the world of fruit growing.
Paths cross and friends are made!
In 1956 Roger was appointed Fruit Lecturer at the Devon Farm Institute - Bicton College. Roger remembers 'Simon Fisher's' father Arthur was Vice Principal at Bicton Agricultural Institute until he moved to be head of a new horticultural college to be set up at Wisbech in the Isle of Ely. This is where he and Roger first came in contact and worked together.
Arthur went on to start the Fruit Unit at Wisbech Horticultural College, where between 1957 - 1961 Roger was appointed Fruit Lecturer. The Wisbech area is renowned for Bramley growing and in his time there, further stimulated Roger's interest in Bramley.
Simon Fisher remembers:
Roger has been a friend of our family and to me since I was boy and has had so much positive influence on our fruit industry over many years.
Simon continues: "My first memories of Roger were going sailing with him and my father on Roger's boat and being transported to our destination in the back of Roger's old two-seater MG with the hood down.
When the Agricultural Training Board was first set up my father (Arthur) moved back to the West Country as head of the south west region based in Taunton.
After his retirement he had a few years as one of the Britain in Bloom Judges.
Simon Fisher:
Simon moved from Wisbech to Kent to become a Plantation Assistant at EMRS. After 2 years he became Fruit instructor at the newly built Hadlow College where Roger was Senior Lecturer Fruit Production.
In the early 1970's Simon joined his Father-in-Law farming 250 Acres of Fruit, Sheep & Cattle.
In 1976 Simon was appointed Farm Manager for RJW Mitchell & Son on one of their farms near Sevenoaks and eventually became General Manager for all their Farms when it became Robert Mitchell Partnership.
After 25 years working for The Mitchell family Simon took a year's course in Computer Science and then Joined David Bishop at ICA Instruments dealing with Potato and Fruit storage systems.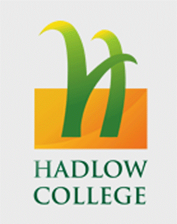 Between 1961-1972: The Kent Farm Institute at Sittingbourne, with sites in Sittingbourne & Swanley amalgamated to become Hadlow College. In the 1960's Kent County Council (KCC) bought 600 acres at Hadlow allowing the development of what would become Hadlow College. Roger was involved in the planning and planting of the new orchards at Hadlow.
Roger became Fruit Lecturer at Hadlow - Planned and Planted the Hadlow College fruit unit with over 90 acres in conjunction with colleagues David Burd and Charlie Brown.
"I've trained half the fruit growers of this country," claimed my friend David Burd on his retirement in 1990. David was a senior lecturer in horticulture at Hadlow College in Tonbridge, Kent, and tutored students in fruit culture during the 1960s, 70s and 80s.
At the time the fruit course was very well supported by students - 10 to 20 new students each year. Many growers/sons/daughters gained a good background knowledge at Hadlow, enjoying the 'fruitful' discussions with the lecturers. Many Hadlow Students went on to enjoy good careers in the industry, with many still active.
In the 1960's Roger was given a travel bursary from The Worshipful Company of Fruiterers to travel in Europe and study new orchards. His companions on the trip were young fruit growers, Stuart Wright and Michael Bartlett.
During the Scholarship, Roger had his first experience of the Spindle Bush growing system, which changed the tree shape from the traditional 'open centre' tree into a format which has been the foundation of the intensive orchards commonplace across the world today.
In 1972 Roger was 'headhunted' by Alan Todd & Roderick Sarson and joined Checkers Growers Ltd. from Hadlow to be Technical Advisor to 40+ growers.
Work covered all aspects of top fruit growing, harvesting and storage to cover the production of uniform fruit quality. Technical advice and training.
Roger managed trials and one featured here was the Bramley planting and pruning trial at Downgate Farm funded by The Fruiterers Company Award and comparing Bramley yield on different rootstocks, working closely with leading fruit growers and scientific personnel from East Malling Research.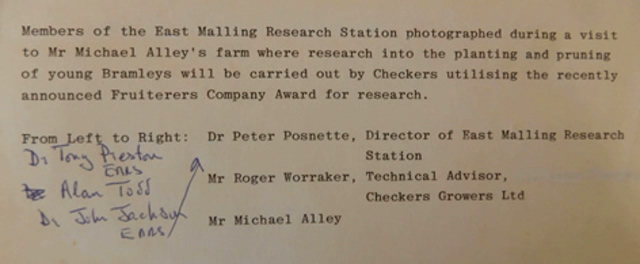 Below: left to right: Dr.Tony Preston, Alan Todd, Dr.John Jackson, Dr.Peter Posnette, Roger Worakker and Michael Alley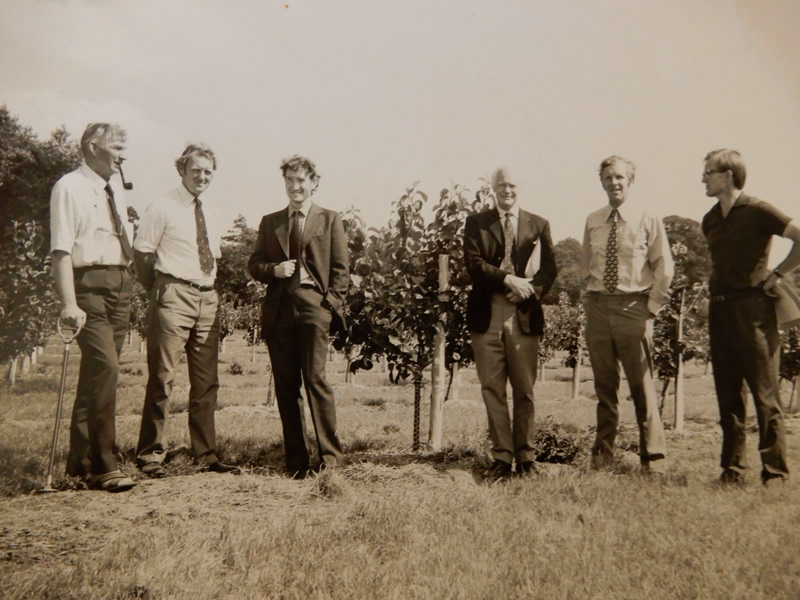 The picture taken at a Bramley trial plot at Michael Alley's Downgate Farm - From the trials at Downgate Farm, yield and quality data supported the M26 rootstock as a good choice for Bramley
Checkers marketed through Louis Reece at Horsmonden, which was taken over by Glass Glover in late 1984; in 1990 Glass Glover closed their entire fresh fruit business when Chequers Growers left in favour of Home Grown Fruit in 1990.
In the late 1980's when Checkers Growers Ltd disbanded as a marketing group, Roger continued as a self-employed technical advisor trading as Checkers Training & Technical Group which continued until 2017 'when he retired' - but is still involved with some projects. Will he ever truly retire? I doubt it!
Roger has been a coordinator of many projects. Training has been at the centre of his working life; either as a lecturer or organising and administering training groups. Working with the ATB (Agricultural Training Board) assisting with their training courses.
Agricultural Training Board, 1974-1994. In September 1994 the board was wound up as a statutory body, its assets having been transferred to a successor body, ATB-Landbase Limited (also known as Lantra National Training Organisation Ltd)
Roger was one of 'the founding fathers' of the Gala Club and has been a major influence in the introduction of Gala to UK growers/farms, especially in West Kent in conjunction with growers Harry Wooldridge, Alan Wickham, Victor Breach and Neville Highwood.
Mark Culley of Orchard World was an enthusiastic supporter of UK Gala, recognising the potential for substitution of imported Gala with home grown fruit. Mark was instrumental in the creation of the Gala Club encouraging the 'founding fathers' of the Gala Club.
While English Gala was very much 'born' in West Kent, Gala took off in East Kent 4 years later! Gala is now the number one apple variety in UK. With over 60,000 tonnes grown, while Cox; the former market leader is now down in 4th place with well under 16,000 tonnes (2017 data) grown.
Below: left; The Gala Book and right; Malcolm Withnall presenting at a BIFGA Technical Day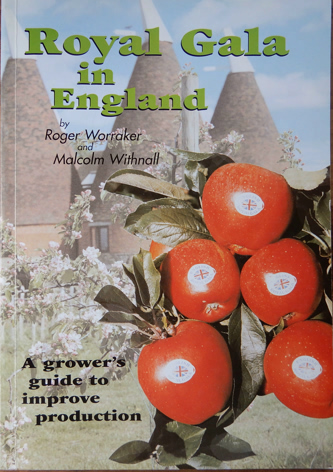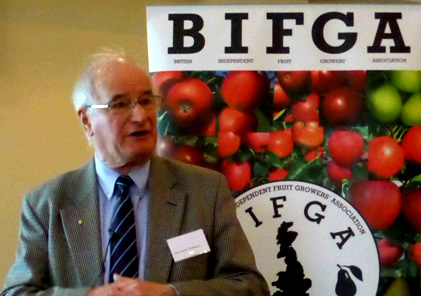 In 1997 a book written by Roger & Malcolm Withnall was published. Titled Royal Gala in England, the book was 'A growers guide to improve production.
Roger and Malcolm have been friends and associates for many years, collaborating in the education of Students at Hadlow College and beyond. Malcolm has extended his knowledge via various media and particularly as a Journalist writing many fruit based articles for The Fruit Grower.
Roger emphasises much of the credit must go to Malcolm who wrote the storyline and organised publication. The resulting guide gave growers new to growing Gala a comprehensive understanding via 16 Chapters of the choice of Gala clones, planting, tree management, pruning, thinning, pollination, nutrition and irrigation, harvesting, storage and grading.
With his Gala Club stalwarts Roger played an integral role in the rise of Gala from very small volumes in the mid 1980's to the dominant UK variety today yielding 60,000 + tonnes.
Chairman Harry Wooldridge and Roger Worraker celebrate the 21st Anniversary of the Gala Club in 2013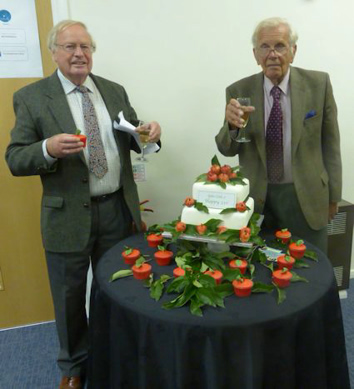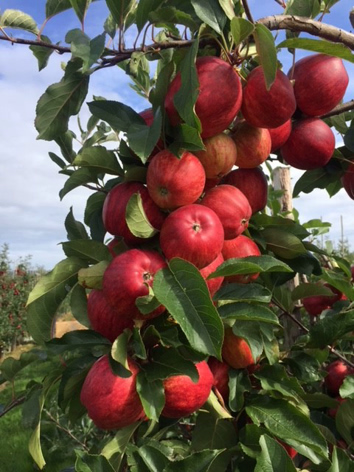 Below: The PRUNING MANUAL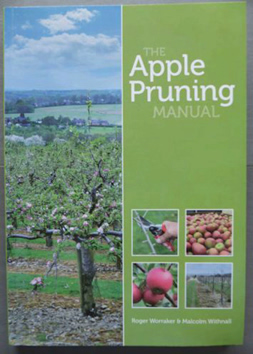 The APPLE PRUNING MANUAL
In October 2013 Roger and his friend Malcolm Withnall launched a new publication the 'Apple Pruning Manual, explaining the science of pruning apple trees. Written by Roger and Malcolm it was the first detailed pruning book covering all the main varieties for at least 50 years and has proved to be an invaluable reference book for professional and amateur growers alike.
The new book The APPLE PRUNING Manual was formally launched at the 2013 National Fruit Show.
LOVE OF FRUIT GROWING
Roger has been, and still is involved in many aspects of fruit growing. He is a member of The Worshipful Company of Fruiterers - becoming an Honorary Freeman in 1991 and received other Fruiterers Company Awards.
Below: Roger (second left) is made an Honorary Freeman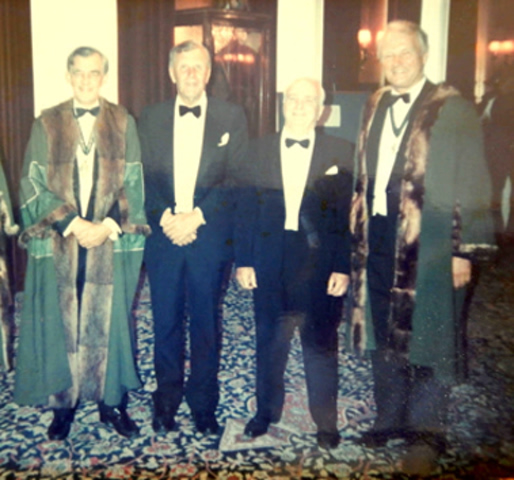 Roger was awarded the East Kent Fruit Society's prestigious David Hilton Memorial Medal in 1996. Roger was also presented with the equally prestigious 'Raymond Wickham Award' from Brenchley & East Sussex Training Group (BEST) in recognition for his service to the UK fruit industry.
CLUBS
Roger has been a committee member of various fruit clubs: Brenchley & East Sussex Training Group (BEST) Gala Club and East Kent Fruit Society (Chairman EKFS 1971). Roger is now an EKFS Honorary Vice President.
The Society was formed in 1927 as The Ash and District Fruit Show. In 1937, the title was changed to the East Kent Show which was discontinued in 1969 when the East Kent Fruit Society was formed.
The East Kent Show was held at 'Dane John Gardens' in Canterbury.
When the East Kent Show was disbanded, and the society became EKFS, Roger suggested young orchards should be part of EKFS orchard competition and proposed the 'Best Orchard' should be the format for the competition for EKFS instead of a whole farm competition like the Goudhurst & Paddock Wood Orchard Competition. Roger had been judging the West Kent Competition and felt an 'Orchard format' would be preferable to 'traipsing over a whole farm.
The Dane John Mound, also known as the Dane John Gardens, is a former Roman cemetery in the city of Canterbury Kent. It was converted into a motte-and-baily castle in the 11th century and turned into a civic park between 1790 and 1803.
Roger's passion for Bramley ensured he was very involved with the Bramley 200-year celebrations in 2009.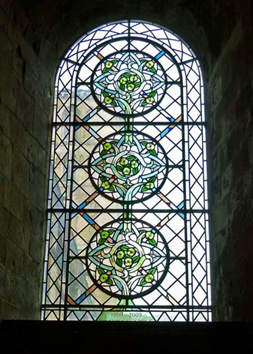 Mr Roger Merryweather, the great-grandson of Mr Henry Merryweather, who was the first to market Bramley apples commercially, said the Bramley was still a very well-known and popular cooking apple.
Celia Merryweather (now Mrs Celia Steven), the great-granddaughter of Mr Henry Merryweather, said bicentenary celebrations would be held across the country as well as in Southwell.
Roger Worraker was involved with the present day 'Merryweather's of which the stained-glass window commissioned in 2009 in the 12th Century Southwell Minster, as a lasting memorial to the original Bramley tree which sadly is showing signs of dying after 210 years.
Southwell Minster is the Cathedral of Nottinghamshire. For nearly one thousand years Southwell Minster has been a place of pilgrimage. Its rural location and stunning, but quirky, architecture have made it a "must see" destination throughout the centuries. John Betjeman put his finger on it when he noted that "everywhere around is an atmosphere of peace and in the Minster there's one of prayer."
In the 21st century visitors continue to come to worship, to pray and to admire Southwell Minster and enjoy one of England's finest medieval churches, which is now widely acknowledged to be Nottinghamshire's most loved building.
Below: The Original Bramley tree is now 210 years old!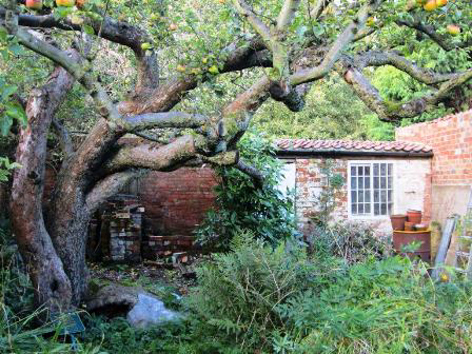 The Bramley apple tree grew from a chance seedling planted by a young girl, Mary Ann Brailsford, in 1809 - the year Charles Darwin and Abraham Lincoln were born.
At that time George III was on the throne, and Europe was in the throes of the Napoleonic wars.
Playing in the kitchen of the cottage where her family lived, Mary Ann planted some pips from the apples her mother was preparing in a flowerpot.
After a seed germinated and the plant grew, it was replanted in the garden where it continued to grow.
But, it was not until after the Brailsford family had left Church Cottage, and Matthew Bramley moved in, that it produced the first fruit.
In 1856, a local nurseryman, Henry Merryweather, asked if he could take cuttings from the tree and start to sell the apples. Bramley agreed but insisted that the apples should bear his name.
Bramley in Japan. Ed Knight - Kent fruit grower David Knight's son spent a year in Japan and with Celia Steven (Merryweather) is in regular contact with Japanese Bramley growers.
On a visit to the original Bramley in Southwell, Apple producer Hiroki Tomioka said: "I'm trying to popularise the Bramley apple in Japan. I'm so impressed I nearly cried."
Below: left; Japanese visitors to the Bramley tree in Southwell and right; Japanese Bramley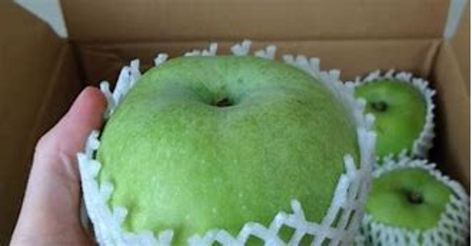 Every October The Marden Fruit Show organise The National Fruit Show an Roger has been a Judge for many year. For more than a decade Roger has been paired with the English Apple Man.
The judges have different criteria and Roger and The EAM test the fruit for fruit firmness and freedom from internal issues. This requires using a penetrometer (Roger testing) for fruit firmness and cutting the fruit (The EAM) to inspect the flesh for any internal defects; the fruit is also tasted to ensure freedom from any taints.
Below: left; The English Apple Man and right; Roger Worakker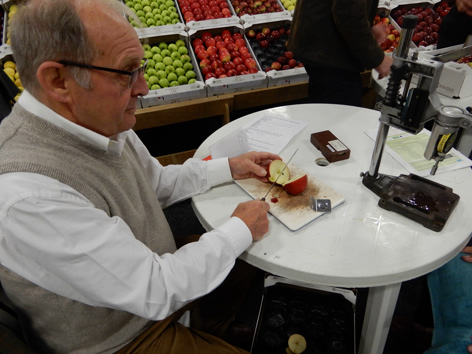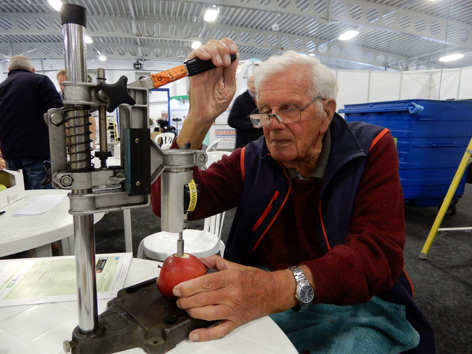 SAILING AT HADLOW COLLEGE
During his time as a lecturer at Hadlow College, Roger in conjunction with sheep lecturer Colin Broughton formed the Hadlow College Sailing Club and with half a dozen enthusiastic Hadlow students built several boats; Faversham fruit grower John Higgs was among those students. One student volunteered to varnish a Mirror Dinghy and when asked how he had become so skilled, revealed he had spent two years at the Guineria school of Violin making where he acquired his skill of varnishing!
RETIREMENT
Since retiring Roger & Celia have planned and organised planting and maintenance of Capel Diamond Jubilee Community Orchard - Open days, pruning, apple variety tasting events, local school visits educating children on pollination. The orchard has been recognised as outstanding for the last six years by The South East in Bloom and is appreciated and enjoyed by the village community.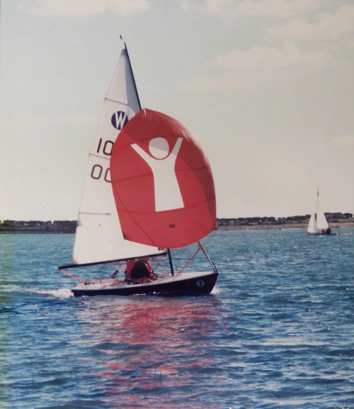 Roger & Celia have spent many happy hours at their retreat in West Wittering, where the Worraker family gather with their sons: James, his wife Sara & daughter Alice 8 and Jonathan, his wife Stephanie & daughter Annalise aged 12 who is now at Benenden School in Kent where Princess Anne is one of the most illustrious alumni. The families enjoy sailing and occasionally Roger still enjoys an outing with Alice and her Dad James.
At West Wittering Roger kept a 14ft Wanderer Dingy. The boat was in a raffle at the Boat Show many years ago which made £10k for Save the Children and subsequently Roger became the third owner circa 20 years ago.
The Wanderer is a 14-foot Fibreglass hull Bermuda rigged sailing dinghy designed by Ian Proctor. One of the main objectives of the design was to produce a robust safe and versatile dinghy that could be used for knockabout day sailing and cruising as well as racing but was light enough to be handled ashore.
Roger and son James entered the local Wanderer class championship and Roger joked if we came last, he would change the name of the boat from Save The Children to Help the Aged!!!
Fortunately, Roger and James finished well up the field.
Roger has maintained his involvement in top fruit and although officially retiring in 2017, he still visits his office and tests fruit maturity for some of his closest top fruit grower friends. His passion for growing continues with his involvement in the Capel Diamond Jubilee Community Orchard.
Capel Diamond Jubilee Community Orchard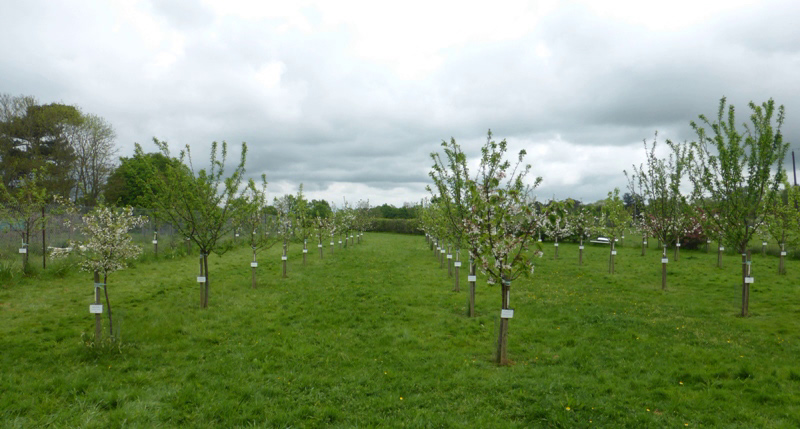 Roger Worraker is revered in the top fruit industry for his enthusiasm and commitment to English apples. Among his many achievements Roger was a tutor at Hadlow College and responsible for educating many of the top fruit growers in Kent. While Celia suggested a community orchard in the village, Roger was the architect behind the Community Orchard at Capel which is a model for any aspiring Parishes planning a Community Orchard.
The community responded to the orchard project by sponsoring trees. Each tree has a label denoting the Variety and the name of the sponsor. The sponsors planted their own tree, often with their children assisting.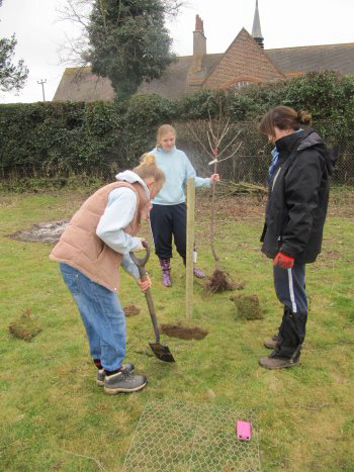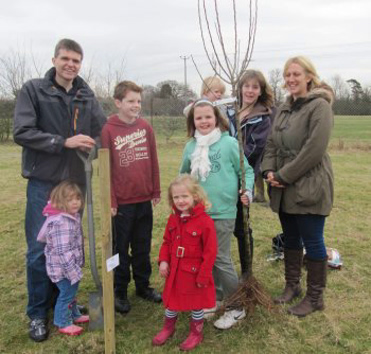 Below: Wassailing: Toasting the new orchard to ensure a fruitful future!
Wassailing definition: (in south-western England) drink to (fruit trees, typically apple trees) in a custom intended to ensure a fruitful crop.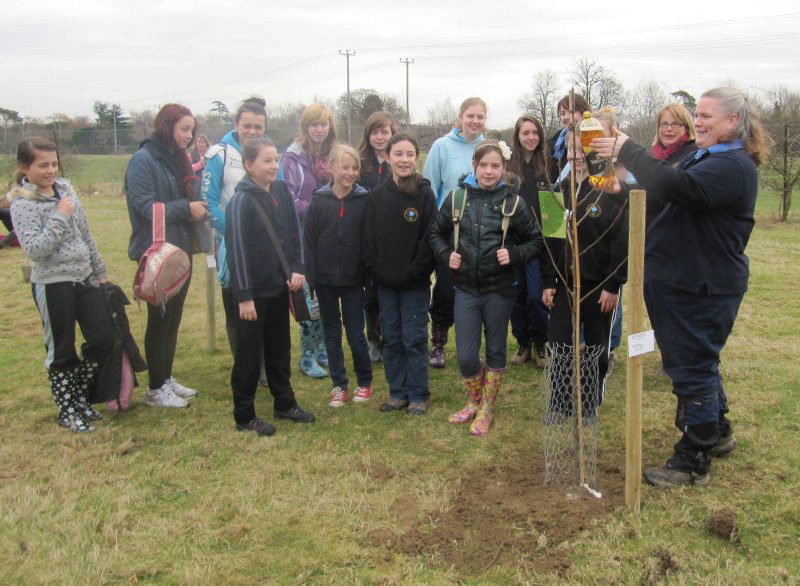 Making Juice
In the summer of 2012 Roger and Celia organised a 'juicing session' for children from Capel Primary School.
Although the orchard was not yet producing fruit, Roger collected suitable samples of English apples for juicing.
The enthusiasm of the children as they became involved in the preparation, milling, pressing the juice from the apples, and collection of juice made the whole exercise fun for them and fun for teachers and parents as well!
Below: Preparing apples for Milling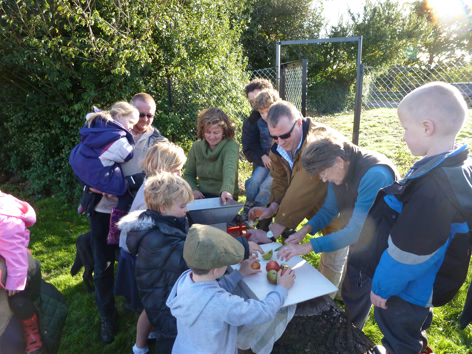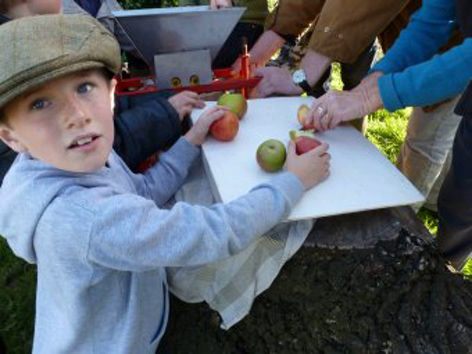 Below: left; chopping apples in the mill and right; the mash ready for pressing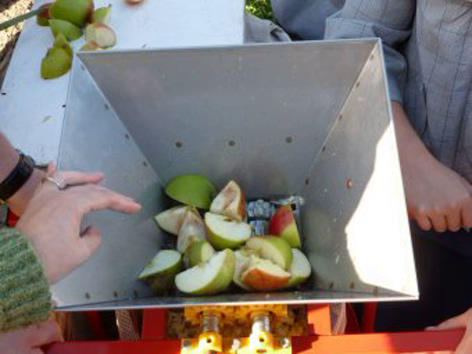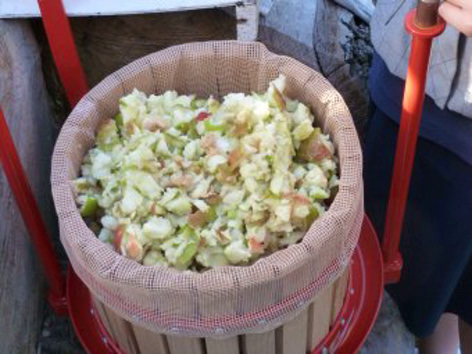 Below: pressing the mash for juice and right; enjoying the fresh apple juice in the late afternoon sunshine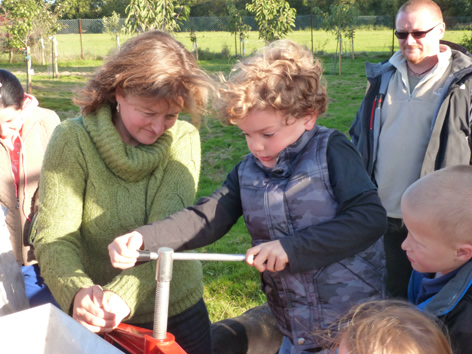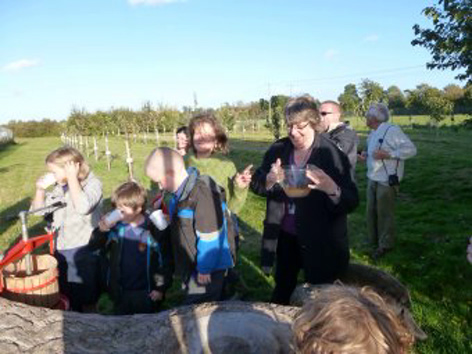 In May 2013 Roger invited the children and teachers from Capel Primary School for a lesson on how apples are pollinated.
The morning was a great success and to witness the fun the children had while learning about aspects of how apples are conceived and grown was 'pure joy' - small children are so uninhibited in their comments and Roger's vision of how to enthuse them while educating them was 'pure genius'
Roger organised simple tasks designed to educate the children 'while having fun' - here children are using paintbrushes to simulate the activity of bees; the children first brushed the pollen on a 'donor flower' before brushing the pollen onto the recipient flowers. A simple idea, but one which demonstrated how pollination takes place.
Collecting pollen from the donor flowers and pollinating the recipient flower on another tree (variety)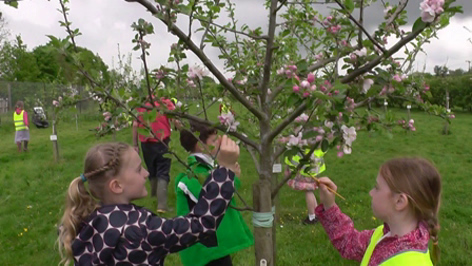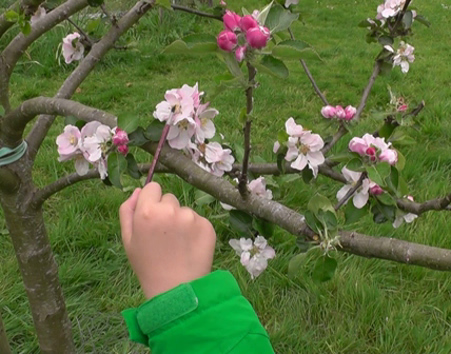 Roger and his young disciples!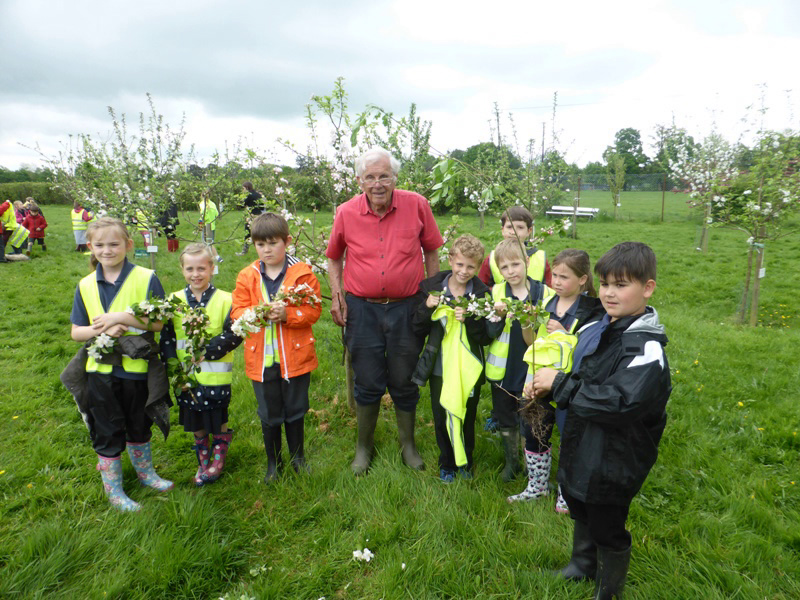 Pruning the orchard in March 2019
Below: Roger demonstrates and volunteers get stuck in!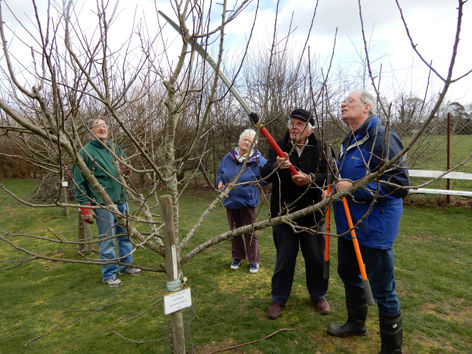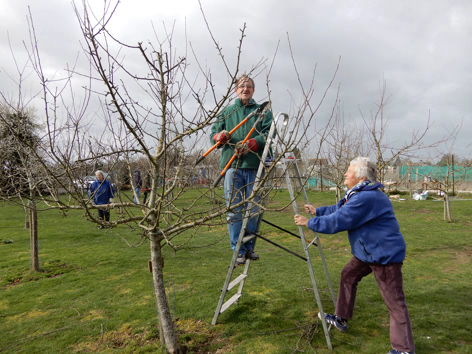 Below: Roger & Celia Worraker receive an Award from South East in Bloom for the Capel Diamond Jubilee Community Orchard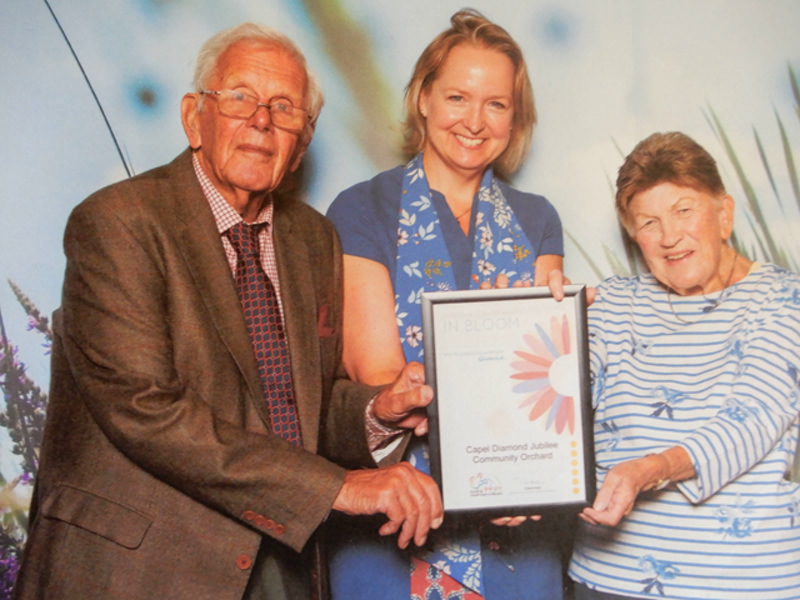 To complete the Roger Worraker story, I reiterate the words of Simon Fisher as they represent what so many members of the UK fruit fraternity feel:
"Roger has been a friend of our family and to me since I was boy and has had so much positive influence on our fruit industry over many years".
The End.