Journal
6th May 2016 - Blossom walks in Kent and a new People Profile
On Tuesday The English Apple Man joined members of East Kent Fruit Society (EKFS) for a blossom walk in Kent. A new People Profile is now 'on line' - Brian and Norma Tompsett - A Growing Partnership
The colder weather in March and much of April held back the blossom, but the recent warmer spell has accelerated the apple bud stage to pink bud on many varieties - typically Breaburn, Jazz and to a lesser degree, Gala; Cox is still generally at the green cluster/early pink bud stage. With temperatures predicted to reach circa 24 C over the weekend expect Braeburn, Jazz, Gala, Kanzi to be in full bloom early next week.
Pears are already in full bloom and early signs of small fruitlets forming are not difficult to find.
The EKFS Blossom Walk was held at Loddington Farm near Maidstone in Kent by kind permission of our hosts James and Paul Smith.
Loddington Farm has a long history of apple growing: in the 1890's the first commercial Bramley orchard in Kent was planted by James and Paul's Great Grandfather - Fred Smith.
Below: James Smith addressing EKFS members at a pear orchard with a view from the North Downs towards the Weald below.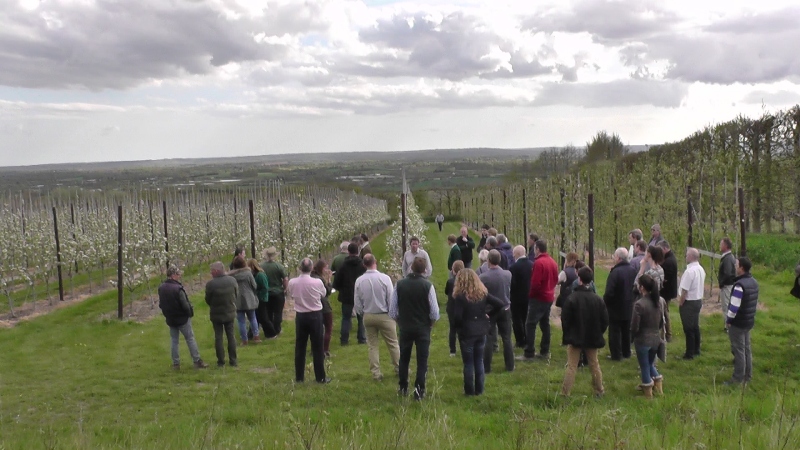 Below: Conference pear orchard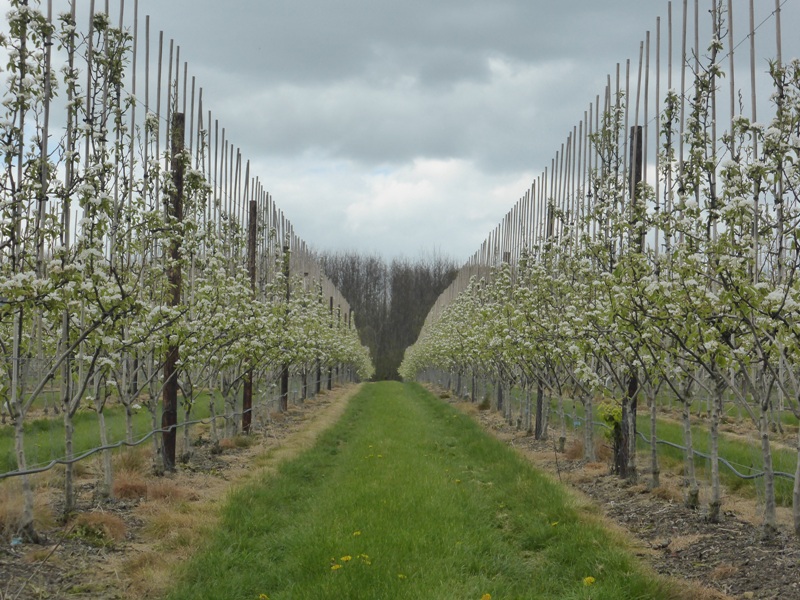 Below: James talking to EKFS members - and - Conference pear blossom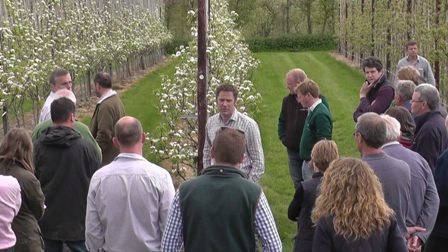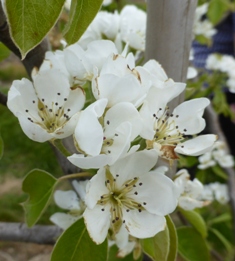 Dicolor blush pear
James pointed out a small scale trial of Dicolor blush pears. The variety is not easy to grow but delivers a delicious flavour sought by upmarket retailers.
Below: Dicolor pear trees in the trial at Loddington Farm - and - Dicolor at the early fruit set stage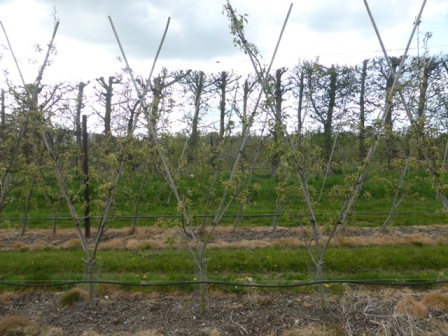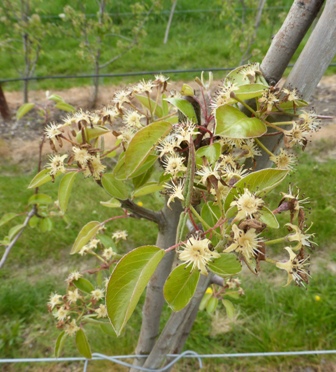 Below: Library pictures of Dicolor pears at harvest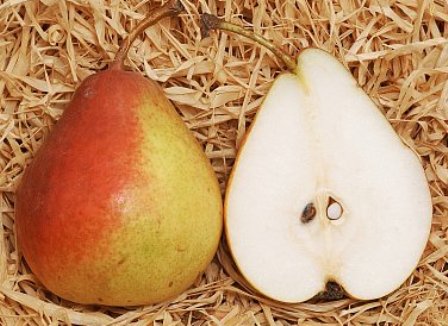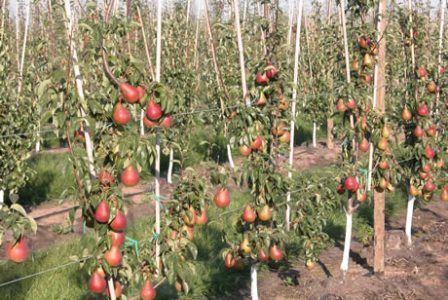 Below: Braeburn Hillwell in pink bud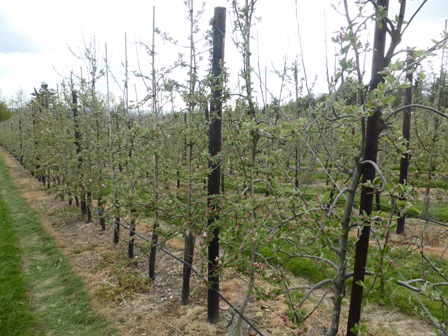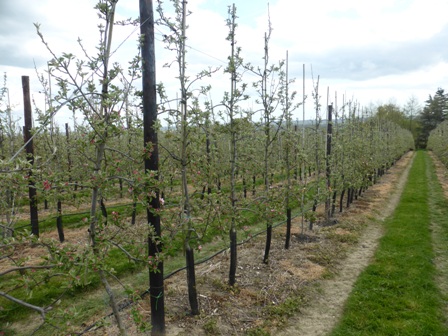 Paul Smith reviewed the challenges of growing Apricots in Kent; finding the right varieties for our climate has 'proved challenging' with some varieties of Spanish origin failing to ripen. The strength of the growth has seen a small tree develop rapidly into the 3 year old trees we saw at Loddington. FAST adviser Ivan Velasco is assisting Paul with husbandry advice for the Apricots.
Below: The Apricot orchard at Loddington Farm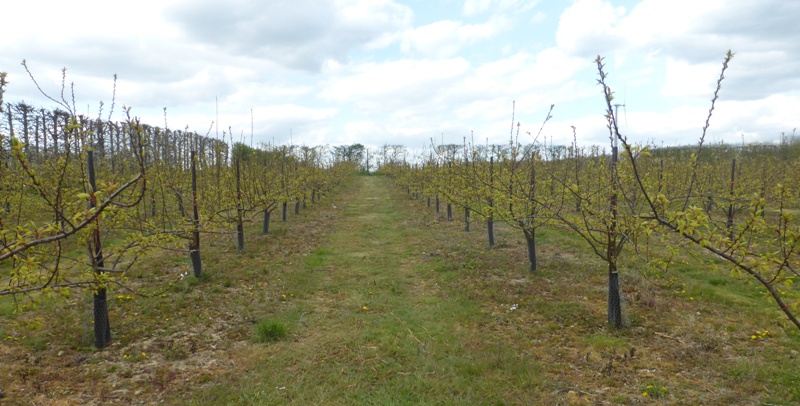 Below: Paul Smith explains the challenges of growing Apricots - and - Apricot trees with strong growth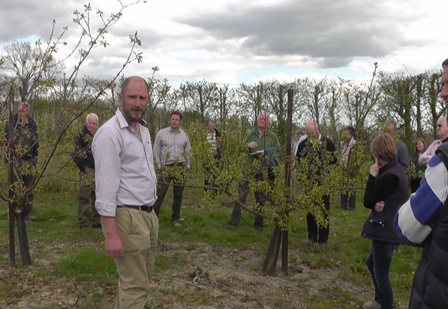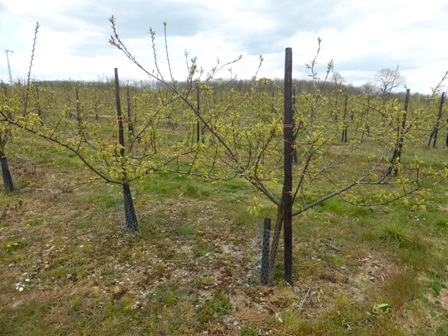 Below: Apricot fruitlets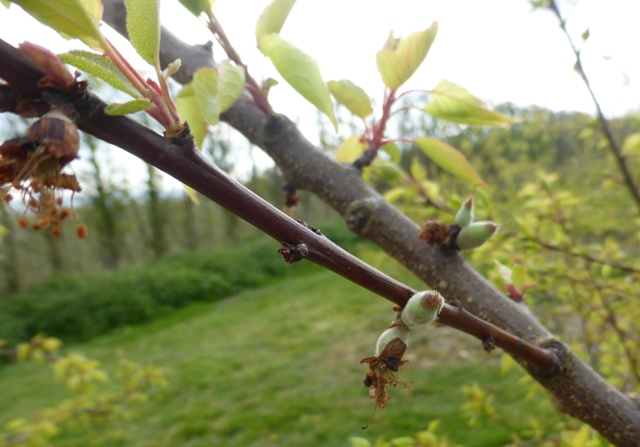 Below: James and the Galaxie Gala which is the most productive orchard on the farm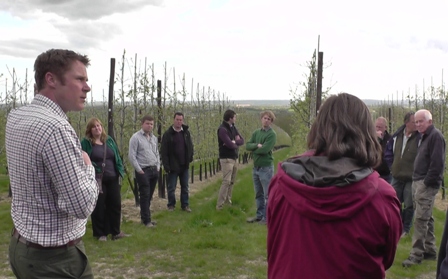 Galaxie Gala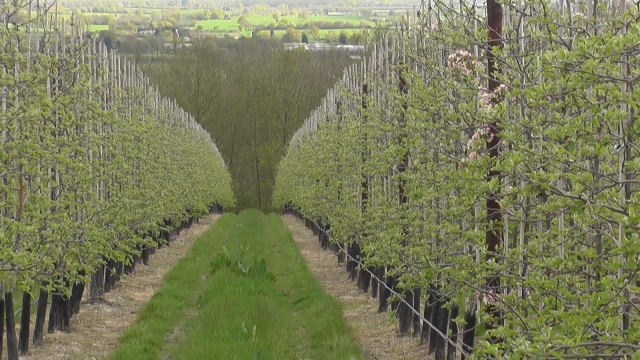 Below: September 2015 - the Galaxie Gala orchard last year - and - Galaxie Gala apples in the bin.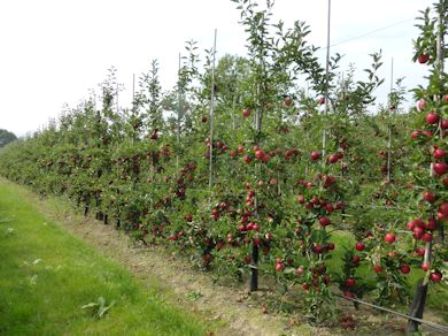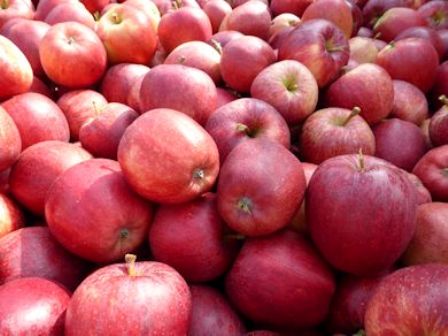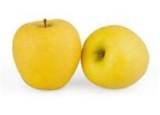 Moving onto the Opal orchard, James said the variety has superb flavour, but getting that message across to the consumer is a slow process. Paul Smith told the group how his wife Sam's experience with the primary school children she meets as part of her National Fruit Show - School visits, is that Opal is by far and away the most popular apple with the children; either as fresh fruit or as juice.
James went on to say how the Opal tree is not a vigorous tree and is not a naturally heavy cropping variety; e.g. not precocious like Gala. However they are seeking to improve the pollination by introducing more pollinating varieties within the orchard.
Opal was bred by Dr.Jaroslav Tupy and his team at the Breeding Station @ Strizovice in the Czech Republik.
Below: James explaining their experience 'to date' with Opal apples - and Opal trees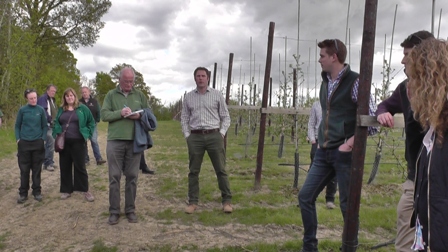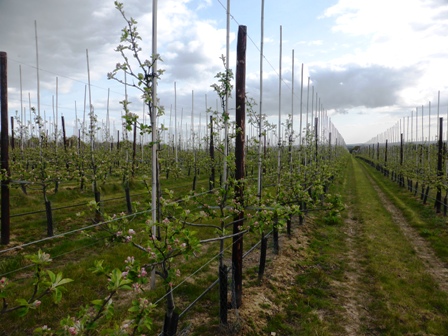 Below: Opal apples before harvest in August 2015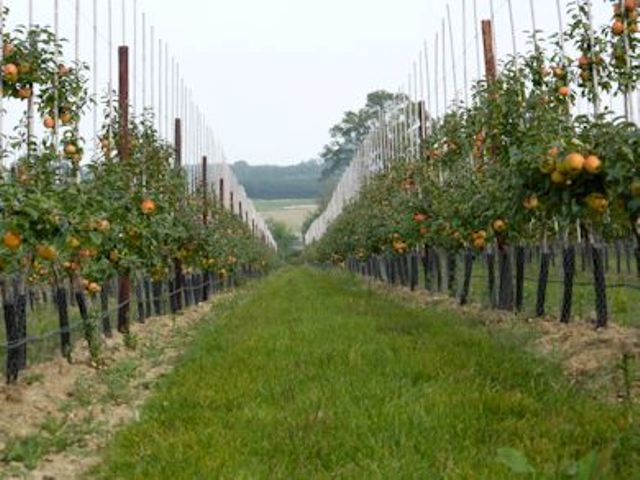 Below: EKFS members in the Opal orchard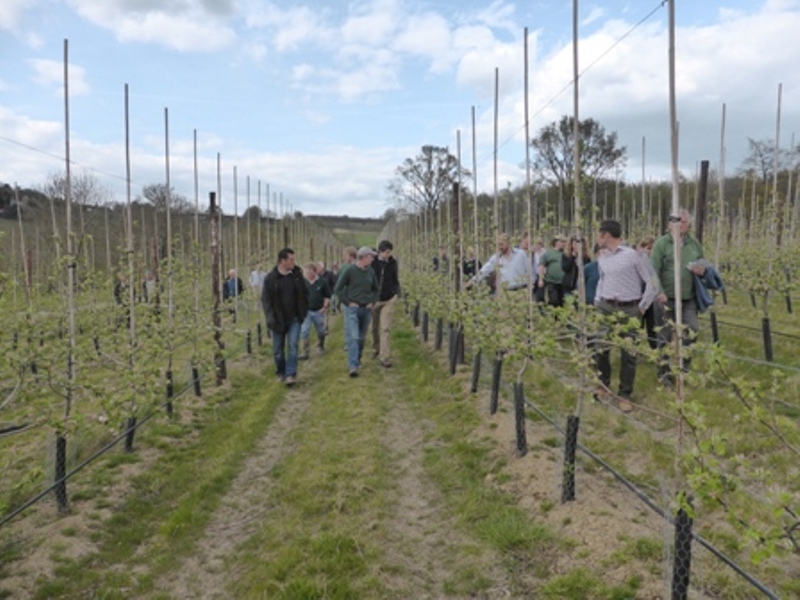 The fourth in the series of English Apple Man 'People Profiles' is now 'on-line' - Click on Brian and Norma Tompsett - A Growing Partnership
Next week more pictures of blossom and reports on Marden Fruit Show Society (MFSS) visit to Chandler & Dunn at their Perry and Goldstone farms in East Kent.
Take care
The English Apple Man