Journal
24th Nov 2017 - A quieter week for The English Apple Man - 'time to catch up'
With less pressure on my time, there is an opportunity to catch up with some of the visits The English Apple Man has been involved in these past weeks.....
Following two weeks of intensive apple & pear tasting, The English Apple Man reflects on a visit to Gillian Jones who is licensee for the Ightham Mote Cobnut Platt and a 'bit of fun' as The English Apple Man, Mrs Apple Man 'Son of Apple Man and Grandson link up with four friends to form a team in the Annual BIFGA (British Apple Growers Association) November QUIZ held at Staplehurst in Kent.
My visit to Gillian Jones followed a chance meeting at The Ightham Mote Apple weekend in September where Gillian was showcasing her 'Cobnut' specialities...........to read about Ightham Mote visit English Apple Man Journal
Below: Gillian Jones in the Cobnut Platt at Ightham Mote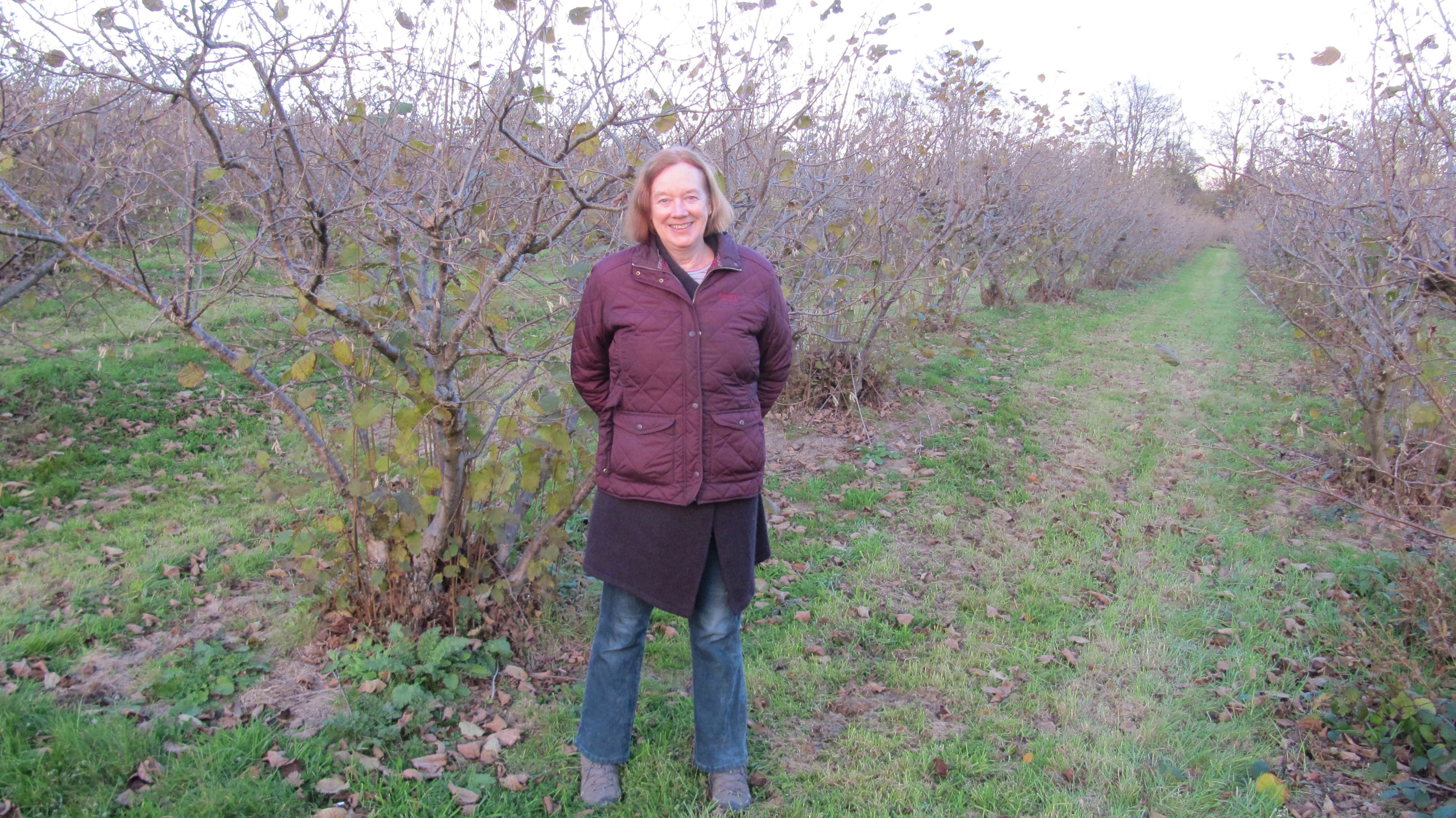 Below: left; Young (5 year old) Cobnut trees and right; the Mature Cobnut trees at Ightam Mote Platt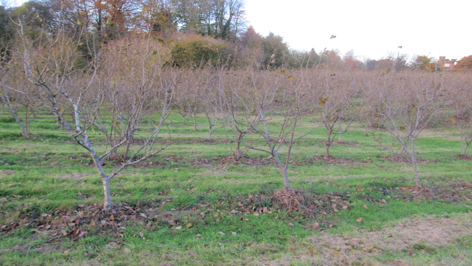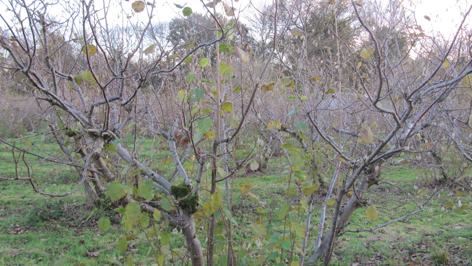 Below: Kent Cobnuts.....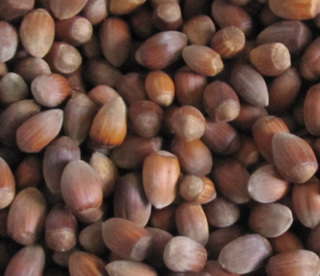 The story behind Gillian's custodianship of the plat goes way back to her childhood; her parents bought a house in nearby Ivy Hatch. The property came with a sizeable garden and a 100-150-year-old cobnut plat. The plat was planted with 200 cobnuts in an area of 2 acres. Post WW2 Gillian's father brought the plat back into 'good order' and as the plat became more productive Gillian and her brothers were coerced into harvesting the cobnuts.
After harvest the whole family set about sorting the nuts into boxes for transport to Covent Garden Market; Gillian tells the story "the boxes were left outside the gate and in the early morning collected by the carrier for the journey to Covent Garden - then a few weeks passed before the excitement of a cheque arriving in the post, which would have been spent on the upkeep of the plat and the surrounding garden"
In adult life, Gillian worked for the British Council in Tehran where she met her future husband Keith;
Below: Ayotolla Khomeini
'ABOUT THE BRITISH COUNCIL The aim of the British Council is to create 'a basis of friendly knowledge and understanding' between the people of the United Kingdom and the wider world. We do this by using the cultural resources of the UK to make a positive contribution to the people, institutions and governments of the countries we work with - creating opportunities, building connections and engendering trust. This makes a lasting difference to the security, prosperity and influence of the UK. Our work helps to keep the UK safe and secure by reducing extremism and improving stability and security in strategically important countries. It increases UK prosperity by encouraging more trade, investment and tourism. It also makes a lasting difference to the UK's international influence by increasing connections and networks with key decision makers globally, increasing the number of people who know and trust the UK'
In February 1979, when revolution took over the streets of Tehran, Gillian, expecting their first child, left Iran, flying out with the RAF, for home. This was an uncertain time for expats in a country now under the control of Ayatollah Khomeini.
Below: A mature Kent Cobnut tree in the Platt at Ightham Mote
Once Keith arrived home from Tehran three months later, the couple settled in a village outside of Cambridge for a year before their next British Council posting, to Cologne, Germany where their second son was born. In 1984 after the loss of her father, the couple began their next 4 year posting with the British Council in Muscat before returning in 1989 to her former home where Gillian took up the management of the family cobnut plat.
Following the passing of her mother and the sale of the family home in Ivy Hatch, the couple moved to Sevenoaks, Keith having sadly succumbed to Parkinsons disease died in 2008. Gillian had moved from Sevenoaks to her current home, near the old family home and near Ightham Mote and, because of her history of cobnuts, Gillian was offered the opportunity to become the licensee for The Ightham Mote cobnut plat.
The Ightham Mote plat had become overgrown and neglected and it need hard work to restore it to good order, fortunately Gillian engaged her persuasive skills and organised a group of volunteers who, with the help of pruning contractors paid for by a small grant from Medway Valley Countryside Partnership, help from the Kentish Cobnuts Association and from her family who chipped in, set to work. Once the pruning had been done and the intruding birch saplings removed from between the rows, the volunteers worked tirelessly to collect and burn the debris; this became a 2-3 year process.
Gillian reflects that once the plat was in good order, serious harvesting resumed in 2014 and since then the plat has become largely self-financing and some years even shows a surplus. However, crops vary from year to year so it is necessary to keep a reserve in case of a poor harvest like the one in 2016. But in 2017 the trees produced 4.1 tonnes of Kent Cobnuts: a satisfactory result for a lot of hard work.
Once harvested and removed from the husk, the Cobnuts are weighed into 12kg netted bags for storage/distribution........
Although Kent Cobnuts are THE key ingredient in Gillian Jones 'Cottage Industry' The English Apple Man was pleased to see locally grown Bramley playing a part in Gillian's 'added value products'...........
Below: left; 12kg nets of Ightham Mote Cobnuts and right; Bramley Apples grown by Robert Mitchell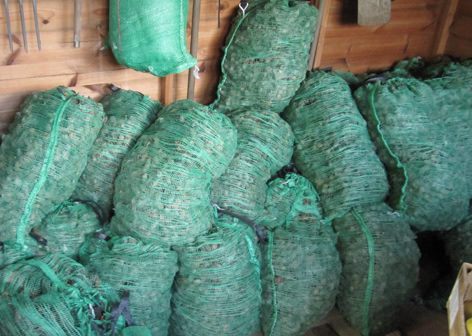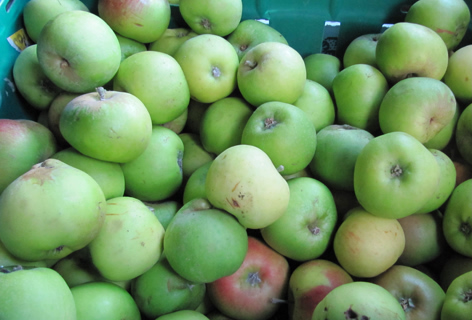 Selling Cobnuts....
Below: Gilly Jones at Ightham Mote Apple day in September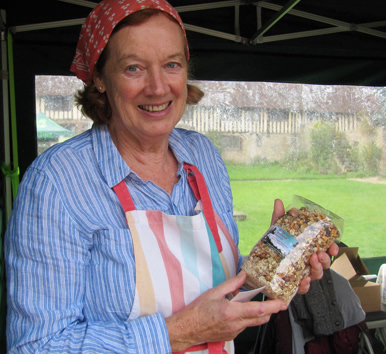 Gillian has developed 'value-added'products using her cobnuts which she sells at Shipbourne Farmers Market on the Community Stall, and at Ightham Mote's annual Apple Weekend. Her cobnuts also go to Richard Dain of Hurstwood Farm maker of the award-winning Kentish Cobnut Oil, while an 'export market' has opened up with sales to Red Squirrel Conservation areas like the National Trust's Mount Stewart in County Down and to Belfast Zoo's Red Squirrel breeding programme.
Hurstwood Farm has been in family ownership for sixty years. The main product is cobnuts (hazelnuts). The Farm is amongst the largest and most technically advanced nut production unit in Europe. Sainsbury Supermarkets who take much of the produce have partnered us for many years in developing the UK nut market. It is their high standards of hygiene, quality and building standards that has as a by product enabled us to adapt our pack-house as a 200 seat concert hall when it is not in seasonal farm use.
The recital hall is one of the first in the Country to install closed circuit television to enable the whole audience to see a close up of the piano keyboard. One of the two house pianos is fitted with an upgraded version of the Stahnke computer reproducing/recording equipment. The Farm now possesses a unique archive of around a hundred top artists who have allowed us to retain their performance for private use. Recent developments have enabled us to extend the capability of these pianos to reproduce "live" performances recreated from archive audio recordings, including piano concertos with the computer piano accompanied by an orchestral recording or a live orchestra.
'Nuts - whole Hazel nuts' are not the limit of Gillian's range;among her value-added products a Granola mix in 500g packets is a melange of cobnuts with diced and dried Bramley apples grown by nearby Robert Mitchell Farms , with seeds, dried fruit, honey and sunflower oil.
Gillian has been a member of the Kentish Cobnuts Association since soon after its inception in 1990, is a committee member and most recently elected Chair of the Association at the annual AGM and 'Nutters' Supper' in November this year.
Below: left; Bags of Granola-muesli and a Chocolate and Cobnut bar and right; Granola Ingredients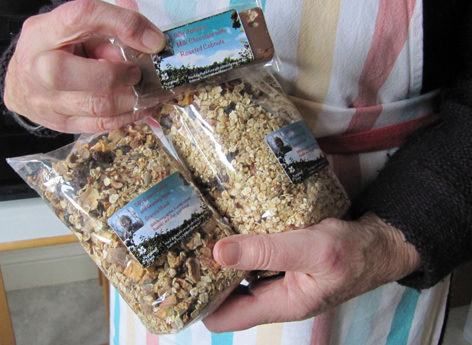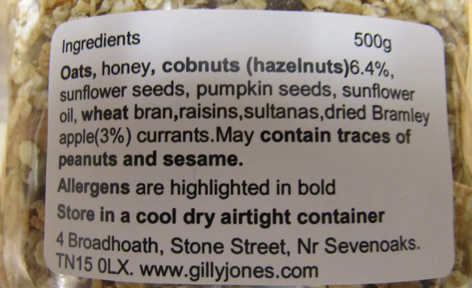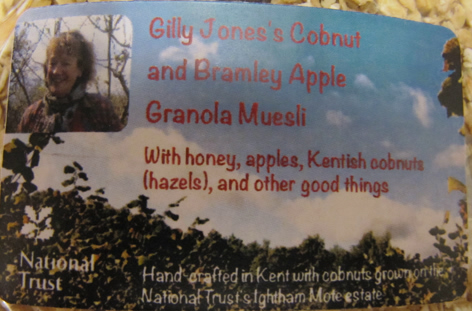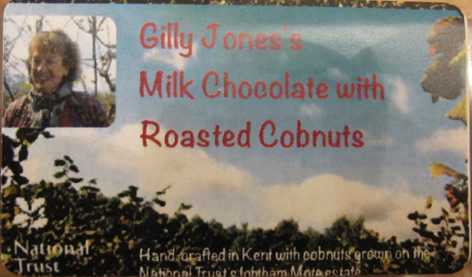 Before blending the Granola Ingredients, the preparation of the Cobnuts is a laborious operation.....
Below: left; Cobnuts ready for shelling and right; the hand operated cracking tool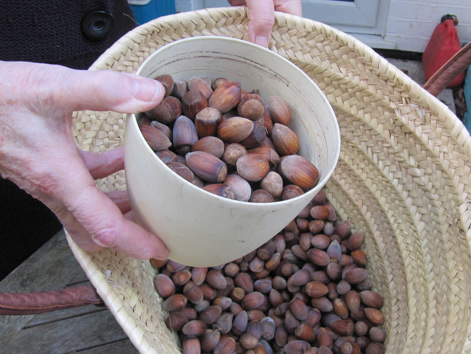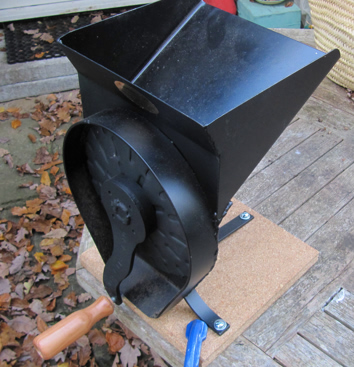 Below: left; Cobnuts poured into the cracker hopper and right; Gillian winds the handle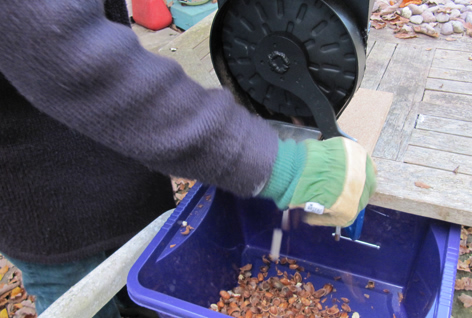 Below: left; 'shelled kernels' and shells drop into the bin and right; kernels and shells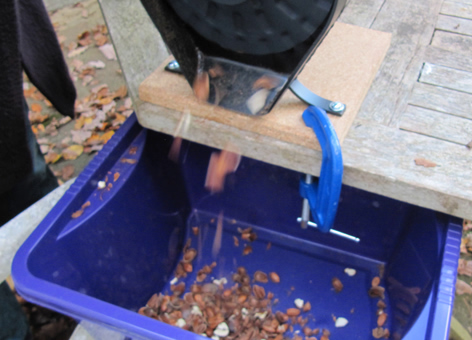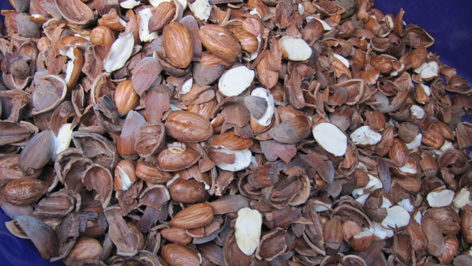 Below: left; Cobnut Kernels and right; dried Bramley apple - ready for Granola production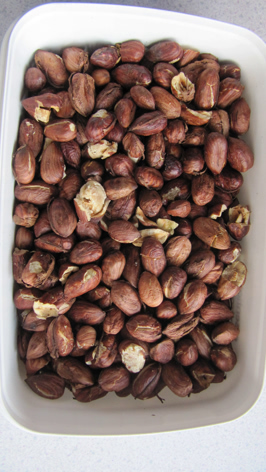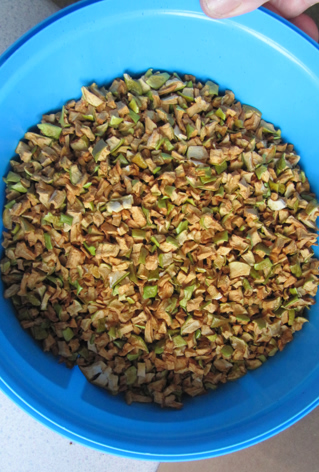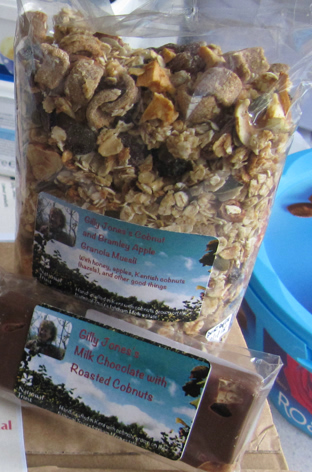 Please take a moment to view Gillian Jones Facebook page by clicking on; Gilly Jones's Cobnuts
Gilly will be at The Ightham Mote Christmas Fair on Saturday 2nd December and her message:- "Look out for my stand at the Fair, Saturday the 2nd December only. I'll be selling my granola-muesli, chocolate with roasted cobnuts, 'Just Cobnuts' in their shell and delicious packets of roasted cobnuts".
Also: Visit: Ightham Mote Blogspot
The English Apple Man comments: "It is clear Gillian Jones is passionate about Kentish Cobnuts and her 'added value' creations........the many hours she commits to 'Gilly Jones' products brings only modest remuneration...but we the 'nut loving consumer' benefits from this empathy she shares with the Kentish Cobnut.
BIFGA QUIZ NIGHT
Each November BIFGA (British Independent Fruit Growers) hold a quiz night in the Village Centre in Staplehurst in Kent. This year The English Apple Man attended with Mrs Apple Man, son Stuart and grandson Jack; we were joined by guest team members Viv, Gill, Brian and Alayne - our team "Everyone's a Guest" (we 4 are Guest by name).
As the evening progressed, with much laughter and leg pulling (especially with friends on the next table) we relied heavily on Gill for most of our points, but every now and then, other team members stepped in with a crucial answer - "grandson Jack was the only one to answer the fifth element on the periodic table" - my wife Bunny knew the answer to another key question "the Quiet Man" film made in Ireland in 1952 starring John Wayne & Maureen O'Hara....anyway we amassed 83 points while the winning Hayle Farm Team scored 92 points.....
Midway through the evening we enjoyed a Fish & Chip Supper, followed "of course" by Bramley Apple Pie...
Below: left; Quizmaster Nick Swatland and right; some of the quiz teams competing on Saturday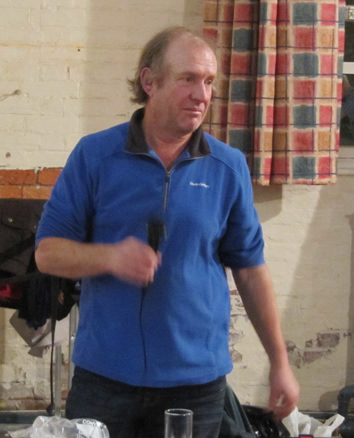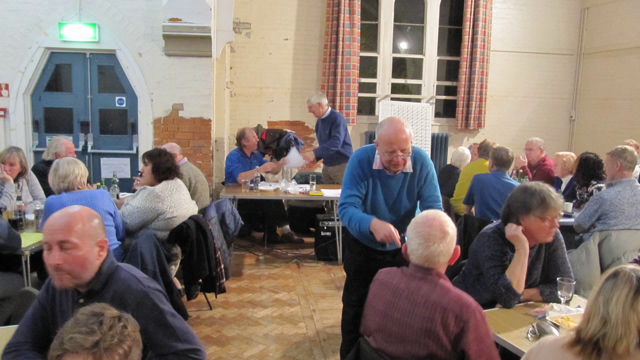 Below: left; More quiz teams and right; "Ladies Laughing"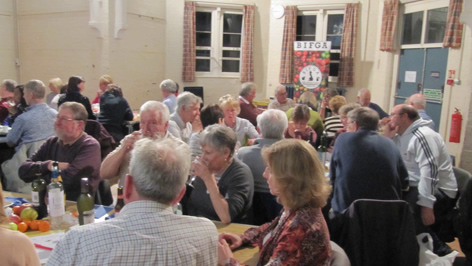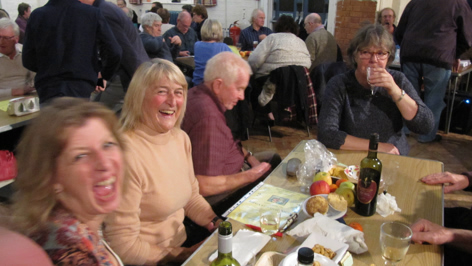 Below: left; Clive Edmed Captain of the Hayle Farm Team receives the winners trophy from BIFGA Chairman John Breach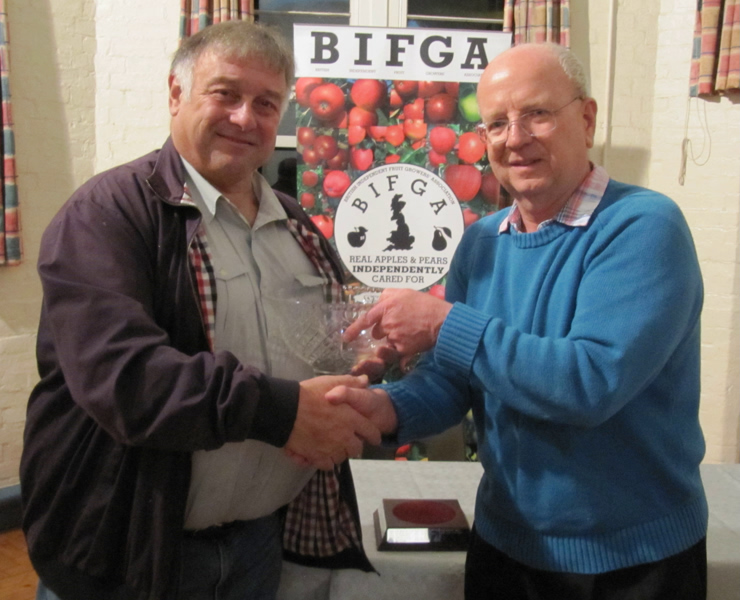 That is all for this week.........
Take care
The English Apple Man